The jeer in review: Phil Hands' best cartoons from 2018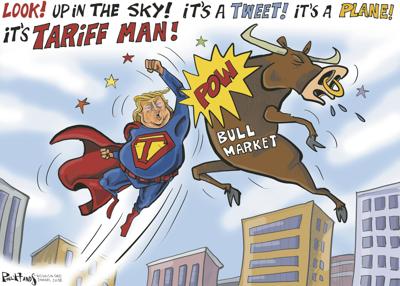 It's that time of year again. It's time to look back on the work I've done over the last 12 months and try to figure out what it all means.
In the age of Trump, finding funny cartoons in my archives is easy. Trying to figure out what it all means? That's the hard part.
I'm not that old, but I do remember the good old days when politics were boring: Speeches were made. Platitudes were uttered. Budgets and bills were proposed. Outrage was feigned and then ignored. Government chugged along, and most of us were too busy to care.
State Journal's political cartoonist picks his favorites from the past year:
Today, our politics are anything but boring. Our reality-star president has turned politics into a reality show. Late-night tweets, hush money payments to playmates and porn stars, fraudulent charity foundations, Russian business deals and outlandish rhetoric keep us entertained. But we are becoming numb to scandal. How much more of this can we take before we tune out?
With my editorial cartoons, I try not to add to the cacophony of outrage surrounding President Donald Trump. Sometimes that's hard — like when the president of the United States pays hush money to porn stars and playmates!
But events here at home give me hope for the new year. In Wisconsin, voters picked a new governor who embodies everything that Trump is not. Tony Evers is thoughtful, respectful, folksy and — above all else — boring.
Now just because Evers is boring, that doesn't mean he won't be fun to lampoon in editorial cartoons. I can't wait to sink my ink into his aw-shucks personality and "government can solve all our problems" ideology. Plus, Gov.-elect Evers has already made my job easier by switching to some cool thick-rimmed glasses that are ripe for caricature.
Some might think we political cartoonists would rather draw cartoons about ridiculous politicians who say and do horrible things. But we political cartoonists have pretty creative imaginations. Part of the joy of drawing editorial cartoons is making respectable politicians look ridiculous. It's less fun when they do it themselves.
That's one of the reasons I always enjoyed drawing cartoons about Gov. Scott Walker. He was a smooth and polished politician, and I got to make him look like a buffoon in my cartoons.
Here's hoping in the coming year we get leaders who act more like politicians and less like buffoons in real life. In 2019, let's make American politics boring again.