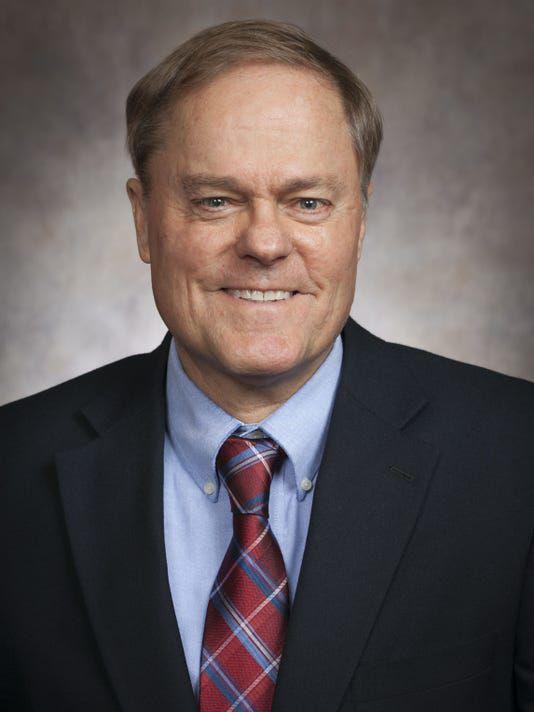 GREEN BAY — Having been born and raised in northeast Wisconsin, I remember warnings not to swim or eat fish from the Fox River and lower bay of Green Bay. After a long cleanup process, we're almost ready to put the issue of PCBs in the past.
But as we begin enjoying our local waters again, new challenges await. Algal blooms plague our waterways, leading to fish kills. It's an issue that overwhelms hundreds of bodies of water throughout the state, halting recreation, harming habitat for wildlife, and choking out fish and other aquatic organisms.
Tackling the phosphorus and nitrate contamination that cause the problem isn't easy, unfortunately. Some of the contamination comes from facilities such as municipal wastewater treatment plants, paper mills and cheese factories that discharge treated wastewater through a pipe. These sources are stringently regulated under the federal Clean Water Act. Often, these facilities remove up to 95% or more of the pollutants from the discharge before releasing it to a water body, under a permit from the state Department of Natural Resources.
New phosphorus regulations meant to improve water quality will tighten these regulations even more. This could result in burdensome, multimillion-dollar facility upgrades for very minimal improvement.
To reduce the burden on municipal utility ratepayers and small businesses while securing noticeable water quality improvements, we must be more innovative.
Sources of water contamination that don't discharge from a pipe need more attention. This pollution runs off large areas of land, such as family dairy farms, golf courses and community roads. When the federal Clean Water Act was designed in 1972, these "nonpoint" sources weren't included because it was hard to measure their impact. And these sources remain largely unregulated today.
Nonpoint pollution that washes off the land carries phosphorus, nitrogen, heavy metals, oil and salt to our waterways. This contributes to dangerous algal blooms and harms the ecological health of lakes, rivers and streams. It has led to closed beaches, reduced navigable channels, declining water quality and diminished fisheries.
That's why I've authored Senate Bill 91, titled "P3: Wisconsin's Trading Marketplace to Establish More Pollution Prevention Partnerships" My co-authors are Rep. Joel Kitchens, R-Sturgeon Bay, and Sen. Jerry Petrowski, R-Marathon. This legislation creates the nation's first statewide third-party water quality trading clearinghouse, and will help to once again set Wisconsin apart as a leader in solving nonpoint water pollution.
The innovative clearinghouse model created in this bill will facilitate water quality trades where a farmer or other nonpoint source can voluntarily enter into an agreement with and receive payments from a municipal treatment plant, factory or mill to implement more advanced land and water management practices to improve water quality.
This doesn't let facilities that discharge pollution through pipes off the hook. But in exchange for paying for conservation practices on farms and other landscapes, these plants and factories will receive some flexibility in meeting the ever-tighter standards on discharges.
The result: a municipal utility might avoid costly facility upgrades to save ratepayers money while a farm reduces runoff while increasing yields and decreasing fertilization costs. Meanwhile, the rest of us enjoy the net improvement to water quality.
SB 91 has strong bipartisan support in the Legislature and from groups representing agricultural producers, businesses, local governments and our natural resources. SB 91 passed the state Senate and Assembly on unanimous votes and awaits action by the governor to become law.
SB 91 was recommended by the Speaker's Task Force on Water Quality. As a task force member, I heard from farmers at all 13 hearings around the state who want to do more to protect waterways but face financial constraints. Farmers care for the land more than anyone. This legislation ensures that farmers can focus on water quality without impacting their bottom line.
As I await the governor's signature and prepare to push for quick implementation, I'll be looking for more solutions like "P3" to improve water quality without increasing the regulatory burden faced by Wisconsin businesses, farmers and residents.
Robert Cowles, R-Green Bay, is the state senator for Wisconsin's 2nd Senate District, covering portions of Brown, Outagamie, Shawano and Waupaca counties: Sen.Cowles@legis.wisconsin.gov.