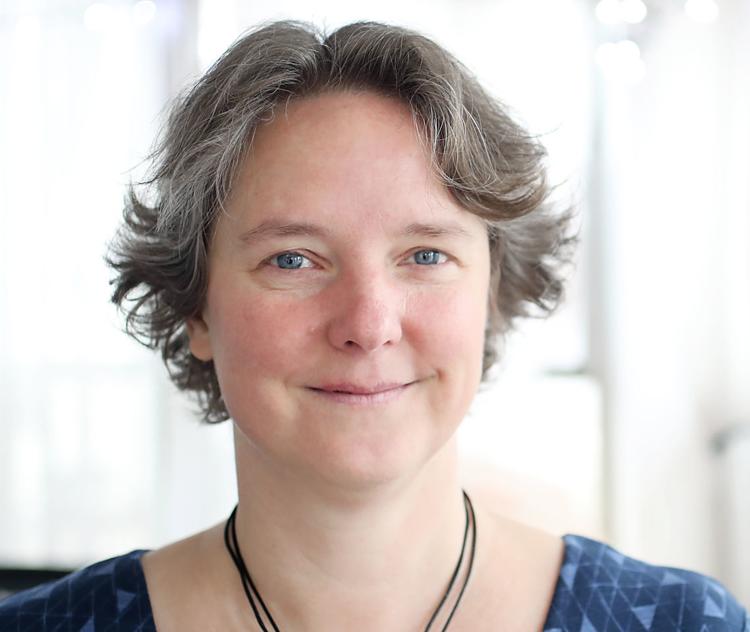 Nicole Marie Hall is a local hero. While she might seem like a mild-mannered accountant, she spends her days making sure our Madison firefighters have the personal protective equipment they need to rush patients to the hospital and respond to the COVID-19 crisis safely. In her free time, she also puts her sewing skills and fabric stash to work making over 650 face coverings for other city colleagues who serve the public every day.
Carrie Hemming-Cotter, a licensed paramedic, firefighter and nurse, has been a Madison police officer for 25 years. She works every day on the Police Department's COVID-19 task force to make sure officers stay as healthy as possible, while continuing to provide vital services to Madison residents and visitors. She helped implement a screening process and other plans for our officers so they could stay safe and monitor their own health, and a plan to sanitize our squad cars after each transport.
In addition to our first responders, other city staff have worked thousands of hours responding to the COVID-19 crisis. Our public health department repurposed and retrained its staff to do intensive contact tracing to help prevent the spread of the virus. Our child care coordinator worked around the clock to ensure emergency day care for children of essential workers, nurses, doctors and others on the front lines. Our housing staff has moved swiftly to secure shelter for people and families without housing and to place symptomatic people in safe quarantine respite. Our city clerk's office, joined by staff from all divisions and hundreds of poll workers, pulled off the most innovative, orderly and safe pandemic election possible, protecting voters and workers.
Local governments always rise to the occasion during national emergencies. While our local heroes have gotten enormous support from the public and local media, they are not getting the support they need from the federal government.
Madison is incurring millions of dollars in unforeseen costs, while hemorrhaging tens of millions of dollars in lost revenue due to the closure of city facilities such as our parking ramps, the Monona Terrace and the Overture Center. Our city budget has taken a hit of nearly $50 million already, and more red ink will follow.
Yet Madison has not yet received any substantial funding from the federal government to mitigate the devastating fiscal impact of this pandemic. Like many other public institutions with little ability to raise revenue, we are forced to consider significant budget cuts and workforce furloughs to balance the books.
Our local heroes — the firefighters, EMS, public health officials, police officers, transit operators, sanitation workers — are exactly who we rely on in a time of crisis. They should not have to worry about budget cuts or furloughs.
This is not just a big city problem. Every county, town and village in Wisconsin is hurting. Jerry Derr, president of the Wisconsin Towns Association, indicated that over 1,200 towns throughout Wisconsin provide fire and EMS services that are encountering increased costs and rapidly decreasing revenues. Derr shared, "Our ability to continue to maintain a quality service at this critical time, which is chiefly supported by volunteers, requires additional investment." Derr added that it goes beyond ensuring we can maintain public safety. "In the absence of attention to infrastructure revenue, we will likely be forced to divest in essential roads and bridges that are the lifeline of the supply chain that must succeed in this time of crisis," he said.
Big cities and small towns alike are drivers of their local economies. When they have to cut back on important building and infrastructure projects that employ hundreds of skilled construction workers, it has a significant ripple effect that harms local economies and local recovery.
But some hope is on the horizon.
House Speaker Nancy Pelosi recently introduced the HEROES Act, a bill to extend unemployment benefits, provide food support to families and funds for testing and contact tracing. It also would establish a Local Coronavirus Relief Fund, which would ensure that Madison and other local governments, regardless of size, will be able to maintain personnel throughout the response and recovery. It provides our first responders and other city workers with the job security and compensation they deserve. This legislation also would establish a fund to provide hazard pay for those who must continue to work in direct contact with the public. It recognizes the risks they face on the front lines of the pandemic.
Our local heroes have done the right thing in moving fast to respond the pandemic. Now we must call on Washington to do the right thing and pass the HEROES Act.
Concerned about COVID-19?
Sign up now to get the most recent coronavirus headlines and other important local and national news sent to your email inbox daily.