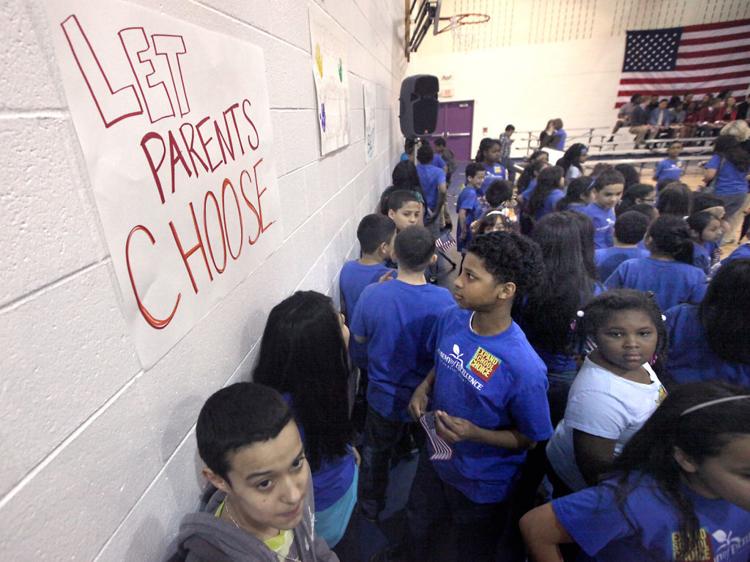 MILWAUKEE — Thirty years ago, a remarkable series of events transpired in the Wisconsin Legislature that led to a dramatic transformation of the education landscape in our state and across the country.
Thanks to the courageous leadership of both Democrats and Republicans — and the tenacity of community activists in Milwaukee — an experimental program to give kids from low-income families a chance at a better education was approved as part of the state budget.
As the Milwaukee Parental Choice Program, the nation's first voucher program, nears its 30th anniversary, it's worth examining the progress and challenges that lie ahead for choice in Wisconsin. The Bradley Foundation, which I now lead, supported this bold experiment from the very beginning, believing that parents, not the government, should decide which school is best suited for their children.
Parents have agreed. The number of students enrolled in the Milwaukee choice program has grown every year since it was created. Today, nearly half of Milwaukee students who receive publicly funded education attend a choice or charter school. Other Wisconsin cities, as well as states, have followed suit. Twenty-six voucher programs now operate in 15 states.
Critics of parental choice frequently deny that students who receive vouchers do better. But reports consistently show Milwaukee choice students are more proficient in reading and math.
Many studies also show that students in Wisconsin's parental choice programs outperform their public school counterparts when it comes to college attendance, high school graduation and civic engagement. And they do so with a fraction of the funding. Another new groundbreaking report found that Milwaukee choice students committed 53% fewer drug crimes and 86% fewer property crimes than their public school peers.
Democratic Gov. Tony Evers wants to cap enrollment in Wisconsin's private voucher schools, setting up another fight with Republicans who made it a priority the past eight years to expand the program statewide.
By most measures of success, choice and charter schools are improving outcomes for students. Yet significant threats stand in the way to educational freedom.
Self-proclaimed socialist and presidential hopeful Bernie Sanders recently announced that, if elected, his administration would ban "for-profit" charter schools — even if thousands of American families believe such schools are their best option.
In Wisconsin, the issue has been contentiously debated. Gov. Tony Evers recently proposed freezing enrollment in choice programs, as well as a nascent program that has already helped nearly 700 students with special needs.
Earlier this year, Racine issued property tax bills that included the amount of tax dollars that go to the city's private voucher schools. But the information doesn't reflect the full funding story, leaving taxpayers to believe that vouchers are shortchanging the district's public schools. Gov. Evers has proposed that all municipalities publish this information on property tax bills.
Two Christian schools in Madison and one in Middleton are making voucher spots available in 2019-20, joining Lighthouse Christian School in the publicly subsidized program.
Repeatedly, the educational decisions of Wisconsin families are called into question by politicians and bureaucrats wielding administrative power.
People intuitively know that the government's role is not to shape civil society according to its own prescriptions. Rather, it should preserve the ability of families to build communities and create civil associations, including schools.
The groupthink that exists among the education establishment — even the reform establishment — can be damaging to parents when those controlling policy levers seek to diminish parents' educational freedom.
Meaningful education reform in Wisconsin should focus on fixing existing problems. Our education grantees consistently say three pressing challenges must be addressed:
The attraction and retention of good teachers and school leaders.
Access to suitable facilities in which successful schools can expand.
A lack of concentrated efforts to educate and engage parents on the options available for their children.
MILWAUKEE — The Evers administration's war on school choice continues.
Wisconsin can and should continue to lead the way on education reform. For the Bradley Foundation's part, we will continue to dedicate substantial resources to local education institutions and organizations that are creating opportunities for kids who need it most.
The leader of a grantee organization that trains teachers who work in challenging school environments recently noted that an African American child in Milwaukee has less than a 63% chance of graduating from high school in four years. Statewide, that number isn't much higher, at about 69%.
When the status quo isn't working, why wouldn't we offer that child more educational opportunities? Perhaps when we do, all Wisconsin children will have a better shot at success.
An African American child in Milwaukee has less than a 63% chance of graduating from high school in four years. When the status quo isn't working, why wouldn't we offer that child more educational opportunities?