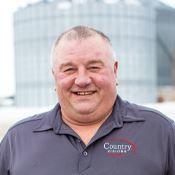 Fredonia — My family has been farming and raising dairy cows on the same piece of land for five generations. I grew up learning the family business from my grandfather and father, who always told me that being a good farmer meant taking care of the soil.
But erosion has become a major problem throughout the Midwest. Our waters are getting polluted and our soils depleted.
One solution to this problem is to use cover crops, such as winter rye, that are planted between growing seasons. Cover crops keep the soil out of our creeks and on the farm where it belongs. By using cover crops, farmers can save money on herbicides and pesticides, and make money through improved yields.
Cover crops also reduce flooding, which saves taxpayer dollars spent repairing storm-damaged roads, bridges and other public infrastructure. In 2019, one estimate is that flooded fields cost our state $486 million in lost crop production and related economic impacts.
That's why many Wisconsin farmers want lawmakers to set up a program like Iowa began in 2017 to give farmers a $5 per acre crop insurance discount for acres planted with cover crops. The proposal calls for $500,000 to run and fund the program, which has broad bipartisan support and seemed likely to pass last year in Wisconsin, before the pandemic sent the Legislature home.
Lawmakers are holding hearings and making funding decisions for the next biennial budget as we speak. Hopefully, they will see fit to include this valuable program.
I first tried cover crops about 10 years ago. I was experimenting with ways to produce a crop I could harvest to feed our cattle in early June. I wasn't sure it would work in our heavy clay soils, but it did.
I noticed that cover cropping reduced the amount of tilling I had to do, which saved money on fuel and wear and tear on my equipment. My goal is to get up to 1,000 acres with a cover crop this year. It's good for my soil, and it keeps farm runoff out of the Milwaukee River, which suffers degraded water quality from high levels of phosphorous and sediment.
Only 6% of Wisconsin farmland was planted with cover crops in the 2017 agriculture census. This can be partially explained as a fear of change. Like most farmers around here, I was taught to till the ground at the end of the growing season.
It's uncomfortable to stray from the traditional ways we grew up with. But we know now that leaving the soil exposed to winter rains causes problems that cover crops can help solve.
In a 2019 survey, two-thirds of Wisconsin farmers said that a break on crop insurance would motivate them to plant or increase their acreage in cover crops.
Iowa and Illinois already have programs like this, and they are very popular. It took less than 24 hours for the Illinois program, which tops out at $300,000, to get fully subscribed this year.
Leaders in both parties seem to agree that it's time for Wisconsin to make a wise investment in cover crops. It's nice to have bipartisan support for an idea that's good for farmers, helps keep our waterways clean, and saves taxpayers money.
Mike Paulus is the owner of Paulus Dairy in Fredonia, about 85 miles northeast of Madison in Ozaukee County. Paulus is a member of the Ozaukee County Clean Farm Families Watershed Group, which protects the Milwaukee River: cowsrus@paulusdairy.com.