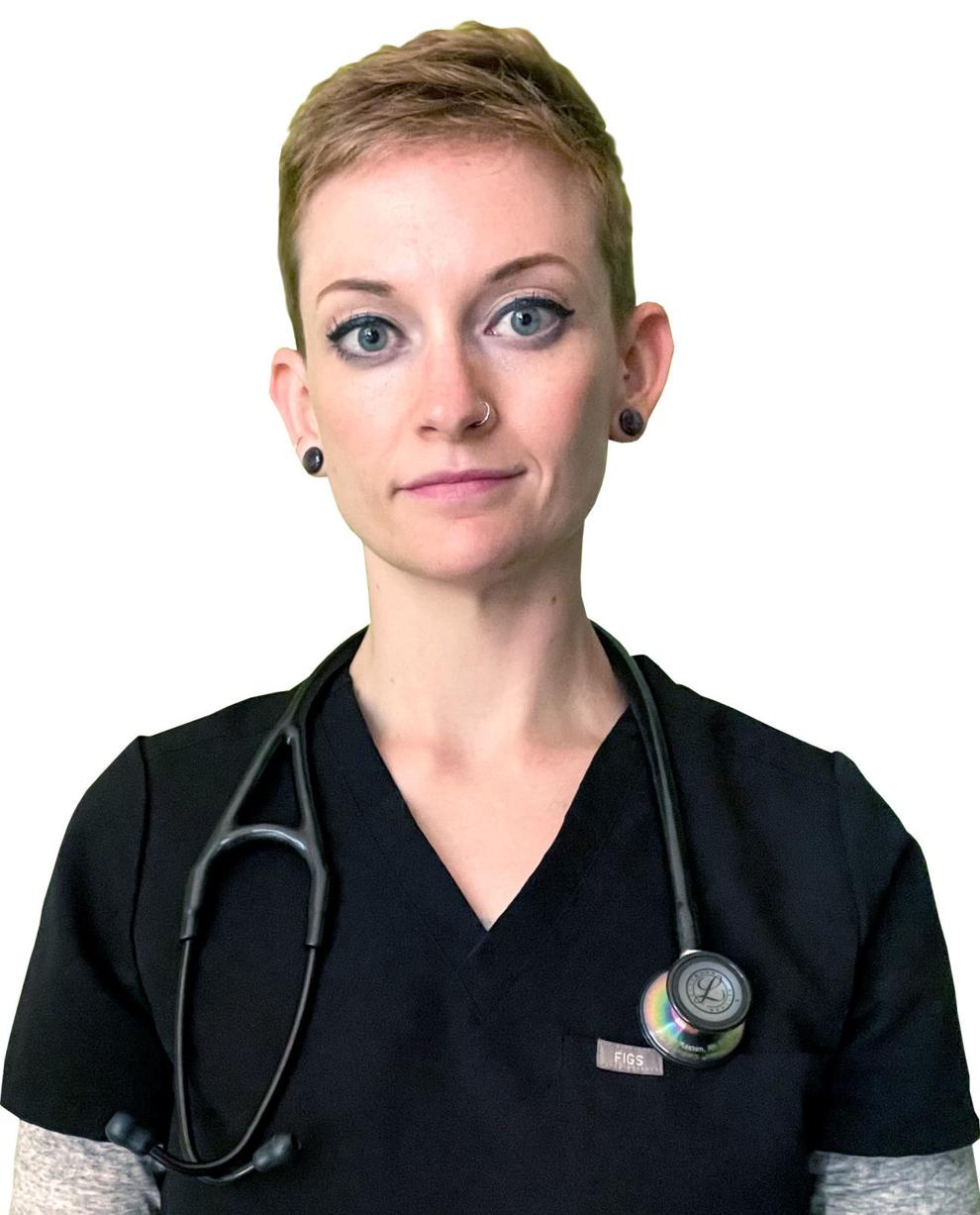 I've spent my entire career as a registered nurse with UW Health at University Hospital in Madison. I chose to become a nurse, and specifically to work in the Trauma and Life Support Center at UW, because saving the lives of patients facing severe injury and illness is profoundly meaningful.
But nothing could have prepared me for what my fellow nurses and I endured during the pandemic. Compounding the trauma of that experience was a sense of almost total abandonment by those in power at the hospital, and in state and national government.
That's why nurses are demanding that UW Health recognize our union, so we can solve deep systemic problems exposed by the pandemic, and advocate effectively for ourselves, our patients and our community.
When the pandemic first began, many members of our team who are younger and don't have any preexisting conditions, including myself, volunteered to care for COVID patients. We watched with horror as patients started pouring into our unit in greater and greater numbers. They were so incredibly sick, and it was heartbreaking to watch them straining for the tiniest breath.
Many were hospitalized for months on end, and much of my bedside work was focused on using every intervention possible to ease their suffering and help them get more air. When we knew a patient was near the end, we held up an iPad so they could say their last goodbyes to loved ones.
I don't think I'll ever forget the intense anxiety all of us felt as we entered COVID rooms for the first time. But alongside the fear of this unknown and deadly virus, we also felt pride. We were stepping up to the plate, risking our lives and our families' lives to take care of our neighbors when no one else would.
But while we were stepping up, hospital executives and many politicians were backing away. Publicly, executives insisted we had enough protective equipment, when we actually had to wear the same "single-use" mask for weeks at a time. Understaffing throughout the hospital, which had been a serious problem for years, became even worse. And frontline nurses were excluded from the decision-making process around crucial issues such as staff and patient safety protocols.
These deep-seated problems have been growing at UW Health for years, but were thrown into stark relief by the pandemic. Because UW nurses do not have a union, we've had no real avenue to make the changes we need. Before Wisconsin's Act 10 passed a decade ago, nurses had a strong union and a solid contract. But when our contract expired, administrators used that anti-worker law as an excuse and refused to negotiate a new agreement. Since that time, executives have handed down a wide range of damaging policies without our input, including cuts to staffing levels, continuing education benefits and our health insurance.
COVID-19 made it crystal clear that it's an absolute imperative for nurses — those of us with the medical expertise who actually provide direct patient care — to have a real say in how that care is delivered. We must have a seat at the table with executives to negotiate around all the urgent issues that impact our work lives and our patients.
The vast majority of UW nurses have already expressed our support for a union and presented our demand to the UW Hospitals and Clinics Authority Board. The board could voluntarily recognize our union and start negotiating to make crucial improvements today, but so far it has refused to do so.
In response to the board's obstinance, state Sen. Melissa Agard, D-Madison, and Rep. Lisa Subeck, D-Madison, have introduced the "Union Voice for Quality Care at UW Health Act," which is cosponsored by almost every Democrat in the Legislature. The act outlines a clear and fair process for staff at UW Health to unionize.
Though we're emerging from the pandemic, Wisconsin is still facing an ongoing health care crisis. Studies show our state's current shortage of nurses could spiral to over 10,000 unfilled positions by the end of this decade, while our population is rapidly aging and patients require more complex medical treatment. The best way to recruit and retain the health care workforce we need is to make sure that frontline nurses are empowered with a union voice.
On behalf of all my patients and nurse colleagues, I'm calling on UW Health to honor our sacrifices by recognizing our union, so we can fully recover from the pandemic and ensure the highest standards of care moving forward.
Kasten, of Madison, has been a registered nurse for six years for UW Health at University Hospital in Madison. She works in the Trauma and Life Support Center.