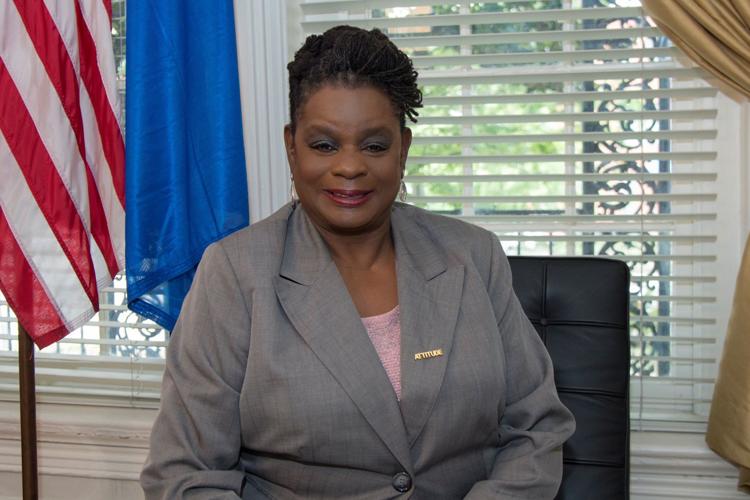 MILWAUKEE — When I heard that President Donald Trump was visiting Milwaukee, I thought, "Good, he has a lot to answer for!"
Between breaking his promises to the American people to lower the cost of prescription drugs, passing a tax giveaway for the wealthiest, driving farmers to the brink, and declaring war via Twitter, he owes Wisconsinites answers.
Trump, who plans a hold a rally Tuesday night, brags that the economy is strong. But many hardworking Wisconsinites are just trying to get ahead and certainly don't feel that way. Many Americans are working more than one job to stay afloat, and our middle class pays a higher tax rate than 400 of America's richest families. Wage growth is stagnating while Americans' pockets are getting stretched thinner as the cost of health care, housing and education skyrockets.
Republicans could have used their majority in the White House and Congress to pass legislation that supports American workers and families. Instead, they passed a trillion-dollar tax giveaway to the wealthy and corporations.
Trump brags that the unemployment and poverty rates for Latinos and African-Americans are at a historic low. But the facts are clear: Low-income workers across the country are seeing more money in their pockets because of increases in the minimum wage, a Democratic policy shunned by the GOP. Trump's actions speak louder than his empty, cynical words. His policies reflect his real apathy for the millions of people struggling to keep their heads above water. I know several communities in Milwaukee haven't seen economic gains from the GOP tax bill because they tell me they haven't.
Meanwhile, his tit-for-tat tariffs have pushed the manufacturing industry into a recession. This reflects an economy that's failing Wisconsinites, and Trump's decisions are what put us here.
You have free articles remaining.
The head of the Democratic National Convention promised Tuesday that the event in Milwaukee this summer to choose the party's presidential nominee will be focused more on substance than spectacle as part of a strategy to be more successful in key states such as Wisconsin.
Trump has not only threatened Americans' economic stability, but he's also jeopardized their health care. He promised that he would repeal and replace the Affordable Care Act with something far better. Instead, he's running the health care system like his many failed businesses. Trump's foray into health care included flooding the market with junk plans, leaving 2.5 million Wisconsinites with preexisting conditions more vulnerable.
Another broken promise, another lie.
Trump cannot live up to the promises he made as president. On that alone, we can call him a failure. He knows this but rattles off inflammatory tweets with the hope that it will distract from his ineffectiveness. But we won't let his failed promises to the people of Wisconsin go unchecked.
The topic of inflammatory tweets brings us to Trump's reckless military actions toward Iran, which didn't make our state or country safer. As a lawmaker, I don't consider a tweet declaring war to be compliant with the War Powers Act.
It will take a long time to undo the harms from Trump's presidency. But a bold, progressive agenda will get us there. We can come together to expand the Affordable Care Act, raise the minimum wage and make education more affordable for a brighter and better America. We will pursue a sound foreign policy agenda that restores our standing on the global stage.
The fight for unemployment insurance, collective bargaining, and fair wages improved the quality of life for our state. Wisconsin built the foundation for the values that our country now champions.
The bold action of Wisconsin's progressive leaders was an investment in our state's future. We can't let the well run dry. Embracing Trump again will take us further back and leave the next generations to clean up Trump's mess. Come to think of it, I don't think Trump can provide the answers to his failures.
On this week's political podcast, Milfred and Hands travel to the Fiserv Forum in Milwaukee and the site of the Democratic National Convention this July. Forget about Florida. This time around, the election comes down to "Wisconsin, Wisconsin, Wisconsin."
Moore represents the 4th Congressional District in and around Milwaukee.