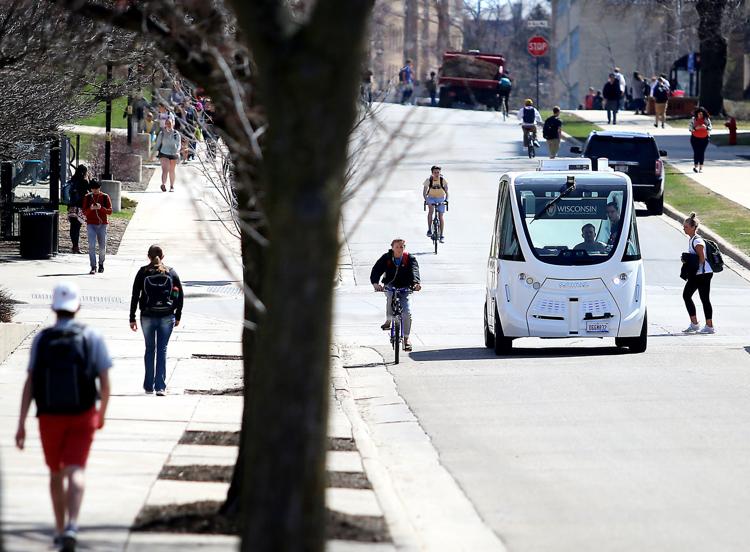 The paths of two vehicles in Madison last week highlighted the livesaving potential of driverless cars.
On the UW-Madison campus, a computer-driven shuttle bus gave curious students and the public free rides. Passengers said the French-made Navya shuttle, which uses a high-definition map and multiple cameras to guide its way, felt safe and futuristic. The shuttle moved at about 10 mph, abiding by traffic signs and stopping for bicycles and pedestrians.
UW's Automated Vehicle Proving Grounds is one of 10 federally designated labs testing autonomous vehicle technology, a distinction Wisconsin should be proud of, and which could lead to spinoff businesses and jobs.
The testing on campus has gone well. And the technology should help reduce accidents caused by human error, distraction and drunken driving.
Also last week, a vehicle driven by Benjamin E. Cortes, 19, of Madison, struck a couple walking their dog on a sidewalk on the West Side. A 72-year-old pedestrian was killed and his 68-year-old wife critically injured after Cortes lost control of his vehicle about 8 p.m. Friday, police said.
Cortes was tentatively charged with homicide by intoxicated use of a motor vehicle.
Driverless cars don't get drunk. They can be programmed not to speed. They hold lots of potential to reduce traffic deaths in Wisconsin, given our state's high rates of binge drinking and drunken driving.
Yet distracted driving — often involving a cellphone — is increasing fast. The state DOT counts 11,302 injuries and 103 deaths related to inattentive driving in Wisconsin in 2016. Those figures increased 6 percent and 10 percent, respectively, from the previous year.
Autonomous vehicles are not perfect and must improve. A self-driving car in Tempe, Arizona, struck and killed a woman in March who was walking her bike across a dark street. The driverless vehicle, traveling below the speed limit at about 40 mph, had an emergency backup human driver, which didn't help. The accident is being investigated and prompted Arizona to suspend testing of automated cars on its roads.
Nonetheless, Wisconsin should continue to pursue this technology, and Gov. Scott Walker last year wisely created a committee to explore state policy for the vehicles here.
Besides saving lives, driverless cars could reduce the cost of public transportation and improve efficiency. Though some bus and cab drivers could lose work to the machines, new people would be needed to build and run autonomous systems.
Wisconsin has made slow progress against traffic injuries and death. Autonomous vehicles will speed our state's path to safer roads.
Catch the latest in Opinion
Get opinion pieces, letters and editorials sent directly to your inbox weekly!