With marketing materials filled with images of white wind turbines against beautiful blue skies, the companies who want to build another costly huge transmission line across Wisconsin cleverly avoid explaining that the proposed Cardinal-Hickory Creek transmission project is an "open access" line. In other words, if built, this line would carry a mix of electricity generated by coal, natural gas, wind and nuclear power. This line is far from a green project.
The reality is that the electricity most likely to be carried on American Transmission Company's high-voltage Cardinal-Hickory Creek line will be carbon-based. Moreover, this 120-mile project with 17-story high towers (five every mile) would cut a wide swath through our nationally significant Driftless Area and Upper Mississippi River Wildlife Refuge.
It is a lose-lose proposition.
Like so many others, Driftless Area Land Conservancy and Wisconsin Wildlife Federation are deeply committed to protecting this unique, beautiful and biologically rich corner of the world from the physical assault of the huge transmission line itself, as well as threats posed by climate change.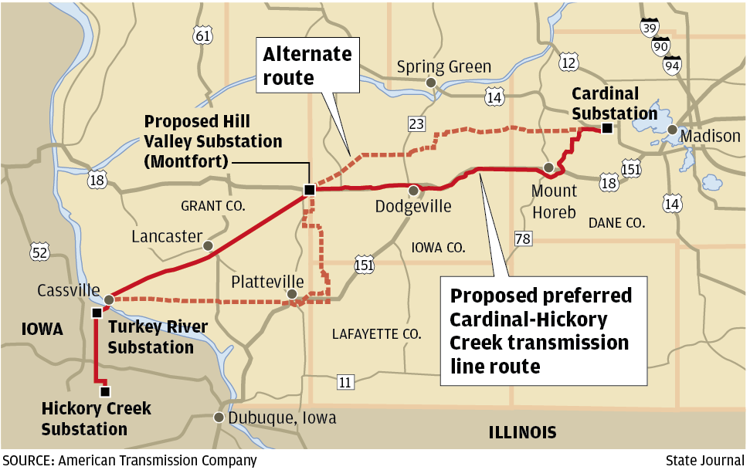 According to the Wisconsin Initiative for Climate Change Impacts, climate change will adversely affect habitats and migratory patterns of many types of wildlife. It will increase agricultural soil erosion, weed and pest infestations. It will undermine our world-class Driftless Area brook trout fishery, and expand the ranges of Lyme disease and other pathogens. To protect the natural and agricultural systems we all rely on, we must work together to phase out carbon-based fuels — and fast.
Contrary to claims of "greater access to renewables," the Cardinal-Hickory Creek line will not lower carbon as quickly as cleaner alternative transmission solutions. Local renewable generation, energy efficiency and storage, and distribution system upgrades are the fastest, most efficient and cost-effective ways to lower our carbon impact and increase grid reliability. Other states and countries are already implementing alternative transmission solutions, and it is time for Wisconsin to enjoy the benefits of these strategies.
Driftless Area Land Conservancy and Wisconsin Wildlife Federation, together with Dane County, Iowa County and a passionate, smart and committed group of grassroots partners and landowners, are intervening in the Wisconsin Public Service Commission proceeding about the Cardinal-Hickory Creek line. We are working with the Environmental Law and Policy Center's clean energy law experts and top-rate teams of national energy and economic experts (including Jon Wellinghoff, former chairman of the Federal Energy Regulatory Commission) to highlight cleaner, more flexible, resilient and cost-effective alternative transmission solutions.
For nearly 10 years now, Wisconsin and other Midwestern states have had a surplus of energy, with flat and declining energy demand. We do not need this line to reliably "keep the lights on." Why should Wisconsin bear the burden of a huge, expensive and unneeded transmission project that degrades our natural and agricultural lands, threatens our wildlife, and moves an out-of-state mix of chiefly fossil fuels to some unspecified place to the east?
At a recent Renewable Energy Summit, Gov. Tony Evers pointed out that Wisconsin is "12th out of 12 Midwest states in the percentage of clean energy jobs." We believe that creating greater access to clean energy development, job creation and economic growth, while also protecting the lands, wildlife and waters that make Wisconsin special, is sound and well-informed policy. As we face the realities of a changing climate, we believe we can and must do better.