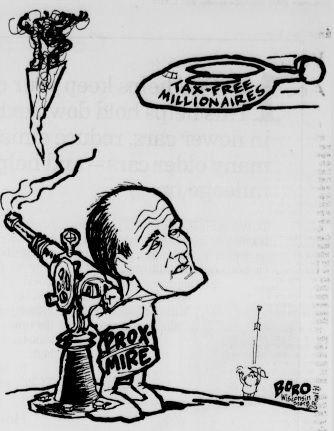 This State Journal editorial ran on April 1, 1971:
At this time of the year when ordinary mortals are struggling to figure out income tax forms and find the money to pay, along comes the annual story about tax-free millionaires.
The number seems to vary from year to year. This year it was 56. But the fact that one single American with income of more than a million can escape federal income taxes is difficult to believe.
A millionaire who escapes taxes must use every tax gimmick and loophole in the book. But the question remains, why do we permit such tax avoidance?
Now that Sen. William Proxmire has shot down the giant supersonic transport, maybe he can find time to use his considerable talents to plug the loopholes that allow millionaires to escape taxation.
No one believed a few years ago that the Wisconsin senator would succeed in defeating the SST program inaugurated by President Kennedy, so there is hope, if he would take on this assignment, all millionaires some day would pay taxes.