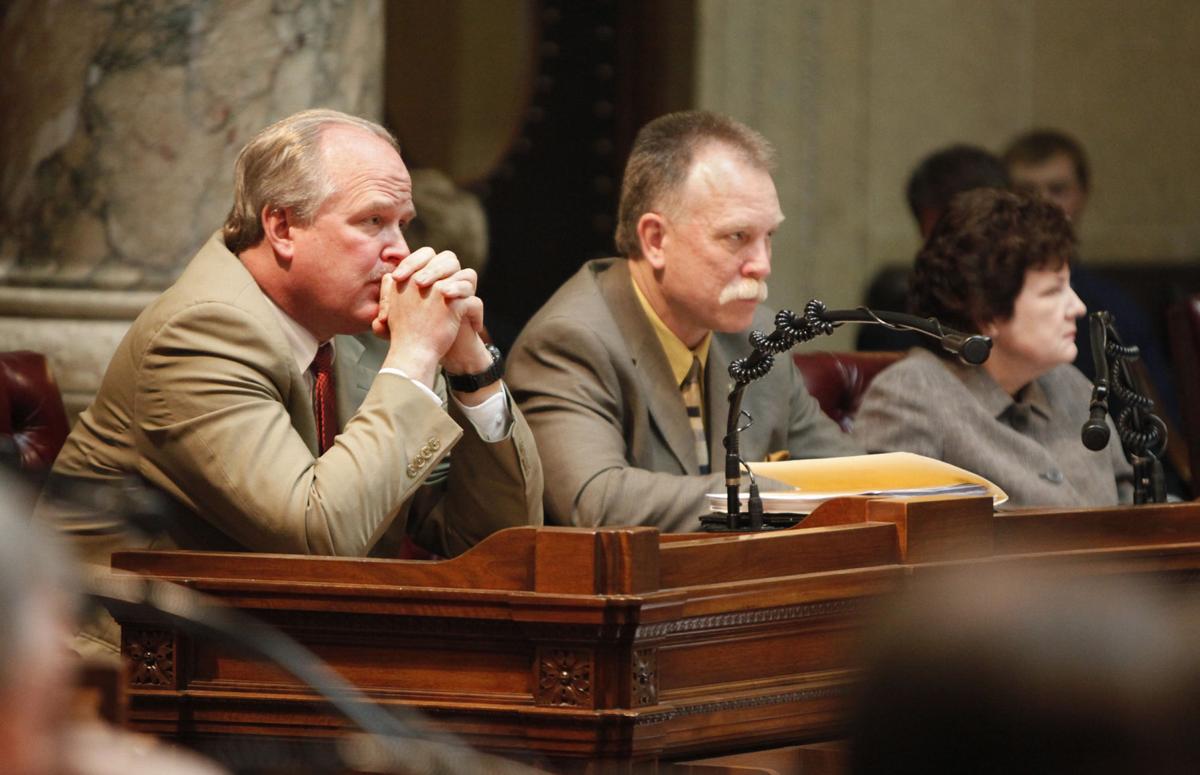 Former Sen. Dale Schultz described the Act 10 saga as a major component of the end of bipartisanship in the state Legislature — a rift that still can be felt a decade later.
Schultz, a Richland Center Republican, was the only Republican in the state Senate to vote against Act 10. He recalled his disbelief when Gov. Scott Walker announced the legislation, which came just weeks after the Legislature passed several bills Walker requested to spark economic growth in the state.
"I remember ... my disbelief given the fact we had just passed legislation in a special session to help the governor get off to a good start," Schultz said. "I couldn't believe that it had happened."
As tens of thousands of protesters swarmed the Capitol and Senate Democrats fled to Illinois to try to slow the bill's progress, Schultz proposed what was ultimately a failed amendment that would have left several aspects of collective bargaining in place.
"For a while I think some people thought they might succeed, but then it became obvious that this was less about saving money and more about the ultra-conservative agenda that would destroy the tradition of labor unions and the progressive movement in Wisconsin," he said.
Ultimately, Act 10 passed and Wisconsin, which had been the first state in the nation to enable collective bargaining for public employees, saw a growing divide between businesses and unions, Schultz said.
"I think the state benefited from labor peace and cooperation and I think we would have had a more prosperous state, a more just state, and I'm sad that we don't have that right now," he said.
What's more, Schultz said Act 10, and the manner in which the Legislature pushed through the measure, led to "the end of bipartisanship" in the state Legislature.
"Problems are rarely partisan in nature," he said. "They're generally just problems and people want them solved. And when people can't get together to solve them because the forces of tribalism are so severe you can't even go out and have a cup of coffee with someone from the other side of the aisle, things just don't get done."
Editor's note: This story is part of a series marking the 10-year anniversary of Act 10. Click here for more stories from people who experienced the historic events firsthand. 
---
Act 10: Full Coverage 
---
Watch now: The Great Divide | 10 stories about Act 10
The most seismic political story of the last decade in Wisconsin began on Feb. 7, 2011, when Republican Gov. Scott Walker informed a gathering of cabinet members of plans to unilaterally roll back the power of public sector unions in the state. He "dropped the bomb," as Walker would describe it afterward, four days later.
The audacious proposal, to be known forever after as Act 10, required public employees to pay more for pension and health insurance benefits, but also banned most subjects of collective bargaining and placed obstacles to maintaining union membership.
The proposal laid bare the state's deep, at times intensely personal, political divisions as tens of thousands of protesters descended on the Capitol. The month-long, round-the-clock occupation drew international attention, but failed to stop the bill.
A decade later, the aftershocks of one of the biggest political earthquakes in Wisconsin history continue to be felt. Taxes have been held in check, and state finances have improved. But public unions are vastly diminished and the state is more politically divided than ever.
Here are 10 stories from people who experienced the historic events firsthand.