By age 19, the petite, blond-haired woman was homeless, a slave to heroin and becoming ensnared by a sex trafficking industry that is quietly rampant in Madison.
Eventually, she would sell her body to three or four men a day, most days of the year, making lots of cash but surrendering most of it to a lover-pimp who provided food, cheap motel rooms and "protection" — and, most importantly, fed her drug addiction.
At 22, heroin had transformed her body to an anemic rail and she estimates she'd been with 1,500 men.
"Drug dealers will take what you want most and absolutely use it against you," she told the State Journal.
Her sister lived the same life.
So do hundreds of other girls and young women in Madison, most of them homeless.
"It happens a ton," said Madison Police Detective Maya Krajcinovic, who works on sensitive crimes. "This is the new drug of choice in Madison — trafficking kids."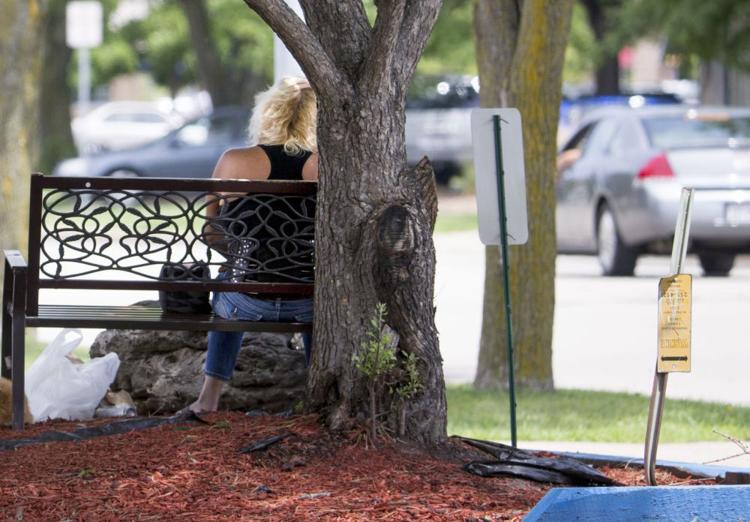 The girls and young women, sometimes boys and men, are recruited in shopping mall food courts, outside emergency shelters for the homeless or the Dane County job center, at bus transfer stations during the school year, on Facebook, at motels where homeless mothers with young children often stay.
Most people call them prostitutes. In their ads they refer to themselves euphemistically as "escorts." But police and social service workers know them simply for what the vast majority are: victims.
The pimps and victims are tied to all kinds of illicit activity, Krajcinovic said. "This population is involved in most of the other crimes in Madison," she said. "It's a criminal enterprise — burglary, shooting, gang activity, drugs. You wouldn't believe how much these people do in a day."
In almost every case under investigation or pending before a court, "the victims lack stable housing," said John Vaudreuil, U.S. attorney for the Western District of Wisconsin.
The victims become quickly trapped, becoming a reusable "product" easier and safer to sell than drugs, Vaudreuil said. The "escorts" are advertised online, with "dates" occurring in homes, motel rooms, truck stops or vehicles in parking lots at all hours of the day, he said.
"The community must understand this is not about sex, nor is it a sex crime," he said. "This is about violence and we must look at it like we view other crimes of violence. Extremely vulnerable victims are being violently forced into commercial sex. This is nothing less than modern-day slavery, and no civilized society should tolerate these crimes."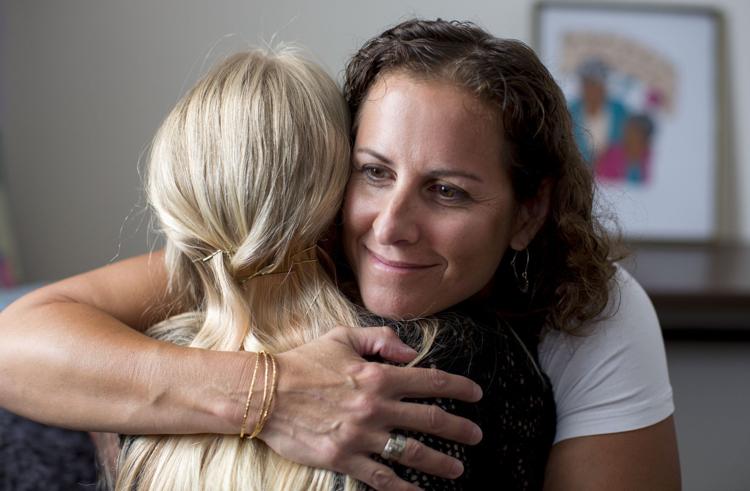 'The seedy underbelly'
It's around 11 a.m. on a Monday, and a plain-clothed Krajcinovic rolls her unmarked squad car through the parking lot of a Far East Side motel.
She quickly recognizes a man in a yellow shirt standing next to a vehicle, talking to the driver. He's 19, just out of jail and a suspected pimp likely making a drug deal, she said — "probably crack or heroin."
Krajcinovic circles around the motel and spots a young woman and a man standing by an exit. "That's a working girl," she said.
As she again passes the entrance, a woman with two children in tow crosses the parking lot. The woman, Krajcinovic said, is being trafficked. "She's homeless. She does a trick or two. She doesn't feel good about it, but she's got a roof over her head" and her children.
Trafficking, Krajcinovic said, is pervasive. She pulls over and uses her cellphone to call up a website called Backpage that is loaded with local ads for escorts. The ads, which cost $7, have often raunchy text and some pictures, although many are stock photos. That day by 11:30 a.m., there already are ads from 35 available local escorts.
Human trafficking rings are cracked through meticulous, time-consuming investigations, and the victims present additional challenges.
The sex occurs all over the place, even in the parking lots of the motel or nearby East Towne Mall, Krajcinovic said. "It's just like doing a drug deal."
At a nearby motel where the homeless use vouchers to stay, Krajcinovic immediately identifies a pimp and "escort" with orange-tinted hair sitting on a rock wall near the driveway entrance. "She's 18 or 19," she said. Soon, a man wearing a Brewers shirt and a weathered-looking woman with red hair exit the motel. She, too, is being trafficked.
A bit later, Krajcinovic drives to the mall to check on the food court, and is surprised not to see the usual contacts being made — men in their 20s or older approaching young teens. "There's a ton of runaways here," she said. "They're very naive. It takes 20 minutes in a food court to be manipulated into the lifestyle. They don't even know they're being victimized."
The men let the girls stay in their hotel room and give them cash, food and clothes, Krajcinovic said. Soon, they want sex for their provisions. Then, they persuade the girls to have sex with others for cash and initially let them keep the money. After a few tricks, the men demand the money. There are threats and beatings. The girls, she said, are brainwashed, trapped. "They're doing this to survive and don't know how to get out of it."
On the way out of the mall, several men and a young woman pass by. The woman, Krajcinovic said, is being trafficked, and her Backpage ad was one of those she had seen on her phone an hour before.
"It doesn't affect the majority of the city. People just go about their lives and don't see it," Krajcinovic said. "This is the seedy underbelly."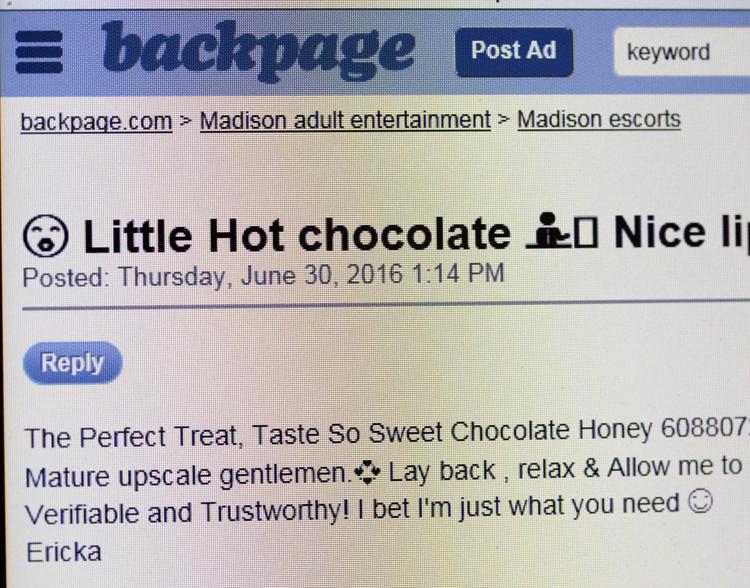 'A new kind of evil'
The term "human trafficking" conjures images of kidnappings and a slave or sex trade — somewhere else.
In reality, it's everywhere, brought through fraud, force or coercion. The women, vulnerable to threats or sometimes brutal and sadistic violence, have long been seen as criminals for prostitution but are increasingly viewed as victims.
"It's only been within the last six or seven years that we started to recognize this was not just prostitution," said Wisconsin Attorney General Brad Schimel. Homeless youth are especially vulnerable, he said, citing a study showing that once on the street, one out of every three teens will be approached about prostitution within 48 hours.
Tyler Schueffner, street outreach and transitional living coordinator for Briarpatch Youth Services, sees a big increase in Dane County, where more awareness of the trafficking issue has exposed many more cases of sexual exploitation of teens in the form of online pornography and sex trafficking.
"Some of this, there's a new kind of evil, to do what they do to another human being, let alone a child," he said.
Youth can be assaulted, abuse substances, develop mental health problems, and engage in "survival sex," trading their bodies for food, clothing, drugs, money or a place to stay. 
"This is a business, and like any business, where there is demand there is trafficking," Vaudreuil said. "The problem occurs across the state because the product can be easily and safely transported. A pimp driving with a female trafficking victim isn't like driving with drugs in the car for sale."
In Madison, since 2012, police have identified about 300 girls under age 18 being trafficked.
"These are only the ones we know about," Krajcinovic said.
In a grim example, information from a juvenile trafficking victim triggered three criminal cases that eventually linked to activities of multiple pimps, some of whom are also drug dealers, and gang associates in Madison and Milwaukee from 2013 through 2015. The men were "grooming" or trafficking more than 20 girls and women, most homeless or living out of motels or fractured homes.
The cases included a homicide, drug overdose of a boy, a shooting, and multiple cases of sexual assault. Another helped bust an East Side gang responsible for drive-by shootings, burglaries, robberies and drug dealing.
Jan Miyasaki, executive director of Project Respect, which provides advocacy, counseling, crisis intervention, transitional housing and other services for women with prostitution histories, said Madison is ripe for trafficking.
"Right now, Madison has a huge supply of people who have limited options," she said. "The homeless population is a huge supply."
But Miyasaki put the onus on men paying for sex with desperate, vulnerable girls and women being trafficked. "We can't expect our kids to protect themselves," she said. "This couldn't happen if people weren't buying them."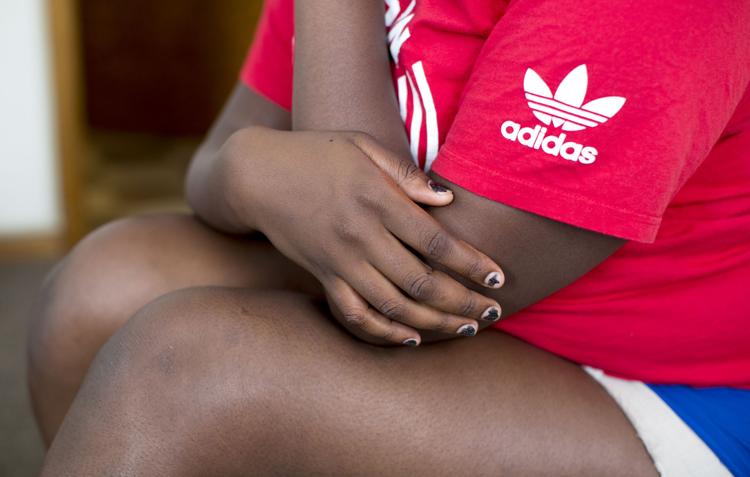 'He's taking all my money'
The petite blonde woman, raised in Green County by a single mother who had three children by age 20, is smart, articulate, resourceful. In grade school, she and her sister did beauty pageants. In high school, they did cocaine and painkillers. Both graduated.
She agreed to tell her story to warn others about the dangers of the life she lived for four years. The State Journal is not naming her to avoid endangering her.
Eventually, she moved to a duplex with a man in his mid-20s and soon learned the downstairs neighbor was a heroin dealer, a convenience that helped deepen her addiction.
Later, the sisters moved in with their father, a drug addict who regularly got high with his daughters. By then, the pair were making frequent trips to Madison, hanging out with drug dealers, leaving for weeks at a time.
During this time, the sisters sampled the sex trade. At first, they made cash through a scam, putting ads on the internet, telling men they needed to pay for an initial webcam meeting, and then using a fake image to dupe the client into making payment, never meeting face to face.
Then they began to meet the men. "She did the first call," the woman said of her sister. "I followed. Nobody introduced us to it. We were in so deep. We took it to the next step."
The first time, they met a man in Paoli, the sister joining him in his car. In less than five minutes, she came back with a $100 bill. They started selling sex daily, the ease of making hundreds of dollars in scant time intoxicating. A client who was a police officer from northern Wisconsin gave them an older car and roughly $15,000 over a few months.
"Every once in a while, you end up with a sugar daddy," the woman said. "You'd be surprised at the type of guys who are into this."
Brittany Carter, homeless since age 15, wants a stable place to call home and a new start on life, but she's still struggling to fulfill her dreams.
But almost all of the cash was consumed by their addiction. "Some of it paid for the hotel," she said. "The rest of it paid for heroin. We were doing so many drugs."
One day, the father had enough, abandoning his daughters at a sleazy Beltline motel, leaving them with only $20 and a pack of cigarettes. "That's how we landed on the street," said the woman, 19 at the time. "At that point, we were officially on our own. If we couldn't find clients, we were sleeping in our car."
But the sisters, both with prepubescent looks, were candy for men who prized young girls who saw them as fresh "like a schoolgirl." The encounters were "degrading and gross," the woman said, adding, "My sister and I were lucky we didn't come across some psycho."
By now, the sisters were woven into a criminal underworld of dingy motels, pimps and trafficking, Backpage connections and heroin, their addiction costing $500 to $700 a day. "It always went back to drugs," the woman said. "Our drug dealers got the money."
Like many girls drawn into trafficking, she fell for a drug dealer-pimp. In this case, a 38-year-old man who was married, had a child by another woman, and had other, ongoing sexual partners. "I fell in love with him," she said. But "it doesn't matter if they like you or not, they will take advantage of you."
In June 2014, Krajcinovic began an investigation that led to the arrest of the woman and her pimp. He was charged with human trafficking, drug offenses and sexual assault and sentenced to 15 years in prison after a plea deal knocked off the sexual assault charge. She was charged with drug possession, fraud and bail jumping, but the felony counts were dismissed in a plea deal. Her probation ends next May.
The woman, now 23, has been sober for almost two years and living content with an older man and their baby son in his creme-colored ranch house on the West Side.
"When I got sober, that's when I got serious," she said. "I've never felt better than where I am."
But she realizes, "I'm still recovering. "When you've lived that lifestyle so long, it's still a struggle every day not to go back to what I was doing."
She still doesn't see herself as a victim, a reflection of the depth of a pimp's control.
'I don't even know who I am anymore'
The psychological trauma of trafficking is profound, Miyasaki said.
She's now working with an 18-year-old woman who was taken from her dysfunctional mother and lived in foster care and on Madison's streets as a runaway.
The woman, who doesn't know her father, has been homeless since age 13, falling into heavy drinking, drugs, and trading sex for money or shelter while living in multiple states. She returned to Madison a few months ago, and continued her lifestyle, has been gang raped and trafficked.
"I'm in a place where I don't even know who I am anymore," she told the State Journal in an interview with Miyasaki present. She describes her status among dealers and pimps: "I am a bitch. I have to stay in my place."
She is now trying to escape a toxic haze of homelessness, addiction, violence and manipulative pimps.
Dr. Mollie Kane, a family doctor who specializes in adolescent medicine, sees many girls through her work at Access Community Health Center and the Dane County Juvenile Detention Center, the latter where she began encountering human trafficking victims a decade ago.
"Over time, it led me to start screening all the kids," she said, adding that she now sees a large number of youth who trade sex for shelter, food and clothing and about five a week engaged in human trafficking.
Their profile is young, 13 or 14 years old and mostly white, with a smaller number of black and Latino girls, Kane said.
Often, vaginal trauma from sexual assault disappears before she sees the girls, but she sees black eyes and once even a pregnant girl with trauma to her belly, Kane said. "By far, the biggest problem we see around sex trafficking is drug addiction and mental health problems."
"The horrible effects on the victims are the most troubling," Vaudreuil said. "As we investigate and prosecute these cases, the long-lasting trauma we see is overwhelming.
Be the first to know
Get local news delivered to your inbox!