Background: While attempting to hitchhike from Two Rivers, Wisconsin, to Council Bluffs, Iowa, in November of 2015 to visit his mother, Haines suffered a heart attack, his fourth, near Madison and landed in a hospital. A felon and a recovering alcoholic, he was homeless at the time. After his release, he began sleeping on Capitol Square. He chooses not to stay in the city's homeless shelter for single men, finding the conditions unsanitary.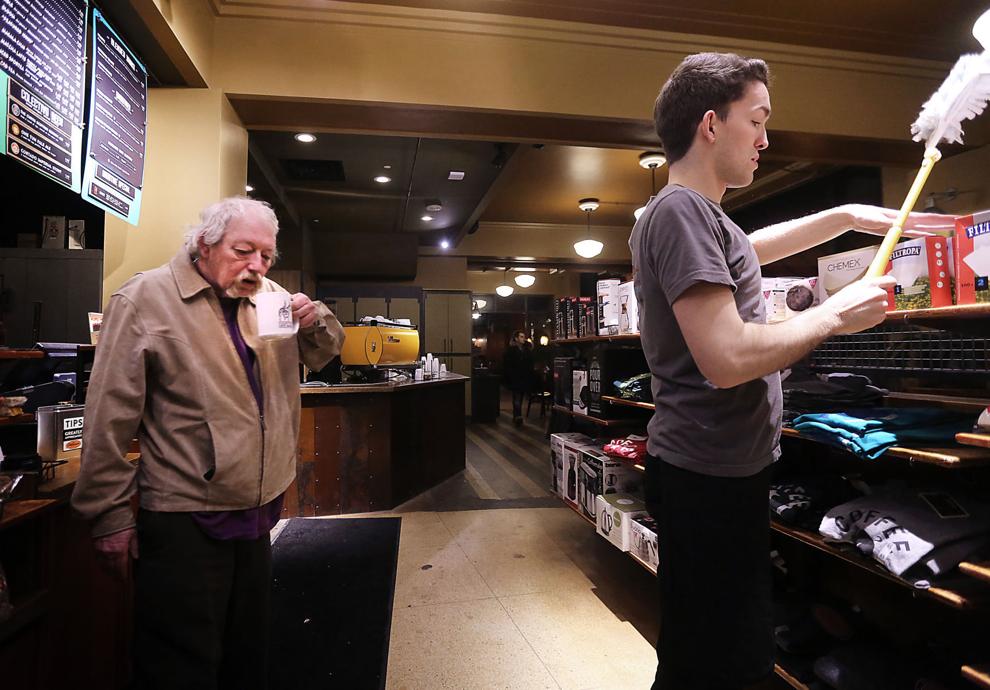 Friday, March 4
11 a.m.: Haines bakes chicken for about 30 people at the Bethel Lutheran Church day homeless center, where he is a volunteer chef. He hopes the work, which he does almost daily, will help him get a paying job at a restaurant.
1:30 p.m.: His cooking duties done, he heads to the Square to check on his belongings, which he leaves unattended during the day near the U.S. Bank Plaza. He has bedded down at the same spot on a street corner most nights for the past four months. He has no cash on him and $4.79 worth of food stamps that must last until his next allotment of $194 in 10 days. He refuses to panhandle. "I'm not a beggar."
2 p.m.: The day before, police "tagged" his belongings, meaning he has 24 hours to move them. Police had always left him alone before, but then another homeless man, someone Haines considers a hoarder, drew too much attention to all of the homeless in the area by stockpiling trash. Now they all must leave. Haines decides to move his sleeping quarters several blocks away, to the John Nolen Drive underpass at Monona Terrace.
2:30 p.m.: He begins what will be three grueling trips on foot to relocate his possessions. "This is everything I own," he says, surveying six sleeping bags, 13 blankets, two jackets and three suitcases of clothes and other items, including 50 hand warmers and a photo album with pictures of his late wife. His 57-year-old friend, Anthony Mercurio, also is forced to vacate his spot on the Square and packs up to move with him.
3:40 p.m.: The two arrive at the underpass after dodging six lanes of traffic on John Nolen Drive and hoisting their suitcases over concrete barriers.
4 p.m.: Mercurio, who suffers from several ailments, is too weak to continue. He boards a Metro Transit bus to spend the night at a motel. He just received his monthly Social Security Disability Insurance check from the federal government, so he will use $52 of it for a warm bed and bath. Before he leaves, he gives Haines $10.
4:30 p.m.: Haines spends $8 of it on cigarettes at Tobacco Mart on State Street.
5:45 p.m.: He arrives back under the bridge with his second load of belongings.
6:30 p.m.: On his third trip to his new sleeping site, he stops at Colectivo Coffee to warm up and rest. Spends his last $2 on a mug of coffee. He has not eaten since breakfast. "I can live off one meal a day." A light snow begins to fall.
7:15 p.m.: After setting up his sleeping quarters, he smokes and watches traffic until falling asleep around 11. "Time goes slow when you're homeless," he says.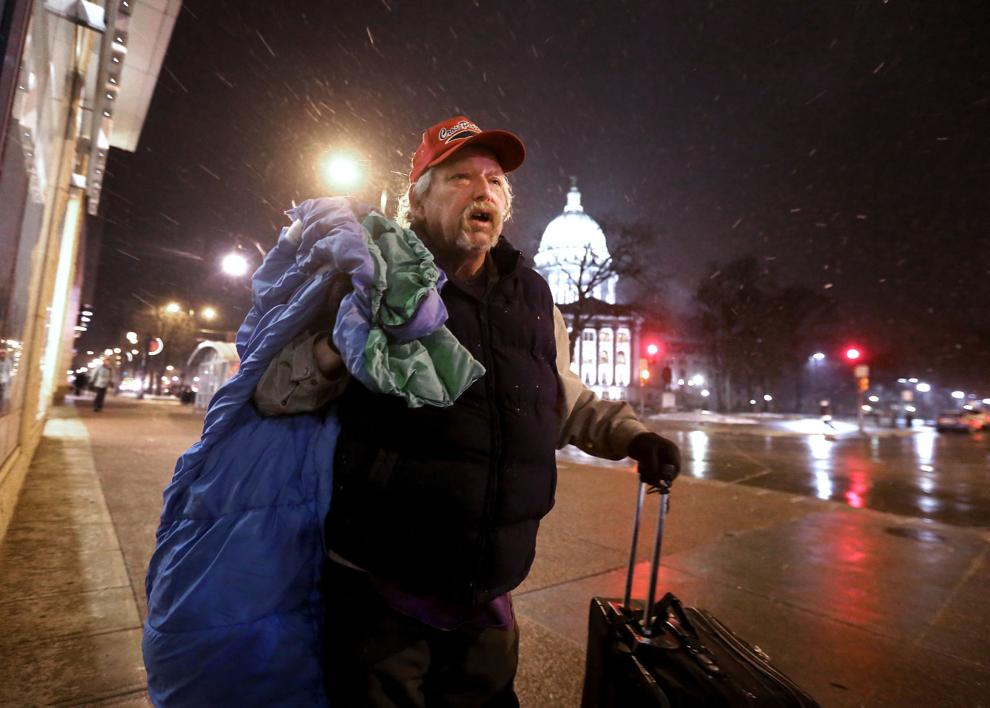 Saturday, March 5
5:30 a.m.: He wakes up. The overnight low was 29 degrees.
6 a.m.: Uses the restroom at a Starbucks and "throws a little water" on his face. He has no money to buy anything but the staff lets him be. "That's because blondie's not here," he says, referring to a manager who he says usually kicks him out.
8:45 a.m.: The Bethel day center is closed on weekends, so he heads to the Central Library, which opens at 9. Of the 15 people waiting to get in, he recognizes 12 of them as fellow homeless people.
9 a.m.: He checks out a DVD player and watches movies until 3 p.m., when a charity group provides a free hot meal outdoors on State Street. It is his first meal of the day.
Update: Three weeks later, Haines answered a want ad and was hired as a maintenance worker and night cook at The Red Mouse, a restaurant and sports complex in rural Cross Plains, about 15 miles west of Madison. He has been employed there full time ever since and lives in an apartment on the property. "I never want to go back to the streets," he said. Kitt Kalscheur, owner of The Red Mouse, said he tries to see the potential in everyone. "I believe in second chances."