A young woman named Raven, new to town and pregnant, begs for food and panhandles on State Street.
She became homeless only weeks ago, one of the thousands here enduring indignities for the first time or still suffering after months or years.
The challenge is unrelenting, and Madison, so accustomed to being atop best-of lists, is not keeping up.
Each day, the community's phone line for the newly homeless gets about 25 calls, most from families being evicted. Dane County's prioritized waiting lists for homeless people in dire need of housing has swelled to 770 single adults and 561 families, the latter representing 1,801 adults and children. Fifteen hundred Madison students showed up for class homeless last year, a doubling of the number in eight years.
A nine-month reporting project by the Wisconsin State Journal found tangible progress on many fronts, but also glaring gaps that call into question the community's progressive reputation and the state's commitment to the vulnerable. Without a dynamic response, the suffering will continue and the human and monetary costs will mount.
There is, at the local and state levels, growing attention to this daunting problem that has intensified in recent months. Today, in the final installment of the project, we turn to the path ahead and whether this new momentum can keep occurrences of homelessness rare and brief.
---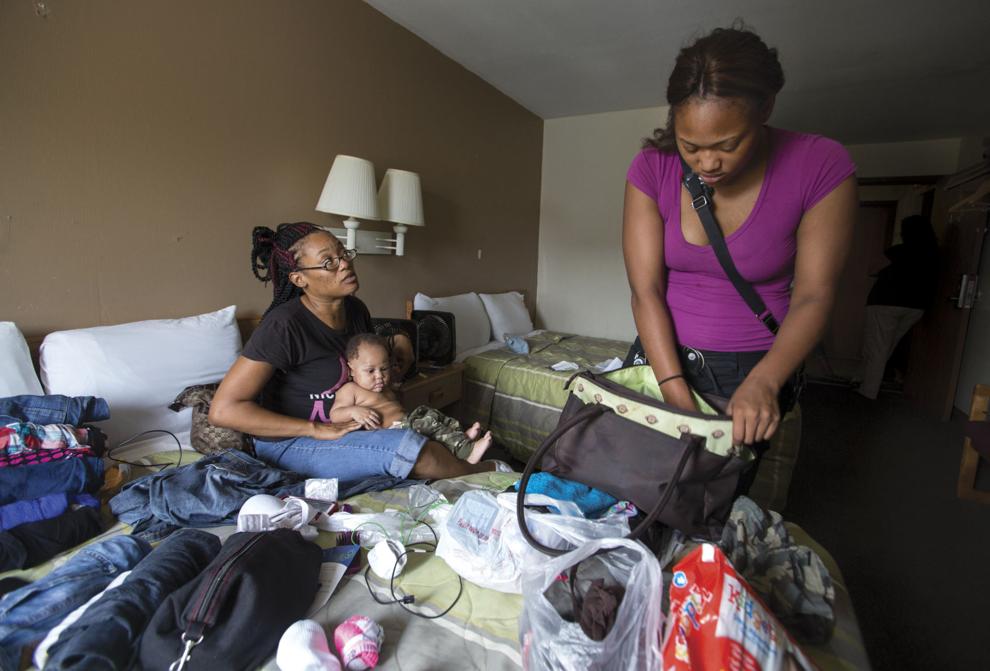 To find Madison's homeless, look to the guests on a single day at a Far East Side motel.
On Aug. 25, law enforcement officers knocked on the doors of everyone staying at a Motel 6 off East Washington Avenue, the third and largest Operation Giving Hope, an effort to assist the homeless led by Madison police and Project Respect and supported by community donations.
During Operation Giving Hope, the effort to help the homeless by knocking on doors at a Far …
At the motel, officers contacted 66 homeless adults, some coming from a nearby motel because word spread. The adults had connections to 91 homeless children, including 25 under age 3 and a dozen not registered for school. Thirteen women were identified as sex trafficking victims.
Guests received clothes and food. Children got enrolled to Head Start and school. People were referred to housing.
"We've been struggling homeless for about five years now," said Dazzle Bowsky, 38, who began raising her children in the notorious Cabrini-Green housing project in Chicago and was at the Motel 6 with three teenage daughters and a five-month old grandson. "I just need a place to stay."
As need persists, city and Dane County leaders are directing more attention, focus and commitment to preventing homelessness and strengthening the safety net. And at the state, some officials are exploring new strategies as the budget looms.
"We're at a point where the community awareness has happened," Dane County Executive Joe Parisi said. "People are focused on this issue and want to do something about it. Now the nuts-and-bolts solutions have started to come together."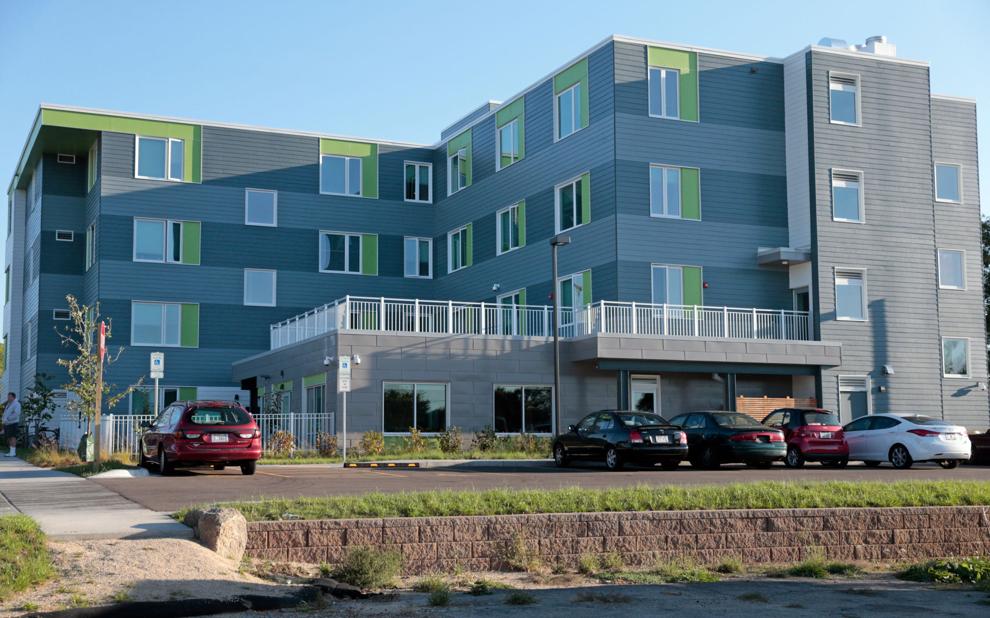 In Madison, halting progress
In recent years, as a homeless encampment rooted on the front steps of the City-County Building, local leaders have moved unevenly to more cooperation on homeless issues, with the biggest advances in housing.
The city, with county investment, is using its Affordable Housing Fund to help get millions of dollars in federal tax credits to create 1,000 units in five years. The community's biggest Housing First project, the $8 million Rethke Terrace project on the East Side with 60 units for chronic and veteran homeless, opened in late May and is already full. Two more projects could be opened in 2018.
"We have to keep replicating Rethke," Mayor Paul Soglin said. "It's going to be a slow, deliberate process that will lead us to permanent housing for as many people as possible."
After failing at several sites, the county is spending $2.7 million to buy and renovate the Greater Madison Chamber of Commerce building, 615 E. Washington Ave., for a homeless day resource center expected to open next summer and be the most comprehensive ever offered in the community. Catholic Charities Madison will run it, with the county, city and United Way also contributing to its $480,000 annual budget.
Due to tight finances, city and county operating budgets may not have much new money for homeless services, according to preliminary presentations to the Dane County Homeless Services Consortium board, a collective of agencies and service providers.
The county gets no state or federal funding to address housing or homelessness, so anything the county does in those areas must come from local tax revenue, said Lynn Green, the county's human services director. That includes funding a homeless services manager, added in 2014 under Parisi. The county also has invested heavily in housing for formerly incarcerated people and in emergency shelter for domestic abuse victims and the homeless.
Soglin said he intends to propose spending "in the six figures" to make permanent a professional street outreach team that identified tenants for Rethke Terrace, and is working on other initiatives, including an effort to help veterans with dishonorable discharges so they're eligible for benefits that can lead to housing.
But the mayor looks with dismay at homeless encampments that have overrun liberal cities like Seattle, and despite criticism said he won't budge from his posture of compassion with rules — including pressing his proposed restrictions on sleeping on sidewalks that were rejected by the City Council last week. Yet in recent weeks, he's been meeting with advocates, such as the volunteer Friends of State Street Family.
"I think we need an office to end homelessness with paid staff whose job is to coordinate agencies," said Torrie Kopp Mueller, housing director for the YWCA and chairwoman of the Homeless Services Consortium board. "They can look at performance measures, provide training, identify priorities and needs, and keep us all focused on our work."
Soglin and Parisi are now exploring such a structure and looking at other communities and their outcomes. Any change wouldn't happen in the coming 2017 budget, but could occur in 2018, Soglin said.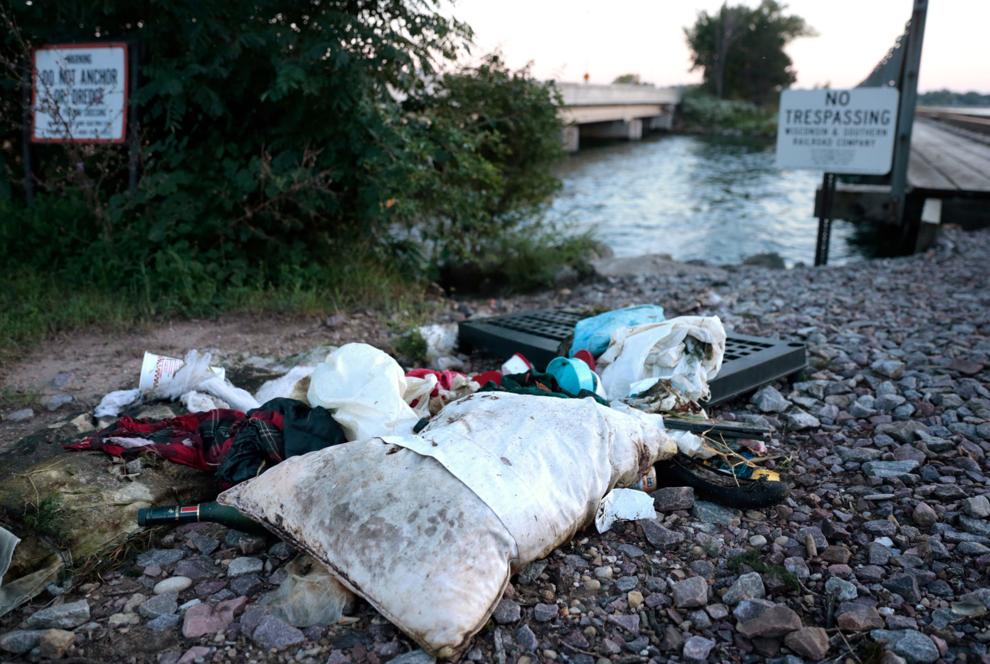 Movement at state level
Created just 21 months ago, the Wisconsin Coalition Against Homelessness this summer offered specific policy and budget recommendations, including a stronger interagency council led by the governor or lieutenant governor and including department heads, and at least tripling the state's direct funding to address homeless issues from $3.3 million to $10 million. That figure still would be far behind neighboring states such as Minnesota.
An interagency council is "the highest priority," said Joseph Volk, the coalition's director. "It's a mechanism that works uniquely with the issue of homelessness because homelessness hits so many departments. To move forward, you have to get out of silos. It's a long-term strategy."
The council would set priorities, order a much-needed state plan to end homelessness, and could be served by a new office to end homelessness, Volk said.
The state should at least double the current $1.2 million in funding for emergency shelters, add money for support services for permanent housing, which would help secure federal housing funds, and add at least $4 million in funds to help prevent homelessness, he said.
"There needs to be huge conversation on the state's role in housing," Volk said.
Soglin applauds the Wisconsin Housing and Economic Development Authority, which uses federal tax credits to create housing for the homeless and low-cost units. But it's not state investment, he said, adding, "Wisconsin is one of the worst examples of a state government ignoring its housing crisis."
Parisi said that if you look at what the county and others have done locally in the last few years to address homelessness, "that type of effort has been completely missing at the state level."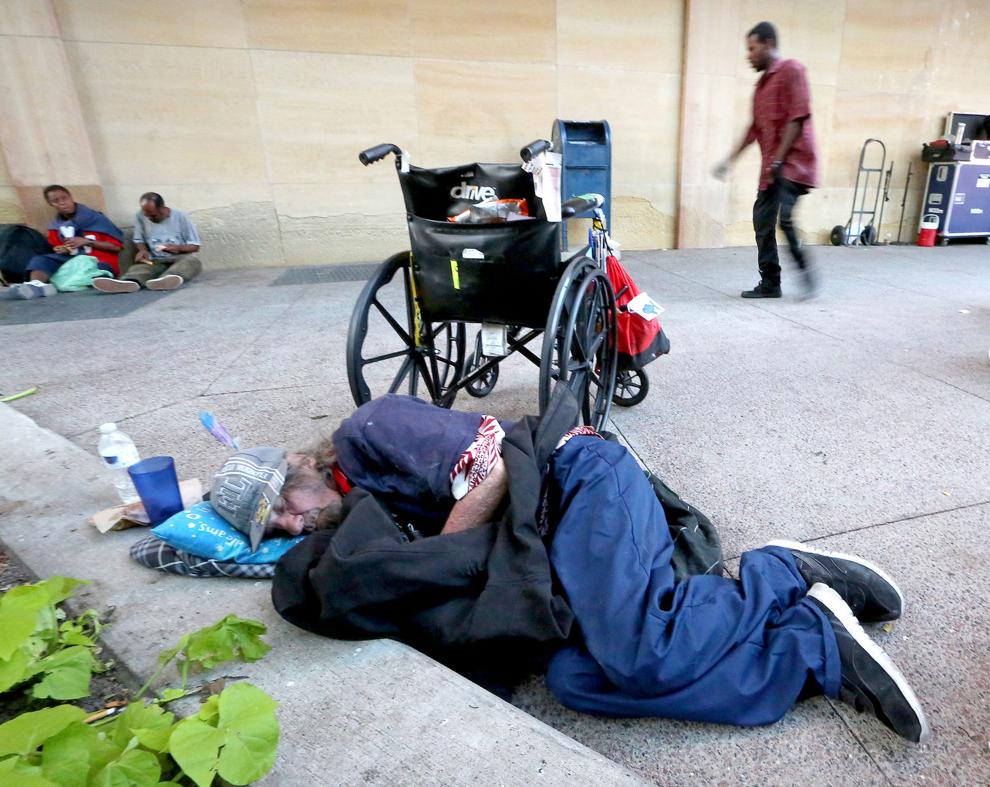 Lt. Gov. Rebecca Kleefisch, a Republican, has publicly made homelessness a priority and spent months studying the issue and meeting with Volk. She is refining proposals, focusing on collaboration, coordination and performance standards.
Kleefisch was cool to some of Volk's key proposals, including the interagency council and new funds. "I don't think appointing people with bigger titles is the answer here," she said. "It's less about dollars because we have a lot of dollars devoted to programs that touch this demographic. However, the way these dollars are allocated are sometimes not the most effective.
"We're right in the middle of budget briefings," she said. "We're not at the point of unveiling the big document. But there are discussions we're having because I'm passionate about this."
Parisi argues it's imperative to look at the wage side of the equation so that people can afford housing. He wants the state's minimum wage to reach $15 an hour over time. Kleefisch batted down the idea, pointing to studies — hotly disputed — that an increase in the minimum wage will cost jobs.
State lawmakers from both parties are speaking out more than in the past.
"The state provides homeless services through a lot of different agencies. We may be better off looking to directing all the different agencies into a single entity," said State Assembly Majority Leader Jim Steineke, R-Kaukauna. "I'd like to see an interagency council that's more effective. (But) I don't want to be overly prescriptive. I would challenge anyone who thinks the status quo is working."
Steineke has not yet crafted specific legislation and is looking at several aspects of homelessness. His interests include helping avoid evictions, mitigating risks for landlords, and helping WHEDA create more housing.
Rep. Melissa Sargent, D-Madison, supports much more state funding, support for WHEDA, boosting the minimum wage, rethinking tenant-landlord laws, and changing the state's CCAP online court records system, which "has become an anchor to people looking for housing.
"I think the best way to improve the organizational aspect of fighting homelessness would be to have a central clearinghouse like they have in Minnesota," she said. "A state office could help create standards, metrics, staffing and a more cohesive system."
State Senate Minority Leader Jennifer Shilling, D-La Crosse, said the state can do more to partner with local communities, increase funds for emergency shelters and expand access to affordable housing. The Legislature's standing committees on housing issues "should hold public hearings, listen to community members, explore solutions and work to advance policy changes."
Steineke believes change is coming. "Obviously, there are differences between the parties, but the overall idea is one we can get behind," he said. "I'm committed to helping. We have to make it a priority if something is going to happen."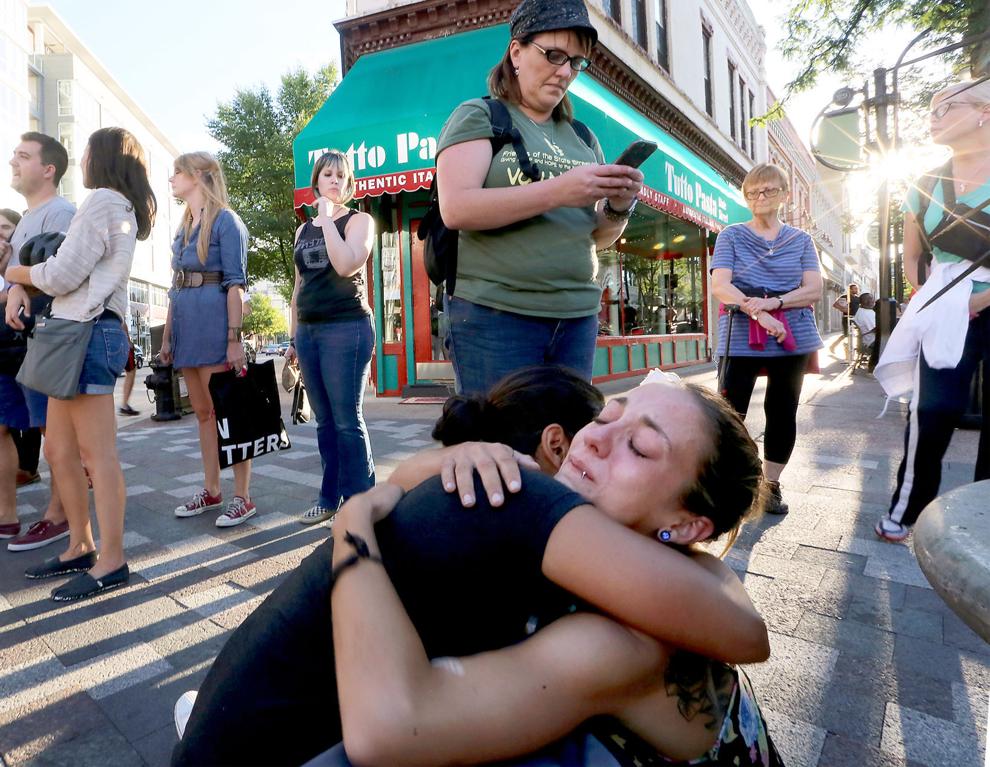 Political clout, organization
To bring change locally, "The Homeless Services Consortium needs to have people with power on their board," said former Madison Ald. Brenda Konkel, an outspoken advocate for the homeless. "The City-County Homeless Issues Committee needs to have some power — it is merely advisory and ignored."
City and county leaders could become consortium board members "to provide leadership and direction in our efforts," said Karla Jameson, associate executive director for Porchlight Inc., which provides shelter, housing and services to the homeless.
Kopp Mueller, chair of the consortium board, said: "I think we need to be more strategic with where funding is awarded. I think we can do a better job of holding agencies accountable to perform well."
Advocates and service providers also want more resources for outreach and case management, which are critical to identifying the homeless, helping them and making sure they enter and keep housing.
Tyler Schueffner of Briarpatch Youth Services, which offers outreach to housing, added, "Skilled people need to do this work and should be recognized for their skills, education, training and commitment to helping."
Renee Moe, president and CEO of United Way of Dane County, said reducing homelessness will continue to be "a huge priority" for the organization. It has been a community catalyst in addressing homelessness — with a focus on research-based strategies like Housing First — and is spending a little more than $3 million of its $18.8 million in community investments this year on direct efforts to decrease homelessness. Almost all of the money comes from local businesses and residents.
Key business leaders, the city's three hospitals and the Madison Community Foundation say they support tangible solutions to homelessness and are open to new ideas and initiatives.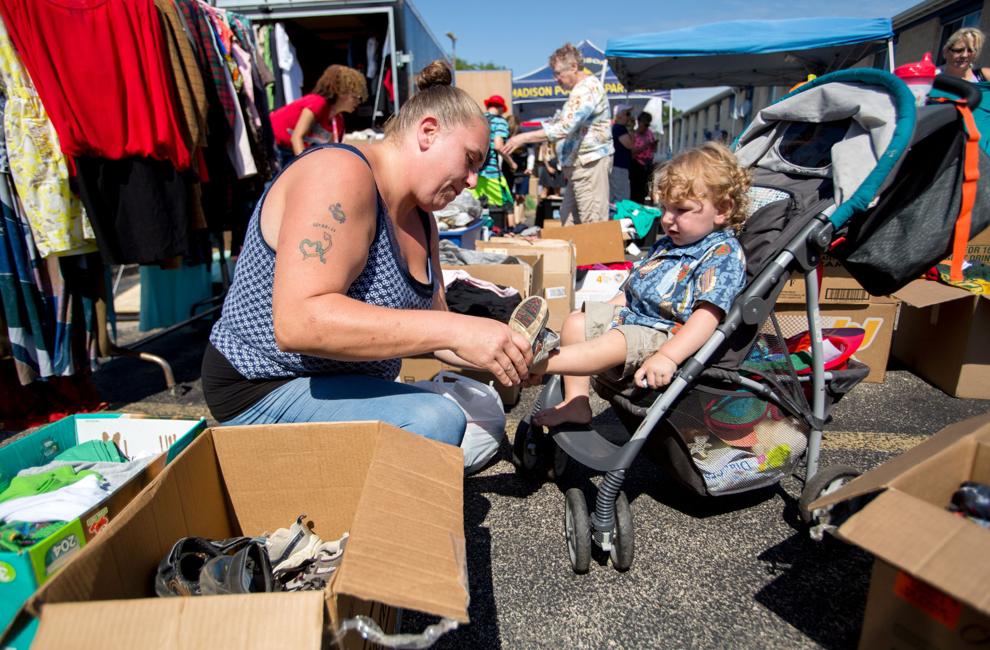 Access to housing
For some, addressing homelessness must start with people taking full responsibility for their behaviors. Paying bills on time, working hard and obeying laws are character traits that people need to be taught if they lack them, said Madison landlord Josh Gierach, who has tightened screening at Orchard Village Apartments on the Southwest Side, leading to high turnover among tenants and homelessness.
"Some would say society has failed the homeless," Gierach said. "I would push back and suggest that it is the other way around in many of the cases I have seen. Either the homeless do not want a home, or have flat-out failed society."
The solution "has to start with the hearts and minds of those who are actually homeless to help them get past their individual struggles," said Gierach, adding that his opinions are evolving and have "room to grow."
Michelle McNeal is among those hoping to change the minds of landlords. She and her son, a freshman at Madison East High School, have been homeless for more than a year. They were staying at the Motel 6 during Operation Giving Hope, paying a weekly rate of $336.97. A modest two-bedroom apartment in Dane County typically rents for around $940 a month, including utilities.
McNeal, 41, works 80 hours a week at two full-time jobs — she's a restaurant hostess during the day and a convenience store cashier at night — both paying $9 an hour. Yet her past impedes her.
She has two prior evictions and a misdemeanor conviction in 2013 for disorderly conduct. She does not think these factors should forever preclude her from rental housing, a stance that highlights the often wide gulf between how renters and landlords view acceptable risk.
"I'm working this hard to show people I've changed," McNeal said of her long hours. "Give me a month-to-month lease so I can prove it to you."
Advocates and providers say helping people understand why their neighbors become homeless is an essential part of attacking a ceaseless and destructive problem.
"This is a crisis of great proportion, no less than if a tornado leveled a Wisconsin town of 20,000 people leaving them no place to sleep at night," Volk said. "Other Midwestern states are reducing homelessness by investing in programs that have been proven to work. Wisconsin leaders should have the courage to do the same."