Six-year-old K'won Watson cries as his mother rouses him at the Salvation Army homeless shelter in Madison. He had wanted more sleep and will spend much of the school day yawning.
It is March, and K'won is in kindergarten — one of the hundreds of students who are homeless in Madison on any given day.
He and his infant brother, Amir, and their mother, Alicia Turner, 25, are living at the shelter in a dormitory-style room that is clean but spare. To add some warmth, Turner has decorated the door with three drawings she's done with colored markers — two of butterflies, one of a fruit basket.
Like his older brother, Amir wakes up cranky, too. Turner changes his diaper while sending K'won to brush his teeth in restrooms shared by 18 families.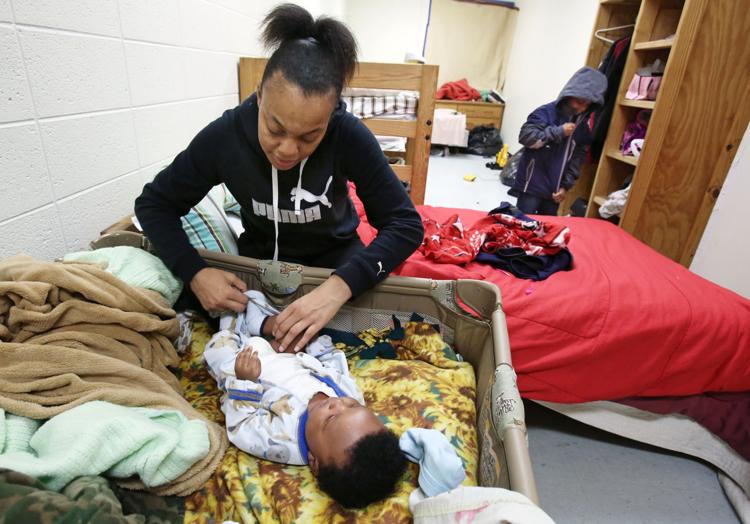 It will be another long day for Turner. That afternoon, she will take a city bus to her job as a convenience store clerk, returning to the shelter after 9 p.m.
To get K'won to Hawthorne Elementary School four miles away, the district dispatches a cab — a federal law requires districts to provide transportation for homeless students. But in the morning commotion, K'won either misses the cab or it never shows up. As his mother argues with the cab company, K'won drops his backpack and crumples at her feet.
"I don't want to miss school," he sobs.
He eventually boards a district-contracted bus and arrives 40 minutes late, missing a literacy lesson. Principal Beth Lehman had set aside his free school breakfast, which he eats hungrily before joining his classmates.
One among many
It is in the hallways of our schools that the extent of the homelessness problem fully reveals itself.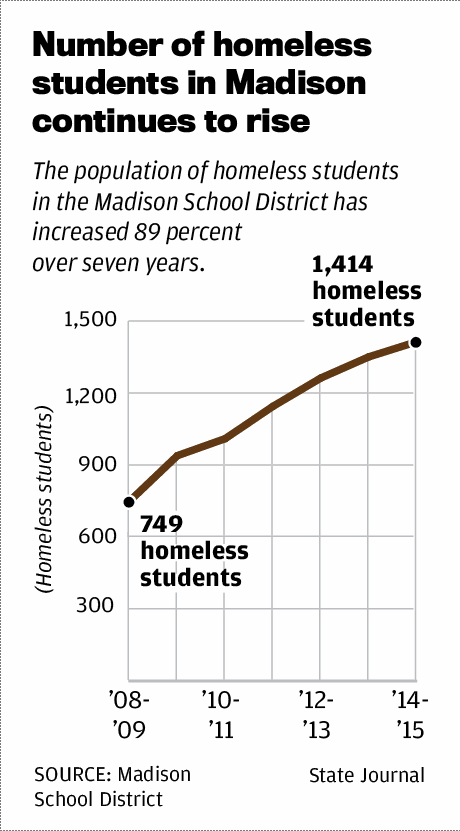 There were 1,414 students in the Madison School District identified as homeless over the course of the 2014-15 school year, 5.2 percent of the student body. The number rises each year and is up 89 percent since 2008-09.
By some counts, children are the majority of the city's homeless, yet they aren't its typical face. They tend not to live on the streets in public view, although that does happen. Rather, a majority of their families are doubled up with relatives or friends, often in substandard conditions. Or they stay in shelters or motels.
K'won began classes at Hawthorne Elementary on Oct. 20, about seven weeks into the school year. His mother, pregnant at the time with Amir, had brought the family to Madison from Chicago, fleeing violence and drawn to this area's low unemployment rate.
"They say you can come here and get shelter and help, but I can get that in Chicago," she said. "What I can't get in Chicago is a job."
Within two weeks, she had offers from a fast-food restaurant and a convenience store. She took the latter because it paid more: $9.50 an hour.
Initially, she and K'won stayed with Turner's aunt, who lives on Madison's East Side in the Hawthorne attendance area. That's how K'won came to enroll at the school.
The federal legislation that governs services to homeless students, called the McKinney-Vento Act, requires schools to enroll homeless children immediately, even if they lack documents like birth certificates, proof of residency or medical records.
The act also gives a homeless student the right to continue attending the same school — with the district paying for transportation — if the family moves out of the school's attendance area. This happened with K'won.
He and his mom could stay with the aunt only so long before they would risk throwing her into homelessness by violating terms of her lease, so they moved into a room at the Salvation Army homeless shelter on East Washington Avenue Downtown on Dec. 16.
There were now three of them. Amir was 9 days old.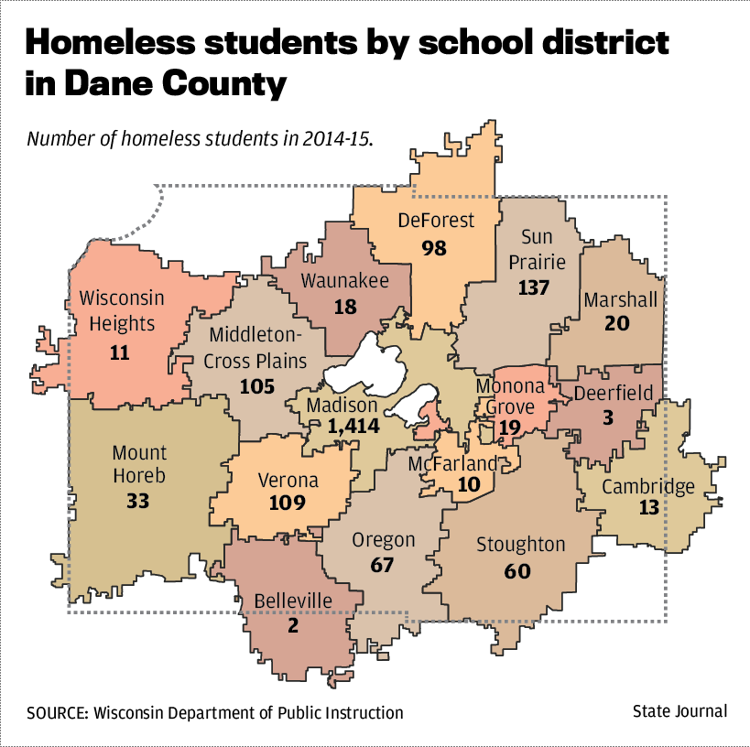 Challenging start
Though other schools are much closer to the homeless shelter, K'won continued attending Hawthorne, part of the effort to provide some stability in his young life.
His first weeks of kindergarten were rough. He had not been enrolled in a school before, and he missed the crucial first few weeks of classes when children are taught basic routines and procedures. He cried frequently, needed occasional naps, and acted out at times.
Some of his frustration likely was due simply to the newness of the classroom experience, said Hawthorne psychologist Patty Hoppe. But among homeless students, there can be underlying anxiety that surfaces as irritability, she said.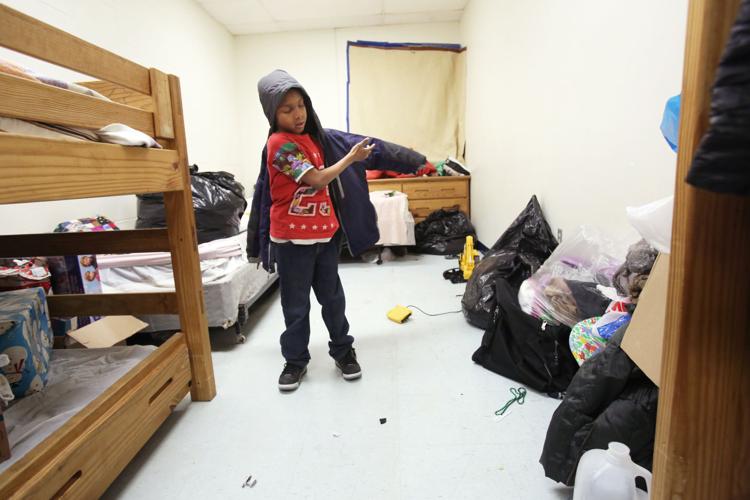 "They want attention, they want to connect with people, yet they're afraid to get too close, because if they get too close and then have to move again, it's too painful," Hoppe said. "So instead, they might annoy a classmate or get into little fights. It serves as a protective layer."
Marques Flowers, 35, remembers not wanting to draw attention to himself or his situation as a homeless middle-school student in the district many years ago, so he said he turned inward. He is now a social worker at Madison Memorial High School.
"Being homeless made it harder to concentrate at school," he said. "You didn't have a routine. Every day was different, and you didn't know if it was going to be a good different or a bad different. The anxiety level rises for a homeless student at the end of the school day. Where am I going to sleep? What am I going to eat?"
Most homeless children suffer specific physical, psychological and emotional damage, yet the effects of homelessness have been shown to be minimized, and sometimes reversed, through early and consistent intervention, according to a review of research by the Family Housing Fund in Minneapolis. This can be tricky terrain for school staff — to both acknowledge a child's difficult situation but also not jump to conclusions, said Hawthorne social worker Maria Loy.
About 6 percent of homeless students in the Madison School District are living with their families in motels or hotels. Meet one such family.
"You don't want to assume children have problems because they are homeless," she said. "Yet you don't want to miss something either. It's a fine line."
Staff members have become highly sensitized to the needs of homeless and low-income students, especially when it comes to food, Loy said. "We've had kids dig through the garbage to get snacks, or they ask for extra food for their brothers or sisters," she said.
Academically, K'won arrived at Hawthorne behind his peers. He could write his name but knew only a few letters, said his classroom teacher, Mai Vang.
"You want to be able to focus on academic achievement, but sometimes that's not realistic," Vang said. "His social and emotional needs were so great. He is a sweet kid and very kind, but because there's so much going on in his life, it's hard for him to zero in on school."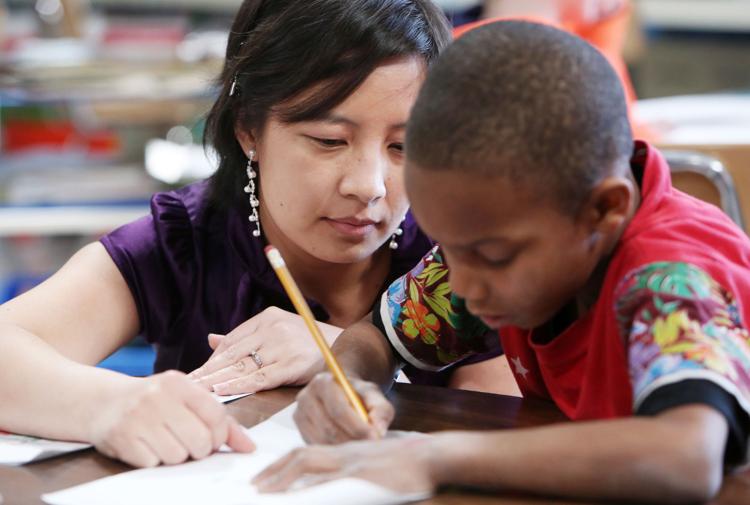 Support network
K'won's status as a homeless student activated an array of rights and assistance. As required by federal law, the district waived all school fees and furnished him with classroom supplies.
The law also requires districts to provide immediate access to free lunches. This was not an issue at Hawthorne, one of 10 district schools where free breakfasts and lunches are available to all children due to high poverty rates.
As K'won became acclimated to Hawthorne, decades of groundwork by the district's Transition Education Program (TEP) supported him. Founded in 1989, the program provides services to homeless students and is highly regarded, having won the country's top award for such programs in 2004.
A teacher and two social workers are assigned full time to the program, a level of commitment that puts Madison at the forefront of districts across the country, said George Hancock, director of the National Center for Homeless Education. The three employees support and train school-based staff, collaborate with community agencies and advocate on behalf of homeless students and their families.
"If we're going to break the cycle of homelessness, we have to look at the needs of the children," said teacher Jani Koester, who has been with the program for its entire 27 years. "They have to have hope that their lives can be different."
The three TEP workers stock a large closet of mostly donated items for homeless students — from socks and underwear to sleeping bags and toothpaste — and they administer small grants to schools that have been used to pay for washers and dryers, weekend food backpacks and welcoming activities.
As the weather turned colder last winter, Hawthorne staff members made sure K'won got a coat and winter boots. On his birthday, they popped popcorn so he'd have a treat to share with his classmates.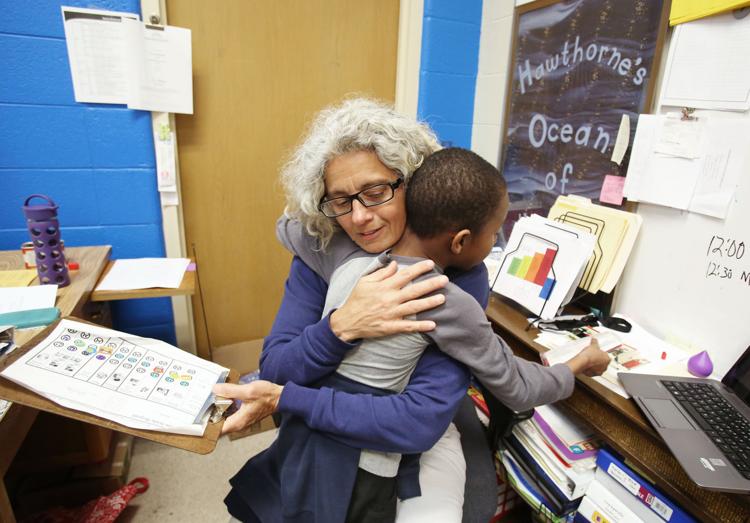 The district provided K'won with intensive reading support, and he began working with Jill Skeans, the school's positive behavior support coach. His charisma quickly endeared him to staff.
"He has the most open smile, the kind that says, 'Hey, love me,'" Skeans said.
As the months went by, he became less moody and more able to focus on coursework.
"He's improved a lot," Skeans said in late winter. "I think he's starting to internalize that it's actually fun to learn. He's a resilient guy in that regard."
K'won's home life occasionally crept into the classroom. During one exercise, students were asked to answer the prompt, "A gift I give my family." Other students offered traits about themselves, like making their parents laugh. K'won scribbled a material item he wished he could give his mother: a stove.
More changes
Meanwhile, his mom's search for an apartment was not going well. Back in Chicago, a landlord had initiated an eviction proceeding against her — erroneously, she contends — and she feared that in Madison's tight rental market, it made her untouchable.
"I came here to make a better life," she said. "I have a job and I'm working a lot of hours. But I can't get a landlord to call me back."
School districts use a more expansive definition than the U.S. Department of Housing and Urban Development.
She had become increasingly worried about K'won and the toll on him.
"I know he's going to remember things we're going through for the rest of his life," she said. "He's only 6, but some days when I cry, he pats me on my back and says, 'I understand.'"
In mid-March, Turner hit the maximum three-month stay typically allowed at the homeless shelter, although the Salvation Army granted her a brief extension because she was making progress on her goals with her case manager. Still, time was running out for her to find an apartment.
Then, over spring break, she lost her job. She and her sons had taken a bus to Chicago to visit family. Turner said she called her supervisors to let them know she wouldn't be back in time for one of her shifts. They fired her, she said.
A few days later, on Friday, April 1, K'won did not show up for classes. The following Monday, Loy, the school social worker, reached Turner and learned the family had moved back to Chicago.
No one at the school knew this was coming, so there were no goodbyes.
"It breaks our hearts when this happens, and it happens a lot," Skeans said. "A student is here one day and then disappears."
Hawthorne has a 10 percent mobility rate, meaning one in every 10 students transfers in or out of the school during a typical year. This is slightly better than the district average for elementary schools of 12.6 percent.
Yet the number of homeless students at Hawthorne this past school year — 40 out of 386, or 10.4 percent — was double the district rate, highlighting an important point. While there is some overlap between mobility and homelessness, the two don't necessarily track evenly. Many measures in the McKinney-Vento Act, coupled with the district's advocacy efforts, succeed in reducing mobility among homeless students.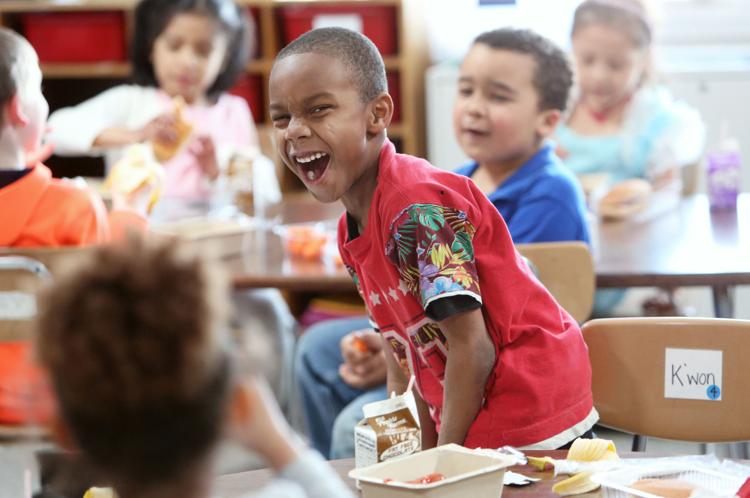 Fleeting presence
K'won came and went in five months. Because of the window he happened to be at Hawthorne, his presence was not captured for purposes of state funding, and his academic performance was not measured on a state standardized test.
Looking back, staff members say he had become more agitated in the days preceding his departure, perhaps sensing the increased stress in his mother's life. On his final day, he saw the school nurse for a stomach ache.
"I think he knew something was off or that change was coming," Vang said. "He had started to cry again, and he started saying, 'I'm tired. I don't want to do anything.'"
A multi-agency effort finds dozens of homeless children and their families living one night at a time in a city motel.
When a student leaves abruptly, there is a grieving period for staff and classmates, said Hoppe, the psychologist. She once helped a little girl deal with her sadness by having her talk about what she would want to say to her suddenly gone friend, then having the girl release a balloon on the playground to deliver the message.
"I wonder about K'won often," Hoppe said. "He had such a good period of adjustment here. I have to hold on to the hope that somehow, as a school, we've made a positive impact on this family and this student."
After leaving Madison, K'won's mother stopped returning phone messages left by the State Journal, and her cellphone number is no longer operational. But a few days before her departure, she spoke warmly of the school and all it had done for K'won.
K'won's teacher kept the boy's name on his locker for the rest of the school year. She's storing his notebooks and folders in case he returns this fall.
"His classmates still talk about him, like how he brought popcorn on his birthday," Vang said. "They ask me, 'When is he coming back?' It's hard to know what to say. I tell them, whenever his family feels it's a good time."