As Madison looks at potentially big changes to its homeless shelter system, its current hodgepodge of ill-suited, outdated drop-in sites has fallen far behind what experts recommend for shelters that promote dignity and contribute to a person's recovery.
The shelters have long been considered deficient, their flaws readily acknowledged and bemoaned by those who run them.
None of the sites was built as a shelter. Homeless men sleep in church basements. The facility for single women and families is a former Catholic school.
In many areas, from the degree of privacy to the number of toilets and the amount of storage space, they come up short compared to facilities in other cities and models espoused in the field.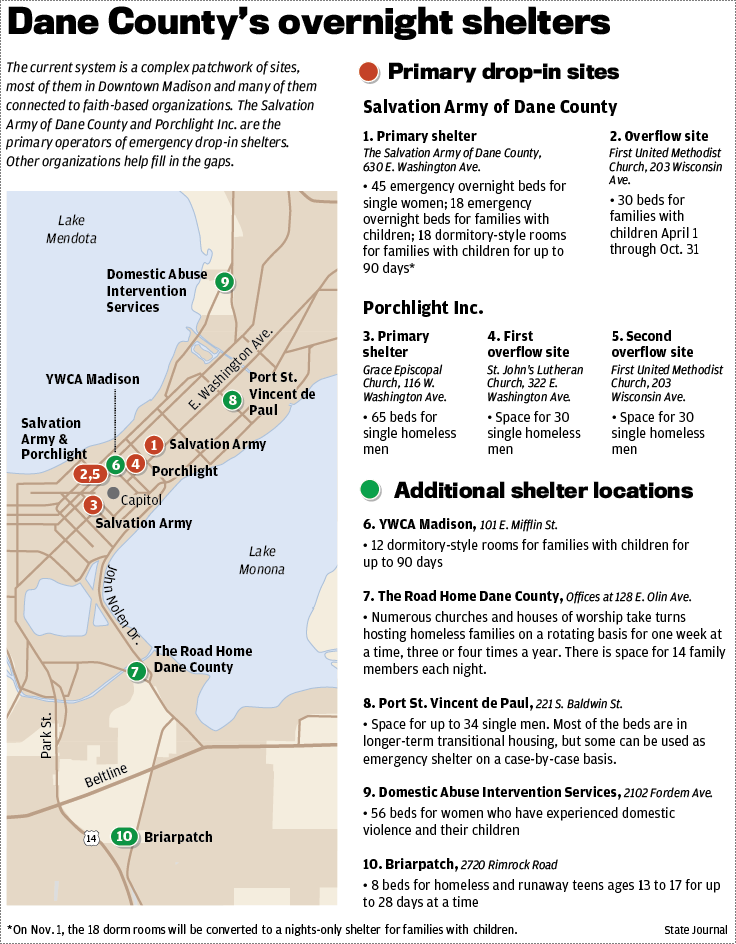 "You have to prostrate yourself to such a level of vulnerability just to get shelter services here," said Sarah Gillmore, who oversaw the Salvation Army shelter for women and families in Madison from 2008 to 2011. "Our facilities are not set up to help, other than to provide a roof over a person's head."
Differences in shelter design and philosophy can really matter, experts say.
Shelters that are humane and welcoming can contribute to an individual's well-being, potentially saving taxpayers money by getting people quickly back to self-reliance. Grim facilities exacerbate stress and are demoralizing to both clients and staff.
"A homeless shelter, if designed well, can be so much more than just a roof over someone's head," said Jill Pable, a professor at Florida State University who studies the architecture and design of homeless shelters. "It can almost be a prescription, like a medicine."
Conditions locally could improve dramatically in the years ahead. The Salvation Army of Dane County, which runs the shelter for women and families, announced plans this month to demolish the former school building at 630 E. Washington Ave. It would be replaced with an updated shelter, plus several stories of lower-cost and market-rate housing that would help destitute renters get their lives back on track.
Shelter director: "The first 15 minutes will make or break a shift."
Separately, the city is studying the financial costs and practical challenges in converting part of a city-owned building at 120 S. Fairchild St. into a larger, better-equipped overnight shelter for single men. A consultant's report on the idea is expected later this fall.
Currently, the primary shelter site for men is in the basement of the educational wing of Grace Episcopal Church, 116 W. Washington Ave., with overflow sites at St. John's Lutheran Church, 322 E. Washington Ave., and First United Methodist Church, 203 Wisconsin Ave.
Another factor that could affect the future of the men's shelter is a possible major overhaul of the block. Hovde Properties, a Madison real estate developer, is trying to put together a project that would combine the Wisconsin Historical Museum and the Wisconsin Veterans Museum into one new museum as part of a large mixed-use redevelopment.
The project is far from a done deal, and there's no timeline yet. If it goes through, it is unclear exactly how it would affect all parts of the Grace Episcopal Church property. The church definitely would remain, but the shelter could be displaced.
In the meantime, many homeless people find the city's shelters so bleak they prefer to sleep on the streets. That's counterproductive for a community, Pable said.
"If a facility is low-quality or perceived as scary, people won't check into it, and then they'll miss out on programs and case management services that could get them adjusted back into society," she said.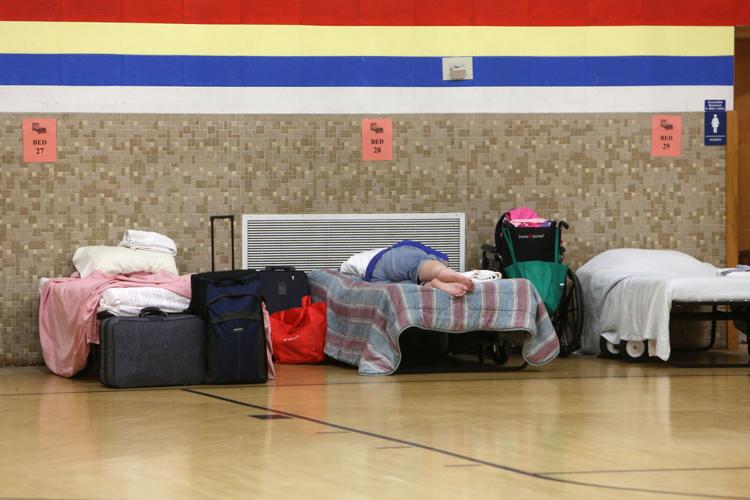 'Rudimentary needs'
During a recent tour, Steve Schooler made no attempt to sugarcoat the limitations of the Grace shelter for men.
"Does it provide the rudimentary needs of a safety net? Yes. But it doesn't do a whole lot more," he said. Schooler is executive director of Porchlight, the nonprofit organization that runs the bare-bones shelter.
The only natural light comes from two basement windows with views of concrete. The metal bunk beds provide no privacy at night.
There is a communal shower area with six shower heads, three toilets and two bathroom sinks, one of which was broken during the tour. The bathroom typically serves around 60 men at any one time.
There is no air conditioning and no elevator. Men in wheelchairs are directed to a back entrance, where a homemade, improvised bridge-and-ramp system is brought out when needed.
At Higher Ground in Minneapolis, the architecture and the policies are intended to convey respect and move people toward self-reliance.
A 2010 remodeling project paid for by donations — the largest from Epic Systems ($128,500) and the JP Cullen Foundation ($10,000) — improved the shelter, particularly the kitchen and bathroom. But only so much can be done with the space, said the Rev. Jonathan Grieser, Grace's pastor.
"The reality is, it's a church basement, with all of the challenges that brings," he said. The shelter has been at the church since 1985.
The shelter's operating budget goes mostly toward labor and was $435,353 in 2015. The money came from private donations ($193,103), Dane County ($134,917), the state ($59,700), and a Madison Community Development Block Grant ($47,633).
One of the current system's assets is that it benefits tremendously from relationships with the faith-based community, Schooler said. Dozens of churches and faith-based groups provide the volunteers who cook and serve the free dinners and breakfasts at the shelter.
The two overflow churches provide their sites for free, while Grace receives about $1,500 a month from Porchlight to help with utilities, Schooler said. Access to the church sites allows Porchlight to accommodate all men needing shelter — 160 to 180 on the busiest winter nights — a positive situation compared to other cities, Schooler said.
Yet there are downsides to relying on facilities not meant to be shelters. At St. John's, men sleep on mats on the floor in a communal room, often clutching their possessions for fear they'll be stolen. There is no privacy — even people walking by on the street can look through a glass door and see the men sleeping.
You have free articles remaining.
Thanks for visiting our newly updated site!
njoy unlimited articles FREE for a limited time by signing up or logging in. No credit card required.
"It's very dehumanizing to spend the night in our basement," said the Rev. Ken Smith, the church's pastor.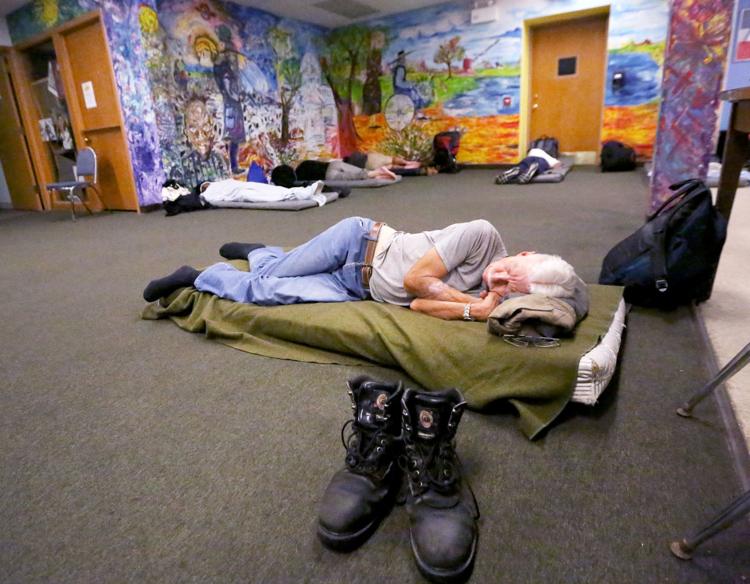 'Insulting, degrading, belittling'
Jerry O'Dell, 69, a retired machinist, looks back mostly with disgust at the times he stayed in the shelter system.
"It's an insulting, degrading, belittling environment," said O'Dell, who last stayed at the Grace shelter in May and now has a room at a boarding house. "The bathroom is atrocious. Their whole attitude is, 'We're doing you a favor. Take what you get or don't come back.'"
John Haines, 56, slept on the streets during the five months he recently spent homeless, convinced the Grace shelter had problems with bed bugs and scabies. Timothy Arnold, 21, who was staying at the shelter one recent night while awaiting sentencing on misdemeanor graffiti charges, described what he called "a lot of racial tension" among the homeless men at the shelter.
"I usually sleep outside for my own sanity," he said. "This is a really stressful environment and demoralizing."
Others are more forgiving.
"I think the shelter is beneficial for the ones who actually want help," said Robert Whitfield, 33, who was staying at the shelter the same night as Arnold.
Schooler said there has never been a confirmed outbreak of scabies. He is not aware of any bed-bug issues in the last couple of years.
He acknowledged that the bedding situation is not ideal. Blankets and sheets get laundered only every second or third day, so men share bedding that has not been cleaned. He said staff members are a conscientious group that try to do their best under demanding conditions and with a sometimes difficult clientele.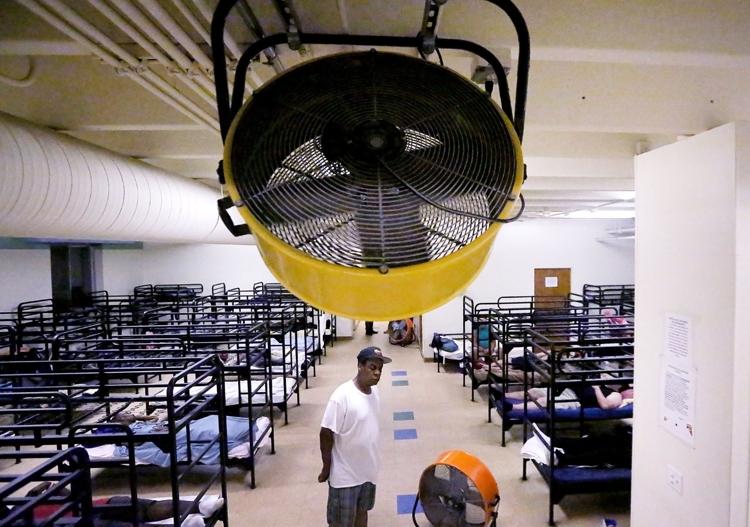 Complaints about the drop-in shelter for single women strike some of the same themes — lack of privacy, racial tension — though concerns about cleanliness are less frequent. (Women are assigned bedding that only they use from night to night, and they are given bleach to wipe down the plastic mattress covers.)
All 45 beds for single women are rolled out nightly into the facility's gym. Some nights, the gym is not available until after 8 p.m. due to recreational activities for homeless children. That can be a point of contention.
"Excuse me, that's our bedroom," said Nancy Griswold, 50, who recently stayed at the shelter while homeless. "We have to be able to sleep."
Melissa Sorensen, the Salvation Army's director of social services, said it would be nice to have spaces for single women that are separate from those for families with young children. "Everyone is sort of on top of each other."
She wishes the sleeping area for single women at least could have waist-high partitions around the beds so that the women would have some privacy when they recline. Storage space also is severely lacking.
"We have nowhere secure for women to lock up their belongings," Sorensen said. "Usually they just have to have their things with them by their beds."
Brad Zeman, chairman of the Salvation Army advisory board, said women and families deserve better.
"It's a retrofitted, cinder-block building that feels more like a jail than a place to call a bedroom," he said.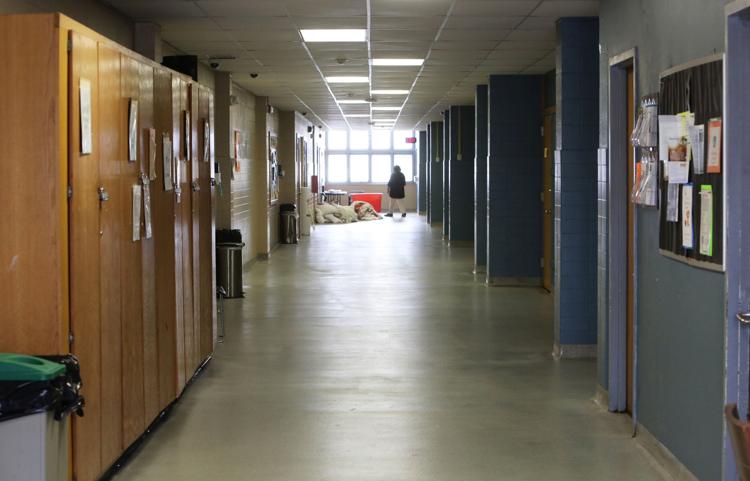 A different approach
Too often, walking into a homeless shelter "feels like a kick in the stomach," said Mike Alvidrez, CEO of Skid Row Housing Trust, a Los Angeles nonprofit organization that provides permanent and supportive housing to get people out of homelessness. The organization practices what it calls "trauma-informed design."
"We began to see how beneficial it could be to organize space in a way that would actually help facilitate a recovery for people with compromised health or mental conditions or who had suffered abuse or who were dealing with depression, anxiety or post-traumatic stress disorder," he said. "We try to create places that feel good to be in, that say, 'You're a part of this community. You're valued.'"
Well-designed, attractive shelters also benefit the staff, said John Shuman, director of design for Services for the UnderServed, a New York City nonprofit that runs shelters and other facilities for the homeless. His buzzwords are "function, economy and beauty."
"Staff are not well paid, and they can be in a brutal environment of aggression and need," he said. "They're the caretakers, and they need to feel like they're appreciated so that they can be more effective with the population they're serving."
Hallmarks of good design for homeless shelters include ample light, generous landscaping, freedom from crowding, spaces to be alone, the ability to control at least some aspects of your experience, and an environment that makes people feel safe and secure, Pable said.
She started Design Resources for Homelessness, an online resource that provides case studies and research-informed guidance on the creation of spaces that promote recovery and healing.
"Privacy is the No. 1 quality that persons who reside in shelters tell me they need — the ability to withdraw," Pable said. "The model of having 40 to 60 people in a single room is really intimidating to people."
Pable insists that many of these measures can be relatively inexpensive, and she rebuts the notion that if a homeless shelter is "too nice," people won't want to leave.
"That's where policies come into play," she said. "You can be very firm with residents that it's not a forever place. But that doesn't mean it can't be humane while they're there."