Decades of inadequate leadership and insufficient direct funding from the state have weakened the fight against rising homelessness in Wisconsin.
Advocates and service providers say state officials must be more engaged to address an often hidden plight that shatters lives and creates significant costs for social services, schools, health care and law enforcement.
There's no precise way to measure homelessness, but a State Journal review of data make clear that its scope is broad — affecting infants to seniors and all demographics.
By one estimate, perhaps 20,000 people are homeless in Wisconsin on any given night. One count shows the ranks of homeless single adults growing by nearly 25 percent since 2007. Another has the number of homeless children more than tripling since 2003.
State officials say Wisconsin spends tens of millions of dollars on homelessness. But the Wisconsin Coalition Against Homelessness and local officials and providers disagree, contending that most of the money isn't targeted directly at the issue. The state essentially has delivered no new direct funding for two decades, with the sum long stuck at about $3.3 million, the coalition says.

That sum is more than Iowa's $1 million in direct funding, but it's dwarfed by the $44.3 million in direct funding in Minnesota — seen as a gold standard of investment and approach in the Midwest — according to a coalition analysis from mid-2015 updated by the State Journal. In far more populous Illinois, the figure is at $49.5 million.
Wisconsin officials insist the state is doing a lot, and that funding only appears comparatively low because resources that can benefit the homeless aren't all specifically labeled that way and flow through multiple agencies.
The coalition, forged just 18 months ago, insists more must be done. This week it is releasing "A Roadmap to Ending Homelessness in Wisconsin" with specific policy and budget recommendations.
At a minimum, the state should triple its dedicated funding to $10 million, said coalition executive director Joseph Volk, who said Wisconsin has fallen behind others in addressing homelessness in part because service providers haven't advocated at the Capitol for a long time.
As the coalition presses its case, Lt. Gov. Rebecca Kleefisch, a Republican, is publicly making homelessness a priority and fact-finding in anticipation of offering ideas in the fall.
Kleefisch and her staff, who in recent months have visited housing and program sites and had multiple discussions with Volk, aren't endorsing coalition recommendations or promising new funds — at least not yet. In a recent interview about possible initiatives, several times she promised, "Stay tuned."
In a follow-up email, her office added: "We have an ongoing conversation with Joe around these recommendations and will consider all of them in the broader context of the governor's budget and upcoming legislative session when we reach that point."
For now, Gov. Scott Walker is noncommittal about the coalition's recommendations.
"The governor supports the lieutenant governor's leadership in combating homelessness," Walker spokesman Tom Evenson said. "Addressing homelessness presents unique challenges, but the governor's agenda of moving people into roles where they can have true independence through work can assist in these efforts. He plans to continue such initiatives, such as broader welfare reform including the drug testing and rehabilitation programs."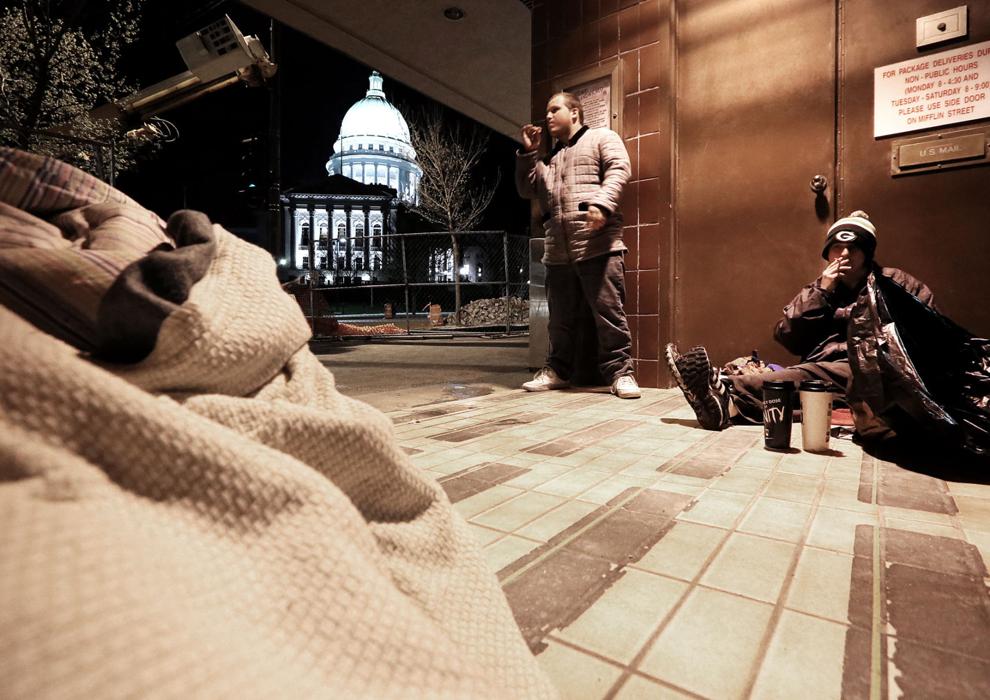 'The giant in the room'
In Madison and Dane County, the state isn't seen as a catalyst for action.
"I do not see any leadership from the state on this," said Dane County Executive Joe Parisi, who served in the Legislature for six years. "We do what we can, but the state is the giant in the room."
The state's direct funding, according to Volk, delivers $1.8 million for homelessness prevention, $1.4 million for emergency shelters and transitional housing, $50,000 for runaway youth and $20,000 for supportive and permanent housing.
The state's approach contrasts sharply with Wisconsin's; "There is a high amount of political and civic will," one Minnesota official says.
In contrast, the Minnesota Legislature added roughly $13.7 million for a total $88.7 million in direct funding in 2016-17, he said.
The comparisons aren't fair, Kleefisch maintained.
"As we scan across the country and determine what is homelessness programming and homelessness funding and what is not, it manages to slip out of that label because it wasn't on that line item," she said. "I think we've got to be cautious in saying who is spending this allotment of money and who is not."
At the State Journal's request, the state Department of Administration provided a detailed outline of tens of millions of dollars spent across an array of agencies including the departments of Corrections, Veterans Affairs and Workforce Development.
But the state's figures, Volk said, include large amounts from federal sources and spending on programs such as veterans nursing homes that are at best peripheral to homelessness. These are sums that aren't included in other states' funding summaries, he said.
Still, Volk applauds Kleefisch's attention to the issue. "They're putting in a huge amount of effort in terms of reading and understanding the issue and her making stops around the state at shelters and homeless programs," he said. "My advice is to acknowledge the numbers and take that off the table. It's been bipartisan neglect of the issue. The question is, where do we go from here?"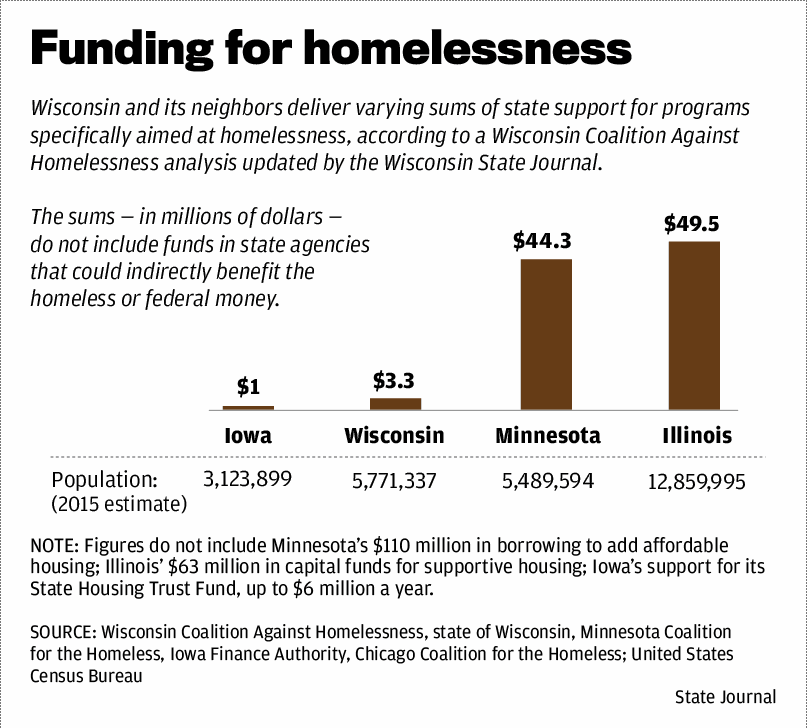 'No one was advocating'
Volk partly blames advocates for disappearing from the Capitol after federal funding began to flow in the 1990s.
"I'm to blame for this, too, because I was the head of a large agency, a provider," he said. "All of a sudden, the feds got into homelessness in the '90s and money started to fall from the sky, so we basically left the statehouse. We had money and new programs, so state money was pretty much forgotten."
But federal money carries very proscriptive rules, Volk said, and is targeted at single adults with mental health and substance abuse issues, not families and children.
It doesn't fund emergency shelters, the front-door triage of the system. With state funding for emergency shelter stagnant, Wisconsin has lost much of its ability to provide the social services that move the homeless toward permanent housing, he said.
Further, while federal funds can be used to build permanent supportive housing for the homeless, services that make the approach successful must be secured from other sources, Volk said. Wisconsin doesn't provide such money.

Meanwhile, attempts to establish a statewide homelessness coalition in the 1990s and in 2009 failed, meaning there was no organized involvement in the state budget process, and there were no routine meetings with lawmakers or contacts with the governor, Volk said.
In the mid-2000s, the administration of Gov. Jim Doyle, a Democrat, created an Interagency Council on Homelessness charged with developing a plan to end homelessness in the state. The 14-page plan, completed in 2007, is called "Homeward Wisconsin."
The plan, however, has no metrics to measure progress, no funding recommendations and no assignment of tasks, Volk said. The council, he said, was dormant from 2008 to 2015 and recently revived, but like its predecessor, does not include higher-level administrators and the clout that comes with them.
State lawmakers struggle to name a go-to "champion" on the issue. And a modest package of bills by Rep. Melissa Sargent, D-Madison, to address youth homelessness, has stalled. GOP leaders denied her request for a study group on that issue this summer.
"I'm a Milwaukee Democrat, but I don't want this to be a 'bash the Republican side for not having done anything,' because the reality of the history is that the Dems didn't do anything either," Volk said. "The reason I think that happened is not because they are bad people, it's because no one was advocating at the state level for 20 years."
'WHEDA's got it right'
The state's main housing engine is the Wisconsin Housing and Economic Development Authority (WHEDA), which distributes tens of millions of dollars in federal tax credits each year for projects with units for lower-income residents.
The city has begun to take advantage of those credits. Using its Affordable Housing Plan, now in its second year, it's contributing $8.8 million — with at least $2.9 million from the county — to help secure $53.6 million in tax credits for eight projects costing a total $94 million. They will deliver 463 affordable units, including 114 for the homeless.
The Wisconsin State Journal has been following a diverse group of homeless individuals, some since January. Here is an introduction to some of them.
In May, Kleefisch and WHEDA deputy executive director Brian Schimming announced a total of $142 million in credits over a decade, including the latest for Madison, that will support the creation of 1,166 low-income units statewide.
"WHEDA's got it right, but they're a lone voice," Madison Mayor Paul Soglin said. "WHEDA is limited by the availability of tax credits, but with the tax credits they've got and administering the program, from our viewpoint, it's working. But we need more resources, they need more resources, and it has to be more than tax credits."
In 2009, the Legislature created another funding opportunity by letting cities keep open for an extra year tax incremental financing (TIF) districts set to close, with the tax revenue available for affordable housing efforts anywhere in the municipality.
But, "when you look at the Legislature, with the exception of one anomaly, which is using the TIF dollars, there's no evidence of a plan or a program," Soglin said.
Kleefisch disagreed: "There are a lot of programs that can touch this population, but unfortunately we see examples fairly consistently that people are unaware of that."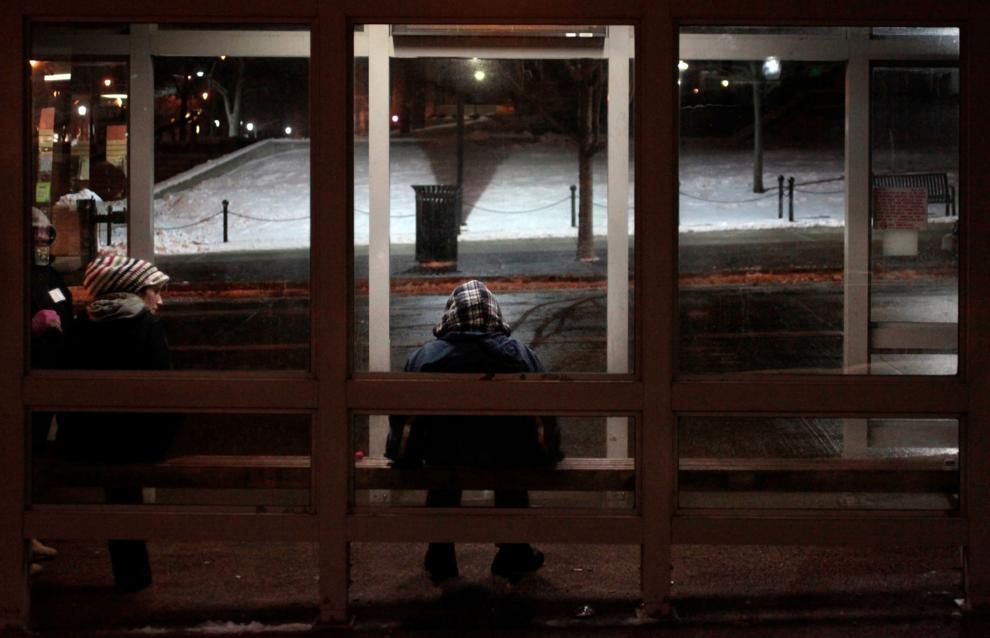 'A realistic advocacy goal'
The recommendations by the Wisconsin Coalition Against Homelessness draw heavily on practices in Minnesota, where a broad, bipartisan approach accompanies the far greater direct funding.
The Wisconsin coalition proposes:
An interagency council chaired by the governor with mandatory involvement of secretaries and directors of all state agencies that can address homelessness.
Better use of existing federal and state resources.
More state funding for emergency shelters.
A homelessness prevention program like a temporary one in Milwaukee County that reduced eviction rates during the Great Recession.
A state fund for services attached to permanent supportive housing projects.
That WHEDA come up with new strategies to house people with very low incomes.
A close look at social impact bonding — a public-private partnership to fund some social program costs.
An increase to $10 million would be "a realistic advocacy goal in this environment" Volk said, but it may be more important to replicate the political muscle of Minnesota's interagency council. "When you look at the need, and at state spending, it will take time," he said.
Kleefisch said it's more about aligning resources so the state can "best benefit those who are telling us that they need help."