On this night, Tami Fleming and Lindsey Prazak will comfort the haggard homeless of State Street.
They hear and see it all — stories of housing denied, hideous crime, mental illness, drinking and drugs, suffering. They listen. Offer sustenance. Intervene.
Fleming, who started doing volunteer street outreach in 2011, and Prazak, in her sixth week, depart from a Downtown church parking lot, each carrying backpacks stuffed with supplies and Prazak pulling a red Radio Flyer wagon filled with blankets, bottled water, and paper sacks filled with food. Another team will cover Capitol Square.
On all their backpacks is stitched, "Friends of State Street Family — Giving hope and help to the homeless of Madison."
In the course of a day, John Haines experiences both monotony and hardship.
The women will meet a sliver of the city's most vulnerable — homeless people who hang out Downtown and sleep on benches and hidden crannies but also scatter to emergency shelters, campsites, city parks and spots under bridges. The city's list of homeless adults without dependent children awaiting housing numbers about 700.
To start, Fleming and Prazak avoid the crossroads of State Street and the Square because they know many homeless and drifters will too quickly exhaust their supplies. Instead, they take an indirect route and begin on the 300 block of the street, kitty corner from the elegant glass prow of Overture Center.
Immediately, they encounter a weathered man named Joe sporting a ponytail and wearing a Badgers hat sitting on a large concrete planter and holding a sign that says, "Homeless Please Help." A week ago, the friends group had given the man shoes, which he is wearing. As Fleming and Prazak ask Joe about needs, another homeless man approaches and asks, "Can I get two bottles of water? One for me and one for her?" pointing to a woman.
Fleming obliges, and as she leaves Joe, she whispers, "Let us know if you need anything. We're here for you."
'Responsibility to help the vulnerable'
An executive assistant at an employee benefits corporation by day, Fleming started this cause in 2011 after meeting a homeless woman while volunteering in the emergency room at St. Mary's Hospital. She began writing on Facebook about people she'd meet on the street and others stepped up.
"The group and the mission grew from there," she said.
Friends of State Street Family now has teams of people who make and serve food, collect donations, and do special projects, such as delivering a U-Haul of donated supplies to stock efficiency apartments in the just-opened Rethke Terrace housing project for the homeless on the East Side. The group has 20 board members and group coordinators, and 1,644 Facebook friends. Fleming met her husband, Cal, an obstetrics technician at a local hospital, through its volunteer efforts.
Some see such efforts as enabling, the charity prolonging misery. Mayor Paul Soglin believes the city must abandon its former model of making life on the streets more tolerable, which accepts dangerous behaviors from violence to intravenous drug use, and instead focus on getting the homeless into permanent housing.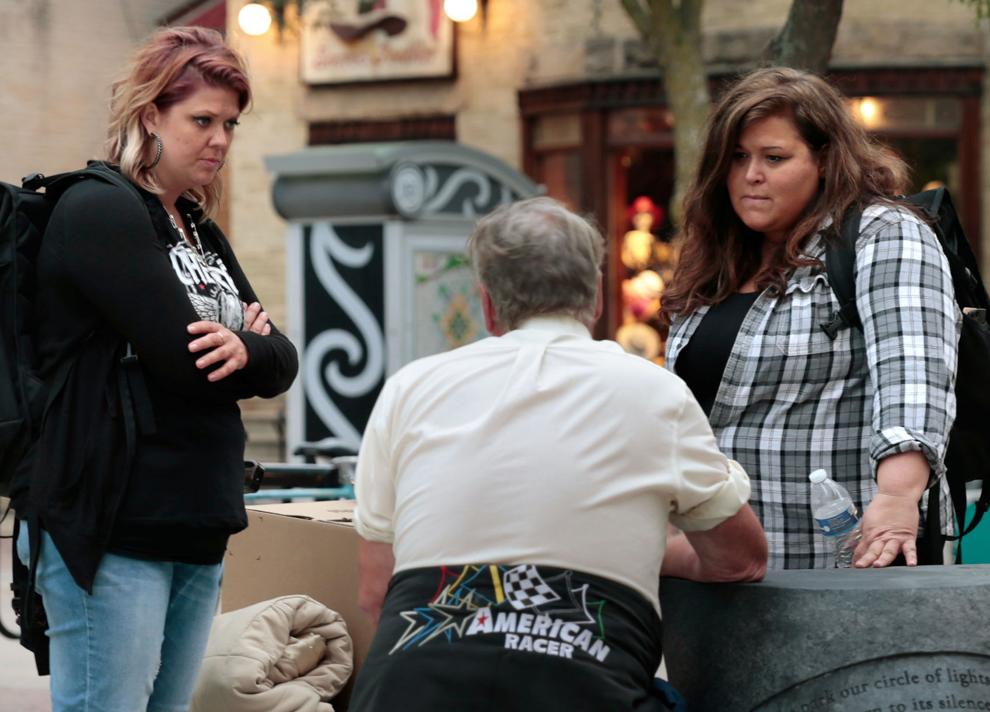 Groups like the Friends of State Street Family must "make it clear that permanent housing is the objective and that your support is only provisional," Soglin said, adding that other approaches are "counterproductive."
Fleming said struggles and suffering can't be ignored. "Mother Teresa once said, 'Do not wait for leaders, do it alone, person to person,'" she said. "And that is how we are. We all have a responsibility to help the vulnerable in society."
The outreach, Fleming insists, is necessary because so many people don't know where to start, or distrust institutions and social services, or are embarrassed to be homeless and won't seek help.
The contacts can also help those with health, addiction or other problems before they become severe, she said. An intervention at the beginning of an abscessed tooth or infection is better and cheaper than waiting and needing an ambulance call, she said. Volunteers distribute socks after heavy rain to reduce the chance of infection or trench foot. Sack lunches are packed with proteins and water helps avoid dehydration.
They walk State Street and the Square at least three nights a week.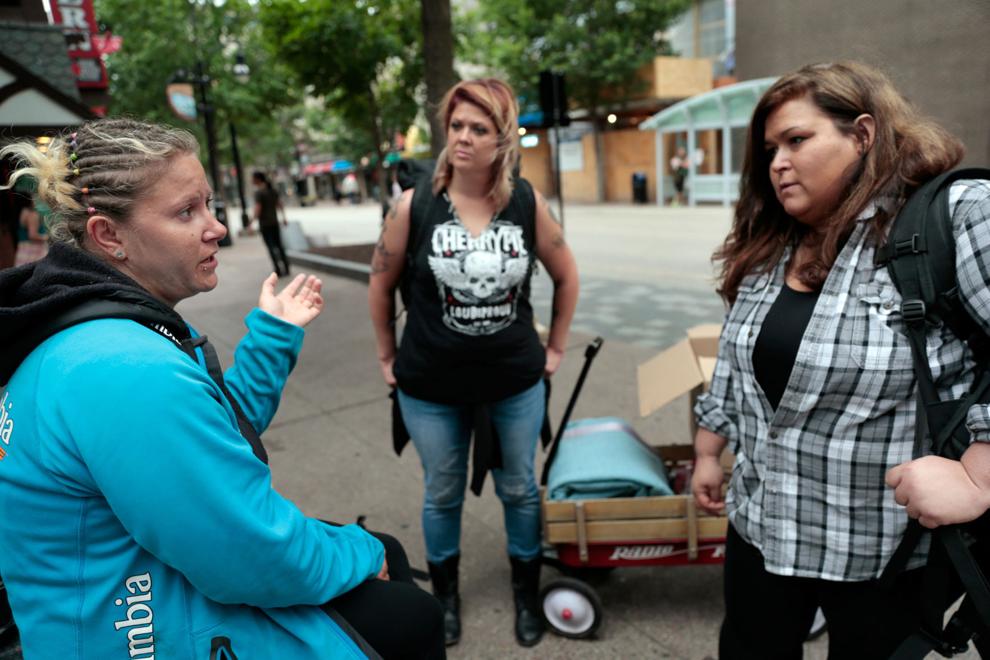 'The first joke is for free'
As they proceed, Fleming and Prazak see the city's most famed thoroughfare far differently than those who crowd its eclectic mix of coffee shops, bars and restaurants.
They soon encounter a man wearing sunglasses, a backward baseball cap and Green Bay Packers sweater who is sitting on a bench by a bus shelter, his shoes off. Next to him is a bike with a child carrier holding a sleeping bag, umbrella, a small amp and other items. Fleming listens to his trials and leaves a sack of food.
At Lisa Link Peace Park, she gives water to "Dynamite Dave," a middle-aged man with bags under his eyes and stubble on his face wearing a button-down shirt and a whistle around his neck.
Dave, who often panhandles at the park using a sense of humor — "the first joke is for free" — tells Fleming about a man who has been menacing him and has a knife. On the spot, she emails the neighborhood police officer who covers State Street.
The next block, there is more. A weathered man with a baseball cap and beard. A bench filled with someone's belongings. Two more guys who take water and food.
And then Fleming spots Alicia Sylvers, who's run out of days at the Salvation Army emergency shelter for women with children and has been sleeping outdoors with her 14-year-old son, Taylor, on benches on Library Mall.
They've been homeless since March of 2015.
'We sleep out every night'
Fleming, who has built a rapport with Sylvers, wants to get her and Taylor off the street and is frustrated to learn the mother is struggling with a social service agency demanding precise paperwork to get housing.
"I've been jumping through hoops for a while now," said Sylvers, sitting atop the badger water sculpture next to State Street Brats, holding a sign asking for money, her silver-painted toenails poking through flip flops. "We've been fighting for housing all the time. We sleep out every night."
A week later, Fleming connects with Sylvers again, this time at the concrete bench on Library Mall where she and Taylor, who just completed his freshman year at Middleton High School, will bed down later that night.
On that night, it's about 8:30 p.m., and Sylvers, nicknamed "Krash," is hanging with a group of friends, some drinking and some also homeless. Taylor is with friends and will arrive a bit later, before the city's 11 p.m. curfew for unaccompanied youth. A dozen jugglers practice nearby. Music wafts from Union Terrace.
Sylvers, who also has a 4-year-old daughter who stays with relatives, said she got in trouble with the law and became homeless.
Unlike some living on the streets, she doesn't look destitute. She is lucid and holds jobs, and intends to seek work again after she and Taylor are sheltered. She isn't drunk.
Sylvers is forthright about her condition, saying she and Taylor often ask those leaving restaurants to donate their cartons with leftovers. Most comply, she said.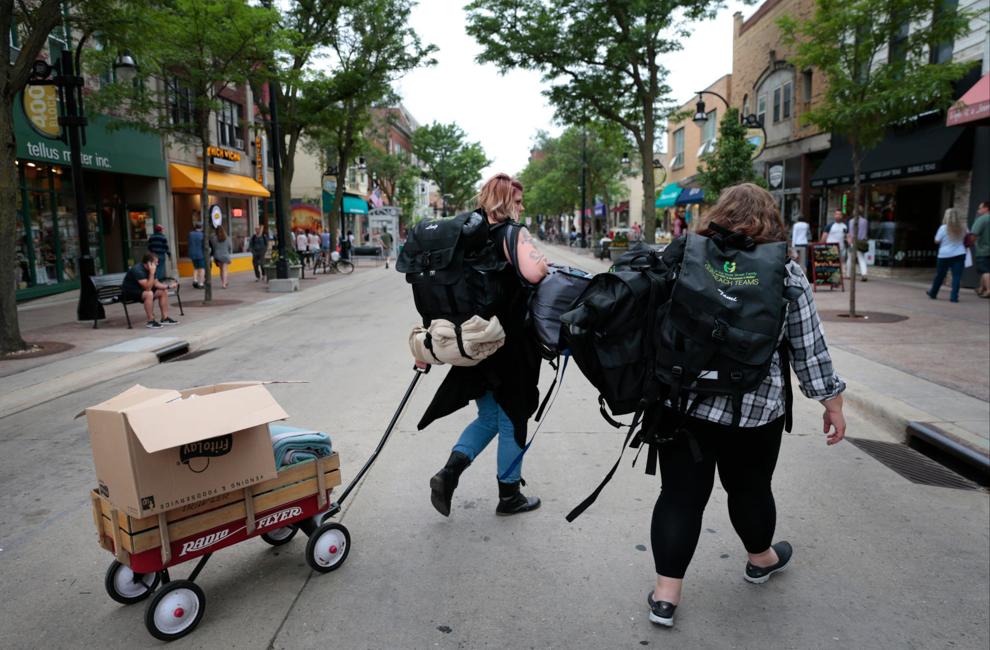 Well before curfew, Taylor arrives via skateboard and joins his mother and the group. He is modest and polite, mature looking for his age with facial hair and sideburns.
"Sometimes it's hard to get money for food and trying to stay clean," he said of the extra efforts needed to simply eat or shower while living outdoors. "Sometimes it's hard to get homework done. I don't like to be seen as homeless. I try to keep it hidden."
Already, he's sensitive to dangers and rhythms of street life and avoids alcohol and drugs. He doesn't seem afraid.
"I mind my own business and pay attention to what I do," he said. "The only thing I'm scared of is being taken by the state."
Most homeless people are not routinely causing problems for police, a study finds, but a core group of chronic offenders burns through resources.
As the minutes pass, Taylor listens to the group's banter, smiling at nonsensical comments. A homeless woman in the group, nicknamed "Penguin," gives him some money. Ben Perreth, one of the jugglers, engages him, and he delights by quickly catching on. Soon, he and his mother walk to a nearby spot where their gear is stored under a blue tarp and gather blankets, pillows and other items for the night.
Sylvers creates a bed atop a concrete bench while Taylor sets up on the seating immediately below her. Most of the group drift away, except Penguin, who continues drinking and will sleep nearby. The mother and son make separate trips on their skateboards to use restrooms at Walgreen's a half block away. Taylor returns with food from Wendy's — two burgers, chicken nuggets, a french fry carton filled with bacon, and a drink.
As they bed down, they banter comfortably and share small laughs. The scene is tender and their bond seemingly one that would be the envy of many mothers with teen-age sons.
The trials of homelessness, Sylvers said, have brought them closer together. "There's nothing I wouldn't do for him, nothing I would keep from him," she said.
Around 11 p.m, his skateboard safely tucked between his body and the back of the bench, Taylor falls softly asleep.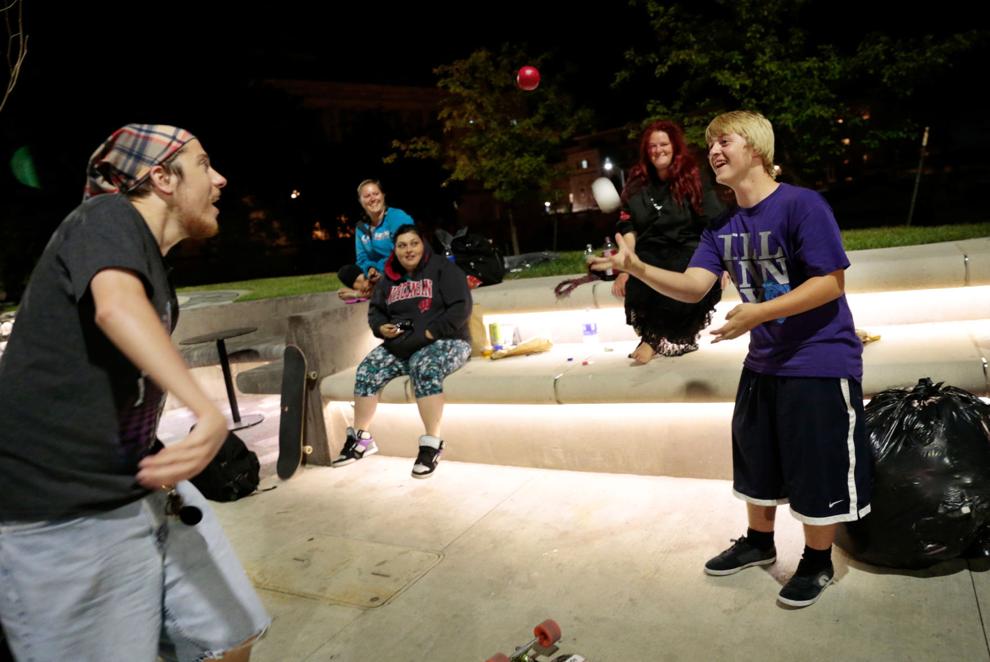 'None of these scenarios should be OK'
In five years, Fleming said she has seen people suffer about every indignity imaginable.
She said she recently learned about an elderly woman with a walker being sexually assaulted while sleeping outside, her shelter days run out. She's seen a tough-looking man cry when he removed his shoes because most of the toes on both feet were amputated due to frostbite. "I used to play basketball," he told her. "It was the only thing I ever loved to do."
She remembers Jim and Merle, both terminally ill and undergoing cancer treatment, unable to keep food down and barely able to walk. After chemotherapy, they slept along the John Nolen Drive underpass in the dirt until their final weeks, when they were admitted to hospice so they could die in beds. Neither was over 55.
"I have seen a 20-year-old woman miscarry in a tent in the woods," she said.
She said she shoveled and filled garbage bags of human feces and toilet paper for a small group of teens living in a strip of woods who dug a latrine far too close to their tents. They could only get part-time jobs at a McDonalds and Taco Bell and hung their work shirts from hangers in trees, she said.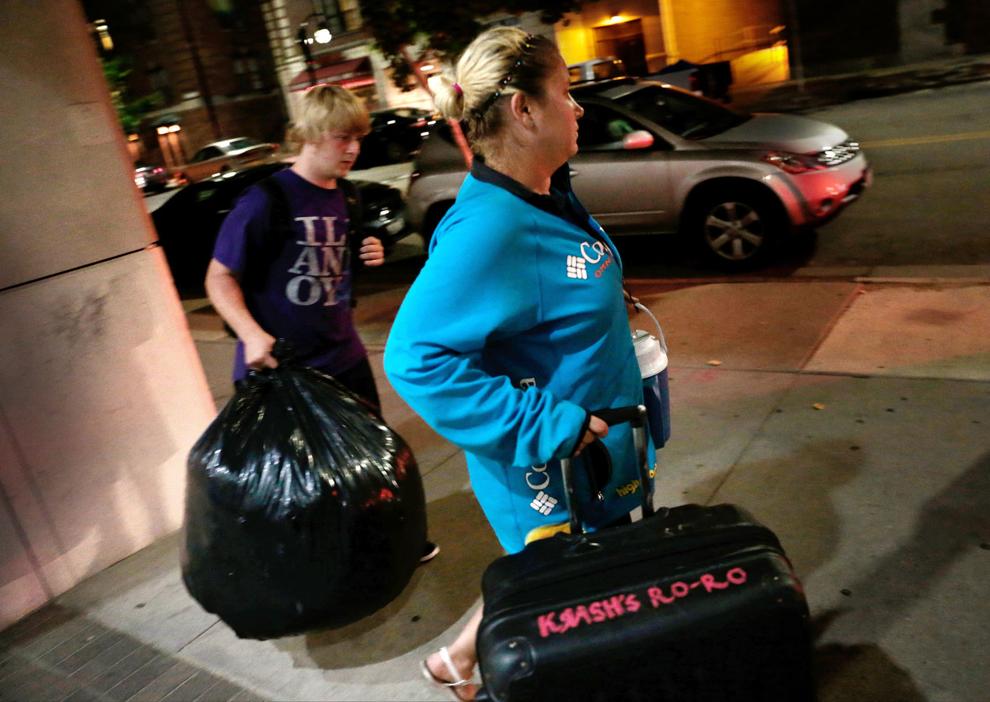 In sleet and rain, Fleming said she and another advocate helped an older veteran with the flu who was shaking and had diarrhea and was throwing up in the windowsill of a building near the Square. They propped him up and he leaned on their shoulders as they got him into the closest hotel and cleaned him up and got clean clothes for him from a donor.
Another time, "I held the hand of a 19-year-old girl as she told me about how she had been raped nine times since she was homeless when her mom kicked her out of the house at 17," Fleming said.
In March, on a snowy and icy night, the group encountered a 32-year-old man holding a sign asking for money, his four-year-old son on his shoulders. They got them a motel for the weekend.
"I have had to clean jungle-rot that was so bad they had to amputate a part of his foot down to the bone," she said, noting the man died in May.
"Then there are the suicides I didn't see coming at all," she said.
There is "violence and bigotry against people who are homeless, simply because they are," Fleming said. "People are urinated on while they sleep, kicked, spit on, screamed at, mocked. Families with children turned away from shelter. People who are terminally ill sleeping outside. Women and teens who are sexually assaulted."
"None of these scenarios should be OK with us," she said.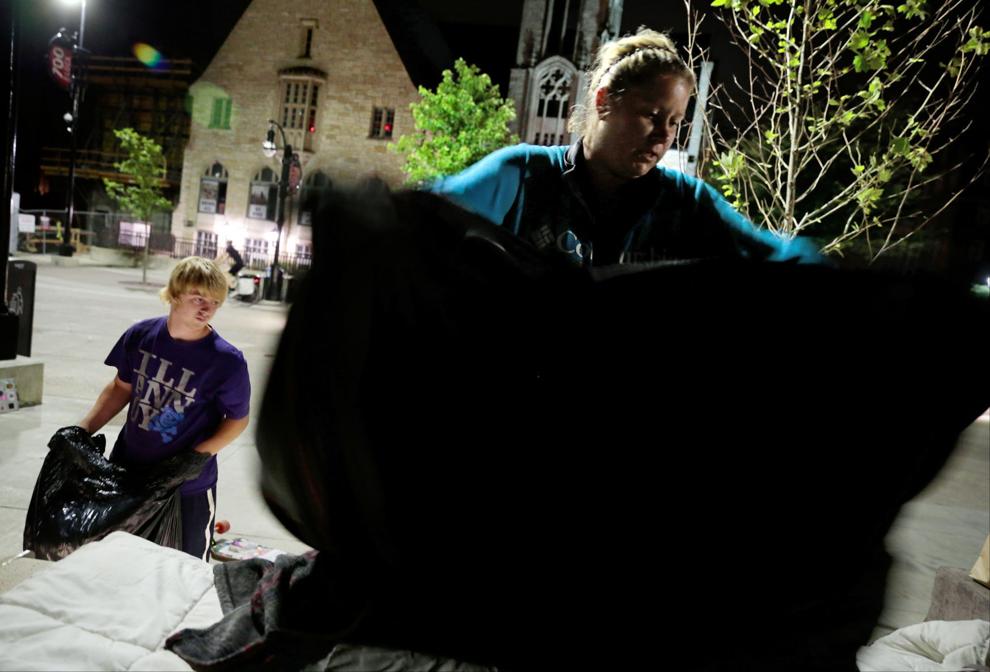 'There's been a lot of violence'
As night takes hold, Fleming and Prazak continue, distributing a backpack designed for street living, including a built-in rain poncho, a water-tight, hardened document compartment and strap that attaches to the ankle or wrist so the pack can't be stolen while the owner is asleep. They give out a sleeping bag, blanket, water bottles, food. They rush with no one. By now, Cal has joined them, meeting them here and there with access to supplies in the trunk of his car.
They'll end their efforts at the crossroads of State Street and the Square.
"There's been a lot of violence at the top of State Street," Fleming said, adding, "It's violent all around for people outside."
A controversial proposal making its way through city committees would bar people from sleeping or lying on Downtown sidewalks during the day.
At the crossroads, they encounter more than 20 people sitting in front of the Wisconsin Veterans Museum, hanging out near Ian's Pizza, or lying on cardboard under blankets on a circular brick stage. Two women, one seeming to be in her mid-teens, sit among older men in front of the museum.
The Flemings and Prazak engage the group, which, as they anticipated, is eager for supplies.
"I choose to be homeless," one man says. "Out here, you have friends and family to support you. Everybody out here supports everybody."
Soon after, Tami Fleming and Prazak walk back to their starting point at the First United Methodist Church parking lot a block from the Square, the red wagon empty. For this night, the outreach ends.
By mid-morning, Fleming has contacted Briarpatch Youth Services about the young girl, exchanged emails with MACH1, a street outreach team of medical professionals, regarding health issues witnessed, and has continued communications with police.
She'd heard about a rape and worried someone is assaulting homeless women who are intoxicated or passed out. She intends to help police get interviews with possible victims and will buy pepper spray and personal alarms for women. She unsuccessfully pushes the social service agency to accept Sylvers and Taylor into housing.
And that evening, the volunteers will do it all again.