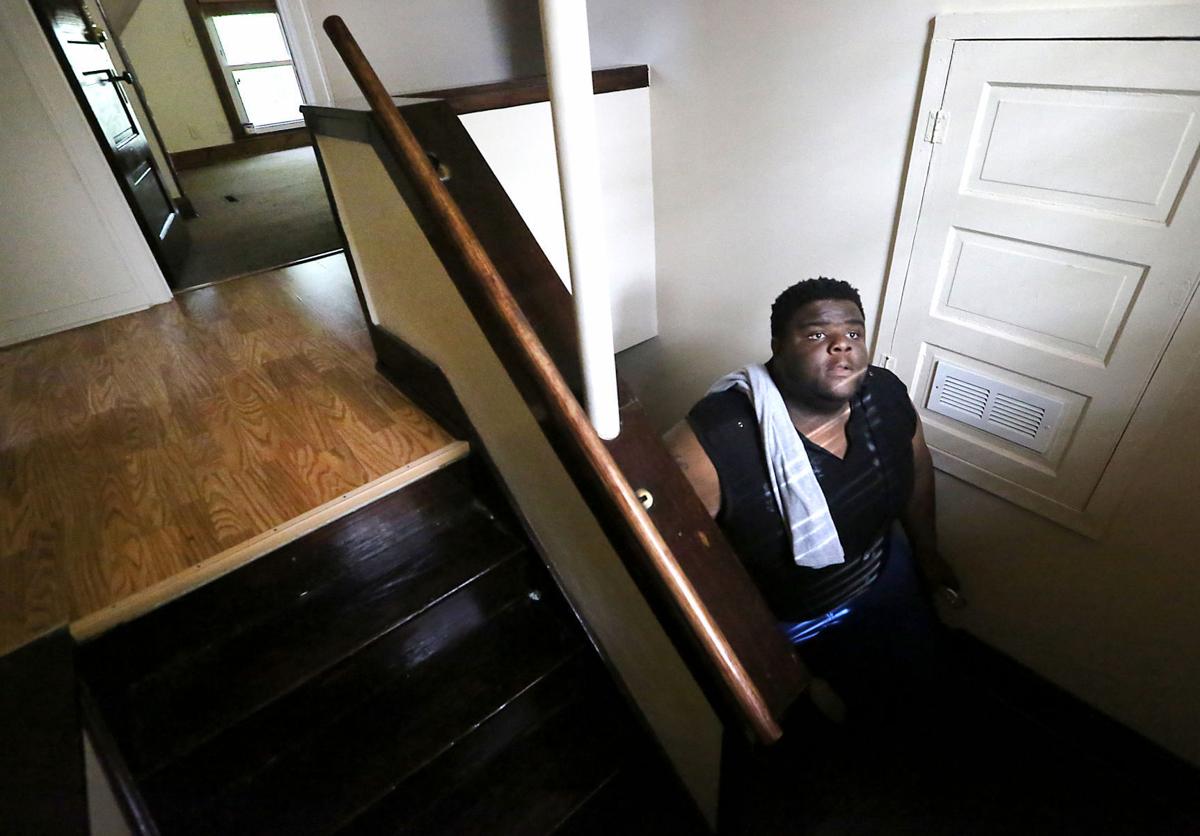 They are young. Alone. Vulnerable. Exploited.
Every night, perhaps 300 "unaccompanied" teens and young adults in Dane County couch-surf, stay with unsafe people, or sleep in cars or outside, social service providers say.
There are many causes. Their folks abuse alcohol or drugs. They flee child abuse or neglect. They can't communicate with parents or refuse rules. They're exiting foster care. They identify as lesbian, gay, bisexual or transgender, which can mean rejection by family members.
Dayton Hannon, 19, born in Chicago, saw his single mother and five siblings struggle throughout his life. They moved to Madison, Chicago and Indiana, and Madison again last November — the family arriving homeless. They got an apartment but had problems with neighbors and to avoid getting evicted his family left and returned to Illinois.
But Hannon, put out by his mother in the past, didn't want to go back to Chicago due to negative influences there. He became homeless this summer, sleeping in the basement, hallways and outside an apartment building.
"It was terrible," he said. "I was alone, basically. I cried sometimes."
Human trafficking rings are cracked through meticulous, time-consuming investigations, and the victims present additional challenges.
Alone on the streets, some youth get assaulted and abuse alcohol and drugs — fueling addictions that drive crime — and develop mental health problems. Some engage in "survival sex," trading their bodies for food, clothing, drugs, money or a place to stay. An increasing number become ensnared in human trafficking.
Their welfare often depends on who gets to them first: drug dealers and pimps, or school staff and contacts like Tyler Schueffner, who coordinates street outreach and transitional housing for nonprofit Briarpatch Youth Services.
Many homeless youth show up Downtown.
"We tend to see more unaccompanied youth in summer months," Madison Police Central District Capt. Carl Gloede said. "When they're out of school, there's a void of structure."
Gloede estimates his officers regularly encounter about a dozen homeless youth on State Street, but he believes far more are hidden. "If you see 12, there are probably 10 times as many you don't see," he said. "I have no misconception that the numbers are out there."
The district's neighborhood officers try to be preventative and proactive, Gloede said, stressing that homeless youth are not always in trouble. The danger, he said, is that youth mix with adults who drink, take drugs and sell sex.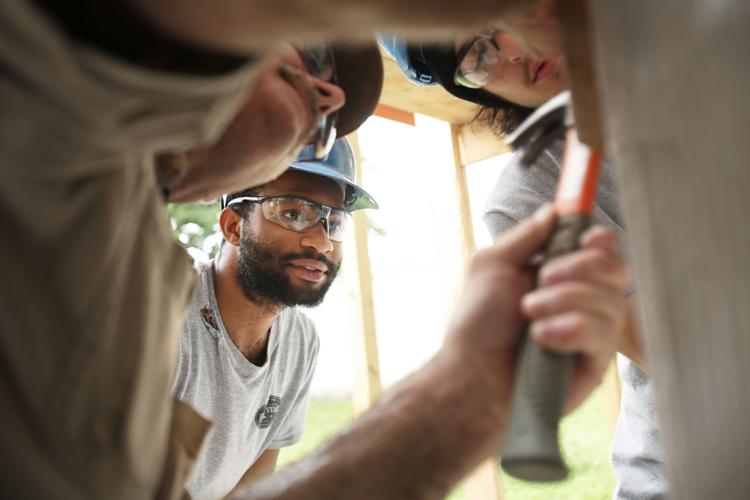 Increase in schools
Area schools see a slowly growing number of children trying to make it with no parent or guardian engaged in their lives, data show.
In the Madison schools, unaccompanied youth doubled from 52 in the 2009-10 school year to 104 in 2015-16, said Amy Noble, a social worker in charge of services for homeless students in middle and high schools.
These students, she said, go through normal rites of adolescence — separating and becoming independent — but prematurely, and sometimes with developmental disabilities.
To find a place to sleep, they engage people at malls, are the last to leave a party, stay with friends — "all sorts of things," Noble said. "One kid was sleeping at a Denny's," she said. "Staff let him stay."
"They definitely trade access to their bodies for places to stay," she said. "It doesn't stick out to them the way it does to us. It's part of the fabric of what you do."
Still, many graduate and some pursue higher education.
Individual challenges are immense, but the number of unaccompanied youth is modest, making the problem solvable with attention and resources, Noble said. "One hundred is not impossible," she said.
'A generational cycle'
Desperate, youth seek critical services from agencies including Operation Fresh Start, which helps with high school diplomas, job skills and employment, and Briarpatch, which offers an array of services from street outreach to shelter and housing.
In 2015, Briarpatch made 9,715 client contacts, not all homeless, including 1,501 youth and 1,064 adults the agency hasn't seen before.
"We see a generational cycle of homelessness," said Schueffner of Briarpatch. "We see a lot of kids at a very young age and they now return to us as adults. I met this kid when he was 10 years old. Now they're turning 18 and they don't have any options."
Brittany Carter, homeless since age 15, wants a stable place to call home and a new start on life, but she's still struggling to fulfill her dreams.
Briarpatch opened the county's only youth shelter with eight beds in October 2015, and 39 teens ages 13 to 17 have taken refuge there, said Jeanne Schneider, clinical supervisor and shelter manager. Of those, 26 were female, 23 black, and just over half younger than 15, she said.
The agency's transitional housing opened about a year earlier in a nondescript two-story house on the North Side. It has beds for eight tenants and a house manager.
Hannon connected with Operation Fresh Start and is now pursuing a high school diploma and working with a crew restoring a historic home at Silverwood County Park in Edgerton. A counselor at Middleton High School helped him secure an apartment through mid-August, and he's seeking to join transitional housing with Briarpatch.
"I'm really hoping it will work out or I'll be homeless and go back to Chicago and that's not what I want to do," he said. He'd like to finish his schooling and get a job in the construction trades.
Ron Burford, 28, is the live-in manager at the Briarpatch house, a clean, spacious haven.
As a youth growing up in Chicago, Minnesota and Wisconsin, Burford's family lived in and lost housing, doubled up and stayed in cars as well as seedy motels infested with drug dealers and users. In 2013, his sister's boyfriend was murdered in an apartment were he was living on Fish Hatchery Road. For the next year, he lived doubled up or in motels.
"We had to fill grown-up roles at younger ages," he said. "I never had a stable group of friends. I didn't stay at the same school."
Leaning on his Christian faith, he persevered and is now employed at the Boys & Girls Club of Dane County and brings his life experience to his role at Briarpatch, an understanding that youth are often homeless due to "other people and their craziness."
"It's a blessing to me," he said of his first stable home since 2013. "It gives me a place to stay. It's helping me build a rental history. I'm part of something that's giving."
Foster care, then what?
While not counted as homeless, about 250 children live in foster care on any given day in Dane County, and about 20 to 25 age out of those homes each year, often with limited options and potential for homelessness, said Marykay Wills of Dane County Department of Human Services.
Beyond foster care, county data from May also showed about 300 youth staying with relatives who get financial support for their care, and about 75 more in group homes and substance abuse or correctional programs.
The county, Wills said, needs more foster families for teens, and when youth age out of foster homes, they need safe, caring adults for ongoing support and guidance.
"Many young adults who have aged out of care are not ready to live independently," she said. "They need a time of transition before being fully out on their own."
The state delivered grants to the county and two other communities to test supervised independent living programs, called PATHS, for those ages 17½ to 21, and Dane County has housed 17 young adults in scattered locations, Wills said.
But the program is now serving its last few young adults and will end in November.
What's needed, Wills said, is structured transitional housing, preferably something that doesn't feel like part of "the system."
On the bottom line, more must be done for homeless youth or the city is going to see an escalation of crime and other problems, Schueffner said. "It's not OK to sit back and watch."
Be the first to know
Get local news delivered to your inbox!