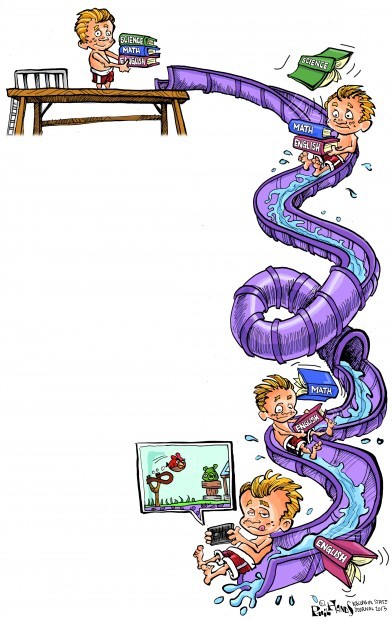 Children need time to be children. They should play and have fun outside, especially when the weather is nice.
But the traditional summer vacation is too long, with too little learning.
Wisconsin should move to year-round school schedules with shorter, more frequent breaks. La Crosse is trying it. So are several schools in Milwaukee, some of which restart classes this week.
A shorter break would slow if not stop the summer slide, when most students lose about two months of math skills, according to the National Summer Learning Association, a Baltimore group with ties to Johns Hopkins University.
Low-income students — those who aren't visiting national parks and museums, learning musical instruments or participating in camps this summer — also will lose more than two months of reading achievement, according to the national association.
It helps explain why our nation is slipping behind many peer nations in educating our children. And it contributes to student achievement gaps along racial, ethnic and economic lines.
School boards across Wisconsin now have more power to set school calendars outside of union contracts. They should use their authority to encourage smarter schedules.
Some parents and teachers may object. But there still will be plenty of time to go on vacation — just not for three straight months. And teachers will appreciate not having to re-teach the same material in the fall that they already covered the previous spring.
Wisconsin's tourism industry is important and needs seasonal workers for peak months. But tourist towns such as Wisconsin Dells are becoming year-round destinations. They increasingly import temporary workers from outside the country. The same is true of many farms.
Moreover, educating our children must be the top priority. And most school children are too young to be hired. It's critical they get off to strong starts without three-month absences every June through August.
Madison and many other school districts are expanding and improving their summer sessions for struggling students. That's great. Nonprofits such as the Boys & Girls Club of Dane County are offering fun programs to encourage summer reading. That's wonderful.
Yet year-round school remains the best path for improved learning. It doesn't have to mean more days, though that makes sense, too. Simply spreading out the same number of days over more months would be an improvement.
Let's have fun but not be dumb about the long break.