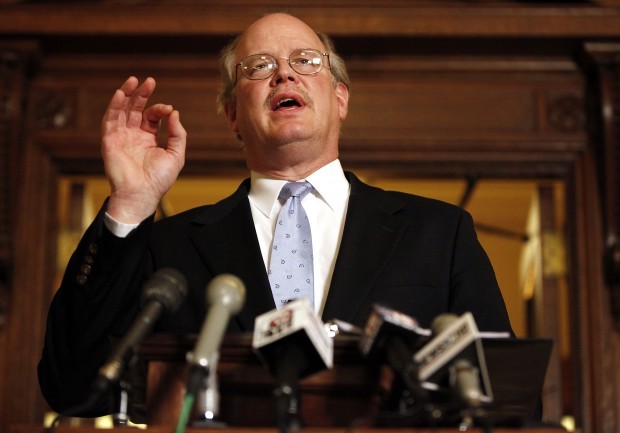 State Sen. Dale Schultz just offered his Republican Party some good advice.
Schultz, R-Richland Center, said the GOP should stop its barrage of anti-abortion proposals if it wants to cultivate more support from voters.
"It's a huge mistake if your ear is not in tune where people are," Schultz told the Associated Press last week. "And we were pushing people too fast. All we're going to do is panic people and this is going to blow up if we don't begin to moderate on some of this stuff."
That's why Schultz is trying to fend off more abortion legislation in the Wisconsin Legislature — even though he personally supports it, the Associated Press reported in Saturday's State Journal.
You have free articles remaining.
Just last week, the only abortion clinic in the Green Bay area closed, according to the Green Bay Press-Gazette. And a new state law could force a Planned Parenthood clinic in Appleton and an Affiliated Medical Services clinic in Milwaukee to close because their abortion providers lack admitting privileges at nearby hospitals.
The state law is being challenged in court, with a judge so far barring enforcement. If upheld, the law could leave clinics in Madison and Milwaukee as the only places in Wisconsin for legal abortions. Wealthy and middle-class people can afford to drive across the state for a medical procedure. But the expense and time required to travel hundreds of miles could be a significant hurdle for the poor.
The new Wisconsin law also requires an ultrasound before an abortion, though ultrasounds often occur already.
Nationally, Republicans have succeeded in passing more than 170 abortion laws in 30 states since winning control of more statehouses in 2010, the AP reported. The strictest measure in North Dakota sought to ban abortions after as little as six weeks — before many women even know they're pregnant. A judge there has blocked the law pending a legal challenge.
Some Republicans are wisely pushing back as their colleagues prepare legislation seeking, for example, an end to abortion exceptions for victims of rape and incest.
Wisconsin Republicans should give it a rest. Their efforts would be better spent on trying to prevent more unwanted pregnancies in the first place.