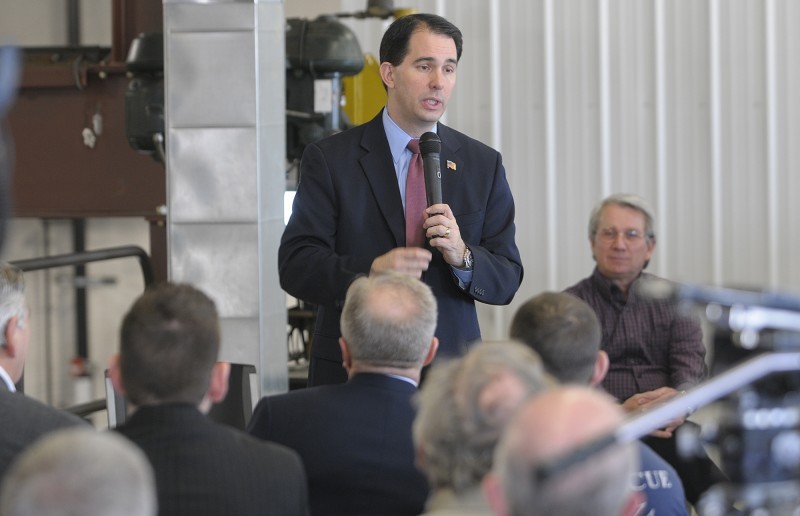 Gov. Scott Walker is moving in the right direction to fix the state's chronic budget mess — but he's moving too far, too fast.
Walker and his fellow Republicans who run the state Capitol need to slow down and let the public digest and debate his significant proposals — especially to labor law — that are contained in his budget repair bill. Not even a week has passed since Walker unveiled his plan, and already it's rushing to the Assembly and Senate floors.
Allowing more time for input might make Walker's bold proposal harder to pass. But it also could improve his package through refinements that build more support.
Citizens across the state — not just the union members loudly protesting in Madison — deserve more time to study and sound off on the details and effects.
This includes the strong possibility of thousands of public-sector layoffs and weeks of furloughs if Walker doesn't get his way.
Wisconsin voters just elected Walker and Co. on a platform of avoiding tax hikes, cutting spending to balance a $3 billion budget shortfall and, yes, scaling back labor expenses — some of which are excessive and unaffordable during these tight times.
Remember that the Democrats, who enjoyed a lock on state power during the two previous years, expanded the collective bargaining rights of public workers such as teachers.
The Democrats lifted limits on teacher raises, for example, and forbid arbitrators from considering local economic conditions when settling contract disputes.
To no surprise, Walker and the GOP want to reverse those changes and then some. They're seeking higher, and reasonable, contributions from state workers toward their generous pensions and health insurance. Walker also wants to give school districts and municipalities the ability to save money on pensions and health care to offset looming state aid cuts.
Those changes may require scaling back some collective bargaining rights for public employees because the state is broke.
But eliminating virtually all collective bargaining rights while making it harder for unions to collect dues and stay certified aren't justified. And some parts of Walker's budget repair plan — such as an increase in political appointees — seem to have little to do with saving money.
Walker is acting fast to get things done. But his high-speed budget violates the spirit of good government. If his proposal can't survive a few weeks of scrutiny, then it doesn't deserve to become law.