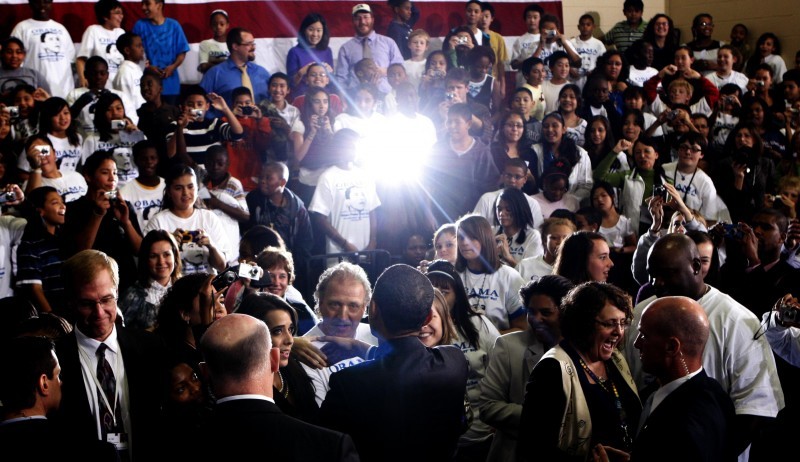 President Barack Obama handed out some difficult assignments Wednesday at a Madison middle school.
Elected leaders, educators, parents and students need to get these tasks done. The future of Wisconsin and our nation is at stake.
Obama didn't sugar coat what needs to occur. He talked tough about closing failing schools and firing bad teachers. He told parents and students they were more responsible than anyone for student success, which hinges on high expectations and follow-through.
Yet the "educator in chief" also offered reassurance and rewards, including a chance to win hundreds of millions of dollars in competitive grants.
A day after Obama's visit to Wright Middle School on Madison's South Side, the Wisconsin Legislature barely approved a bill allowing student test scores to be used in teacher evaluations - something Obama specifically called for. Obama's Education Secretary Arne Duncan had called Wisconsin's ban on tying teachers to test data "ridiculous."
Unfortunately, the Democratic-run Legislature watered down repeal of this law Thursday to the point of jeopardizing Wisconsin's chances of winning some of the $4.35 billion in "Race to the Top" innovation grants Obama is offering the states.
Under the Legislature's bill, schools would still be forbidden from factoring test data into discipline or dismissal of teachers. And any teacher evaluation changes would have to be negotiated with unions.
Reaction from John Ashley, executive director of the Wisconsin Association of School Boards, was telling.
"The language that's being presented is more interested in protecting teachers," Ashley said. "It doesn't seem to be in the spirit of what the secretary and the president were talking about."
Ashley is right. Gov. Jim Doyle should demand a better bill.
Doyle also should call a special session of the Legislature to OK additional changes Obama wants. This includes bigger roles in education reform for Milwaukee's mayor and the state superintendent of schools.
Obama's message Wednesday included incentives for educators. He called for better recruitment of teachers and higher pay for those who perform well or take on the most difficult assignments.
Obama said he visited Wright Middle School specifically because it is a charter school (one of the few the Madison School Board has allowed). Obama touted more charter and specialty schools as key to fostering innovation.
Yet more important than the roles of elected officials and teachers in school success are the responsibilities of parents and students, Obama stressed.
Parents need to get more involved in their children's educations. And schools and community groups need to encourage more parental involvement.
Raising kids to be good students and successful adults isn't easy - even for the president. He noted that despite all of his family's advantages, his daughter, Malia, recently scored a 73 percent on a sixth-grade science test. "Our goal is 90 percent and up," the president had long told her.
By instilling high expectations in children over time, an interesting thing happens, Obama said. Malia was depressed about her low grade. And now she seems to want school success even more than her parents wanted it for her, Obama suggested.
So on Tuesday, after adjusting how she studies, Malia came home with a 95 percent - a score that triggered loud applause from Wednesday's audience.
"I just like having knowledge," Obama quoted his daughter as saying.
"Once you get to that point," Obama added, "our kids are on (their) way. But the only way they get to that point is if we're helping them get to that point."
Wisconsin is doing a lot of things right in the enormous task of educating its children. Yet too many students fail to graduate. Too many are falling behind their peers here and especially abroad.
Obama's message of greater accountability and higher standards - combined with rewards for positive results - has wide appeal.
Wisconsin should accept Obama's challenge, raise its bar, measure for results and lead the nation into the knowledge-based economy of the future.