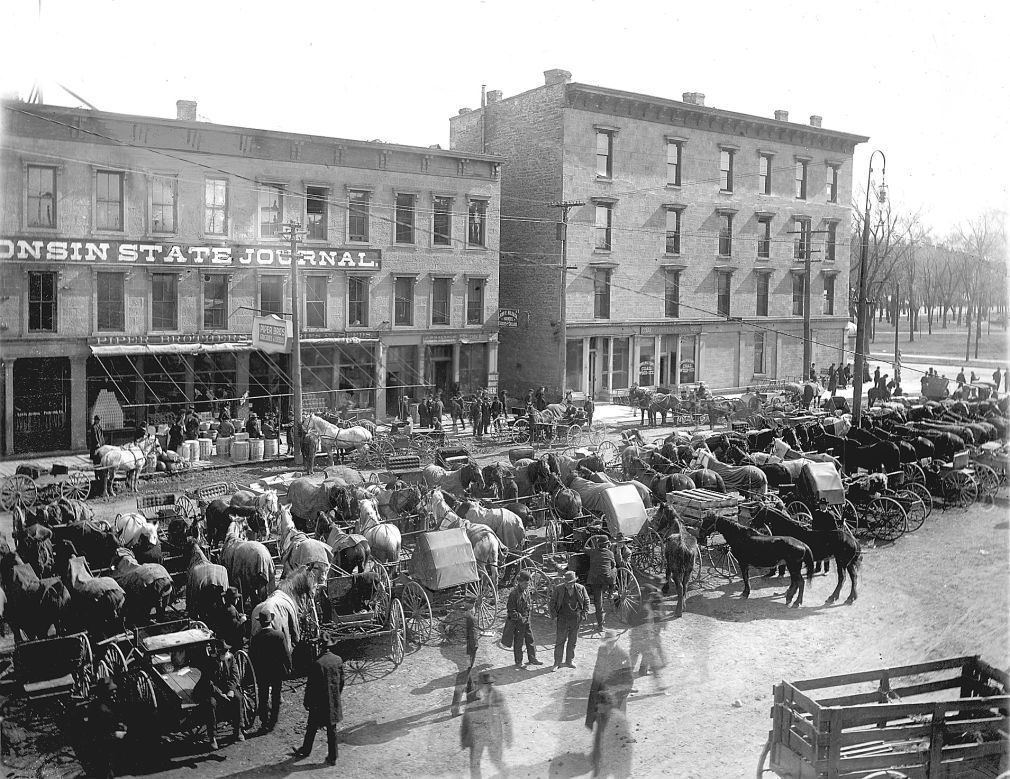 Which came first: the state of Wisconsin, or the Wisconsin State Journal?
As many of us learned in grade school (and still remember, because it rhymes), "Wisconsin became a state in 1848."
You can't have a "State" Journal, I suppose, until you actually have a state. Yet on Tuesday, our newspaper will mark 175 years of operation, dating back to Dec. 2, 1839.
That's nine years before statehood, and seven before Madison incorporated as a village.
We're proud of our rich history, with many more years to come.
The State Journal began as the weekly Madison Express when Madison was little more than 35 buildings surrounded by a thick forest. You could still hunt wolves and bears on the Capitol Square back then, according to the Wisconsin Historical Society. And only 54 people were around to vote in that year's spring election.
The Express became the Wisconsin Daily Journal in 1852, and was renamed the Wisconsin State Journal a short time later.
"The STATE JOURNAL is now the only Whig Paper published at the Capital of the State," the first edition of the daily newspaper announced. "But, while it is a partisan paper, it will never degenerate into a mere party organ, neglecting the higher interests of the people and the Commonwealth, for the furtherance of mere party ends. It is our aim to adapt it to the wants of Wisconsin readers in particular, and of those interested in Wisconsin affairs."
Atwood develops paper's voice
Like Abraham Lincoln, the early State Journal moved from the Whigs to the newly formed Republican Party, which editor David Atwood helped create in opposition to slavery. Atwood Avenue on the city's East Side is named after him. He started at the Express as a compositor and assistant editor for $6 a week, plus board, according to Madison Historic, Inc. Atwood purchased the Express in 1848, advocating for factories to increase the city's wealth and population.
The thoughtful and at times fiery voice of the newspaper often mixed commentary with news. But by the early 1900s, the opinions were moved to the Editorial Page, distinct from news coverage. The paper forcefully declared all of its journalism independent of any party or group — a tradition we continue today.
Yet one priority through all these 175 years has been the public good. I base this on the hundreds of State Journal editorials from history I've read and often re-published in our Sunday newspaper. The State Journal always has been a champion for transparent and efficient government, for a better informed citizenry, for progress and prosperity in big ways and small.
Paper rallied for early institutions
You have free articles remaining.
We rallied support for the first hospital, schools, parks and railroad line to the city. We celebrated and publicized the first prune and peach trees grown here. We urged donations to countless civic groups and causes. More recently (relatively speaking) we endorsed the creation of an interstate highway system and (eventually) construction of Monona Terrace.
On June 17, 1853, our newspaper praised "a due spirit of economy" among some members of the Legislature. In the same breath, we scolded the "great extravagance" of other lawmakers who accepted daily expense payments even when absent from the state Capitol: "We shall endeavor to aid the members in showing the people in what manner their money goes," our newspaper opined.
On Aug. 9, 1854, a State Journal editorial warned: "Corruption has grown fat and rampant. The people and their interests have been disregarded, and 'democracy' has become equal to the task of electing (Gov. William) 'Barstow and the balance.' "
The newspaper was right. The state's high court removed a dishonest Barstow from office two years later for election fraud, after discovering he "won" an incredibly close election thanks to ballots from northern towns where no voters actually lived. The extra votes were written on paper only used at the Capitol.
On Nov. 8, 1854, the State Journal celebrated a sober election without fist fights, thanks to extra police: "No liquor was kept near the polls, and ... we did not see a drunken man during the day. There might have been some who had indulged sufficiently to put them in excellent humor; but there were none of the reeling, foul, disgusting specimens of brutalized humanity that almost invariably are found about the polls on the day of election."
And you thought today's politics could get a little rough.
On Aug. 7, 1854, as teachers met in Madison, the State Journal strongly endorsed public education: "The only hope of this country is in the diffusion of intelligence throughout the masses of people, and whatever tends to forward that result should be fostered and encouraged."
The State Journal backed Lincoln, the GOP's first presidential candidate, on Nov. 3, 1860: "Abraham Lincoln would not tell a falsehood if by so doing he could be President for life. He cannot lie without changing his nature."
This proves, as I like to tell today's readers who complain about our election endorsements, that we got at least one of them right.
Editorials poetic, at times wrong
Some editorials from the past are prophetic, poetic and even inspiring. On June 27, 1865, just days after the last shot was fired in the Civil War, the State Journal argued blacks should have the right to vote before Southern rebels: "There is no doubt but the negroes are as well if not better fitted to vote, loyalty as well as intelligence being taken into account, as the whites," and editorial reasoned. It hoped Southern leaders, on returning to Washington as representatives of free states, would "recognize manhood and loyalty, not color, as the basis of suffrage."
Anyone offering an opinion — or two or three — most days for the better part of two centuries is at times going to wind up, as President Barack Obama likes to say, "on the wrong side of history." The State Journal strongly favored Prohibition, which didn't go so well. (I like to think we make up for it now by publishing a beer column.) Our newspaper also endorsed Wisconsin's most notorious politician, U.S. Sen. Joe McCarthy.
Yet even on those issues, the writers made some good points. Prohibition was tightly tied to women's suffrage — a State Journal priority. On June 8, 1916, the paper credited suffragettes for "marching to the music of inspired patriotism." When endorsing McCarthy on Aug. 20, 1952, the editorial board emphasized, "This newspaper has not been — nor are we now — a 100 percent supporter of Joe McCarthy, either personally or philosophically." McCarthy "has sometimes been ridiculous in hanging the Commy label on many who disagree with him."
Involving our readers is key
We're often accused today of being in league with one partisan side or the other of Wisconsin politics, which is hard to believe if you read our editorials regularly. We've tended to lean left on social issues, and right on fiscal matters. That doesn't describe many of today's candidates. So we've endorsed members of both major political parties, based on their records, experience and character.
Our highest goal on the Editorial Page — in print and online — is to involve our readers in the daily conversation. We strive to be our community's best friend and most constructive critic. I'm pretty sure David Atwood would appreciate that.
Milfred is editorial page editor for the State Journal; smilfred@madison.com and on Twitter
@ScottMilfred.