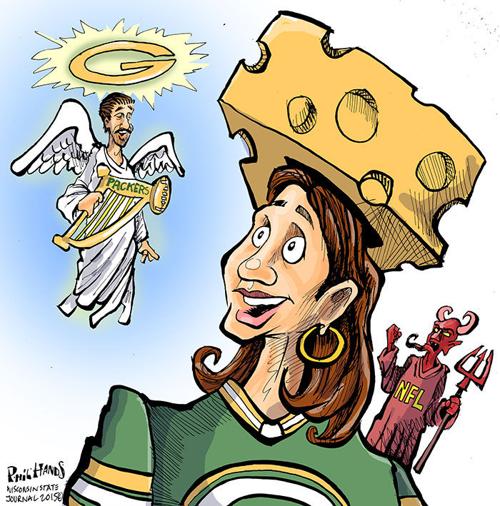 For this die-hard Green Bay Packers fan, there's no time like the eve of the NFC Championship Game to start questioning my interest in the NFL.
The questions emerged last weekend, when I tried to watch my first non-Packers game of the season, the Panthers-Seahawks divisional playoff. Never mind that the outcome would directly impact the Packers' postseason future. With nobody on the field wearing my beloved green and gold, I had a hard time caring. I found myself rolling my eyes at the stupidity of beer commercials, getting angry about the objectification of women, feeling insulted by the absurd amount of time given to commercials versus football.
I started asking questions I couldn't answer:
Will so-and-so's recurring neck injury haunt him for the rest of his life? Who on this team has a record of domestic abuse or sexual violence? Does anyone around him know? If so, has anybody done anything about it? Will anybody?
The same tough questions could be lobbed at the players of my favorite team, of course. And, if I tried, I could come up with a litany of criticisms for the NFL's culture, sponsors and leadership during any Packers game of the season.
But — I realized as I left the bar at halftime, fed up — I don't.
Why? Why, in the competition between my distaste for the NFL's culture and my love of the Packers, do the Packers win?
First, our team might be a part of the NFL, but, as we all know, the Pack's identity is distinct in the league. Think Curly Lambeau, Vince Lombardi, and the fact that my mom — my mom — is a team owner. With the Packers, I cheer for more than a team. I cheer for pride in our tradition, our distinction, and the heritage of my family and home state.
More valuable still, my love of the Packers serves my relationships in singular ways. Talking about the Pack helps me build rapport with clients and coworkers, reveals a potential connection with any stranger sporting that familiar, beautiful "G."
With the family members whose political views I don't understand, the Packers give me fodder for a friendly text or a reason to email. Hey, can I get the recipe for that beer-cheese dip you always make on gameday?
There's a flavor of tribalism in my allegiance, no doubt. And, by definition — excessive, irrational enthusiasm for a cause — fanaticism, too. Perhaps it's irrational and hypocritical that I choose to support a team in a league that's so hard to respect. Every time I don my favorite Packers-logo stocking hat, I'm putting an NFL logo on my head, too.
But how rational are most of us, most of the time, anyway? How complicit, too? When I'm buying a Packers-NFL hat or smartphone, can I ever know how my consumer dollars weave me into complicity all over the world?
I try to be aware in how I eat and where I shop. I try to skip endorsing bad things with my consumer dollars. But we drive ourselves crazy trying to be all righteous, all the time.
So when it comes to football, I let the Packers win. For a few hours every week during football season, I let myself step away from the endless list of hyper-intellectual oughts and shoulds that could bind my every entertainment or spending decision. Sometimes, don't I just need to grab a beer, eat a pile of deep-fried cheese, and scream at a screen for a couple hours?
Koshere, who grew up in Spooner, now lives in St. Paul, Minnesota, and works for Minnesota Public Radio.