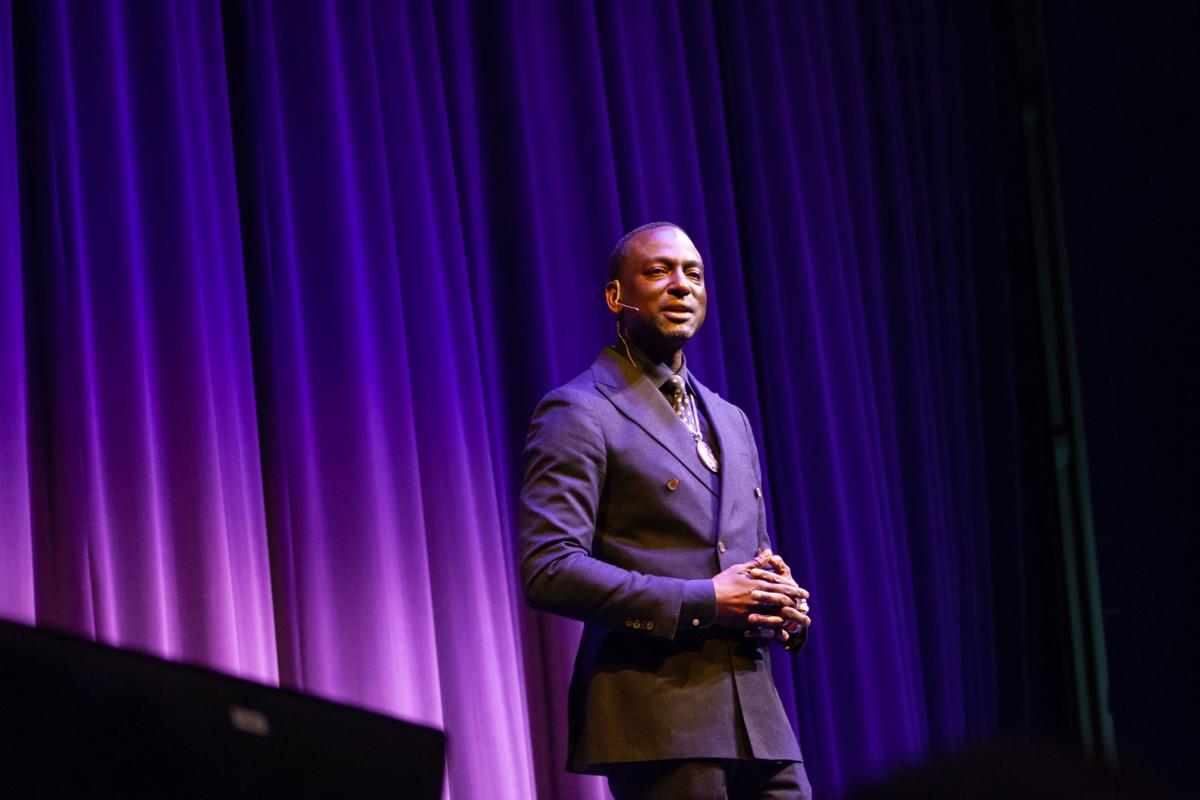 Yusef Salaam — one of five teens, all black or Latino, who were wrongfully convicted of the 1989 brutal rape and assault of a white female jogger in Central Park — said Thursday that the problems he faced in the criminal justice system then persist today.
Salaam, 45, told a crowd of about 1,000 people at Madison Area Technical College he was "branded as a rapist" when he was only 15 not because of evidence but because of the color of his skin.
"I think that the criminal justice system has not necessarily improved," Salaam said, noting that the racial disparities that led to his conviction still "echo around the nation."
He pointed to cases of black teens today who have been shot by white police officers and black men on death row who claim their innocence as racial injustices still happening today.
Salaam and the four other teens convicted of the 1989 assault were called the "Central Park Five," a name Salaam said was meant to make them seem like a gang of criminals or a "wolf pack." He prefers "The Exonerated Five."
In 2002, convicted murderer and serial rapist Matias Reyes, who was serving life in prison, confessed that he alone committed the assault.
At the time, four of the teens had already served six to seven years in juvenile detention centers, and the fifth, Korey Wise, was nearing the end of the 13 years he served in adult prison. Wise — who was 16 when the crime occurred while the others were 14 and 15 — was tried and sentenced as an adult.
Although there was no DNA evidence tying the five to the crime, the teens were pressured into giving false video confessions after hours of forceful police interrogations without legal counsel and some without parents present.
Salaam was questioned for hours by police without a lawyer or guardian present, but he refused to make a video confession after his mother arrived at the police station.
On Thursday, Salaam said race played into their convictions "1,000%." He said no one ever asked him who he was as a person, but assumed that he was some sort of thug who came from an impoverished community filled with crack and crime.
You have free articles remaining.
"They looked at me with such hatred in their eyes, and they were trying to get me to accept their narrative of me," Salaam said.
Today, he said people in power will still make assumptions about someone based on the color of their skin or the fact that they're wearing a hoodie, rather than who they are as a person. Salaam said people are not truly regarded as innocent until proven guilty.
He said law enforcement and prosecutors can get pressured by the public into finding someone to convict for a crime even when there's not enough evidence — and that people of color often become the suspects.
And if law enforcement gets the wrong person, Salaam said, the actual criminal walks free.
"Never should there be a person in prison for a crime that they didn't commit, because that means there are persons outside of prison that did commit those crimes," Salaam said.
He noted that after the Central Park Jogger case, the man who raped the woman went on to rape more women, including a pregnant woman who he raped and murdered while her children were in the next room.
But Salaam said the problems in the criminal justice system are not the fault of everyone. He said corrupt police officers, for instance, make up a very small portion of police officers out there.
"The true battle isn't about black or white," Salaam said. "It really is about making sure that the evils we see in high and low places are stomped out."
He said he met one young teenage girl who wanted to become a police officer, and his advice to her was to not only be a protector of the people, but to treat everyone with "courtesy, professionalism and respect."
Although Salaam's path to where he is today was tough, he wouldn't go back and change his life because "one thing switched in your past changes everything in your present."
He hopes the story of the Exonerated Five is not forgotten because it provides important lessons about the criminal justice system and racial equity.
"We can look at this story and say this is the reason why we need justice in the criminal justice system," Salaam said. "This is the reason why we need to restore it to a system that works as opposed to a system that doesn't."