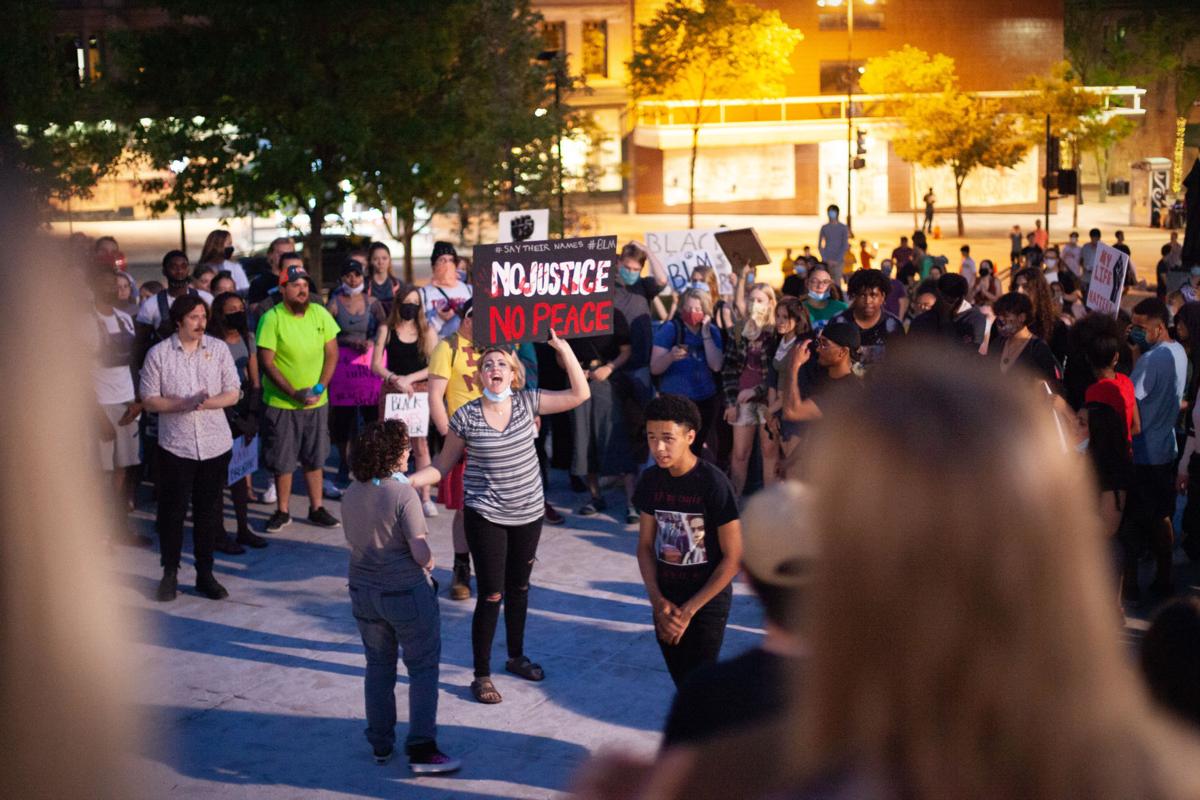 Dotted throughout the crowd of around 200 protesters of George Floyd's death on the steps of the Capitol Thursday evening, many of the faces were those of Madison's youth.
An organizer yelled over the crowd for protesters to cheer if they were in their teens, 20s, 30s, 40s or 50s. Overwhelmingly, the cheers of those in their teens and 20s boomed the loudest.
Although daytime protests of police violence have been led by local organizations Freedom, Inc. and Urban Triage, the organizing force behind the demonstrations at the Capitol have been more organic. Those in attendance say many of the organizers are Madison's teens.
"These kids are the organizers," said Ebony Anderson-Carter, 29. "This ain't about me. It's about them."
Kristian Rynes, 19, said he hopes that after the protests no one will have to be scared of the police anymore.
"It's a revolution," Rynes said. "It's the future."
The protest started at the Capitol with tables set up with food and another table for registering voters. As the group grew from around 200 to 500, protesters heard from speakers and marched down East Washington Avenue.
In a separate protest Tuesday, Freedom Inc. organized a caravan that stopped traffic on the Beltline during rush hour and ended at the house of Madison School Board president Gloria Reyes, where protesters got out of their cars to decry having police officers in schools. Reyes said in a Facebook live post that she thinks racism in policing needs to be dismantled from within.
"I'm listening," Reyes said. "That's my role as an elected official is to listen."
As of 11:30 p.m., the demonstration that started at the Capitol was peaceful with no visible police presence, except a few squad cars to follow protesters as they marched down East Washington Avenue.
"Kids are out here getting food delivered from restaurants and getting people to vote," Anderson-Carter said. "I don't understand what the threat is of that at this point."
Although nighttime protests were peaceful on Tuesday and Wednesday, the overnight hours of Saturday, Sunday and Monday were characterized by looting and destruction, with break-ins at State Street businesses, fights and vandalism. Police responded with tear gas and pepper spray.
Anderson-Carter said some of the young people who are peacefully protesting now are the ones who were looting and causing destruction earlier this week. She said they were hurt and angry. But she's talked with many of them and encouraged them to become a part of the peaceful movement.
"It's time for us to learn their language," Anderson-Carter said.
She asked an 18-year-old protester how she managed to get respect from young people when the police did not.
"It's the respect you show us," Kirsten Simmons replied.
Rynes, who is black, said when he was arrested at 13 he experienced physical abuse at the hands of the arresting police officer. He said Madison's youth need spaces where they can go to just hang out on the weekends without the police being there.
This week, the Capitol Square has become that space.
"I made five friends just being here," said Bronwyn Dziak, 23, who started attending the protests on Saturday. She registered to vote Thursday.
Dominique Alexander, 15, said "everybody welcomes everybody" at the demonstrations, and everyone is in support of community. 
Though the first few protests of the week were characterized by hurt and anger, now they have become a space for togetherness, and even fun. 
On Friday, Yeshua Musa, 28, said organizers plan to build a "water park" on the Capitol Square, with pools and slip and slides. He said he's not sure what time that will start. 
But there is still a tone of urgency to correct the racism seen throughout the country, including Madison. 
Change needs to happen "from the aldermen all the way to the president," Anderson-Carter said. 
Anderson-Carter said the protest isn't just about Floyd anymore, it's about the racism present in Madison. She said the looting on State Street was not the first sign that change needed to happen in the city, especially for Madison's youth. She said the city needs to create more spaces for its young people.
Anderson-Carter said protesters are going to be out here in the streets until someone in power sets "a time and a place" for a conversation about change. 
Said Rynes: "We are fighting for black lives."
State Journal reporter Shanzeh Ahmad contributed to this report.