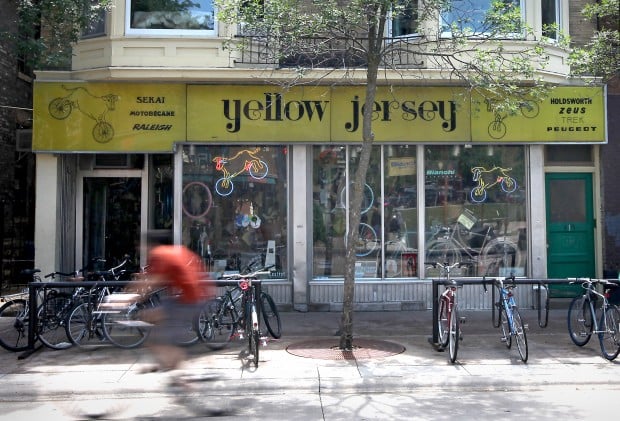 The last full service bike shop on State Street isn't closing, but it is moving.
And its new home is nowhere near Madison's Downtown. In fact, it's not even in Dane County. But it will be close to a post office and is a surprising addition to a small Columbia County farming community.
Yellow Jersey, a staple at 419 State St. for almost 40 years, is moving its bikes, parts, clothing and other accessories to a former bank building in Arlington.
The village of 823 people is four miles south of Poynette, 20 miles from Madison's Downtown and light years from the skateboarders, tourists and thousands of college students that roam one of the state's most recognizable streets.
"They're one of the icons of State Street," said Wasie Amiri, who owns the Sacred Feather hat shop next door to Yellow Jersey and who has worked at or owned a business on the street for over 20 years. "It's a big loss."
But for Andrew Muzi, CEO of the business founded on April Fool's Day in 1971, the move is no joke and one he welcomes.
Muzi, who joined Yellow Jersey in 1973, will no longer have to deal with water leaking though the store's tin ceiling and down the walls of the 125-year-old building. He also will escape rising rents by purchasing his own space and will focus more attention on his growing internet business.
The Madison store will close Sept. 30, with the 2,200-square-foot Arlington store opening Oct. 1.
"We're very excited about it," Muzi said. "It's 200 feet from a post office, which is critical for us."
Muzi said the Arlington store will have a retail store, but the majority of his business is through Internet sales to customers around the world.
He has been contemplating a move for the past two years and looked at buildings in Sauk and Richland counties before finding the Arlington location that was built in 1951.
"It was a real estate opportunity we couldn't pass up," Muzi said. "Online is a significant part and growing part of our business. We're making more of a commitment to that."
Biking market
The announcement comes following news earlier this month that Williamson Bicycle Works shuttered its sole remaining location at 3729 E. Washington Ave.
In November, owner Dale Henning moved all inventory and operations to that location after closing his store, located in a former railroad depot at 640 W. Washington Ave.
You have free articles remaining.
The Madison area continues to be a vibrant biking community, is home to miles of paths, 26 B-cycle stations and several shops, including Erik's, a Minnesota-based retailer with 18 stores, three of them in Madison.
The market also includes long-time player Budget Bicycle Center, founded in 1979 and with three locations on Regent Street, and shops that specialize in high-end, custom performance bikes like Cronometro, founded in 1989.
Jeanette Riechers opened her shoe store, Madison Sole, just down the street from Yellow Jersey in 2002. She's also president of the Business Improvement District, which includes State Street.
Riechers said she wasn't suprised by Yellow Jersey's move, because change is a constant.
"State Street is changing and it always has," said Riechers, who attended UW-Madison in the early 1970s when the street looked nothing like it does today. "It's a market-driven street."
Mary Carbine, BID executive director, echoed Riechers' thoughts.
"You always miss a wonderful long-time business, but it sounds like he is responding to changes that he is seeing for his business," she said of Muzi.
"Markets change, people change, customers change and businesses respond to that."
History of change
Yellow Jersey has reacted to market changes several times in its history.
The business started in a basement on East Johnson Street.
When Muzi joined the business in 1973, it was located in a former grocery store at 613 University Ave.
The store moved to State Street in 1974 and later expanded to multiple locations throughout the city before they all closed, with the exception of the State Street store, in the mid-1990s.
The business began its mail-order business in 1972 and added Internet sales in 1995. Today, its State Street store is crammed with bicycles and parts with a repair shop in the back.
Outside, next to the outdoor seating for Hawk's Bar & Grill, a bike stand serves as a corral for rental bikes, each with their own names like Xavier, Colby, Chad and Dierdre.
The whole works is now moving to a more rural setting.
"We've had a lot of addresses over the years and now we're going to have a new one," Muzi said. "This was just a great opportunity."