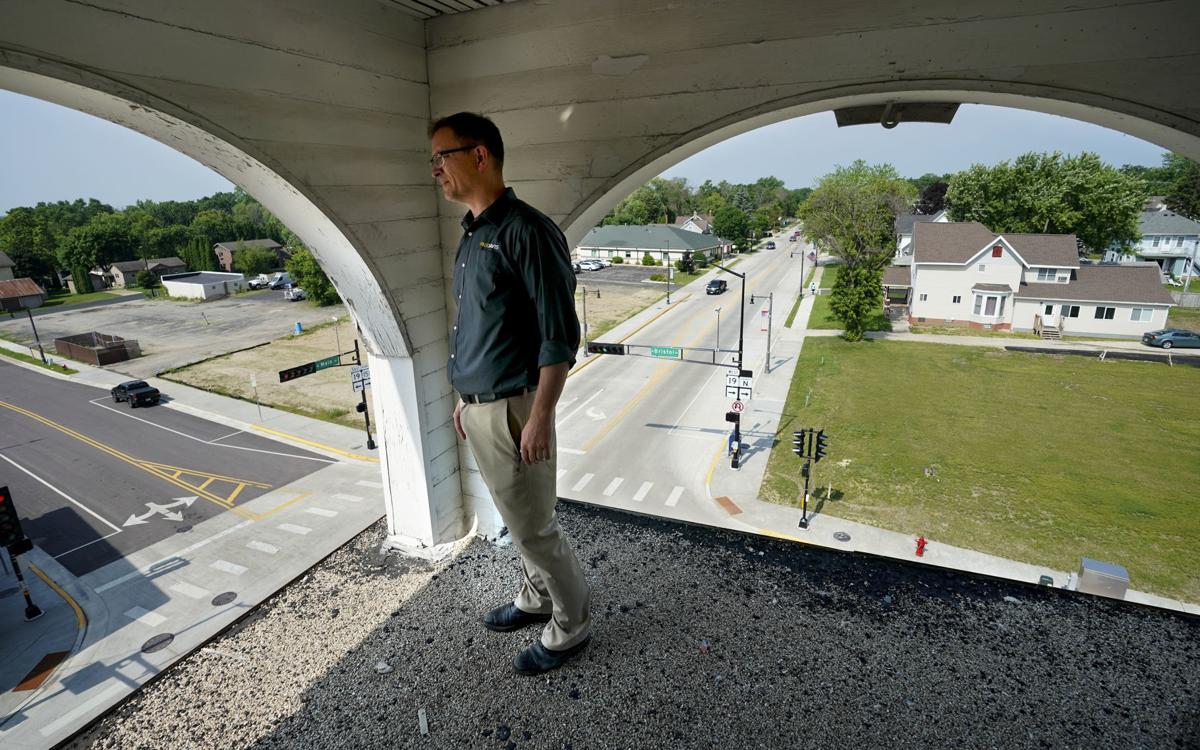 SUN PRAIRIE — Save for a pair of large, empty corner lots and a few boarded-up windows, there is little evidence that Sun Prairie's downtown has ever been anything other than what it is today: A mostly thriving small-town Main Street filled with places to eat, drink, shop and do business.
A year after a massive natural-gas explosion destroyed a good chunk of that legacy, officials and residents in this fast-growing Madison suburb of 33,000 are optimistic about the future of their city center — while cognizant of the local firefighter who died working to evacuate the area.
At about 7 p.m. on July 10, 2018, gas from a main breached by construction workers was ignited by a still-unknown source, causing an explosion that gutted buildings while spreading debris for blocks and smoke that could be seen for miles.
Sun Prairie Fire Capt. Cory Barr — who also owned, with his wife, Abigail, the Barr House tavern at the epicenter of the blast — was killed as he and other first responders cleared the area of people in the 45 minutes or so between when the line was hit and the explosion.
"We hurt with that every day," Fire Chief Christopher Garrison said.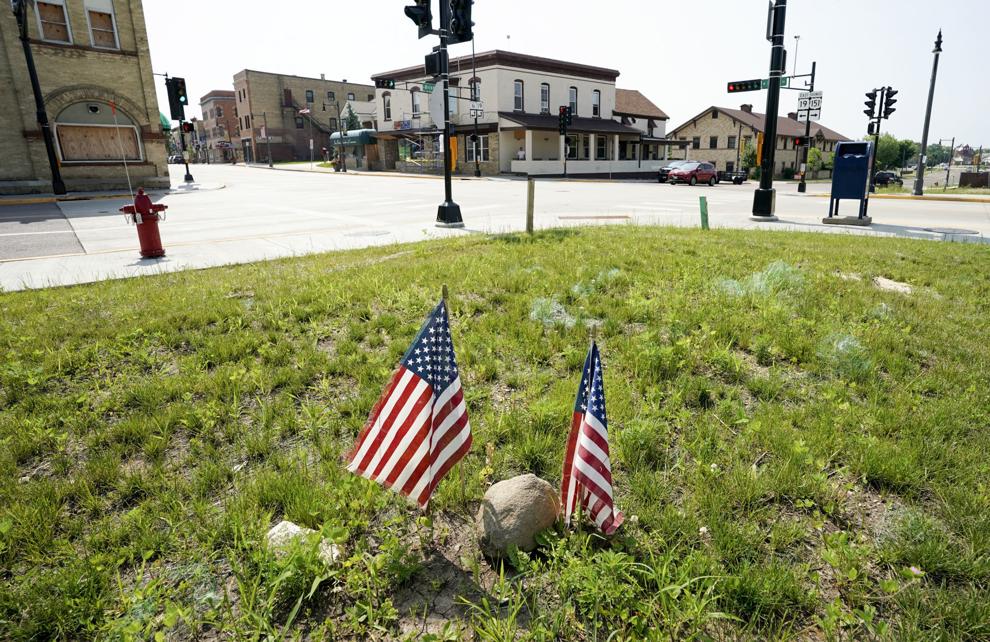 After the initial shock wore off, a Bank of Sun Prairie-initiated fundraising effort generated more than $600,000 in disaster relief distributed to former downtown residents and employees, first responders, and business and property owners.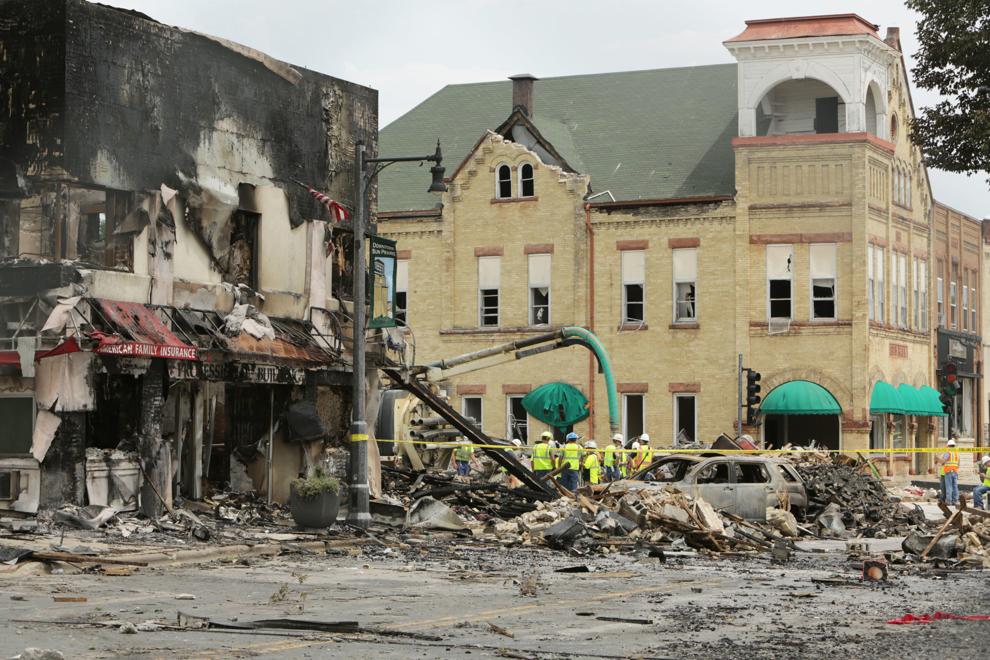 But it wasn't until about mid-November, when Main Street was reopened to traffic, that Mayor Paul Esser felt "we're back."
"It looks different, but it's back," he said.
The city has allocated $83,358 to fund the work of Chicago-based urban design firm The Lakota Group, which began meeting with residents and community leaders this spring and expects to submit plans for the intersection of Main and Bristol streets in late October or early November.
Lakota vice president Marisa Schulz said the firm has gathered feedback from about 1,500 people and conducted about two dozen meetings. It will present some of its findings at a community meeting July 25.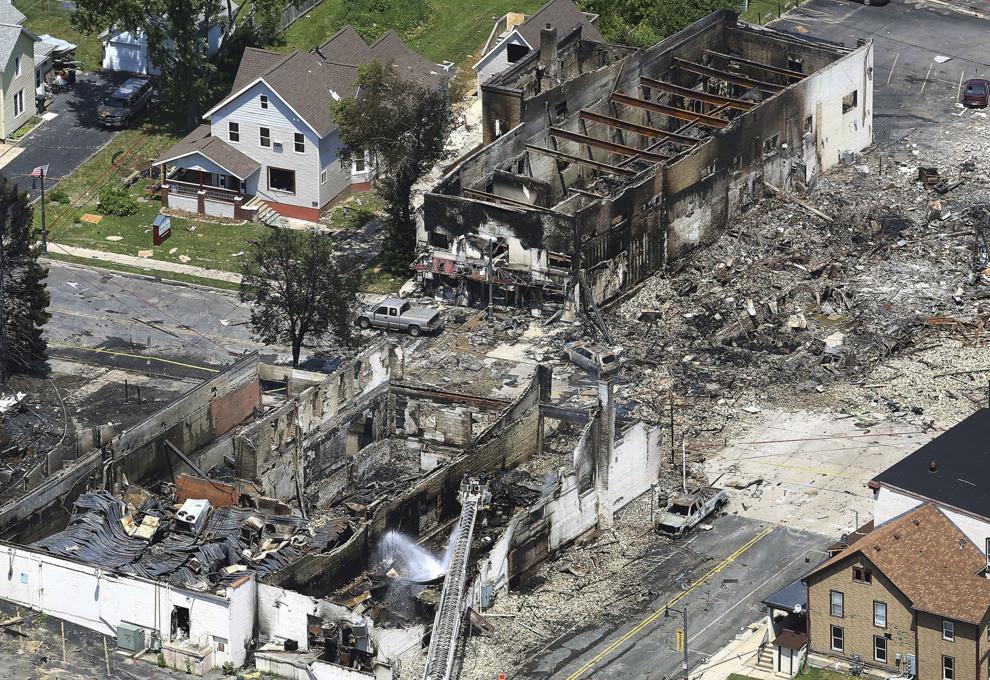 Outpouring of support
On Tuesday morning, Jason Schmitt of Paul Davis Restoration was visiting the old City Hall building at 100 E. Main, which sits directly across Bristol Street from the site of the former Barr House and where his company is expecting to do some work.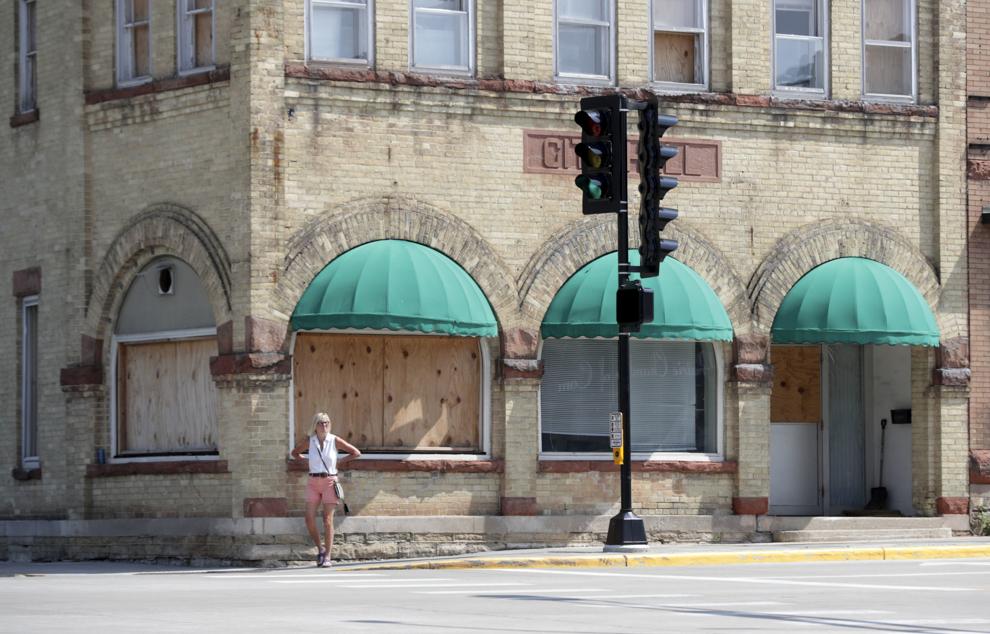 "The plan is fluid," Schmitt said of the owner's intentions for the 124-year-old building, which could involve a mixed retail-residential project.
"They want to bring it back to its former glory," he said, adding that the building is structurally sound but will need "major repairs" to its roof.
Lester Eveland, who works for the company that owns the Baehr Haus Boutique Hotel just west of the Barr House site, said the hotel is open and most of the apartments in the building kitty-corner from the Barr House site are occupied, although work on that structure continues.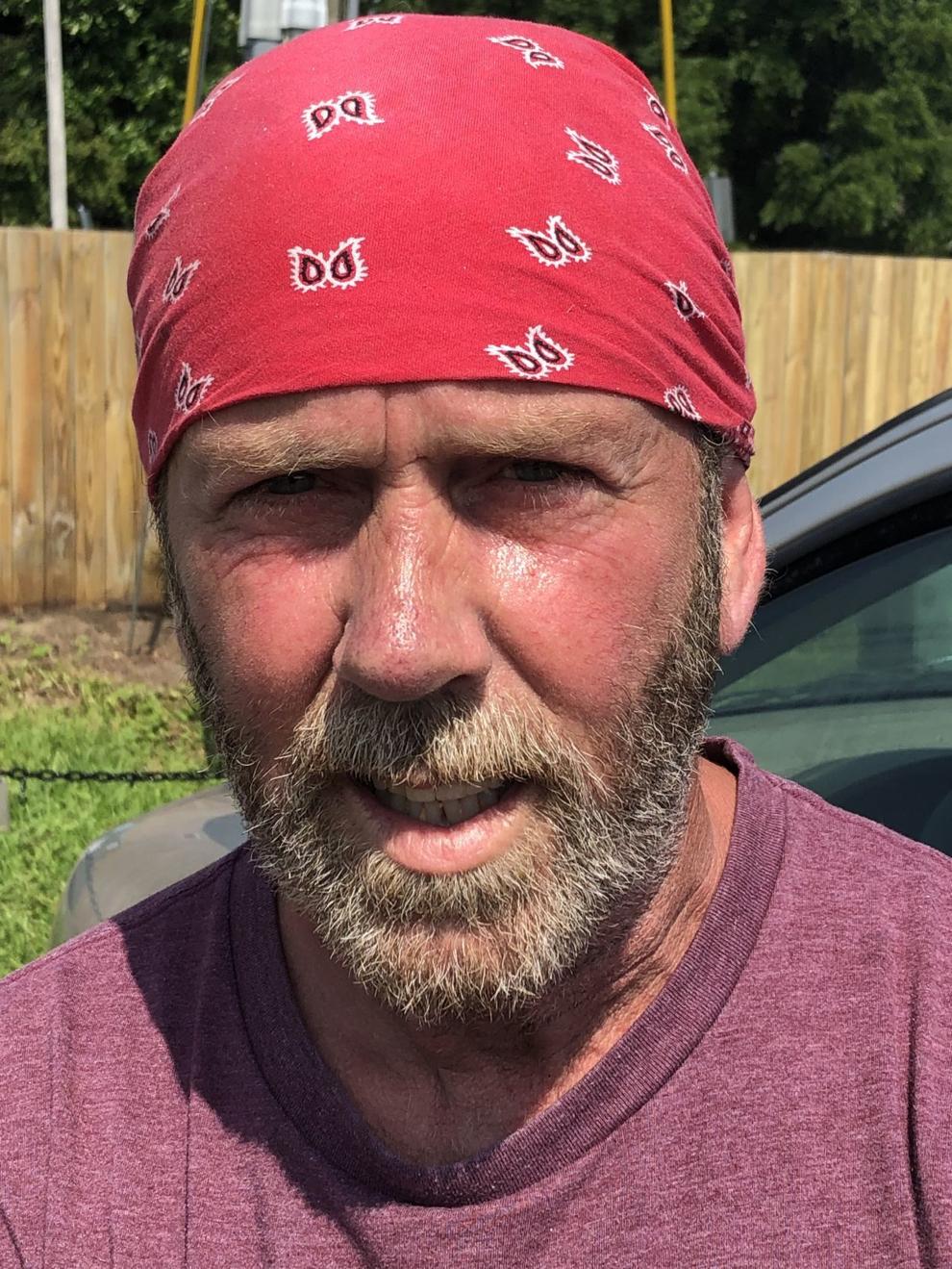 Similarly, business was steady at the Abarrotes El Primo Mexican grocery and taqueria at 105 E. Main St.
Manager Fernando Mora said the business closed for two months following the explosion, and it was slow heading into last winter "because a lot of people didn't know that we are back."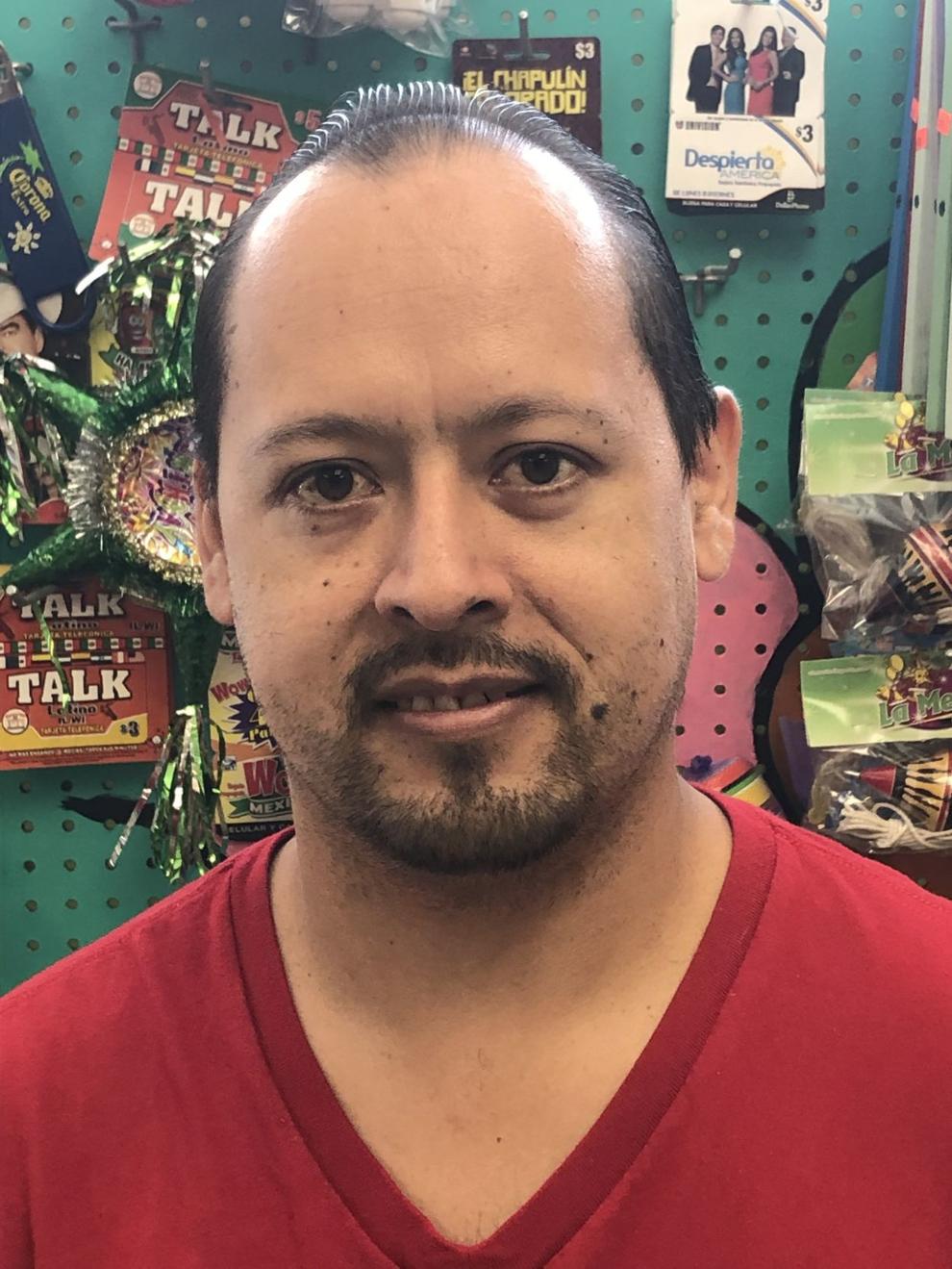 But he said business is now as strong as it was before the explosion.
Patrick DePula said the explosion "kind of galvanized the business community." The owner of Salvatore's Tomato Pies restaurants in downtown Sun Prairie and on Madison's Near East Side said people are aware of what happened in Sun Prairie and eager to support downtown business with their dollars.
"Immediately following the incident I heard from one downtown business owner that he believed new folks were visiting downtown businesses to show their support," said Ald. Emily Lindsey, Dist. 1, who represents the downtown.
She said that in the wake of the explosion, people around Dane County asked her what they could do to help.
"I told them to visit our businesses and spend their hard-earned money in downtown Sun Prairie," she said.
Sun Prairie resident Yosan Do, who was working outside Tuesday in Cannery Square, said the downtown, especially its two breweries, remains a draw for him and is "just as nice as going somewhere in Madison."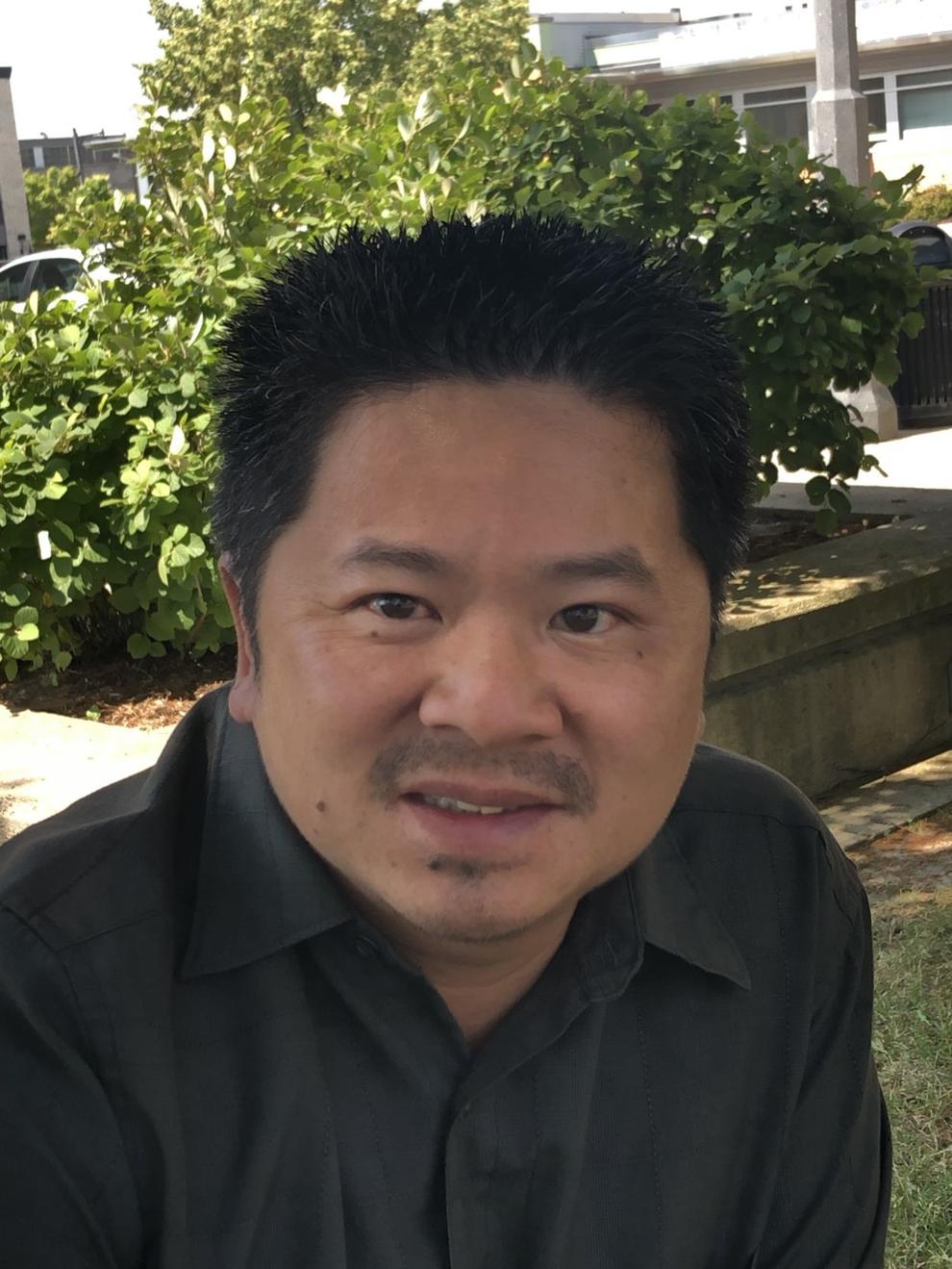 Marker planned
Schulz, of The Lakota Group, said her team has heard a few recurring themes in what residents say they want at the corner of Main and Bristol: more community-oriented space, attractions for both residents and out-of-towners, a gateway to the downtown, something that fits into and aligns with the area's historical significance.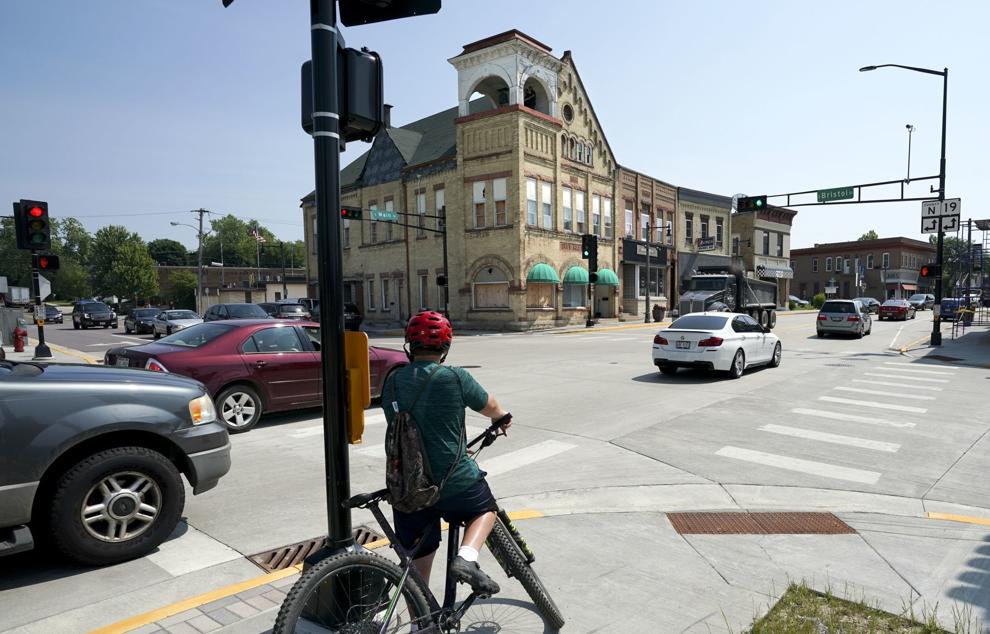 One thing she's sure of: "There will be something there" to memorialize the explosion, perhaps a marker or some kind of public space.
DePula said it's "kind of all over the place in what people would like to see" at the site. He said something arts-related, such as a music venue or local theater or art gallery, could be nice.
Esser emphasized that the city does not own the property at the blast site, so it will be up to owners and private developers to look at Lakota's plan and, he hoped, propose projects that align with it.
But it's likely the city will provide developers there with taxpayer support, possibly through tax incremental financing, although no specific amount has been set aside for the purpose, he said.
Ald. Steve Stocker, Dist. 1, who also represents the downtown, said his wish list for the site "is what my constituents want," although one thing he's heard they don't want is more apartments.
That sentiment comes amid what the director of a local social services agency calls a lack of affordable housing in Sun Prairie.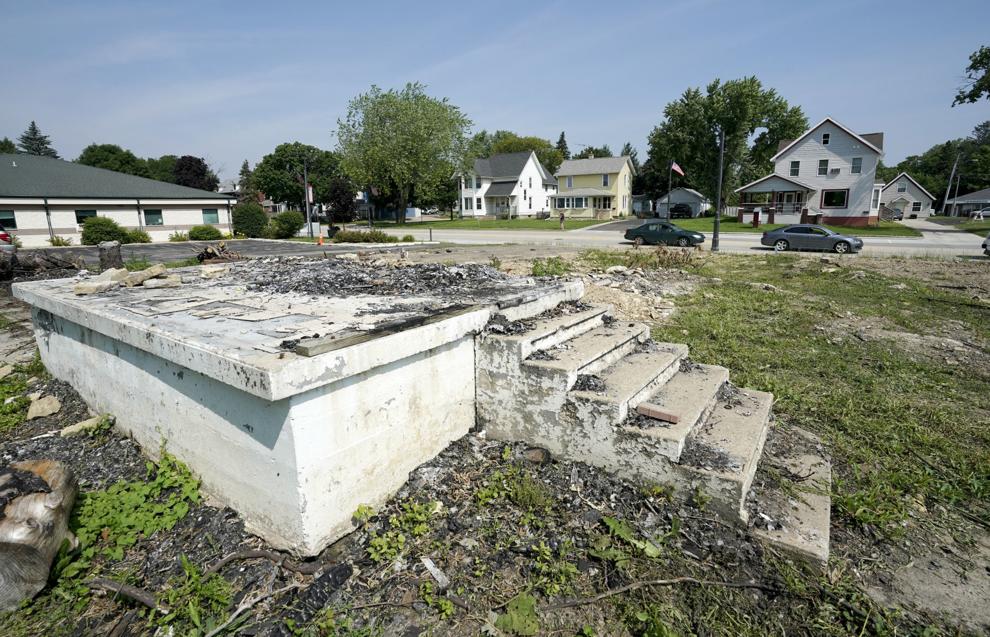 Sunshine Place executive director Joanna Cervantes, who helped identify families eligible for disaster relief money, said many of those displaced in the blast moved out of Sun Prairie because they couldn't find affordable apartments, and that about a third who did find places are paying more than they were.
'Extremely fortunate'
Esser and Garrison, the fire chief, said no major changes to the Fire Department or local emergency response are planned as a result of lessons learned from the explosion.
Sun Prairie's is a mixed professional-volunteer department with full-time, paid on-call and part-time workers, as well as volunteers compensated through stipends.
"My personnel are very, very highly trained," Garrison said, and he can have 30 to 40 people respond immediately to an emergency call.
"We evacuated, with the police, over 250 people from that area," Garrison said. The city was "extremely fortunate that there's not 20 to 30 people killed in that explosion."
With the growth of the city, plans were already in place to expand Fire Station No. 2 so that by next year, both city stations will be staffed 24 hours a day. Fire personnel have grown from 55 a year ago to 82 today, Garrison said.
Since the explosion, the department has expanded its employee assistance program for firefighters who experience a tragedy, Garrison said, and has brought in a pastoral counseling program.
It also used about $8,900 in donations to buy a remote gas detection tool that allows firefighters to use laser technology to detect flammable gas in distant buildings.
Lives were saved
Garrison gave his crew an "A+" for their response a year ago, and a review of their response by Dane County Emergency Management largely echoed that assessment.
Among the strengths the agency pointed out in an April report were the coordination among emergency responders, the immediate decision to evacuate the area, and social media posts related to the explosion seen by more than 90,000 people.
"By all accounts, the immediate actions of emergency responders saved lives and prevented injuries," the report said.
Among the challenges the report noted were that the shelter location could have been better identified and responders weren't always capable of communicating because they had different radio systems.
"You can look at it and say things could have gone better," Esser said, but a disaster like the one last year "probably wouldn't have been something you outlined" in any training because it's such a rare event.
Garrison said his department is still waiting on a report from the National Institute for Occupational Safety and Health, a division of the Centers for Disease Control and Prevention that he said reviews incidents in which firefighters are killed.