One woman was killed and several others were injured in a massive highway crash Monday morning in the town of Verona.
The Dane County Sheriff's Office believes a band of heavy fog and speed factored into the 29-vehicle pileup on Highway 18/151 just east of its interchange with Highway 69.
The crash, which happened shortly before 8 a.m., killed a 53-year-old woman and sent six other people to the hospital, one of whom was taken to UW Hospital by helicopter, the sheriff's office said.
A dozen ambulances were sent to the scene.
A semi truck destroyed a vehicle during the crash, and several vehicles were scattered in the surrounding ditches.
The pileup happened on the northbound side of Highway 18/151 in an area where the highway dips.
Sean Miller, a meteorologist for the National Weather Service, said calm winds and a source of moisture are needed for fog to form, while a creek or river can produce smaller patches of localized fog.
The Badger Mill Creek runs near the low-lying area where the crash occurred.
A video taken by a commuter passing on the opposite side of Highway 18/151 just after the crash showed heavy patches of fog in the area.
"Poor visibility due to heavy patches of fog is believed to be a contributing factor in the crash," said sheriff's office spokeswoman Elise Schaffer.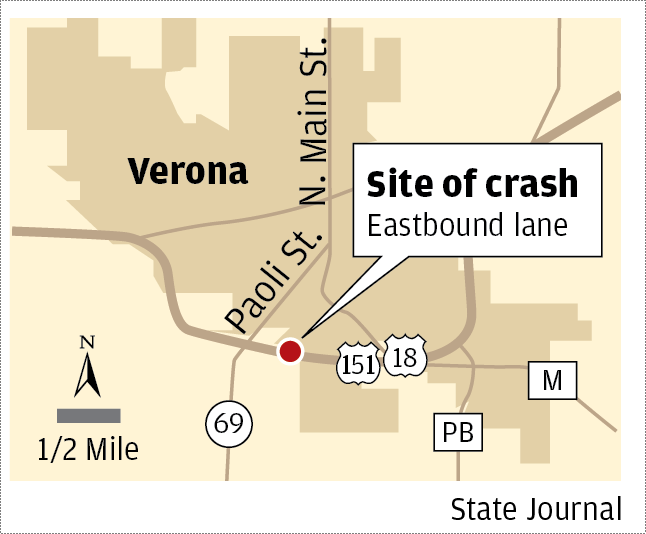 Both sides of the highway were shuttered for several hours Monday to allow emergency agencies to respond. All lanes reopened to traffic around 4:45 p.m., the sheriff's office said.
Northbound traffic was being rerouted off Highway 18/151 onto Highway 69/Paoli Street while the clean-up and site investigation was underway.
The sheriff's office was assisted by the Verona and Fitchburg police departments as well as the Wisconsin State Patrol.
People involved in the crash who were not injured were taken to the Verona Fire Department, 101 Lincoln St., near Business 151 on the city's East Side.
Family members of those taken to the fire department were asked to meet their relatives there and to refrain from going to the scene of the crash. Hours later, some were emotional as they left the fire department. None wished to speak with a State Journal reporter.
The Dane County Medical Examiner's Office will release the name of the woman who died pending notification of family.
The sheriff's office is asking anyone who may have witnessed the crash to call a tip line at 608-284-6900.
---
State Journal reporter Logan Wroge contributed to this report.