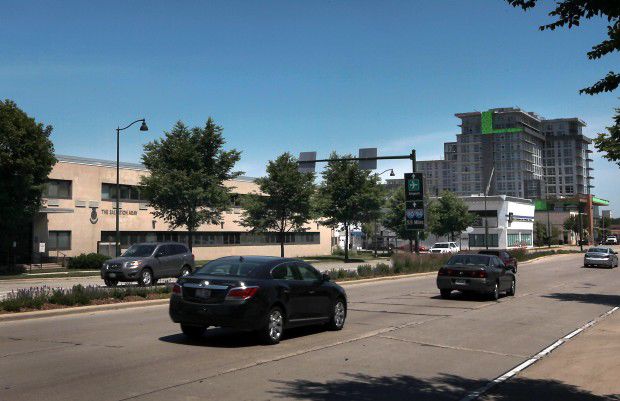 This is an especially busy time for the Salvation Army of Dane County.
In addition to the just-announced redevelopment proposal for its East Washington Avenue site, the organization is launching a new initiative that is expected to immediately help reduce homelessness.
The project is in an area of homelessness prevention called "rapid rehousing." It will allow the Salvation Army to quickly place homeless families into apartments while providing the families with temporary rent subsidies and other assistance to stabilize them, said Melissa Sorensen, the organization's director of social services.
The Salvation Army is partnering with Dane County and a group of private investors for the project. The investors, who prefer to stay in the background, sought a way to help ease the affordable housing crunch in the city, Sorensen said. They are purchasing dozens of apartment units at scattered sites across the city, which they will then make directly available to tenants chosen by the Salvation Army, she said. The target population will be families with children.
Salvation Army case managers will work closely with the families, with the goal of getting them back to self-sufficiency as quickly as possible, perhaps in four to six months, Sorensen said.
The collaborative effort, she said, will address one of the biggest problems facing homeless families: finding landlords willing to take on tenants with poor credit histories, prior evictions, criminal convictions or other challenges.
Those factors have become particularly serious barriers in the city's tight rental market.
Many of the homeless people the Salvation Army works with have jobs but can't secure housing because of these barriers, or because they make minimum wage and can't come up with an initial security deposit, Sorensen said.
"A really big part of this is that the landlords won't be screening out potential tenants," she said. "They will own and manage the property, but we'll be picking the tenants."
Tenants will pay 30 percent of their income toward rent, she said. However, the program will assist homeless families with no income while they work toward self-sufficiency, she said.
A large part of the money for the rent subsidies and other assistance will come from Dane County, which will redirect funds it already provides the Salvation Army for shelter services and homelessness prevention, said Joe Parisi, county executive. Some of that money currently is used for motel vouchers for homeless families. Specific budget figures were not immediately available.
Parisi used a health care analogy to explain why funding rapid rehousing makes sense.
Homeless shelters are like hospital emergency rooms, he said. They serve a critical function, but the goal should be to limit the number of people needing to visit them.
"We're investing more into primary care," Parisi said of the rapid rehousing project. "There will still be that safety net there, but we're going to be able to address the root causes on the front end."
Sorensen anticipates about 40 apartment units being available for the rapid rehousing project this fall. The private investors plan to keep adding units going forward, she said.
As families become self-sufficient, they could choose to stay at their current apartments by signing independent leases, she said. If a family chooses to move, the Salvation Army would put another homeless family in the unit, she said.
In a second major programming change, Sorensen said the Salvation Army on Nov. 1 will convert the 18 dormitory-style rooms on its second floor at 630 E. Washington Ave. into emergency drop-in shelter for families with children.
The rooms currently are used as temporary housing for homeless families with children. The families can keep their belongings there for 90 days while they work with case managers to find permanent housing.
The rapid rehousing initiative is expected to help many of these families, freeing up the 18 rooms for emergency shelter use, which is desperately needed, Sorensen said.
The Salvation Army has been turning away families this summer, even with First United Methodist Church serving as a much-valued overflow site, she said.
Some of the Dane County money being redirected to the rapid rehousing project has been helping to fund the 90-day rooms.
Be the first to know
Get local news delivered to your inbox!