With puppy yoga, obstacle courses, live music and a dog parade, hundreds of people and canines attended the annual "Barks for Parks," a fundraiser for Dane County's dog parks held Sunday.
Now in its third year, the festival raises about $5,000 to $7,000 each year to improve the county's seven dog parks, parks director Darren Marsh said.
The event at Badger Prairie County Park in Verona has been expanding each year, with about 300 to 500 attendees the first year, 500 people last year, and up to 1,000 expected this year, Marsh said.
"We are so overwhelmed with the people coming out to sponsor our dog parks and sponsor our program," he said.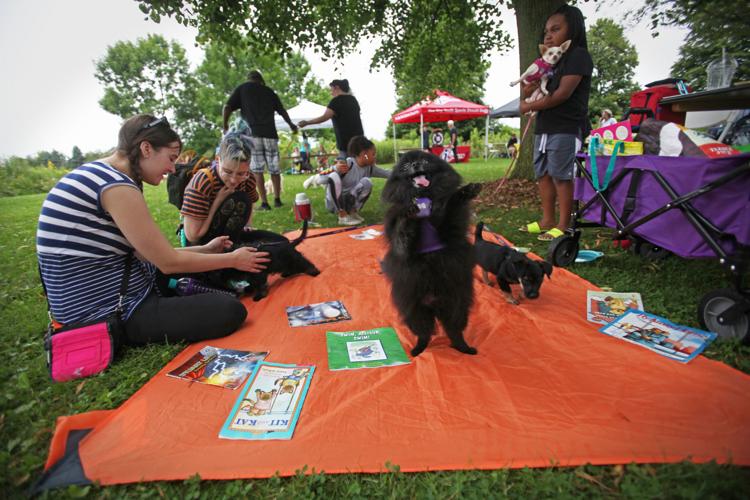 More than 20 organizations had tables set up selling collars, dog food, treats, beds and toys. Others gave out information on local animal rescue organizations, and some even had puppies available for adoption.
Puppies Leon and Lyle, both available for adoption through Underdog Pet Rescue, wrestled on the ground as yoga instructor Alisa Magennis, who is also a puppy foster mom for Underdog, led around 15 people in a yoga class.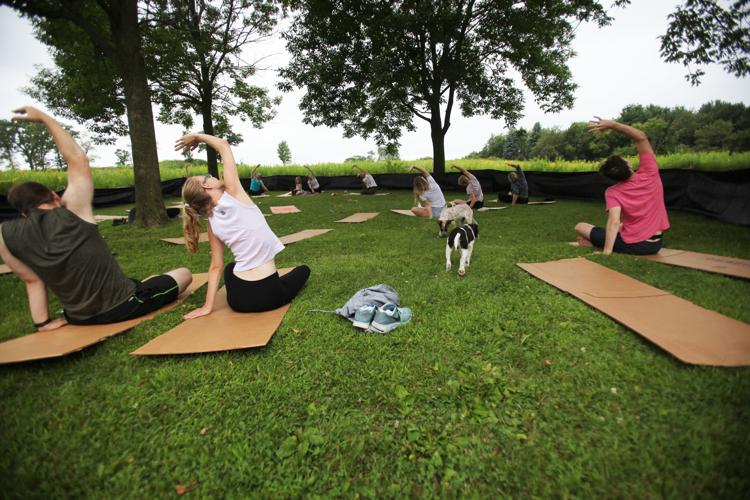 Five adoptable mutt puppies meandered about, sniffing people or cuddling with children as participants held Chaturanga, warrior and downward dog poses.
"Mutts are pretty awesome, so I'm happy to share this with you guys," Magennis told participants.
On the other side of the festival, Zeal, a border collie, zoomed through an obstacle course. Led by owner and trainer Julie Wegter, Zeal sprinted through a tunnel, zigzagged through poles, trotted up and down a seesaw and climbed up a steep wooden structure.
Wegter said Zeal was injured for a couple of months, so she hadn't done an agility course for a while. But Wegter said Zeal still has "fun either way."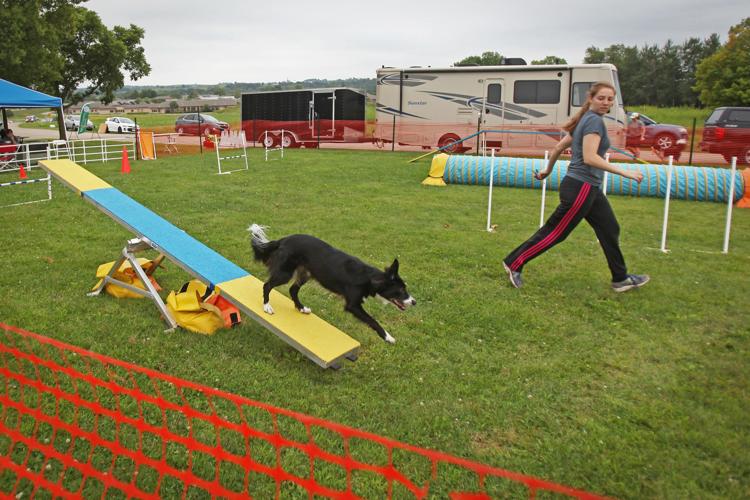 'Tales with Big T'
In the center of the celebration, Lisha Terre handed out books to kids as part of her program "Tales with Big T," where Terre helps kids who struggle to read by encouraging them to read to her dogs, Big T and Joey.
Terre said having kids read to dogs boosts their confidence because "a dog won't judge."
As attendees walked with their dogs to enjoy various activities and vendors, a local band called The Material Boys played live on stringed acoustic instruments in the background.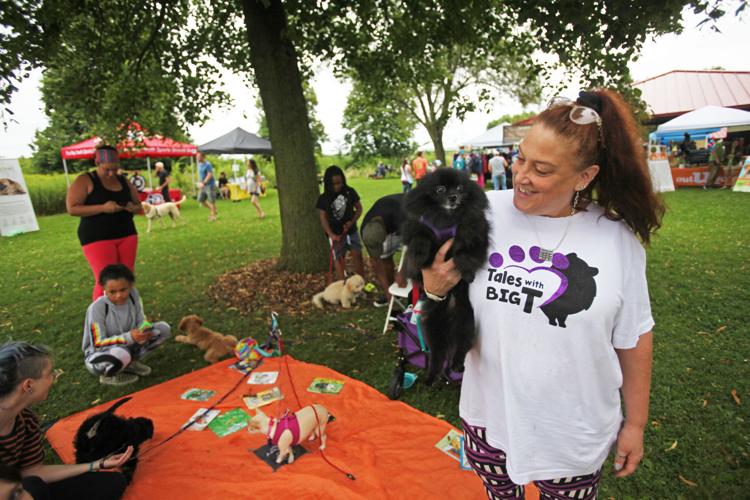 For food, people could pick from paninis, Mediterranean tacos, Thai wraps, popcorn, ice cream, root beer floats and more. Puppies even got their pick of three flavors of dog-friendly ice cream, with 100% of the proceeds going toward the county's dog parks.
Shelters sought
This year's goal was to raise enough money to build a 20-foot-by-20-foot shade structure for dogs to cool off at the Capital Springs Dog Exercise Area in Madison, Marsh said. Last year's money went toward a shade structure for the Badger Prairie Dog Park.
The structures, which cost about $10,000, can be converted into a three-sided area to protect dogs and owners from the wind in the winter. Marsh said he won't know how much money this year's festival raised until several days after the event.
Marsh said other improvements Dane County Parks is looking to make to its dog parks include planting more trees, creating more hard surface trails, installing new gates and adding more 40-acre parks. Marsh said he has seen tons of support from the community.
"If you look at our parks, day in and day out the dog parks are the most heavily used parks that we have," he said. "The larger we can (make) those spaces the better off we are."
[Editor's note: This story has been updated to clarify that Sunday's event was held at Badger Prairie County Park in Verona.]