Women and men from around Wisconsin rallied Saturday at the state Capitol to call for equal rights for all people.
Attendees of Saturday's Women's March, all trying to fight off bitter cold temperatures, heard from speakers highlighting the need for progressive legislation and greater awareness of issues facing marginalized communities. The rally, dubbed the Women's Wave, was one of many across the country.
Sarah Pearson, of Milwaukee, a founder and co-chairwoman of the Wisconsin Women's March chapter, said the rally was intended to do two things: to celebrate the historic diversity of the U.S. House of Representatives following the November election and to call for constituents to put continued pressure on their elected officials to support progressive legislation in areas such as women's and LGBT rights, the environment and immigration.
"I think it's great to come out and march and protest and do all the things that we do, but we need to get serious about being in the presence of our legislators and making really specific demands about the policies that will actually make a difference in our lives," Pearson said.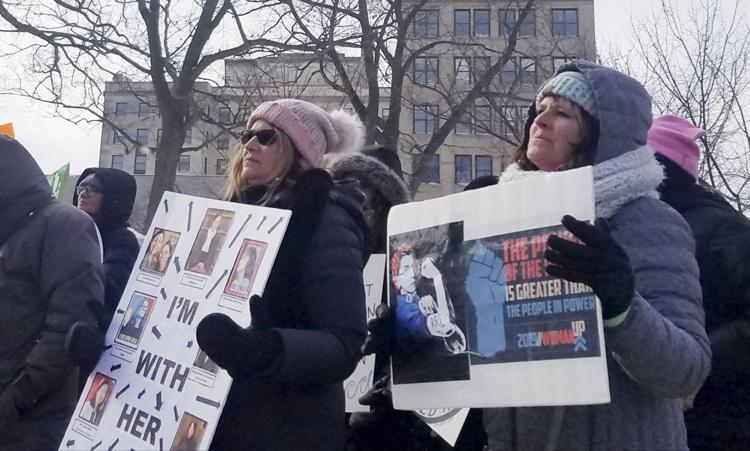 Pearson said the first Women's March in 2017 was a reactionary moment in response to Trump's election to express outrage, but the Women's March movement plans to continue pressure no matter what administration is in office.
"People are realizing more and more that no matter who it is at the helm, we still have problems that we have to solve, and we're going to have to stay in this longer than a Donald Trump presidency to do so," Pearson said.
The national Women's March group has been lambasted in past months for alleged anti-Semitism, stemming from accusations made by one of its founders, Teresa Shook, in November.
Pearson said the group has noted those claims and is working with rabbis and Jewish leaders to be more inclusive of the community and counter any prejudices among members of the movement.
"We all come to this, we have biases and baggage and trauma and things that we need to sort of dismantle and heal from, and I think that's something we see on the national level," Pearson said.
She also said that the Women's March movement needs to work through those issues. She said others who are against the movement may try to pit the marginalized groups in the movement against each other to break it.
Diversity was a key feature at the rally, both in the speakers themselves and the topics they discussed.
'Our sisters are missing'
You have free articles remaining.
Register for more free articles
Stay logged in to skip the surveys
Lorraine Shooter, an activist who lives on the Menominee Indian Reservation in northern Wisconsin, spoke of a crisis of women from tribal lands who are murdered or go missing.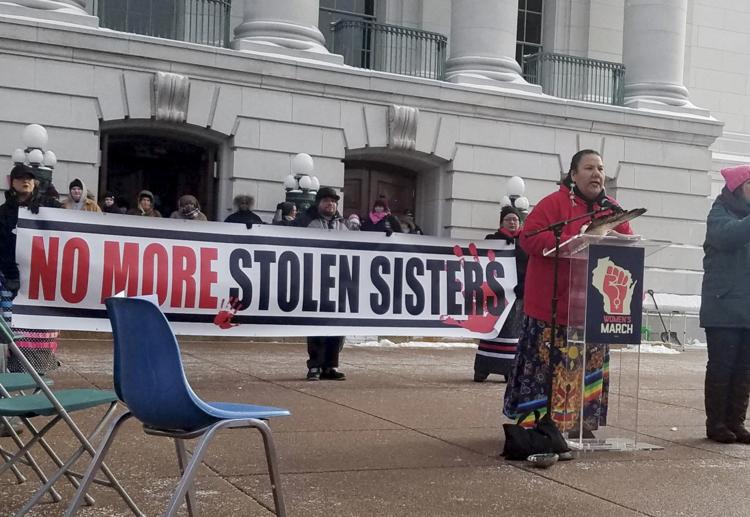 The number of women and girls who disappear are not tracked in any specific government database, according to The Associated Press, so no one knows how many women have been affected. Shooter said that often tribal police do not have the resources to investigate missing persons cases and the FBI doesn't respond to incidents quickly enough.
"Our sisters are missing, and they're out there somewhere waiting to be found," Shooter said.
Shooter said the number of unsolved kidnappings or murders of these women and girls leaves perpetrators free to commit more crimes and leaves those women and their families without closure.
"The original women of this land have little justice," Shooter said.
She ended her speech with a chant of "no more stolen sisters."
Call for empowerment
Thirteen-year-old Meadow Szoke, of Beloit, also spoke to the crowd. She pulled from her own life experiences, particularly the sexism she sees in school, to call for the empowerment of girls and women.
"I have had enough of feeling like I am not enough because of my gender," Szoke said.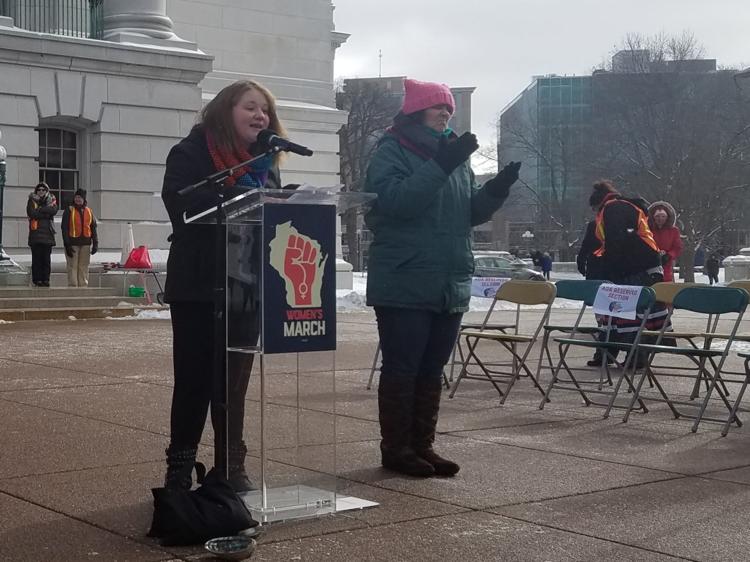 Szoke said she's become politically active in the past year, particularly following the February shooting at Stoneman Douglas High School in Parkland, Florida, that killed 14 people. She said that as she watched the coverage of the mass shooting, she felt her sadness turn to anger. She then channeled that anger into activism.
Szoke's first step was to form a political awareness club in her middle school, which she said has about five regular members at its meetings. Szoke, who said she hopes to become a campaign manager when she grows up, said she also wanted to become more involved with larger movements.
"I feel passionate especially because I'm young, and I think that youth have to stand up and be the difference because we are going to be leading our country very soon," Szoke said.