Wisconsin regulators have accepted an application from three utilities seeking to build a high-voltage power line between northeast Iowa and Middleton.
The Wisconsin Public Service Commission on Thursday declared the Cardinal-Hickory Creek application complete, triggering a 180-day review period of the project, which has an estimated price tag of more than $500 million and is expected to cost Wisconsin consumers up to $72 million.
It's up to the three-member commission to determine if the project is necessary and beneficial for ratepayers.
The approval came on the third attempt by the project owners, American Transmission Company, ITC Midwest and Dairyland Power Cooperative, which first submitted an application in April. The commission declared two previous applications incomplete.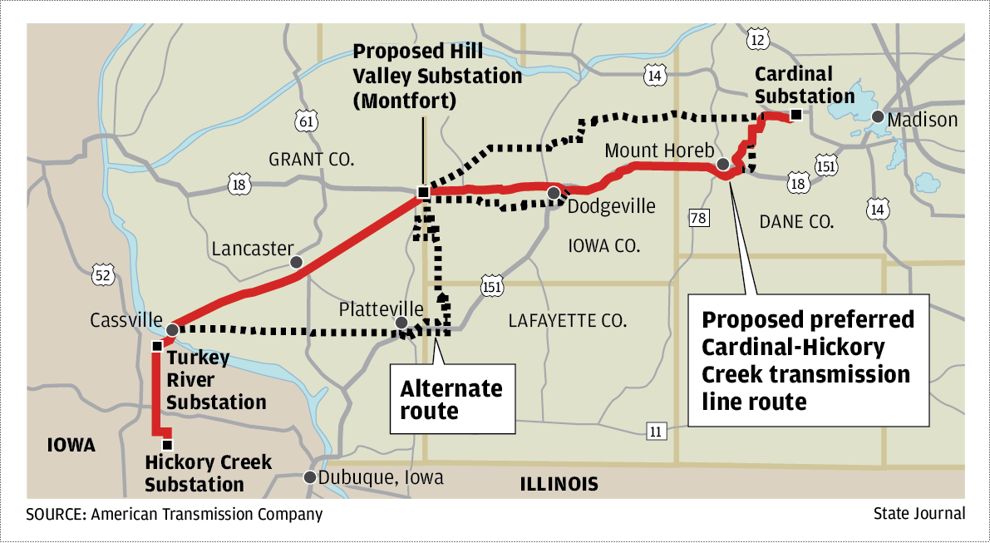 The proposed 345-kilovolt line would run between Dubuque, Iowa, and a substation in Middleton along one of two routes that the utilities say would deliver low-cost wind energy from Iowa to population centers where the power is needed.
Depending on the route, the line would cost between $492 million and $543 million.
The companies say the project could provide Wisconsin customers with "net economic benefits" of between $23.5 million and $350 million over its expected 40-year life.
Opponents say the line is not needed and would damage important conservation areas. They argue Wisconsin consumers would be better served by energy efficiency and local renewable-energy projects.
With a target completion date of 2023, Cardinal-Hickory Creek would be the second new high-voltage line across southwestern Wisconsin. Badger Coulee, a $580 million line between La Crosse and Madison, was approved in 2015 and is expected to go into service later this year.