DELAVAN — A sign staked along a rural southern Wisconsin road invites people to do something they probably don't do enough in the age of smartphones, national mood swings and perpetual political campaigns: Stop and smell the roses.
Turns out thousands do every summer.
Doug Amon's roses draw crowds uncommon for a property nestled between two small towns, Elkhorn and Delavan, with a combined population of less than 15,000.
Buses drop loads of tourists at Amon's garden in the summer. Area nursing homes organize day trips there to cheer up aging residents. And a few engaged couples each summer choose Amon's property as their wedding venue.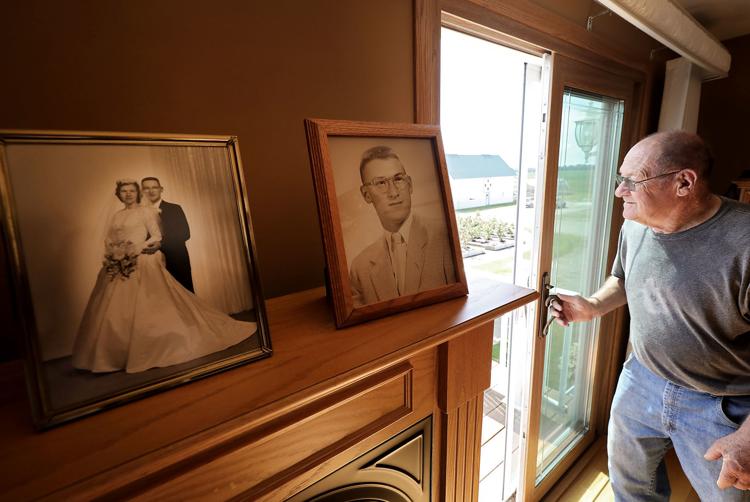 It started in 2005 when his wife, Karen, lost a decade-long battle to breast cancer.
He'd never gardened before. That was strictly Karen's hobby and she stuck mostly to vegetables.
But Amon wanted something to both fill his yard and his days of retirement. Mostly, though, he wanted to honor his wife of 44 years.
So he planted two dozen rose bushes. Don't ask him how or why he settled on roses. He doesn't remember.
What he does recall is how few of the bushes blossomed. Almost all of them died over the following winter.
The next summer, he bought more and built them up into beds. He moved the pots into his greenhouse over the winter to keep them warm enough to outlive the ice. Then he bought a few more bushes the following summer.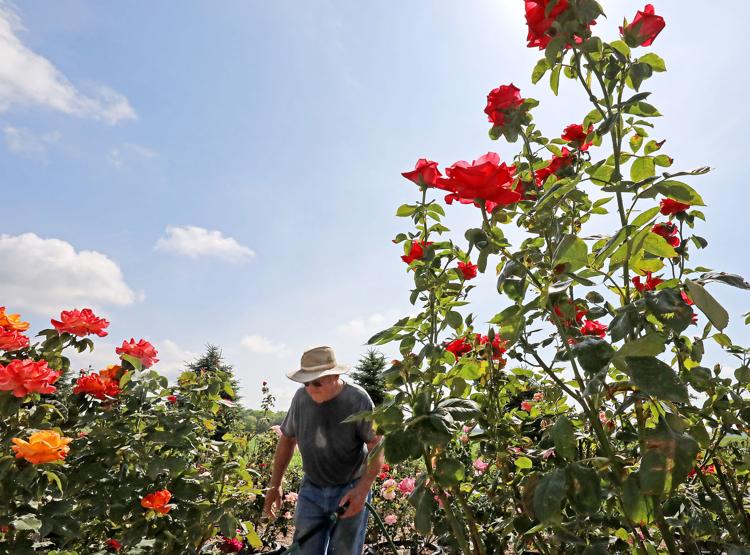 "One thing led to another," he said with a shrug of his shoulders, explaining the garden that has grown to 400 bushes this summer. "I didn't know it would mushroom into my job."
He's installed a pergola, waterfall and gazebo, features that expanded the garden to roughly the size of two tennis courts. Amon even dug his own koi pond.
Now 81, he wonders how many more summers of rose-growing he has left in him.
"I said I'd do this for 10 years," he said on a recent weekday in his 14th summer of rose-growing. "It's getting to the point where it's a little too much to handle. I'm not expanding anymore. Hopefully, we can just maintain what we have."
All-day routine
Amon's day starts a little after dawn.
He goes into the shed shortly after 6 a.m. and wheels out his hose to water each of the 14 beds by hand, a routine that can span hours under the sun.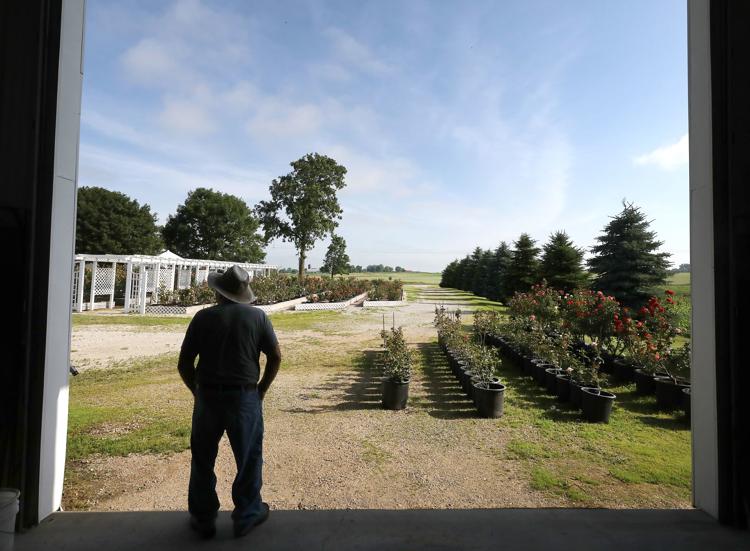 He never got around to installing a sprinkler system because he never thought the garden would consume most of his waking hours.
By 9 a.m., sweat soaks through the back of Amon's gray T-shirt. Humidity hangs in the air. He wipes the sweat off his forehead with his dirt-stained palms.
On he moves to spraying. Each plant gets a good dose of insecticide and fungicide. The arrival of Japanese beetles last week has been bad news for his blooms.
He doesn't turn on the radio while he works.
"I'd rather listen to the birds sing."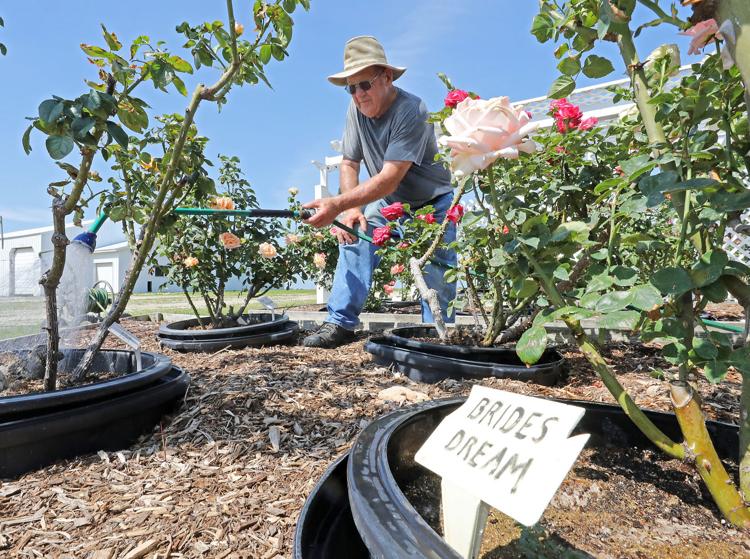 Amon spends his days surrounded by Barbara Streisand, Marilyn Monroe and Nancy Reagan — three of the 175 varieties he grows. There are others with names such as Lasting Love and Remember Me.
Amon doesn't remember what kind of flowers were used in his wedding. Now he can rattle off which of the varieties he's dead-heading without a glance at the tag.
He shows visitors which roses are the most fragrant. He makes sure they see "White Licorice," which smells just like licorice.
And he proudly points out the variety that won him Best in Show at the Walworth County Fair last year or the two that brought home ribbons from the State Fair a few years back.
Amon lines one of his garages with ribbons from rose shows.
You have free articles remaining.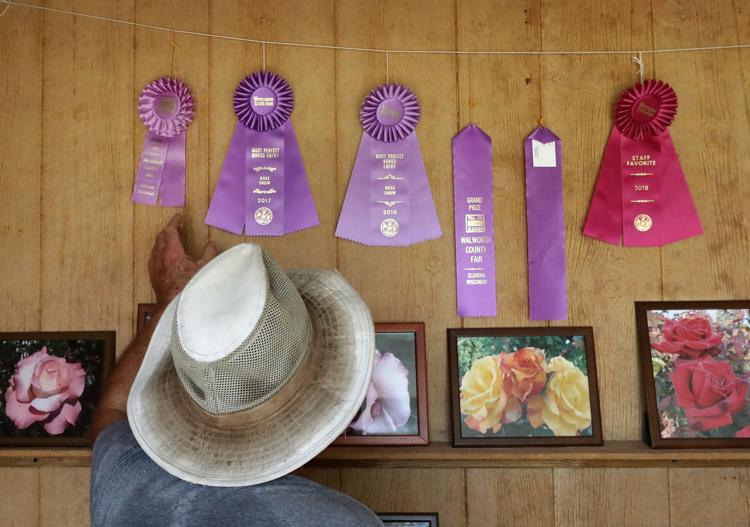 Inside his modest two-story farmhouse, on top of his desk lay copies of "International Principles of Exhibiting and Judging Roses" and the "2019 American Rose Society Handbook for Selecting Roses."
Amon insists he's not competitive. But ask him his favorite flower and his response — "Whichever one's doing the best right now" — shows how seriously he takes his roses.
He doesn't take summer vacations because it would mean leaving his garden behind. He jokes that he donates a pint of blood each day, his arms and fingers catching on thorns as he prunes the blooms.
Amon has three daughters, six grandchildren, one great-grandchild and another on the way.
What do his daughters make of his hobby?
"They think I'm nuts," he said.
'Hidden gem'
Amon is not tech-savvy. He's never advertised his garden, save for the sign next to his mailbox.
One of his neighbors started the website promoting his garden.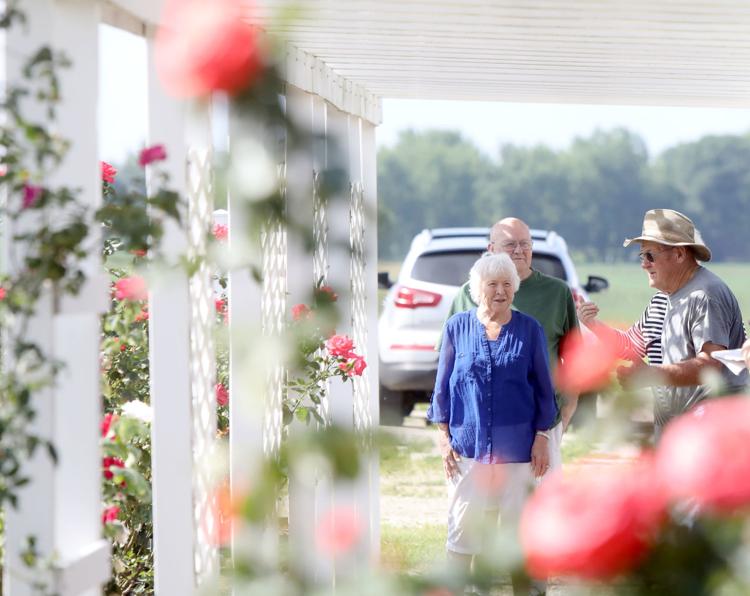 "Nothing bad can be said of this place," Mark wrote last year. "What a treasure."
Said another reviewer: "This is a labor of love that anyone can enjoy. We were having a not so great day, 45 minutes here and we both left smiling and happy."
Chris Lynch, a life enrichment coordinator at Golden Years nursing home, fields inquiries at the beginning of each summer from residents who want to know if they will take their annual trip to the rose garden.
The Walworth County Visitors Bureau added Amon's garden to their suggested group itinerary — but not for the flowers.
"Doug's sort of the hidden gem of it all," said group sales manager Caroline Cornelison. "His gardens are beautiful, but most of the feedback we get is geared toward him. People can really feel how proud he is and how dedicated he is."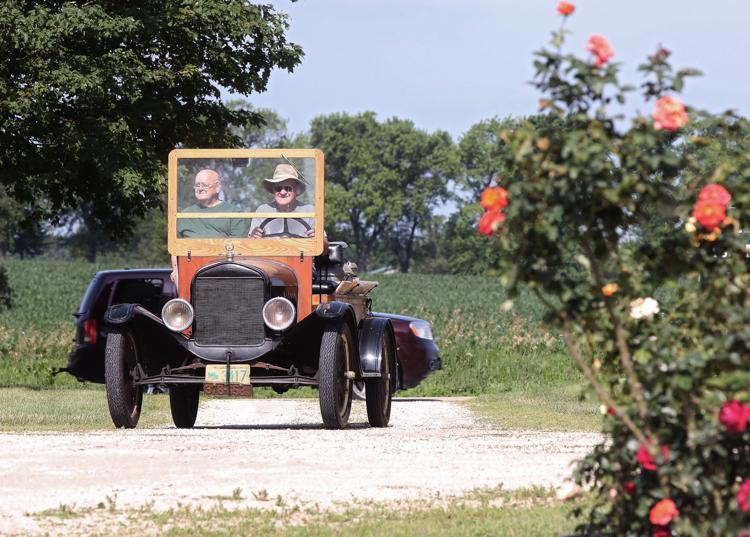 Not for sale
Amon's work ethic comes from his years as a milk hauler, when he rose at 4 a.m. to collect tanks of milk from farmers in a 50-mile radius and deliver them to dairy creameries.
He started at age 10 and eventually took over his dad's business. That was his life seven days a week, about 16 hours a day, for 58 years.
Amon takes one of the few remnants of his former life, his father's 1924 milk truck, out for a spin when visitors stop by.
He also hands everyone a calendar. Each page marks a new month, a new rose. March 2020 is St. Patrick's, a variety with a greenish-yellow hue. June is Gemini and November is Sunset Celebration.
Amon takes the photos himself, selects his favorites from the summer before and orders 2,500 calendars.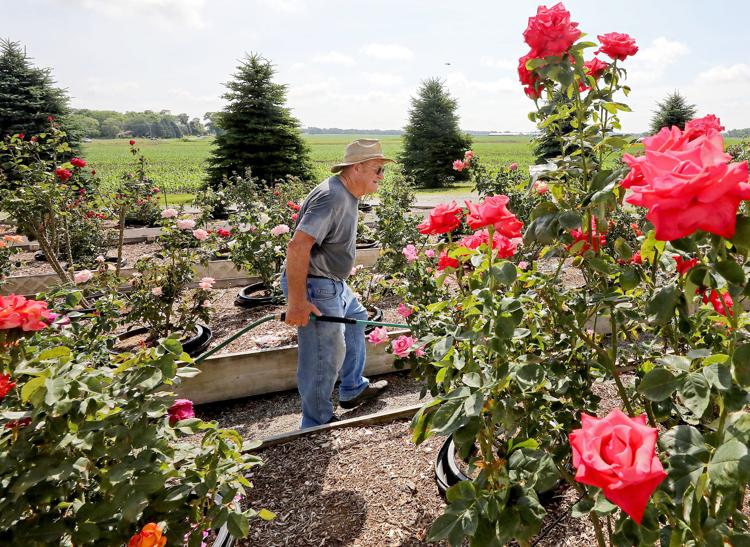 Some visitors ask Amon if he sells his roses.
He cocked his head, confused. "Then I wouldn't have any left to share with all of you."
There's another sign on Amon's property, near the one welcoming strangers to indulge in one of the world's most common cliches.
This sign, however, faces into the property, visible to those leaving Amon's garden, not arriving.
And this one, too, contains simple instructions: "Come again."