The more than 400 people who attended the remembrance ceremony marking the anniversary of the explosion were led by the Sun Prairie Fire Department honor guard and Barr's wife, Abby Barr, who had their 4-year-old twin daughters, Aubrey and Hailey, close by as she walked.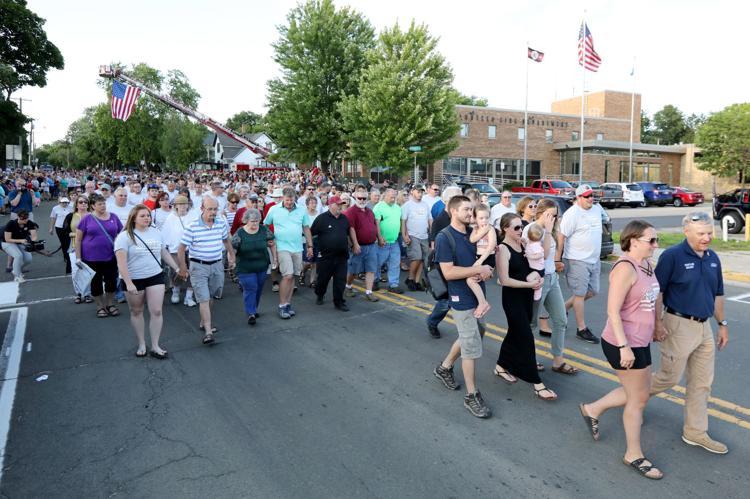 At about 7 p.m. on July 10, 2018, gas from a main breached by construction workers was ignited by a still-unknown source, causing an explosion that flattened buildings while spreading debris for blocks and smoke that could be seen for miles.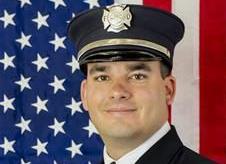 Cory Barr — who with his wife owned the Barr House tavern, which was at the epicenter of the blast — was killed as he and other first responders cleared the area of people in the 45 minutes or so after the line was hit and before the explosion. Firefighters Ryan Welch and Greg Pavlik were injured in the blast.
"This town lost a great man — the best man," Abby Barr said of her husband during remarks at the fire station before the procession.
Sun Prairie's mayor and fire chief also spoke to the crowd of community members, firefighters, first responders, police, children, parents and grandparents. Adults and children alike cried or held back tears throughout the ceremony.
Dotted throughout the crowd were people wearing shirts that read "Sun Prairie strong," "Never forget," "In loving memory of Cory Barr" and "Fallen, never forgotten." Part of the proceeds from sales of the shirts, which were created by a local shop that had its building destroyed in the fire that followed the explosion, went to the fire department.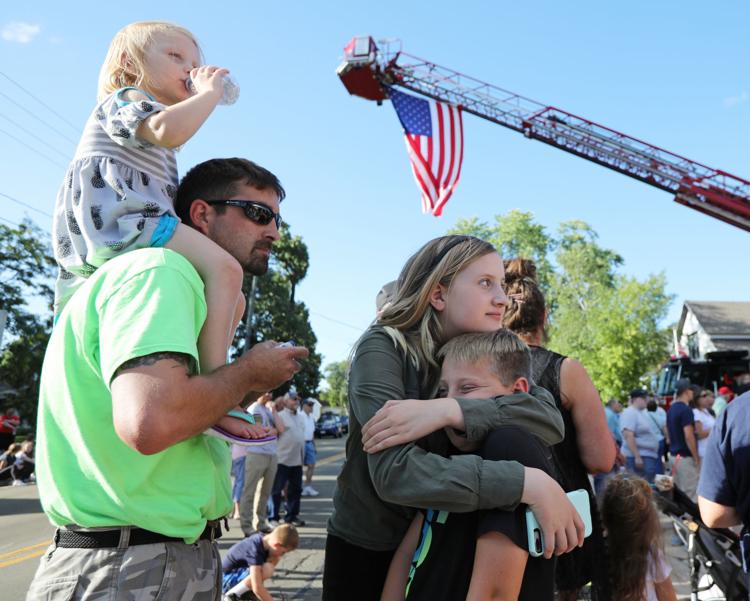 Mayor Paul Esser said six buildings were destroyed in the fire that resulted from the explosion, but about 150 lives were saved because of the firefighters who risked their lives for the community.
"Some are called on to give their all to protect us," Esser said. "And that is what volunteer firefighter Capt. Cory Barr did on the evening of July 10, 2018. He died that evening serving our community."
Fire Chief Chris Garrison said Barr was not only an excellent firefighter, but an "amazing man" who gave back to the Sun Prairie community that he had lived in his whole life.
Garrison said members of the fire department were angry, hurt and upset, but they weren't the only ones who experienced great loss that day. He noted there were families who "lost everything" in their apartments, and several businesses and restaurants had to start over from scratch.
Since the explosion and fire, businesses have been rebuilding and opening new locations downtown. A Bank of Sun Prairie-initiated fundraising effort generated more than $600,000 in disaster relief distributed to former downtown residents and employees, first responders, and business and property owners.
"This is an amazing community," Garrison said. "We are resilient, we are strong. And we will continue to be Sun Prairie, stronger. Don't let Cory down."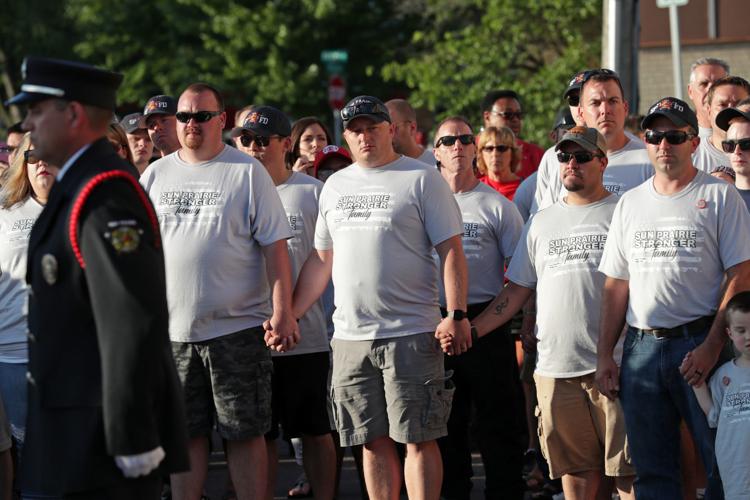 Also at the ceremony, the fire department unveiled the sign from the Barrs' former tavern. Beneath the "Barr House" name was the word "Stronger," which the fire department added as a last word from Cory Barr to the city.
Abby Barr said although her husband's death was devastating to her family, asking "what if" and "why" questions doesn't help. She said it is important to move forward and heal, and she thanked everyone in the community for their hugs, prayers, tears, fundraisers, meals and donations.
She recalled one example of a little girl who raised $11 to donate to the fire department through a lemonade stand.
"This community moved mountains in a time of need," Barr said.
Barr chose the song "Let It Be" by The Beatles to play after she spoke to honor her husband's memory. Recordings of his voice and news reports of the explosion were interspersed throughout the song.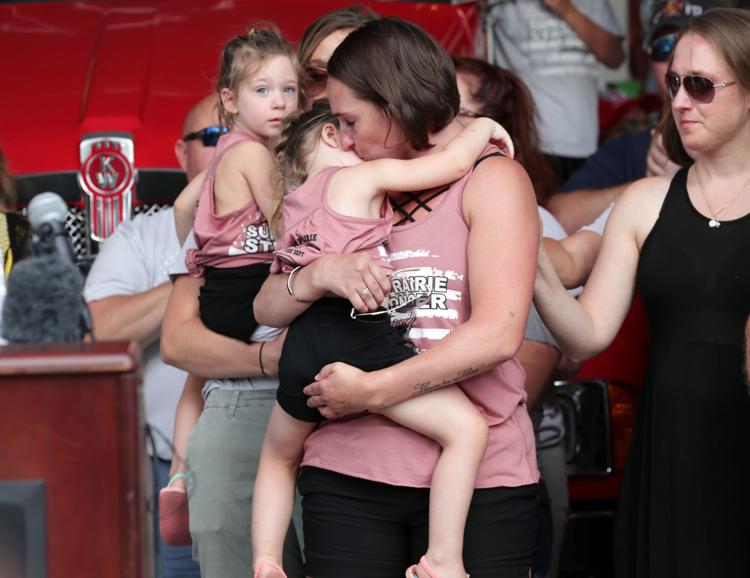 Tears streamed down Abby Barr's face as the sound of her husband's voice came over the speakers.
"Alright, say, 'Goodnight, everybody,'" Cory Barr says in the recording to one of his young daughters.
"Goodnight, everybody!" his daughter replies.
"Goodnight, everybody," Cory Barr is heard saying again as he laughs with his daughter, and the song fades to silence.
Be the first to know
Get local news delivered to your inbox!