Ashley Schmitt, 29, had tears in her eyes as she cheered and watched her best friend, Kirsten Heikkinen, run past her, kicking off the first stretch of the 13.1-mile run portion of Heikkinen's first-ever half Ironman triathlon Sunday in Madison.
"I'm emotional for her to finally get to do this," said Schmitt, wearing a T-shirt with Heikkinen's face and name on it. "I'm so happy for her."
A "speed queen," Heikkinen had been training for the Ironman last year when it was canceled because of the COVID-19 pandemic, Schmitt said. Now, after two years of seeing her train, Schmitt said she was proud to see her friend succeed and "do something that she's been planning on for so long."
Many racers' plans were upended last year when both the full and half Ironman were postponed because of the pandemic. Both were back Sunday and took place on the same day for the first time. The half Ironman, called the Ironman 70.3, is normally a few months prior.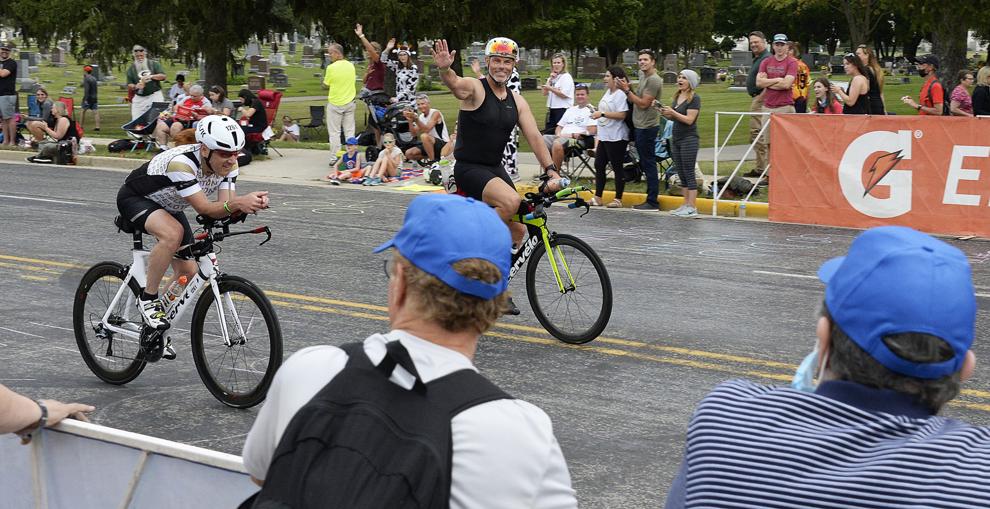 "It's great to have people back," said Derek Scheer, co-coordinator for the swim portion of the Ironman. "There's a ton of energy."
Friends and family from all around the country lined up along Madison's streets whistling, clapping, cheering, ringing cowbells and using other noisemakers to support those competing in the race — even those they didn't know. They yelled out, "You got it," "Keep going," "Finish strong," and other words of encouragement to those who ran, biked or swam by.
"Everybody's so supportive of everybody," said Mary Williams, who was with her husband watching for their son, Ross, to run by.
The Ironman is a 2.4-mile swim, followed by a 112-mile bike ride and a 26.2-mile run, for a total of 140.6 miles in one day. The Ironman 70.3 includes a 1.2-mile swim, a 56-mile bike ride and a 13.1-mile run.
In the Ironman Wisconsin, racers swim in Lake Monona in Madison, bike along the shore and out to Middleton and Cross Plains, and run around Downtown Madison's Capitol Square, down State Street and along the shore of Lake Mendota.
Thousands in action
Scheer said nearly 3,000 were competing in the races Sunday, with about 900 in the Ironman 70.3 and just under 2,000 in the Ironman.
Scheer noted that each of those racers usually has an "entourage" of family and friends cheering them on, which brings in a lot of money to Madison's restaurants and hotels. But more importantly, he said, the return of the long-distance triathlon is meaningful to racers.
"To be able to actually complete and get out on the water and race is really exciting for a lot of folks," Scheer said.
Schmitt, a DeForest resident, said she was a little nervous about being around crowds with the COVID-19 delta variant surging, but was happy to find that she could stay socially distanced from people at the event. The race is so big, bystanders weren't really crowded together. "It seems very spacious and safe," she said.
"It makes you kind of forget about COVID for the few hours that we're out here," she said.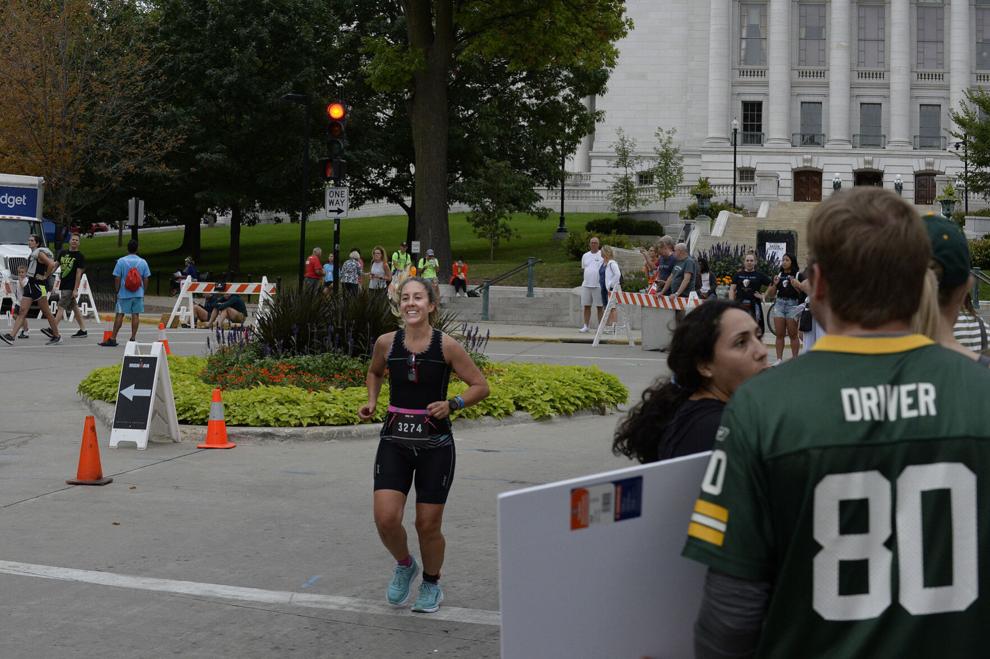 Jenna Zuba was among 15 of her family members wearing either "Team Jake" T-shirts for her husband, who was racing in the half, or "Team Dylan" T-shirts for her brother, who was competing in the full marathon. She said it was "amazing" to be outside cheering for her family, especially after worrying about whether this year's race would get canceled, too.
"Just the energy and the camaraderie and everyone supporting the athletes is very — it's exhilarating," she said. "It's very exciting."
Reviving a tradition
Jenny Athanas and her mother, Nancy Nie, who each live about a half hour outside of Downtown, were able to revive their tradition of coming to the Ironman in Madison every year since its inception. This year they had family from Iowa in the race, but some years they just come to watch. Nie joked they were Ironman "groupies."
For the first year, Athanas said they happened to be Downtown when they saw the athletes running by. She said she and her mother were hooked on "the energy" and "the positivity" of the event.
"I'm just inspired by the athletes and what they're able to accomplish," Athanas said. "It's pretty amazing."
Kay Lunds, who was on State Street watching for her niece Morgan to run by, said "it takes a lot" for people to prepare for the race, and not very many people can do it.
"She worked so hard for it," Lunds said of her niece.
Zuba said the full triathlon is "basically 12 hours of nonstop endurance."
"It's intense and then slightly insane," Zuba said. "I feel like they're just a different breed of people."
Said Lunds: "It's called the Ironman for a reason."