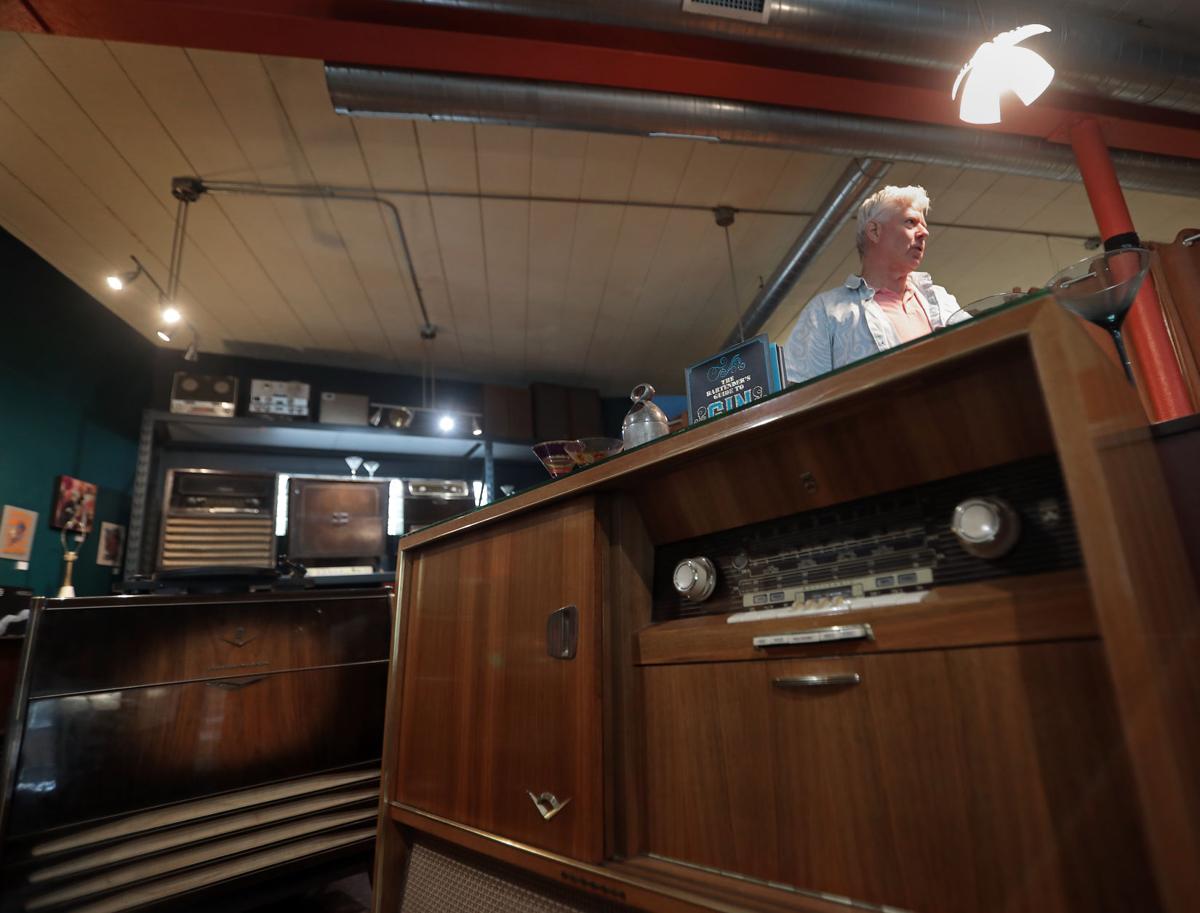 Steve Paulet spent much of the 1980s and early 1990s aboard U.S. Navy destroyers where he installed and worked on high-tech equipment to hunt submarines.
His engineering and acoustics degrees are still coming in handy. Only now he's in search of other relics from the Cold War era.
The console radios and record players Paulet finds in estate sales, online auctions, Facebook Marketplace and Craigslist come with German names like Grundig, Telefunken and Blaupunkt. Others are more familiar brands like GE, Norelco, RCA and Zenith. A few are from Holland and Italy.
All of them, however, speak to Paulet. And in just over a year a whim has turned into a full-blown business. His Groovy Wood Studios needs more space and has three employees, two contractors who specialize in repairing tube radios and a growing customer base from around the country eager to plunk down $2,500 to $4,000 or more to own a piece of a restored or modernized slice of mid-century modern chic.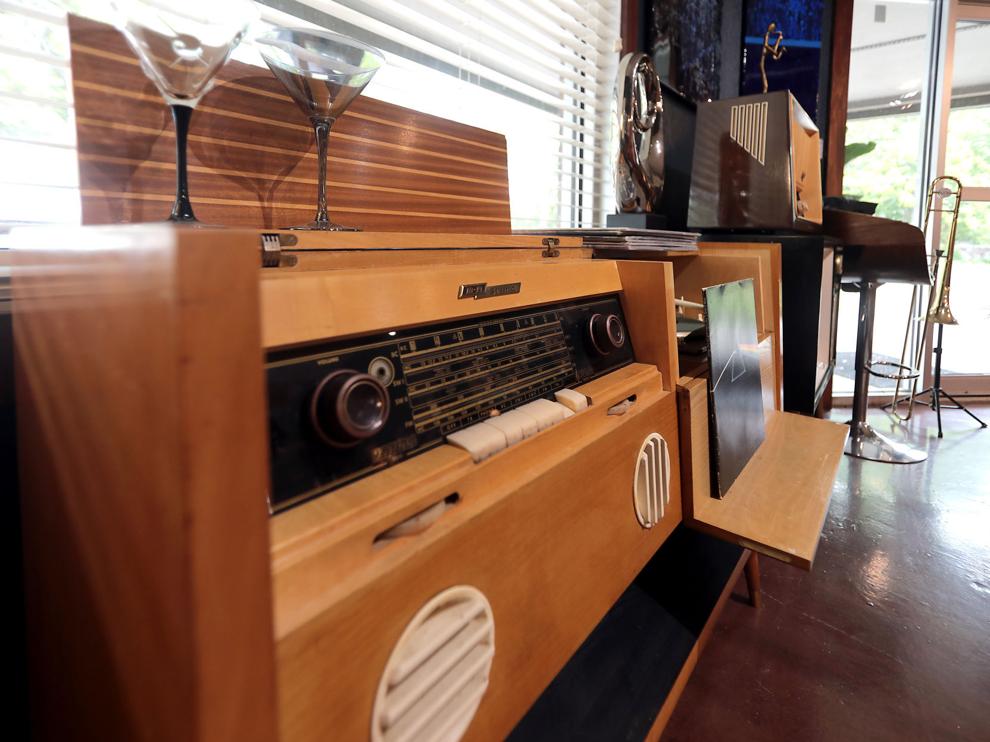 "They say art decorates space and music decorates time. And so I've kind of extended that," said Paulet as he stood in his showroom just north of Tenney Park. "These consoles basically decorate your soul because they touch both. They're artistic and they give you that same sense and feeling of sound. I just don't sell stereos. We're in the restoration business, but I feel like I'm decorating both space and time."
One step into his showroom is all it takes to become immersed in a time where radios, record players and televisions doubled as pieces of wooden furniture. They've become popular thanks to shows like "Mad Men" and reruns of "The Dick Van Dyke Show." Early James Bond movies come to mind. The era is light years away from today's technology of earbuds, wireless speakers, phones that can hold thousands of songs and streaming services catered to individual tastes.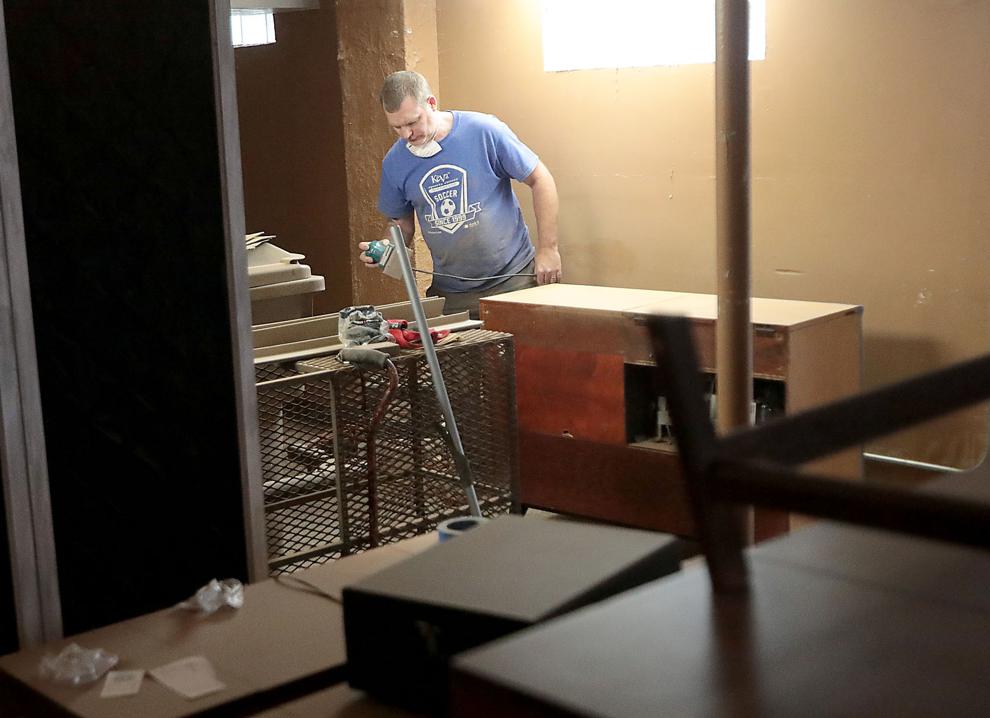 Here, at the corner of Sherman Avenue and Sherman Terrace in a building constructed in 1950 for a Rennebohm Drug Store, dials, vinyl records and furniture polish are prolific. There are posters of Elvis Presley, martini glasses decorate the top of consoles, and Paulet's eclectic record collection that includes jazz greats Thelonious Monk and Miles Davis and rock legends like the Beatles and Pink Floyd can often be heard as he tests each unit, typically built between 1955 and 1969, in his office for a week to ensure it's good to go.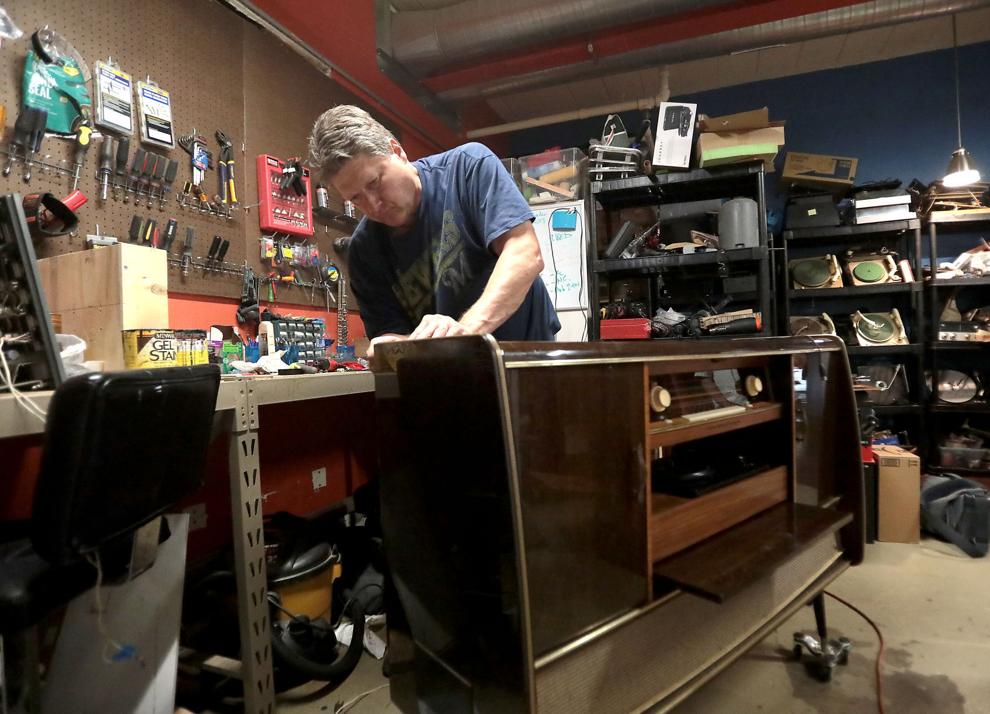 But Paulet, 61, has plans to expand. He is eyeing a location in Denver, where his two sons live, and wants another facility in the southeastern part of the country, somewhere between Florida and Maryland. He also has a high-end men's shop in Austin, Texas, that is selling Groovy Wood Studio's works next to bottles of bourbon, copper cocktail shakers, jeans and footwear. He's also making plans to build new consoles but with a retro look.
"I'm on my feet 12 hours a day, seven days a week right now just trying to keep up," Paulet said. "These things are hot again. There's a limited supply of things so right now I'm pulling out all the stops dragging these things from basements and estate sales but in two years am I going to get them reasonably priced? I don't know but I'm going to ride that wave."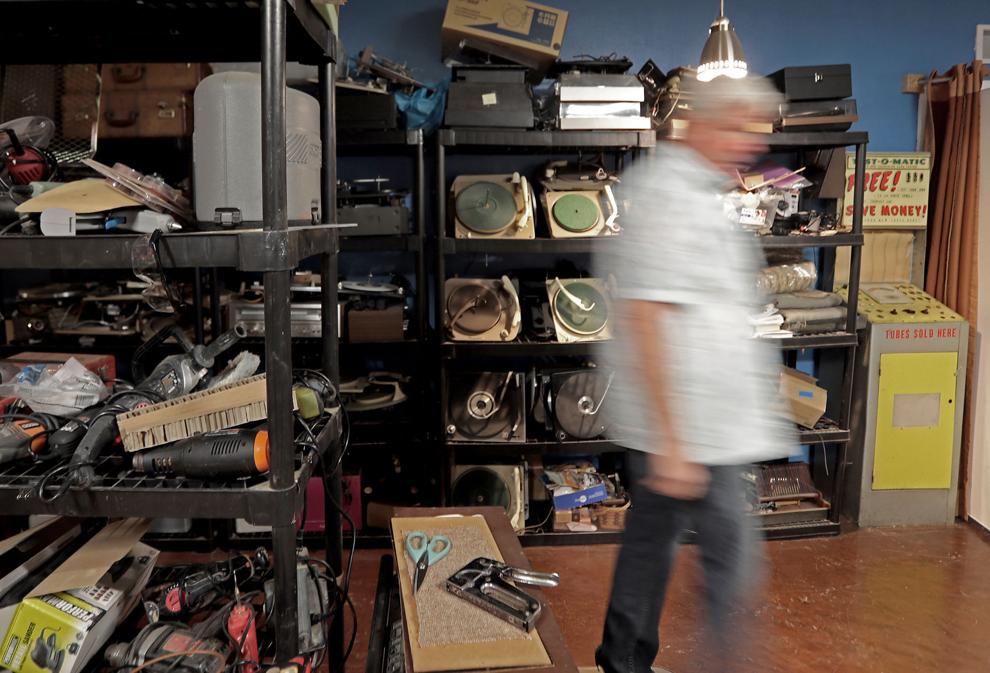 Paulet has only lived in Madison for about five years. He grew up in Westchester County, New York, where his dad worked at IBM. Paulet studied engineering and was part of an ROTC program at Texas A&M and then spent eight years hunting submarines. After his government job ended, he took a sales job with Head sporting goods in Houston, held sales positions with a few other companies and then went into banking, which is what brought him to Madison doing floor plans for car dealerships.
First purchase
It was March 2020 when Paulet purchased his first console so he could install his own stereo equipment into it. He paid $20 for the piece but when he got it home after a trip to Appleton, he discovered it worked pretty well. So he cleaned it up and sold it for $100. He bought a second console for $250 but quickly found a third console that he thought would be his "forever" piece. So he sold the second console for $950 to a guy from Dubuque, Iowa, and made a $700 profit.
And that's when things clicked and Paulet began buying consoles, storing them in the living room of his Willy Street home and restoring them in his garage. He thought maybe he could make $10,000 in a year as a side hustle but by Christmas 2020 he had leased 2,400 square feet of space in his current location. He took over the rest of the building in March and in April purchased the property.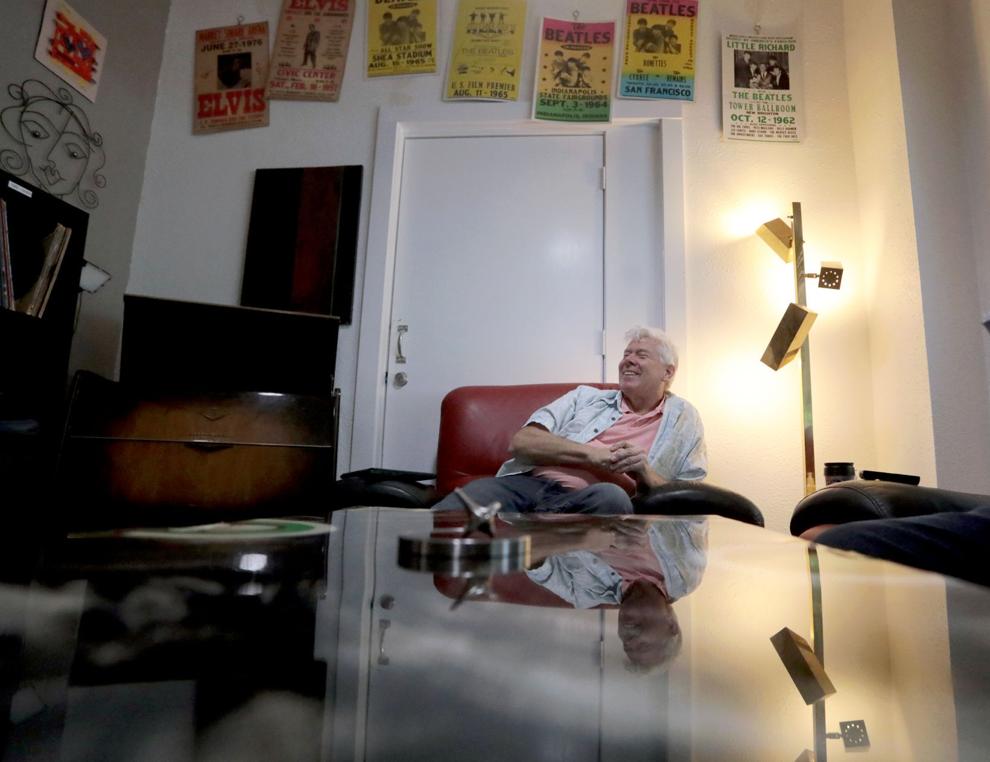 About half of his customers want a restored console with tubes, while the other half are more interested in the look and not the sound. For those he installs Bluetooth systems and new turntables, which results in a less expensive piece, starting at about $2,500. Restoring a tube system is much more expensive, but many of his customers prefer the more "liquid sound" offered up by tubes.
However, tubes, which are still manufactured in China and Japan, can cost $100 each, and most radios require 10 tubes. The contracted technicians he uses charge $100 an hour and typically spend 10 hours on a single restoration. That does not include work by Paulet's employees at the Sherman Terrace shop, where pieces are sanded, stained and made to look new. Shipping alone can cost between $600 and $1,000.
In November, Paulet had a $10,000 week and then in January he had a $10,000 day. This month Paulet said he has had a couple $10,000 days.
"Some people don't even care how it sounds. They just want a piece to look at," Paulet said. "Some people don't want a turntable, and so they can be oftentimes turned into a bar."
Original models
About 80% of his consoles were originally made in Europe, while about 20% were made in the U.S. His Etsy site last week listed 28 consoles ranging from $2,682 to a rare Italian console custom built in 1939 for $8,482.
He favors the German consoles, many of them brought to the States by service members who married while on active duty and received them as a wedding gift. Each has a story that typically involves two people. But as owners of the consoles downsized their lives or perhaps died, their consoles remained. Paulet is bringing them back to life.
"Every one of these, the families just loved them," Paulet said. "They all had their mid-century stories, and every single one of them is wrapped around two people, and they had them for 50 years. These things were all part of the history of coming back from Germany."
Barry Adams covers regional news for the Wisconsin State Journal. Send him ideas for On Wisconsin at 608-252-6148 or by email at badams@madison.com.