MILWAUKEE — Some spent thousands of dollars to sit courtside among Kareem, Oscar and A-Rod, just feet from the acrobatic Greek.
A few saved up their money from lawn-mowing gigs for $380 seats in Fiserv Forum's upper deck.
But not much farther away, others settled for a T-shirt, a can of Miller Lite and a prime sightline to a jumbo screen in the adrenaline-pumping party scene known as the Deer District.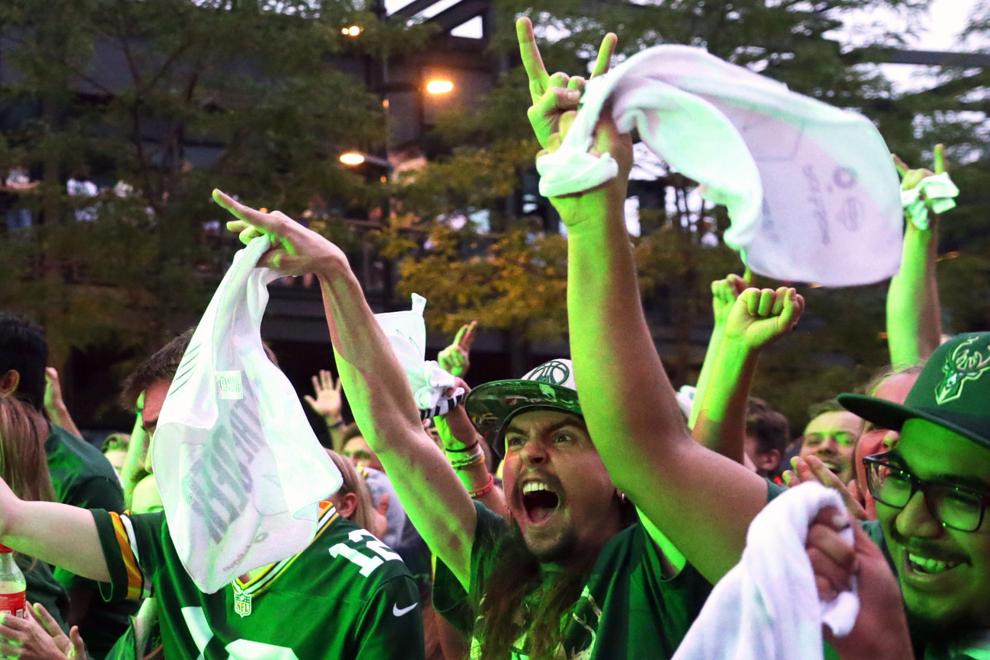 Max Hillery and Trey Hauge spent very little even though they had coveted spots from which to watch Game 4 of the NBA Finals Wednesday night.
The incoming freshmen at Monona Grove High School got a ride from a parent and found themselves outside, pressed against a steel fence in the front row of the Deer District. No ticket was required — just their Milwaukee Bucks gear, their enthusiasm and the satisfaction of knowing they were taking part in Wisconsin sports history.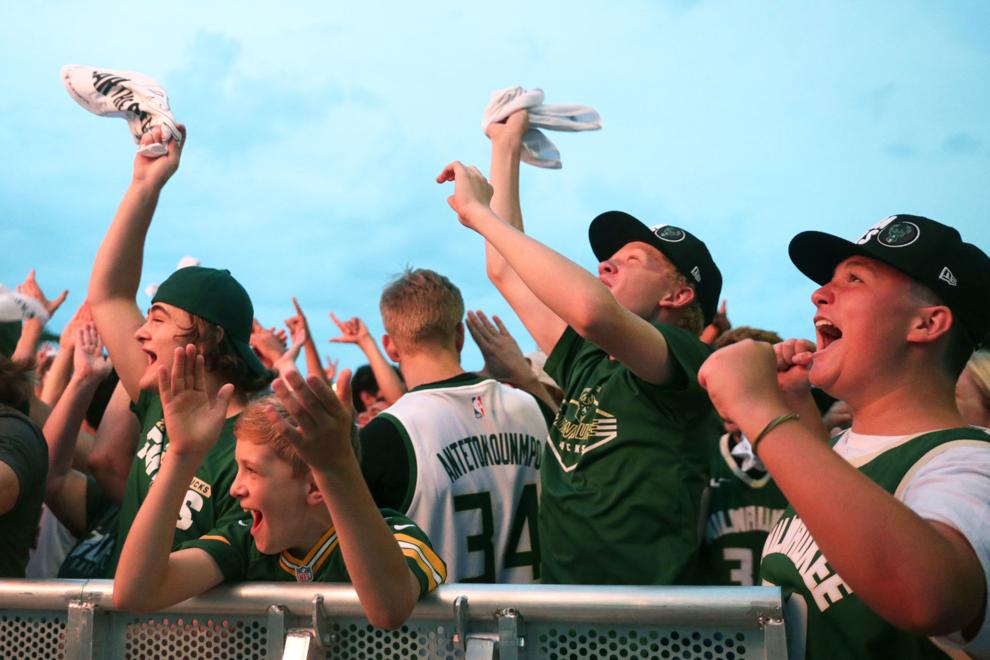 And it will all happen again Saturday night, even though the series, tied at 2-2, resumes in Phoenix.
"It's been an experience," said Hillery, 13, the glow of the massive television screen reflecting off his face and his Giannis Antetokounmpo jersey.
"Really exciting," Hauge, 14, quickly added. "Don't bring much. You don't want to be carrying it around."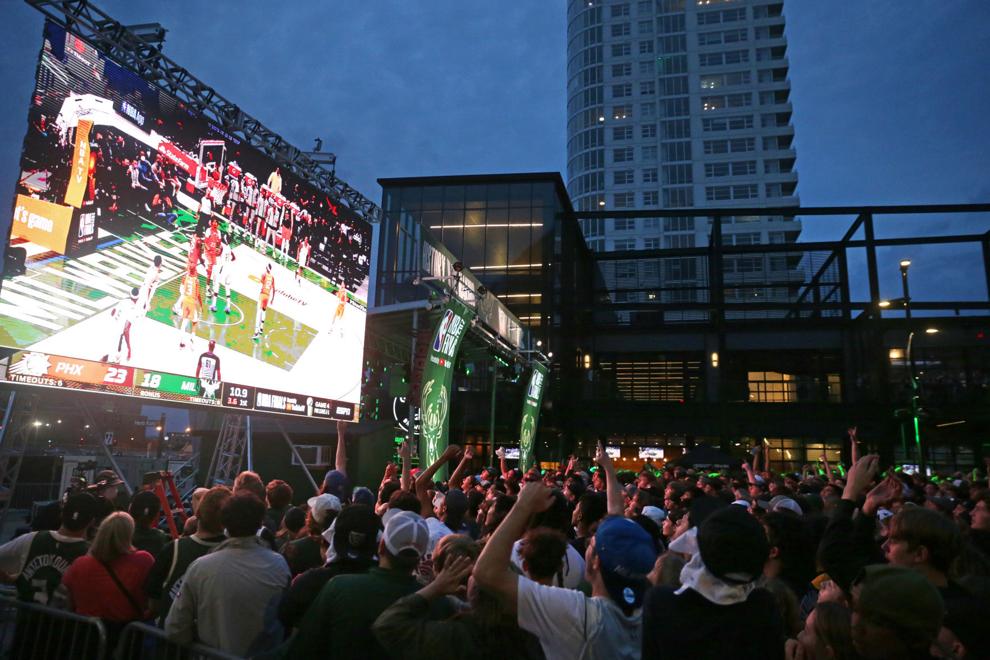 The outdoor plaza of the Deer District — rimmed with restaurants and bars, beer stands, food carts and portable toilets — is the place to be for those unable or unwilling to buy a ticket into the $524 million arena. But even for away games, the district has grown into a thriving, pulsing community.
This is where fans Wednesday night repeatedly chanted "Bucks in six," waved white "Fear the Deer" towels, groaned en masse at missed shots and blown calls by the officials, and wildly celebrated under the explosion of fireworks when the Bucks tied the series at two wins apiece.
It's easy to imagine what this place will be like Tuesday if the Bucks return from Phoenix with a 3-2 lead and have a chance to win their first championship since 1971, when Kareem Abdul-Jabbar and Oscar Robertson ran the floor of the Milwaukee Arena, which still stands today across the street.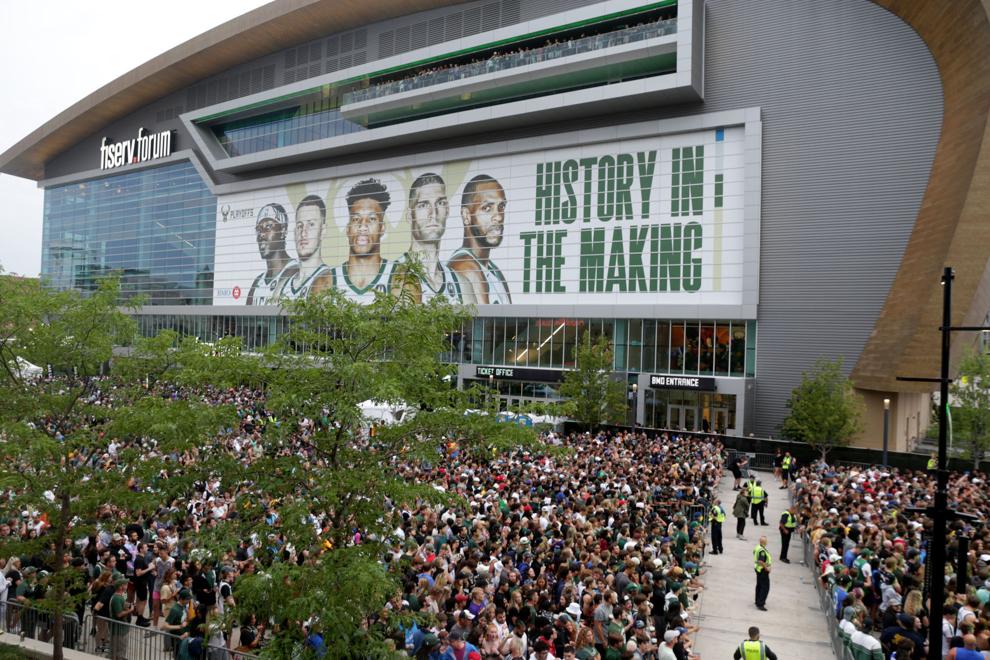 So if you come here, whether it's for Saturday's Game 5 or Tuesday's Game 6, expect a madhouse. Arrive early, figure out your parking options ahead of time, keep an eye out for stars like former New York Yankee shortstop Alex Rodriguez and soak it all in at a cost of next to nothing.
These things don't happen often in Wisconsin. The Milwaukee Brewers' last appearance in the World Series was in 1982, and it has been 10 painful years since the Green Bay Packers won the Super Bowl.
About the closest thing we've come to a Deer District experience was in 2015, when the Wisconsin Badgers basketball team lost to Duke in the National Championship game. Fans crammed Madison's State Street, peering into bars and watching their phones to follow what was just a single game.
The Deer District is organized, clean and a multigame experience that feels like a tradition in the making.
Karina Ream and her husband had vacation time planned months in advance to match up with the Finals. So they made the trek from Cleveland, Ohio, with their three boys, ages 13, 11 and 7. They stood for the entire game about 35 feet from the big screen.
"Pack a lot of patience, bring your water, and go with it and have a good time," Ream said. "It's like a once-in-a-lifetime thing for the kids, so it's definitely pretty cool."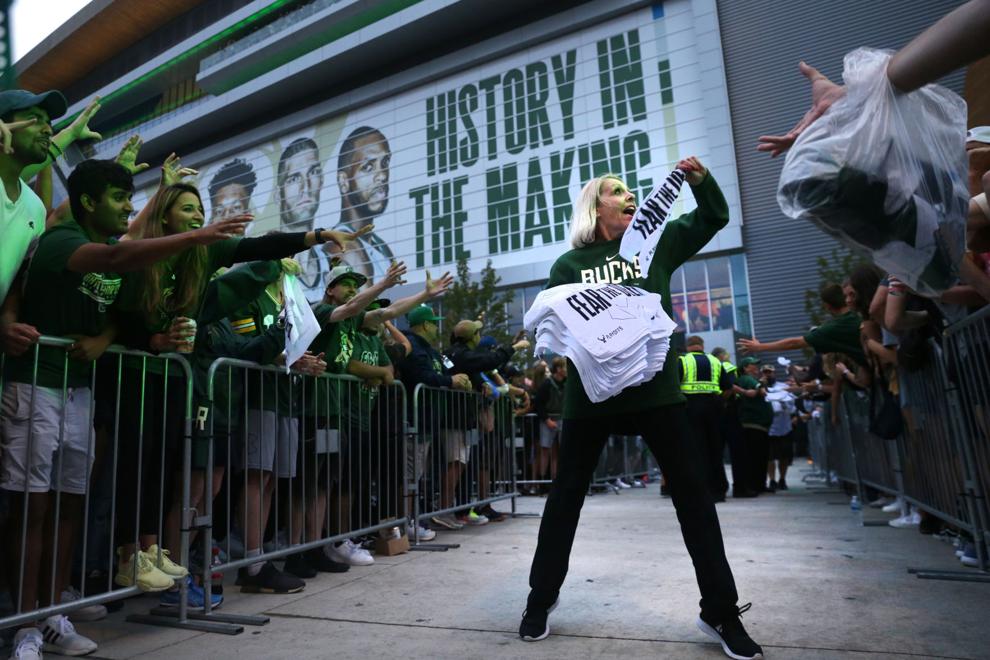 Parking lots and garages in the immediate area of the District can cost between $40 and $60, but cheaper options can be found farther away. If you're lucky and arrive early enough, a spot on the street is possible. Make sure to wear good shoes. There are no seats. And if you arrive too late, you'll be forced to stand not on the concrete of the plaza but on the gravel of the overflow lot that had been home to the Bradley Center but also has a big screen television for the playoffs.
The lot is being eyed for further development, while on the opposite side of Fiserv Forum, Middleton-based North Central Group has teamed up with the Bucks to build a nine-story, 205-room Marriott Autograph Hotel at 420 W. Juneau Ave. The Bucks have also announced the plaza will be home to eight night markets this summer beginning July 28.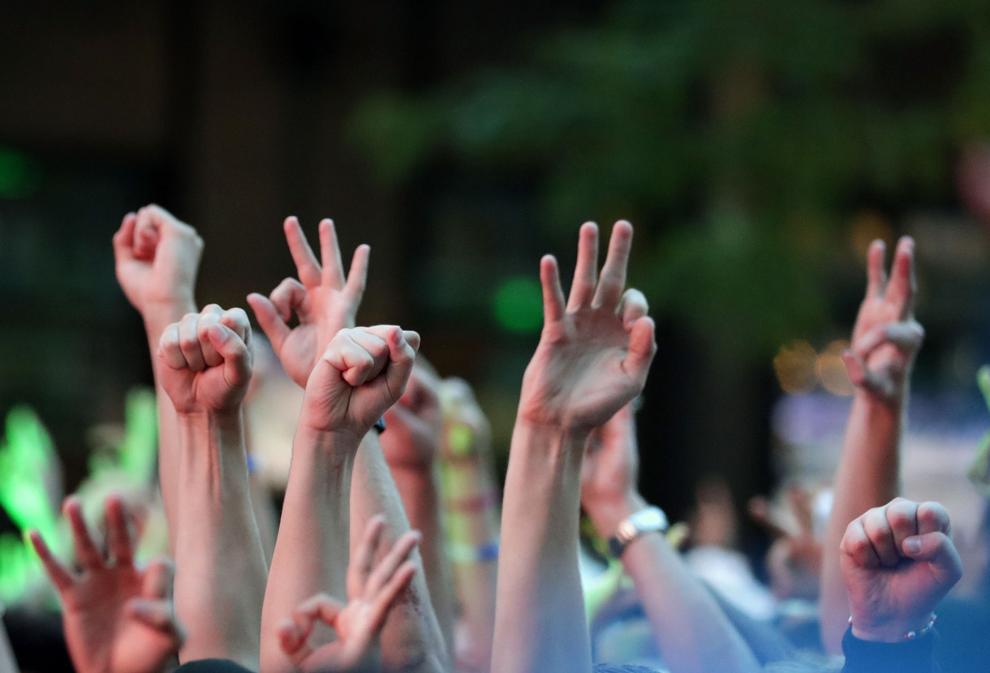 "New ownership came in here, they set the goal of getting this new arena built. It's quite spectacular, this whole plaza around it," NBA commissioner Adam Silver told NBA Countdown Wednesday night. "They're replicating this in a lot of cities around the league. … It's a gathering place."
And you can come and go as you please. Many people were still arriving into the second quarter. Others grabbed a pregame meal or drink along Old World Third Street. The tables covered in white table cloths at Carson's Prime Steaks & Famous Barbecue (where a wedge of iceberg lettuce goes for $14 and a full slab of ribs for $32) were filled with customers wearing Bucks and Suns jerseys.
The Loaded Slate, a sports bar housed in a former music store building constructed in 1892, was packed with fans, along with Uncle Buck's on 3rd, Milwaukee Brat House and Buck Bradley's Saloon & Eatery. If you can get in, make sure to check out MECCA Sports Bar & Grill on the Deer District plaza to see its mammoth two-story, 38-foot high-definition television.
Back on Old World Third Street, Connor Wood and Trenton Brackett, both 12, were enjoying slices at Brick 3 Pizza. The best friends from southwestern Illinois bought their tickets to get into the game with money earned from mowing lawns. They were accompanied by Connor's parents, Chris and Becca Wood.
"He had so much faith the Bucks would be here he started saving money and said, 'Dad, when they get there, I want to buy my own ticket to the finals,'" Chris Wood said of his son. "They cut grass and did their own thing. They did an awesome job, but they believed (the Bucks) would be here."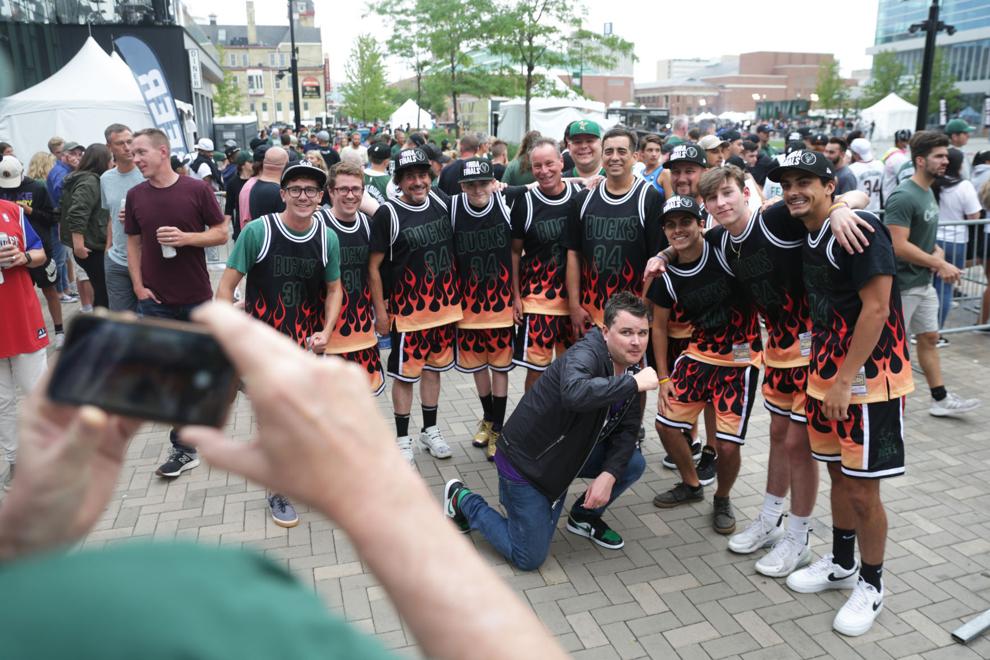 John Rupcich, who owns Lifestyle Staffing in Madison and has offices around the country, was waiting on the plaza to get into Fiserv Forum about two hours prior to the tip. The Middleton man was born and raised in Milwaukee and has gone all out to be a part of the Bucks' season and championship run. He had 16 tickets to Wednesday night's game, which included eight courtside seats for himself and his sons and nephews. He had another eight elsewhere in the arena for his corporate employees and two other family members. Rupcich estimates he has spent about $200,000 this season on tickets. The season-ticket holder has attended every home playoff game.
"It's been amazing," said Rupcich, who was decked out in a Bucks jersey and cap. "This is just great for the city and the state. The Deer District has revitalized the downtown."
Carl Sauer, of West Bend, didn't have tickets to the game but had just purchased a $42 Bucks T-shirt from the Bucks Pro Shop trailer parked on the plaza. His right arm featured a tattoo of the Green Bay Packers' logo. A Bucks tattoo could be next.
"We'll see," said Sauer, 30, who works for a tree service. "They've got to win a championship."
Barry Adams covers regional news for the Wisconsin State Journal. Send him ideas for On Wisconsin at 608-252-6148 or by email at badams@madison.com.