The request came from a neighbor two doors down.
Bob Batyko, 66, didn't know the family well beyond exchanging a basic "hello" when their paths crossed. The mom, Ashleigh Ross, needed structure last spring, something for her young children to look forward to in a world of unscheduled apprehension.
The couple started playing from the front porch of their Near East Side home a year ago this week. Batyko and Docken played two tunes every night until the state Supreme Court struck down the "Safer at Home" order last May, easing some COVID-19 restrictions. The couple then moved to a weekly Wednesday performance, a routine they've kept up rain or shine.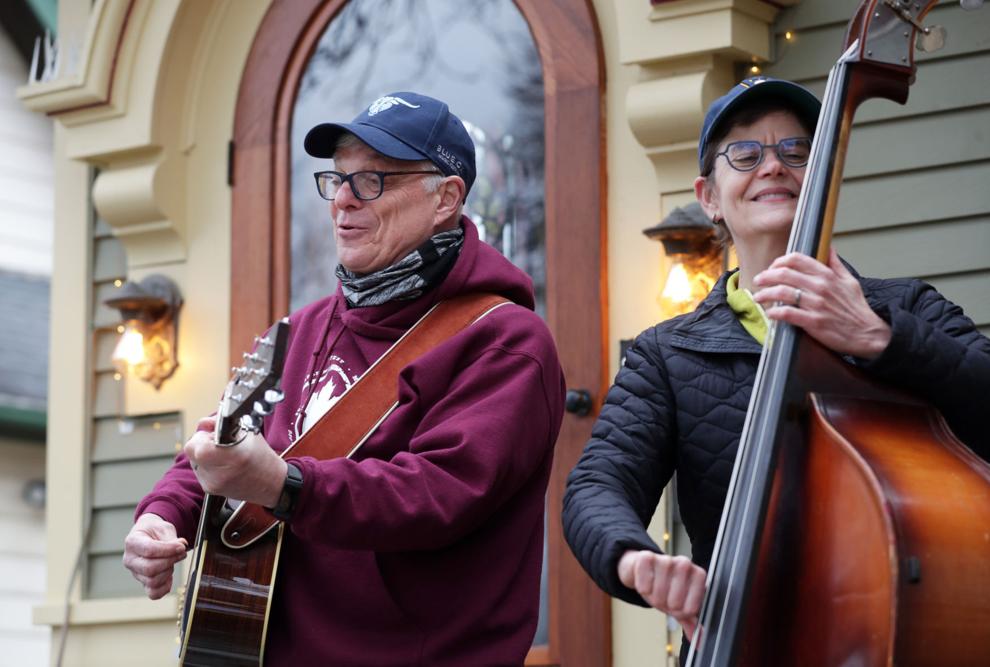 The casual concerts became somewhat of a lifeline for the neighborhood, drawing as many as 50 neighbors who socially distanced by household in clumps spread out across the street.
"It gives us something to look forward to," Docken said of the weekly ritual.
The singalong was supposed to start at 6 p.m. sharp. But Batyko wanted to play a song on his own, too. Figuring his tune would take about three minutes, he started playing at 5:57 p.m. on March 28, 2020.
The first concert was sparsely attended. Just two families showed up. But the odd start time stuck and the crowds grew, especially as the weather warmed.
Day after day, then week after week, people poured out of their homes, disoriented by marathon Zoom calls, exhausted by mounting responsibilities, grateful to stretch stir-crazed legs.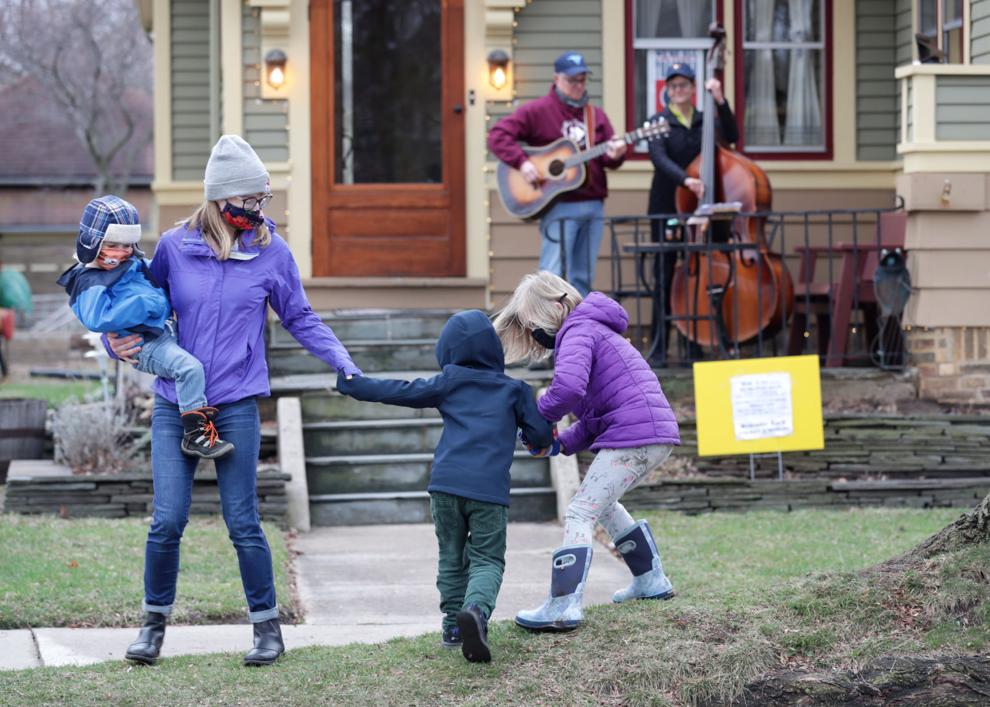 The short two-song show is intentional, reducing the risk of COVID-19 exposure. And the concert always ends with a catchy number that the audience is encouraged to participate in singing. Popular picks include "Wheels on the Bus," "This Land is Your Land" and "The Itsy Bitsy Spider."
As summer faded to fall, Batyko kept strumming his guitar, and Docken kept playing her bass.
"I can't believe what they have done (in) bringing people together," Ross said. "It has seriously been the one moment of normalcy on a regular pace throughout the pandemic and it really became something I think that people set their days and weeks around."
Few cancellations
Not wanting to play in the dark when the clocks fell back an hour last fall, Batyko moved the concerts up to 4:57 p.m. A sign on the front lawn informs neighbors of each upcoming show.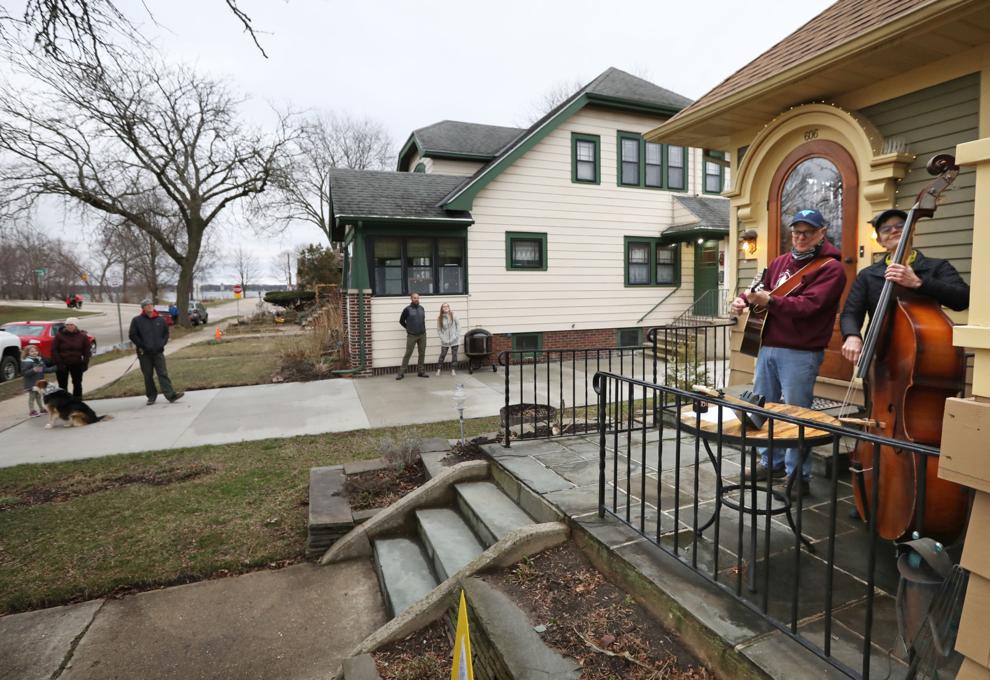 Adam Briska, Ross's husband, said he can count on one hand the number of times a concert was canceled. Rain didn't stop the show. Neither did snow.
A thunderstorm got in the way a time or two. The unusually long and dangerous cold snap last month also cut into a couple of shows. And around 2:30 p.m. on Jan. 6, Batyko wrote on Facebook: "The Front Porch concert is cancelled because of the terrorist(s) taking over the US Capital."
It's been a year filled with loneliness and loss. Desperation and isolation.
Through it all, the couple tried to inject a little joy. Halloween, Christmas, New Year's Eve, the first day of school. To give the children some small moments worth celebrating, they held a singalong on these holidays even though they didn't fall on Wednesdays.
"For every big event, they have done something to bring people out and celebrate, no matter what day of the week," Ross said. "They're always willing to do that for the neighborhood."
Batyko gets something out of his jam sessions, too. It has been a musical outlet in a year without his usual performances at popular live venues like the Memorial Union Terrace and the Biergarten at Olbrich Park.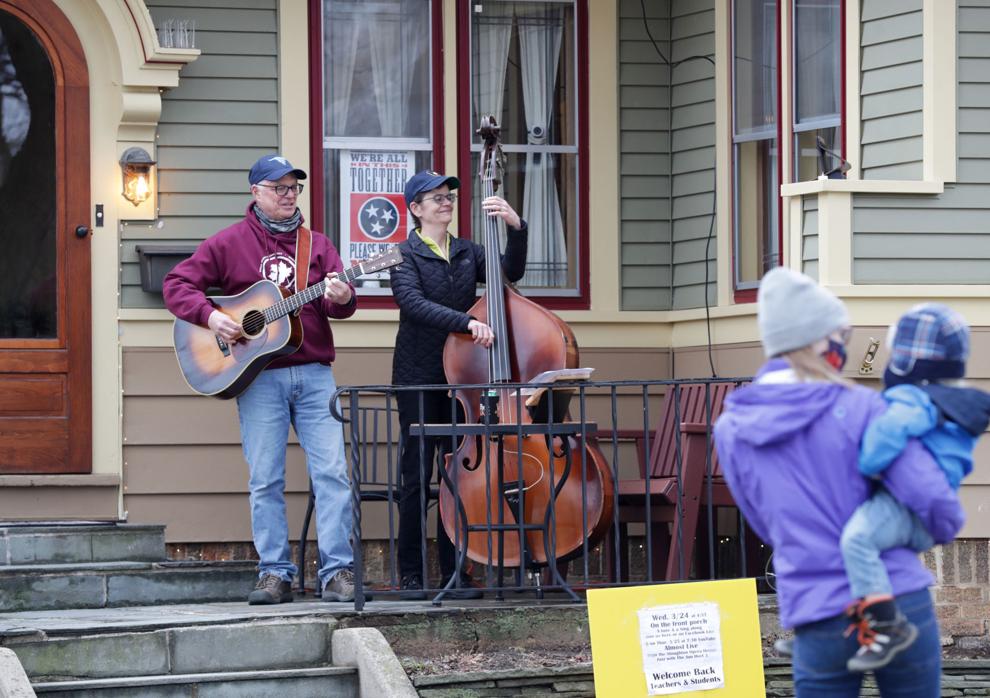 More than that, though, it's been a way to move from mere acquaintance to friend.
A couple in the neighborhood got married last March, right around the time that the front-porch concerts began. Batyko was honored to play an old bluegrass song called "Before I Met You" for their first dance following a ceremony in Yahara Place Park.
"You're neighbors with people and you just sort of wave as you go out of the house and their kids definitely don't know you," Batyko said of his relationship with neighbors before 2020. "Now they all say, 'Hello, Bob! Hi, Lorie!' And that's pretty special."
What's next
The singalong is a symbol of neighborhood resilience, of people coming together at a time when the virus drove them physically apart.
In recent weeks, however, the public health picture is improving. Vaccinations are on the rise. Workers are trickling back to offices. Calendars are filling up with events optimistically penciled in.
The neighborhood is now navigating if and how to continue the concerts that so many of them clung to over the past year.
Some festivals in the first half of the summer have been canceled or postponed, so Batyko expects to keep playing from his front porch for at least a couple more months.
"It's still up in the air," he said. "Maybe it becomes more of an occasional event instead of a weekly one."
Batyko knows his shows will eventually wind down. It's already happening as hints of pre-pandemic life emerge.
Ross's children, the ones who inspired the concerts, were less engaged during a singalong earlier this month, playing with toys in their own yard instead of singing and clapping along to the music.
It's not that the youngsters had tired of the routine, Ross said. It's just that they were back in school.
6 lives disrupted: How COVID-19 changed Madison
The torrent of disruption to daily life over the past year has been inescapable.
Calendar squares filled with weddings and events cleared. Vacations vanished. Schools shuttered and hand sanitizer was in short supply. We learned new words, like social distancing, herd immunity and doomscrolling. 
COVID-19 affected every person, every family. It's taken nearly 6,500 Wisconsinites from us, including 278 in Dane County.
Here are six stories from people whose lives and jobs changed over the past year.