A moment of silence was called for in Madison's Penn Park on Saturday following an invocation by the Rev. Marcus Allen and the singing of "Lift Every Voice and Sing" — often referred to as the Black national anthem.
Celebrants at the Juneteenth event held red, green, yellow and black balloons, releasing them into a warm, sunny afternoon sky to honor those who have died from COVID-19.
"This balloon release was significant today in that there are so many in the African American community that were disproportionally impacted by COVID-19," said Jackie Hunt, who has helped organize the Juneteenth celebration in the South Side park since 1997. "This year we're so grateful and thankful to be able to be ... with people physically."
With the pandemic waning here, a diverse crowd of hundreds returned to Penn Park to celebrate African American culture, resilience, perseverance, history and freedom. Black business owners sold handcrafted jewelry, sage smudge sticks and other goods. Long lines of people waited for jerk chicken, fried catfish and pizza puffs. Funk and gospel music floated out of two large tents.
Earlier in the day, a parade of Black organizations and groups waved flags, threw out candy, honked horns and drew applause as they made their way along South Park Street for Penn Park.
Robert Walker lounged in a lawn chair on the parade route, waiting to see his granddaughter and her dance troupe. The 67-year-old retiree's daughter had been in the Juneteenth parade before, but Saturday was the first time for his granddaughter.
"She ain't going to have nothing but smiles from ear to ear," Walker said.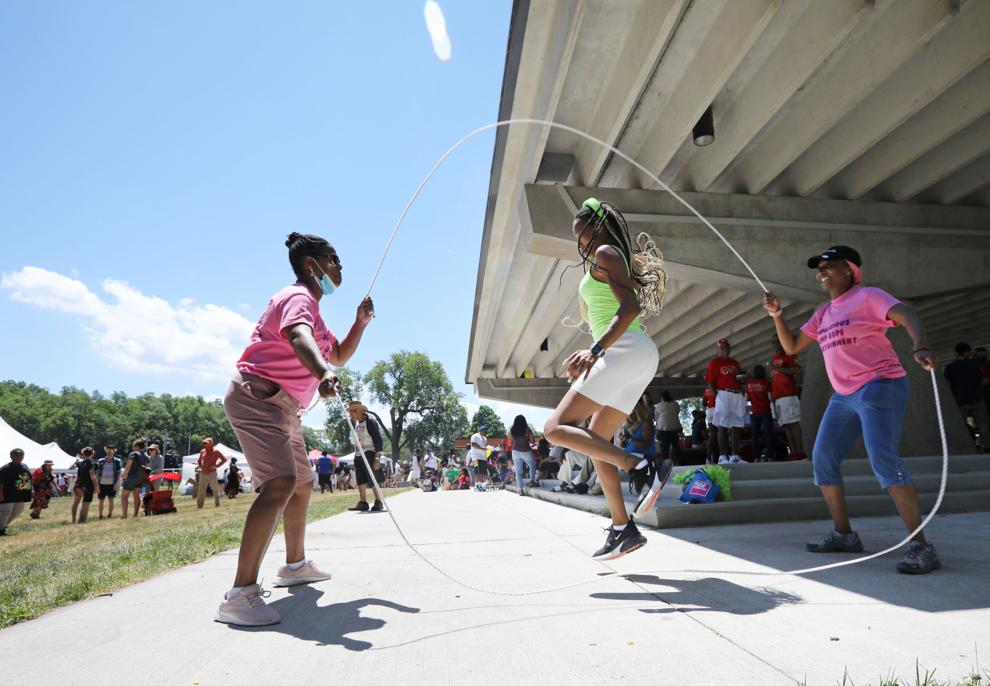 In Penn Park, the sight brought joy to 26-year-old Julian Walters.
"Being in this neighborhood and growing up in Madison, it's always been a staple in the community," he said. "It's so good to see such a good turnout coming off the year we just came off of."
Last year, the Kujichagulia Madison Center for Self-Determination — the organizer of the Penn Park celebration and Juneteenth parade — shifted activities online. The center continued to hold some educational events online, while other organizations put on in-person and online Juneteenth events throughout Madison during the past several days.
The shift to online in 2020 was the best that could be done to uphold the Penn Park tradition, Walters said, but "it's just a different environment when you can actually see people."
"I've been celebrating Juneteenth my whole life," Walters said. "My mother is on the board. She's been organizing the parade for over 20 years. I've been in the parade. I've been here being a part of different vendors. I've always celebrated Juneteenth — it's a very important date for me and Black people in general."
Federal holiday
Long celebrated within the African American community, Juneteenth was recognized as a national holiday for the first time this year after President Joe Biden signed legislation Thursday establishing the designation.
Juneteenth commemorates the end of slavery in the United States. It recognizes when enslaved African Americans in Galveston, Texas, learned of their freedom on June 19, 1865 — two months after the end of the Civil War and more than two years after the Emancipation Proclamation was signed.
Stanley Woodard, of Fitchburg, has recognized and celebrated Juneteenth for decades. He said he's happy and proud to finally see it become a national holiday.
"We're seeing the progression — it may not be as fast as we would like — but on the other hand, we are making steps," he said. "This is a holiday for all Americans. It's a holiday for those who don't know why it's so important to come out and learn a little bit as to why it is a part of their history, too."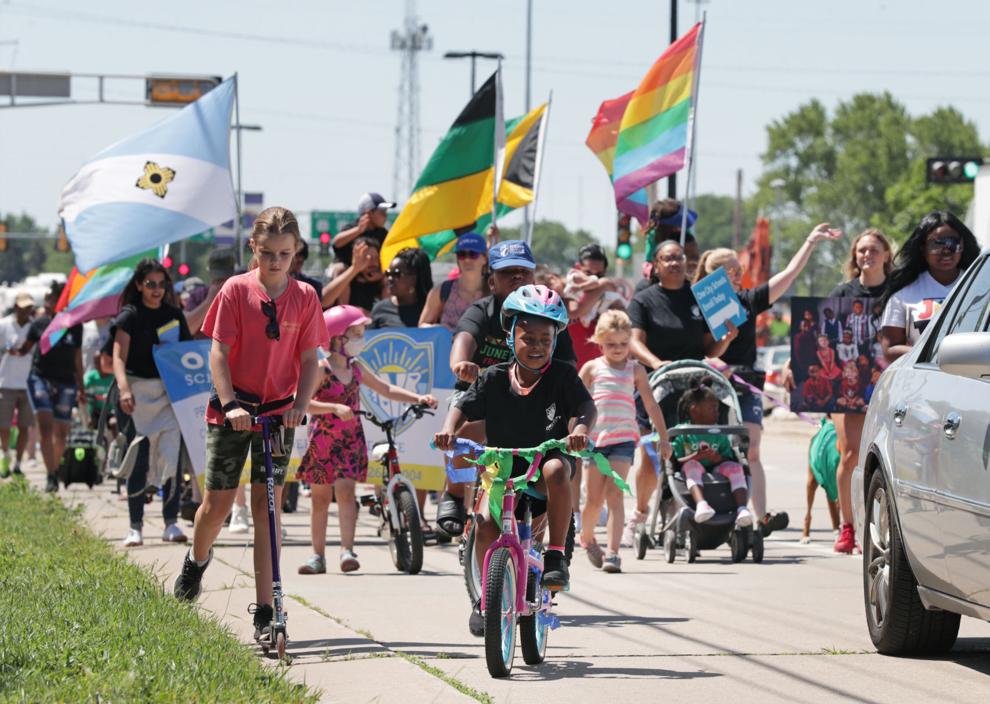 Carrie Smith, who is white, and her husband Derrick, who is Black, have participated in Juneteenth events in Madison off and on since moving to the city in 1992.
"With having two biracial boys, we always thought it was important to be a part of something and let them know the history of what has gone on in the United States," Smith said.
The retired preschool teacher said she sees the national holiday designation as an acknowledgement that parts of American history have been ignored or not taught for too long, such as the Tulsa race massacre.
"We have to be accepting of the history: We can't write history the way we wanted it to go," Smith, 66, said.
Symbol of hope
To Ndaziona Ndafooka, Juneteenth represents using the history of the past as a symbol of hope for the future. The 33-year-old mother started celebrating the holiday as an adult and now does so with her daughter.
The cultural performances, vendors and food are a lot of fun, she said, but "Juneteenth isn't Juneteenth without the educational aspect."
"If you come from a family that maybe doesn't know the history of Juneteenth, you're less likely to participate or celebrate," Ndafooka said. "This also is an opportunity for people to submerge themselves in culture and also get that history and that heritage lesson."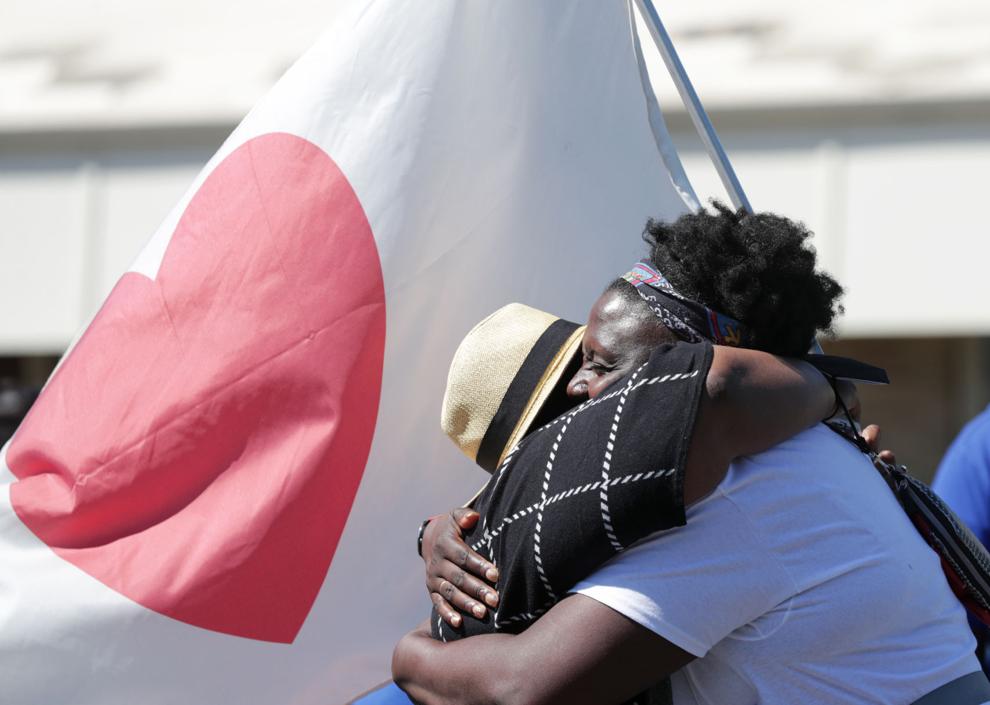 Colier McNair, of Madison, said the holiday can be "bittersweet."
While Juneteenth represents freedom, he said, it is also a reminder of delayed justice and opportunity. McNair draws parallels between the 2½ years it took for news of freedom to reach enslaved African Americans in Texas and the continued slow progress on racial equality since the country's founding.
"We still have systemic issues, and all is not well in communities of color," McNair said. "That's a real thing because we're 246 years behind."
Hunt, who helps organize the Penn Park event and parade, said the holiday stands for independence, freedom and liberation.
"I proudly wear my red, black, green and yellow, my Juneteenth colors," she said. "I'm going to encourage others to do the same."
---