LAKE GENEVA — The 10-degree temperature was ideal. The wind, not so much.
Yes, the sun was out, but a steady 11-mph wind out of the west gusted to 21 mph, blasted across Geneva Lake and made the real-feel temperature fluctuate between minus 4 and minus 10 degrees.
Wrigley Drive and Riviera Beach were welcoming on Friday for the third and detail-oriented day of the U.S. National Snow Sculpting Championship. It just required multiple layers, hand warmers and a good pair of insulated boots. Masks on this day pulled double duty, warding off the COVID-19 pandemic and frostbite.
"It's been brutal here today," said Jim Malkowski, a sculptor from Milwaukee. "But we dress for it and we're moving around. So it's doable."
Malkowski and his two teammates on Snow Cronies Too were well equipped with Japanese ice saws, picks, scrapers, chisels and ladders as they refined their sculpture, "COVID Criminal," a skeletal head wearing a cowboy hat.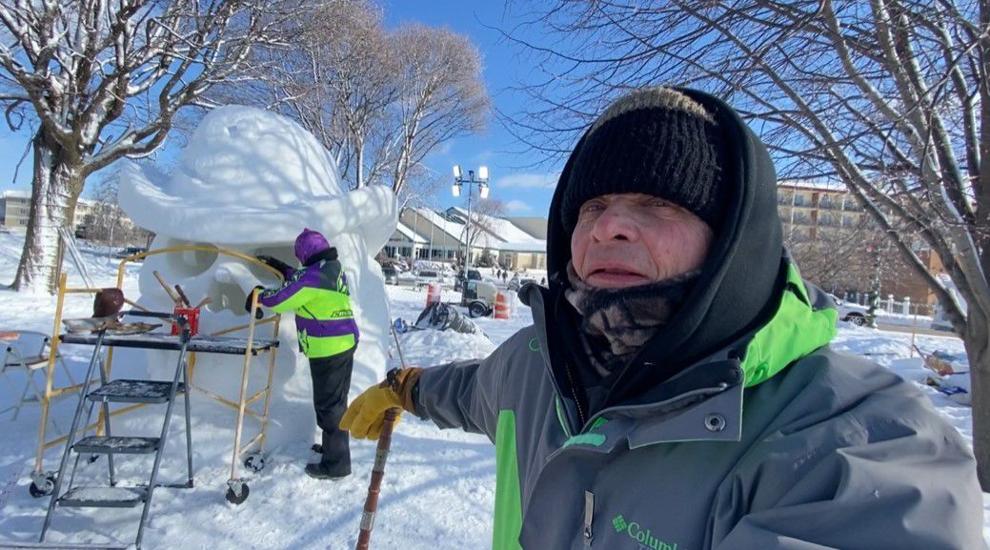 The team was one of 11 from around the country that endured the blustery conditions last week for the 36th annual competition that started Wednesday with 8-foot-wide, 9-foot-high cylinders of snow and concluded Saturday afternoon with impressive works of art.
Two of the three teams from Wisconsin finished in the top three and a team from Florida placed second, according to results posted Saturday. The event, celebrating its 26th year as part of Winterfest in Lake Geneva, also included teams from Illinois, Colorado, Michigan, Iowa and Alaska.
And with high temperatures expected to be in the single digits for much of this week, there's a good chance the sculptures will be around for a while.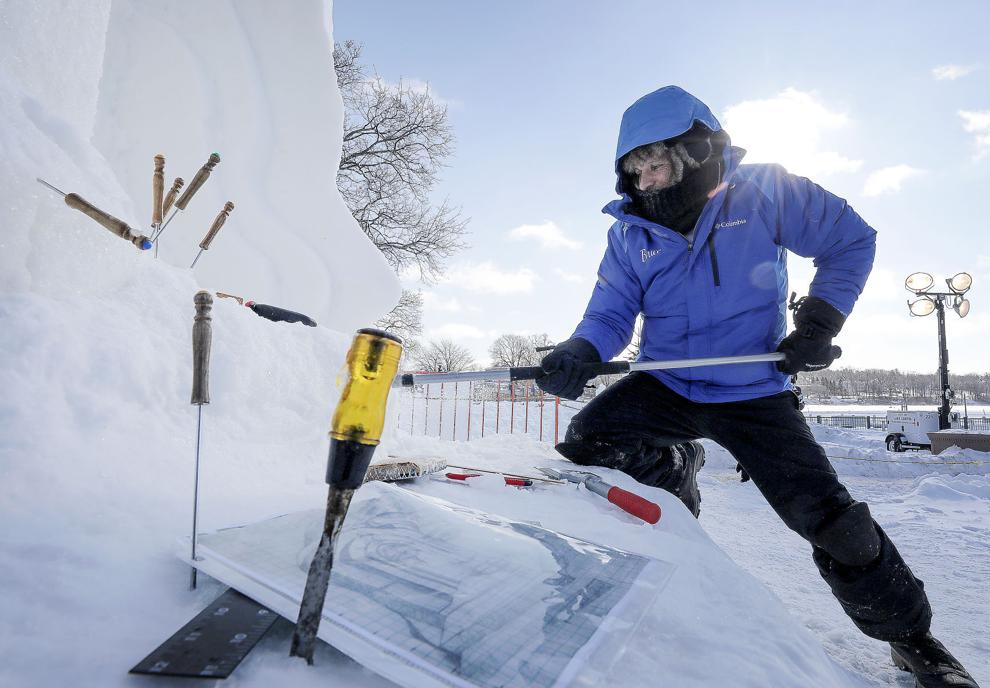 Because of the pandemic, teams from Maine, New Hampshire, Vermont and New York canceled their appearances, which led organizers to invite two additional teams from Wisconsin and two more from Illinois. Teams qualified by winning state competitions a year ago.
"These guys are so experienced," said Fred Raasch, CEO of Winter Fun USA, which organizes the competition and sanctions qualifying events. "They've done it around the world. Many of these teams, I bet half of these teams, if not three quarters of them, have traveled internationally and done this. You have to be a great sculptor, but you also need to know how to play the weather."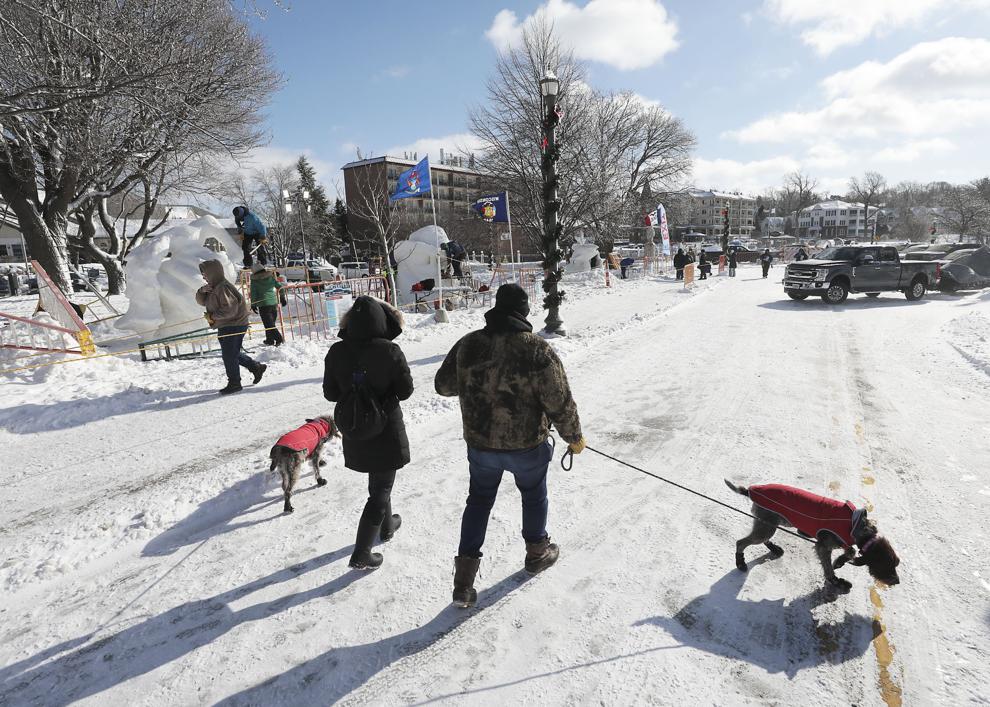 But even though the wind may have forced more warming breaks and slowed progress, the conditions were better than if it were in the 30s or 40s when snow turns to mush and sculpting turns into a third-shift affair to take advantage of colder temperatures.
The title went to Sculptora Borealis, a team out of southeastern Wisconsin, for its COVID-19-inspired sculpture; second place was awarded to Flozen: Less Latitude, More Attitude, a team out of Florida; and third place went to Snowblind, a Wisconsin team captained by Neal Vogt, of Pewaukee. His crew created "Tribal Dance," which depicts two Native Americans embracing during a ceremonial dance. Vogt started carving snow in high school 29 years ago and has taken part in international competitions in Finland, Italy and Colorado.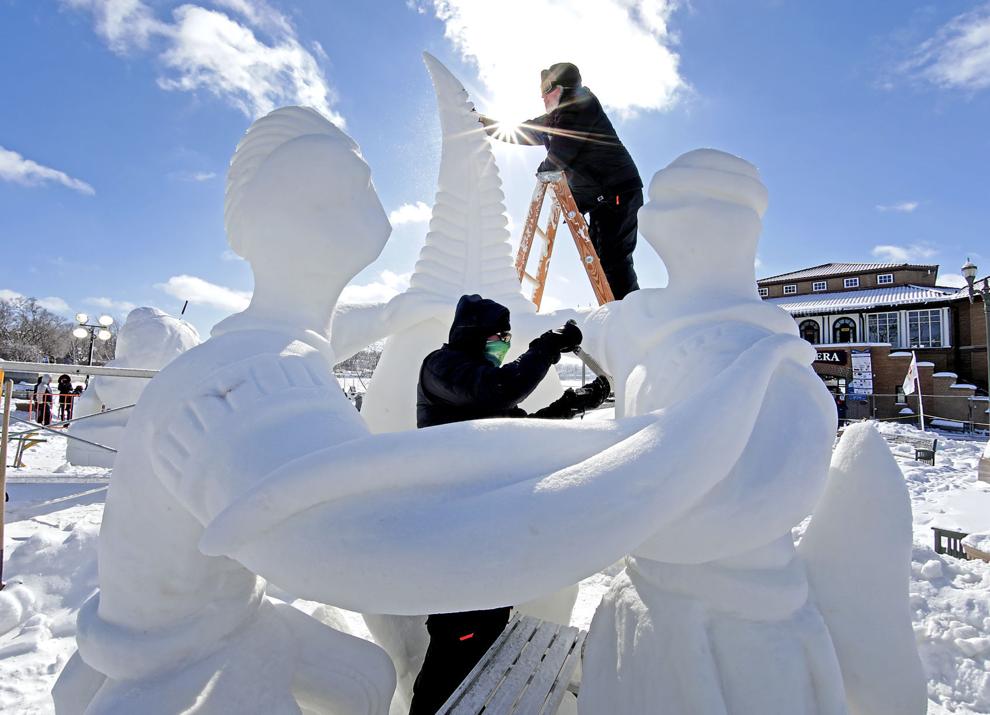 Amanda Bolduc captained the Florida team and has been snow sculpting since 2015. She lives in Florida and has years of experience in sand sculpting, where gravity and dry sand are the enemies.
"Each one has it's difficulties and challenges, but each one presents beauty in its own way," Bolduc said. "Because with snow you can do amazing pieces that you just can't do with sand."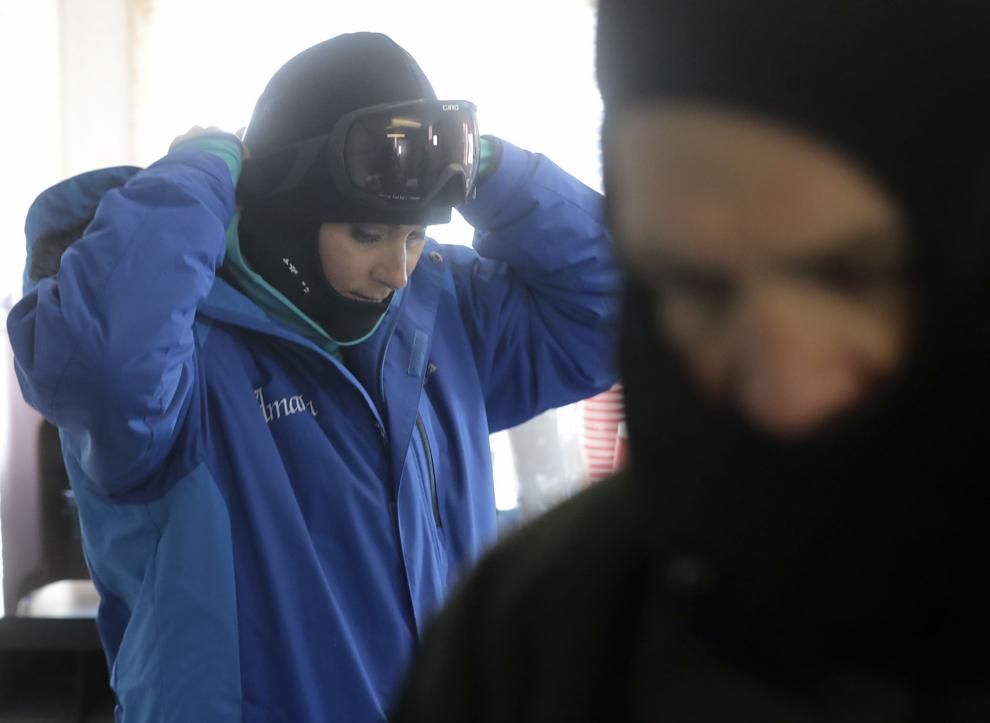 Bolduc goes bare foot but wears a sombrero and a long-sleeve shirt and pants when she sculpts sand to prevent sunburn. For last week's snow sculpting she donned thermals, winter boots and snow goggles as she worked from a platform in front of the Riviera Ballroom. Her sculpture, "The Power of the Mind's Eye," pays homage to the five senses and a sixth that Bolduc describes as inner creativity combined with perceptions of the world. The artist statement is a critical component in the competition, which was reflected in the second-place finish.
"When you come here they want you to have a powerful message when you do your piece," Bolduc said. "They're looking not only at creativity but they want message and the mastery as well."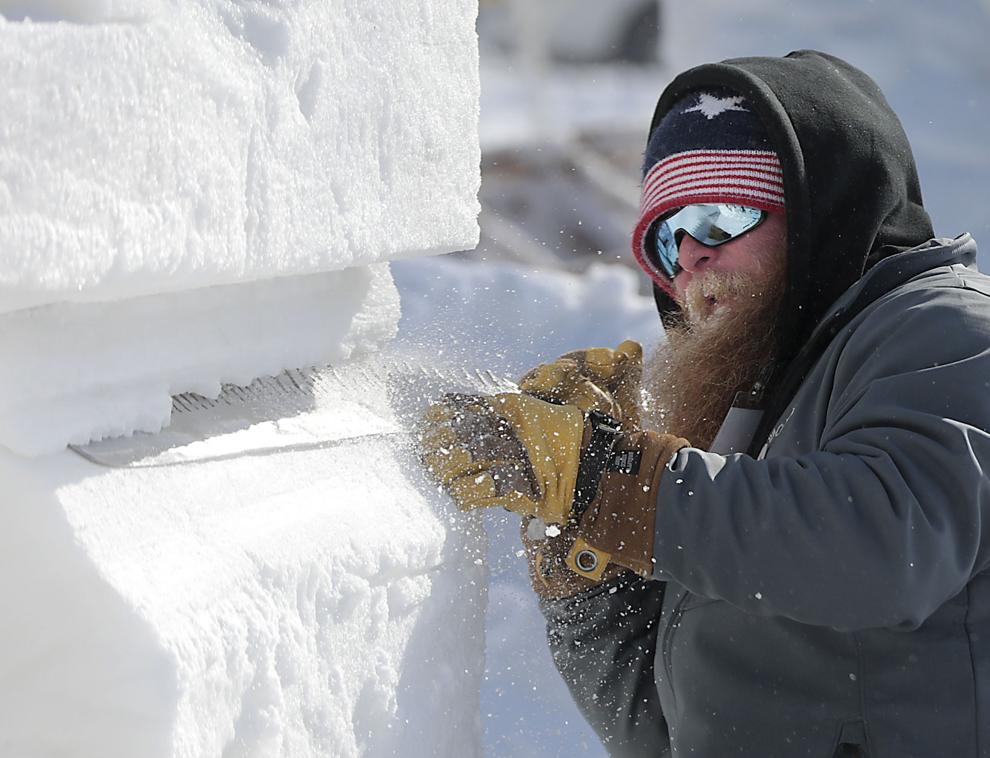 The Cave People from Space, one of the teams from Illinois, sculpted the "Like-Ness Monster," a creature created out of society's addiction to Twitter, Facebook, Instagram and other digital platforms."
"He preys on clout-chasers, hashtaggers, influencers and anyone unlucky enough to get sucked into the draw of living life only on social media," the statement from the artists reads.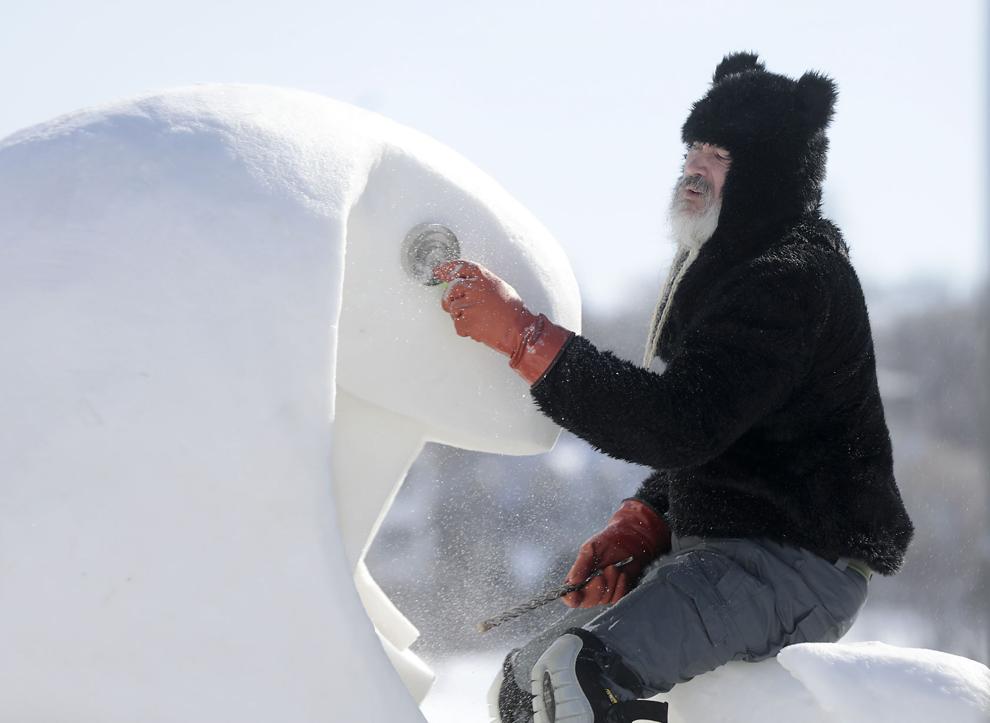 The team out of Colorado sculpted a Big Foot selling souvenirs to make ends meet in 2021 after a disastrous 2020. The Driftless Snow Sculptors out of Iowa went with an environmental message about the destruction of coral reefs brought on by climate change, while the team from Alaska went whimsical and sculpted a creature that is a cross between a bear and deer that was posed knitting its own scarf.
Just down the street, "Inoculation" was coming together for what would be the winning sculpture by Sculptora Borealis. The piece included a mouth with grapefruit-size teeth and would later get a syringe made of snow inserted into the top of its mammoth head. An ice auger was nearby and would be used to drill a hole in which the syringe would be placed. But in the meantime, Bob Lechtenberg, of Hartland, alternated between using a dry paint brush and a metal scraper to add detail to the teeth.
"I'm digging them down a little but more so they have a little bit more of a groove and an indentation," Lechtenberg said. "You don't want to see a saw line."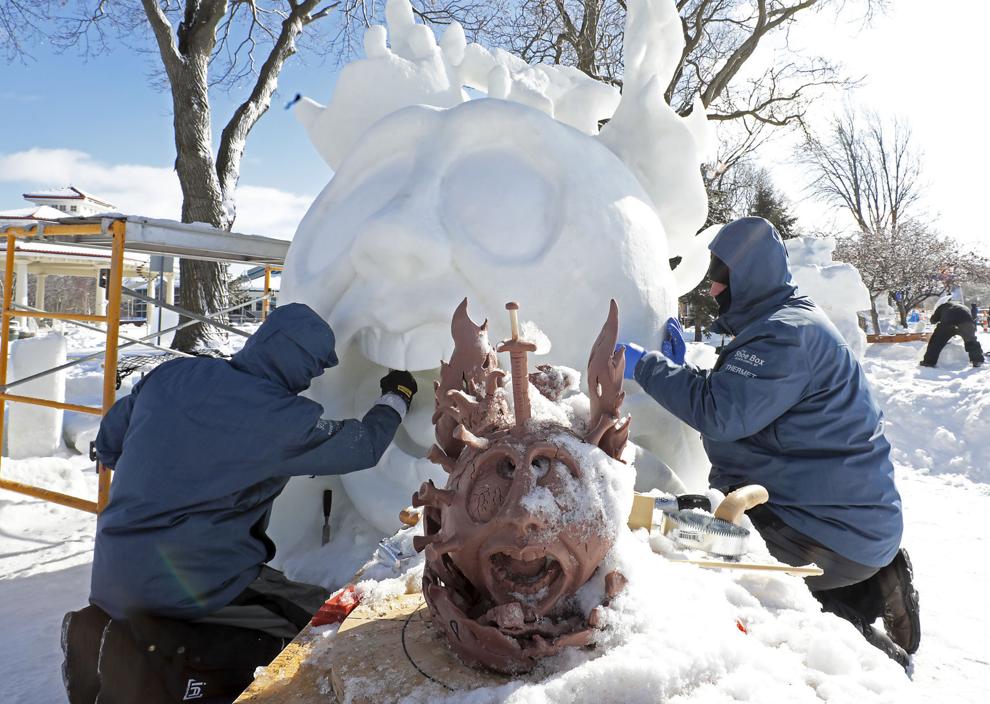 This was the third time at nationals for the team, which was captained by Joshua Jakubowski, a product designer in Port Washington and who designs and builds custom furniture in his spare time. He was part of state championship snow sculpting teams in 2017 and 2018, won a national title in 2018 and placed third at the Breckenridge International Snow Sculpting Championship in 2020.
The sculpture at last week's event celebrated the eventual end of the pandemic and the birth of a new era.
"He's being taken out by the vaccine," Jakubowski said. "He's being burnt up by a whirlwind of fire and on the back side the fire turns into a phoenix and that represents us kind of overcoming all of the adversity we're dealing with now."
Photos: Grooming the snowmobile trail in northern Dane County
Grooming the snowmobile trail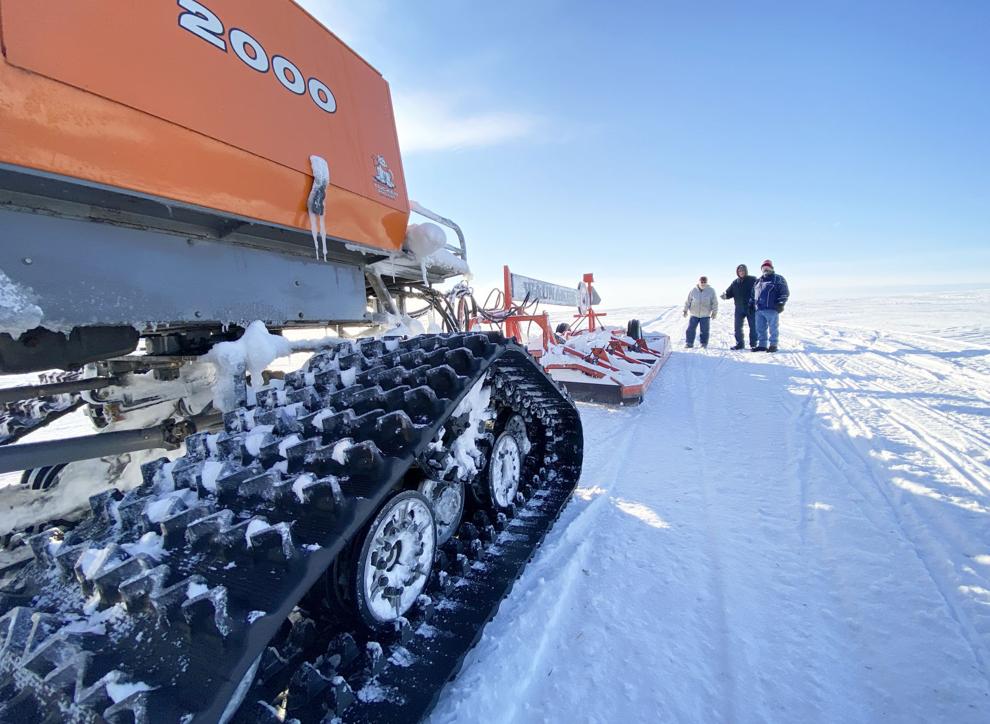 Grooming the snowmobile trail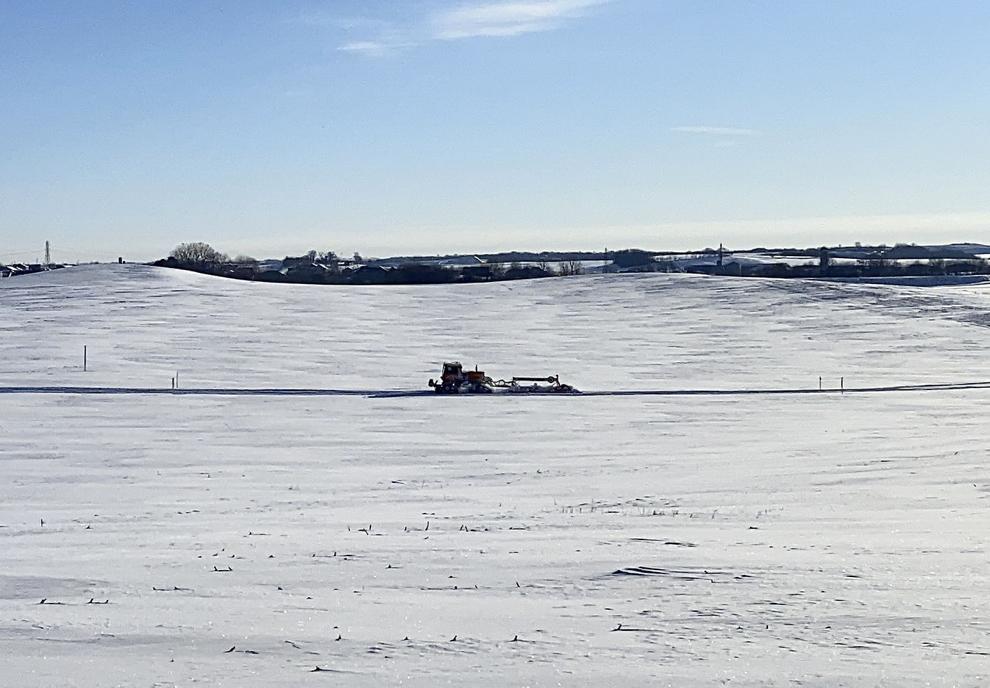 Grooming the snowmobile trail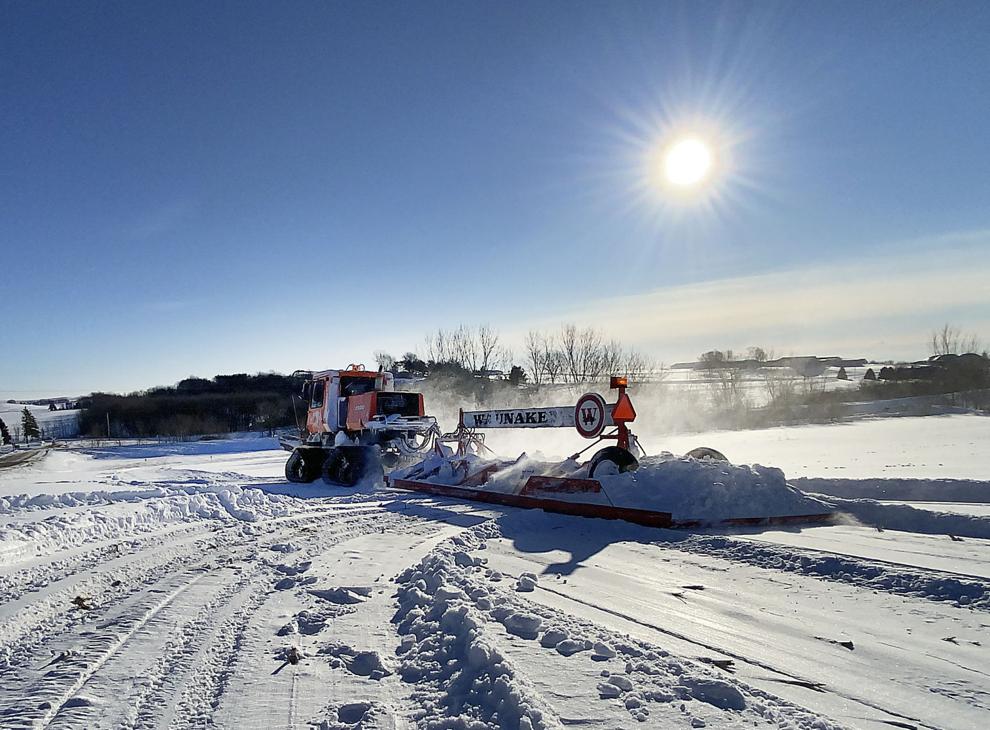 Grooming the snowmobile trail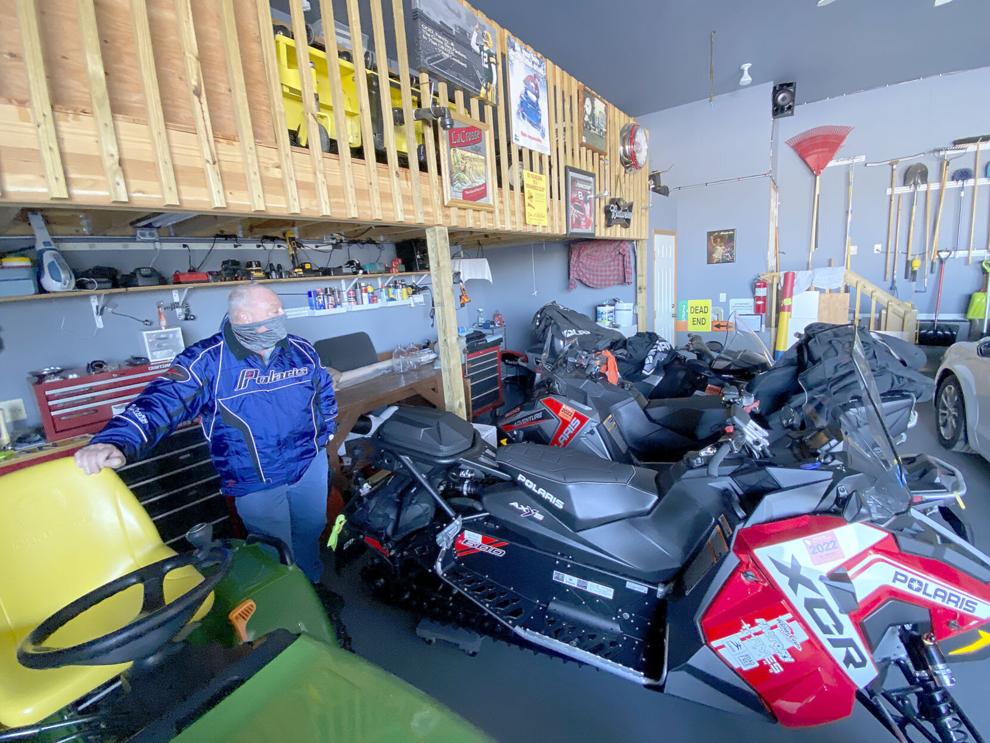 Grooming the snowmobile trail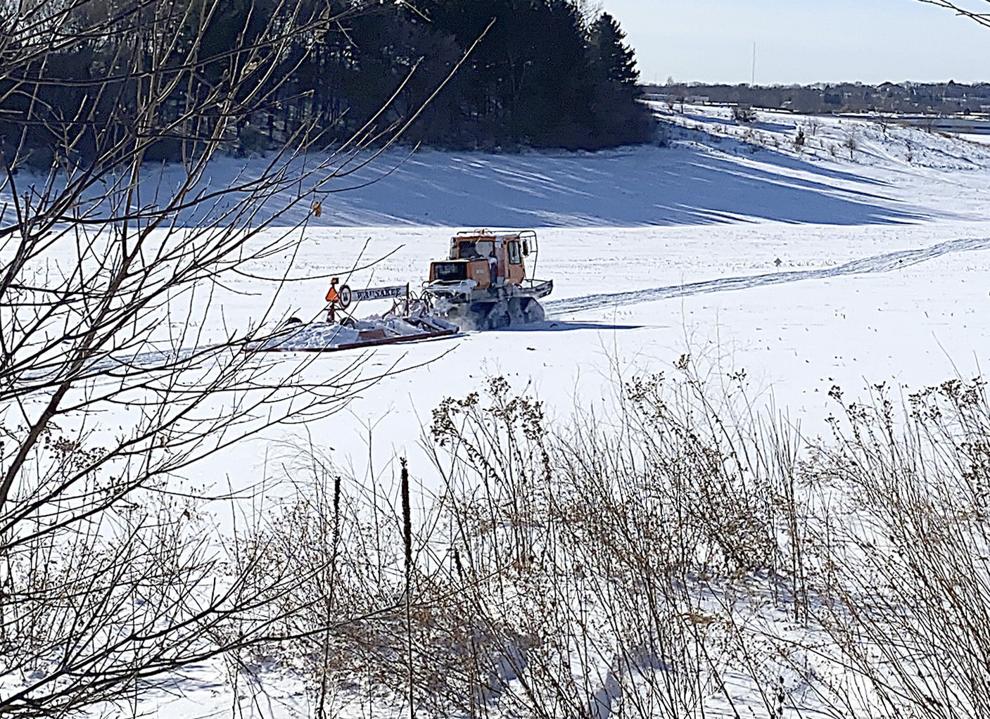 Grooming the snowmobile trail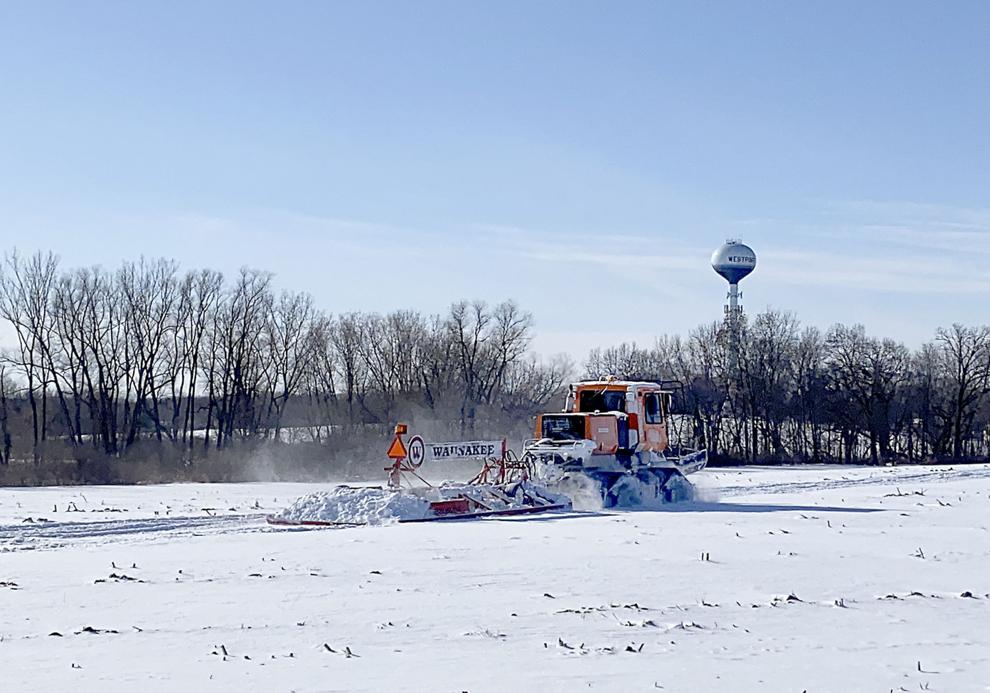 Grooming the snowmobile trail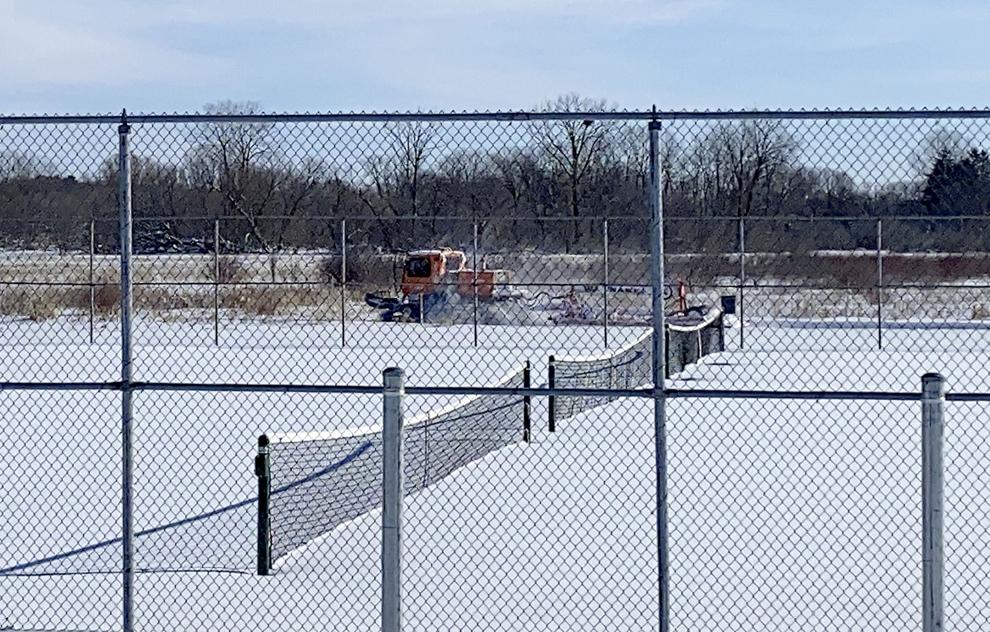 Grooming the snowmobile trail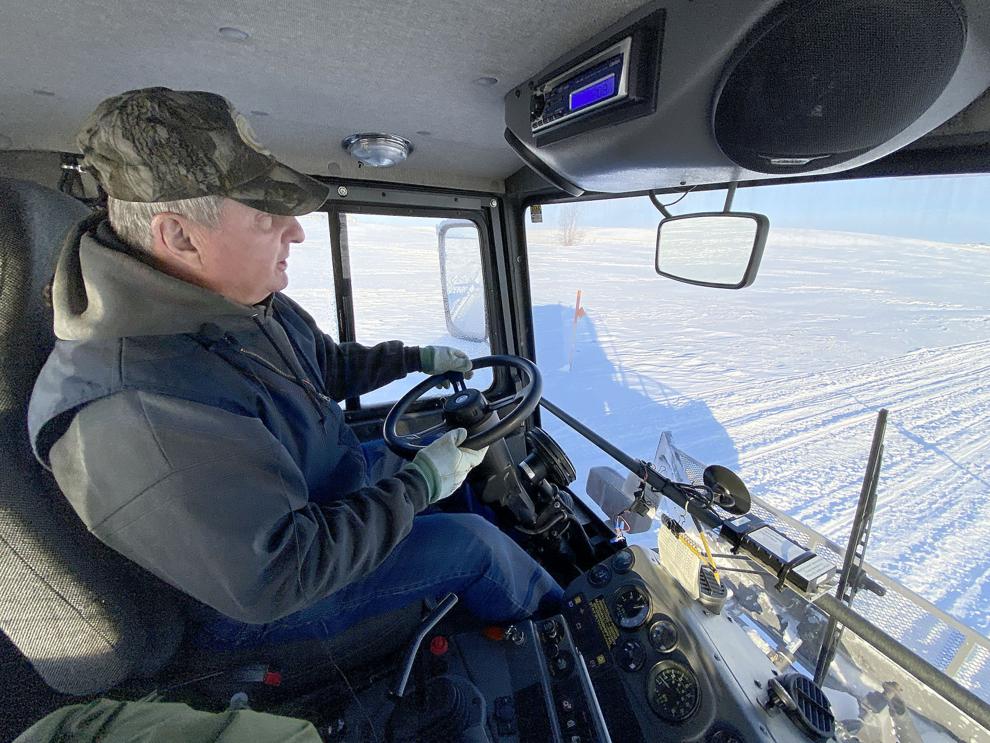 Grooming the snowmobile trail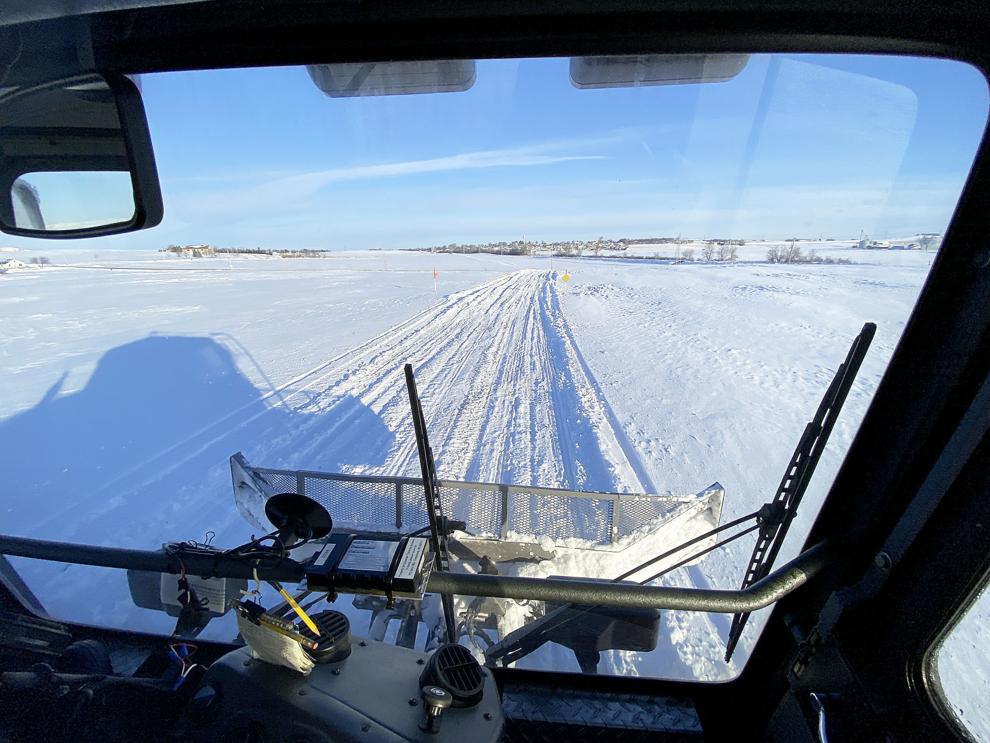 Grooming the snowmobile trail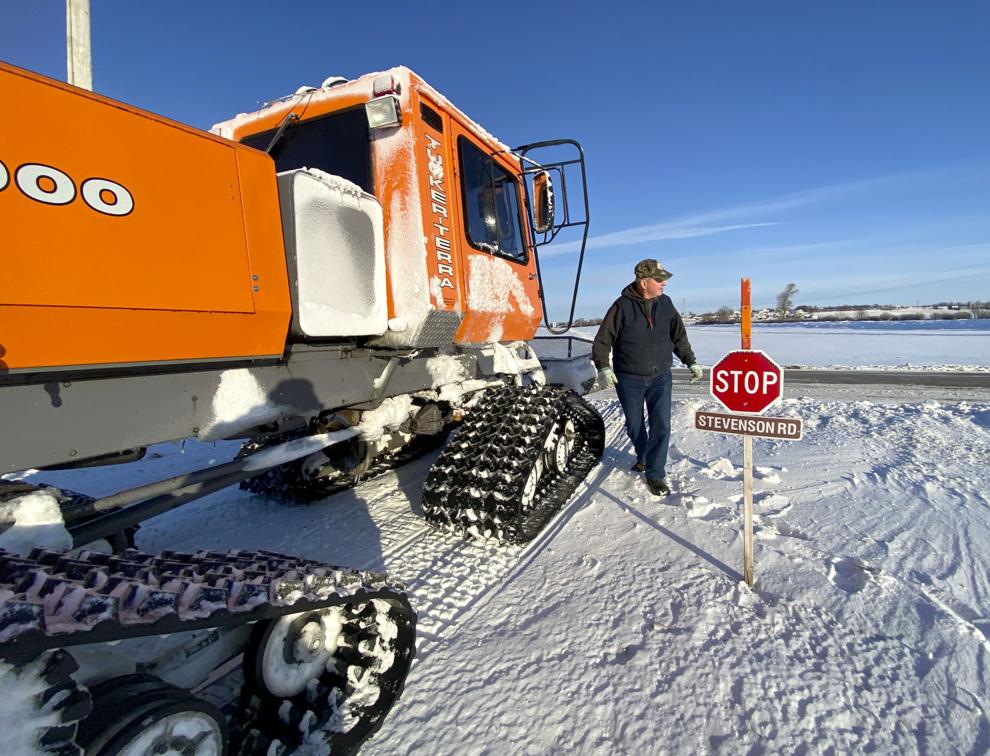 Grooming the snowmobile trail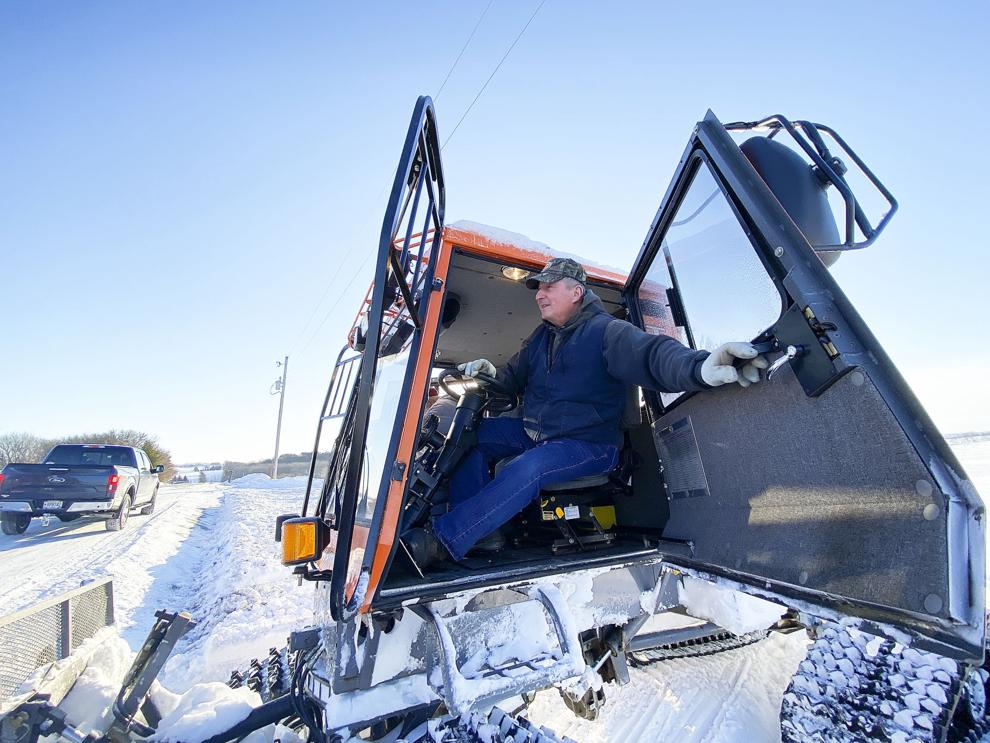 Grooming the snowmobile trail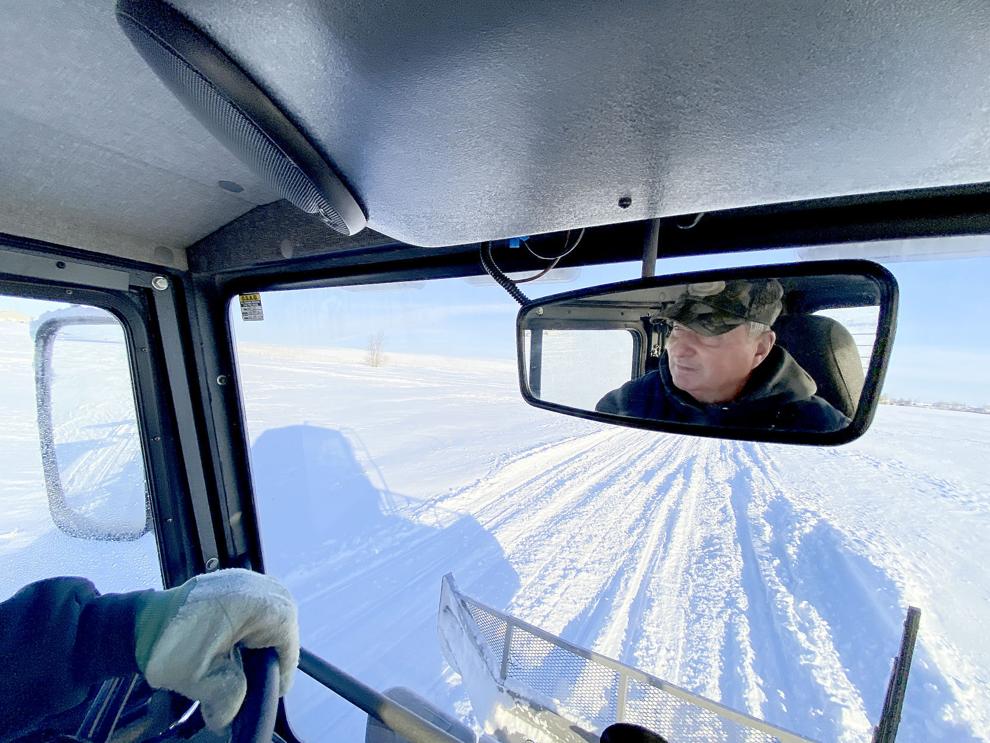 Grooming the snowmobile trail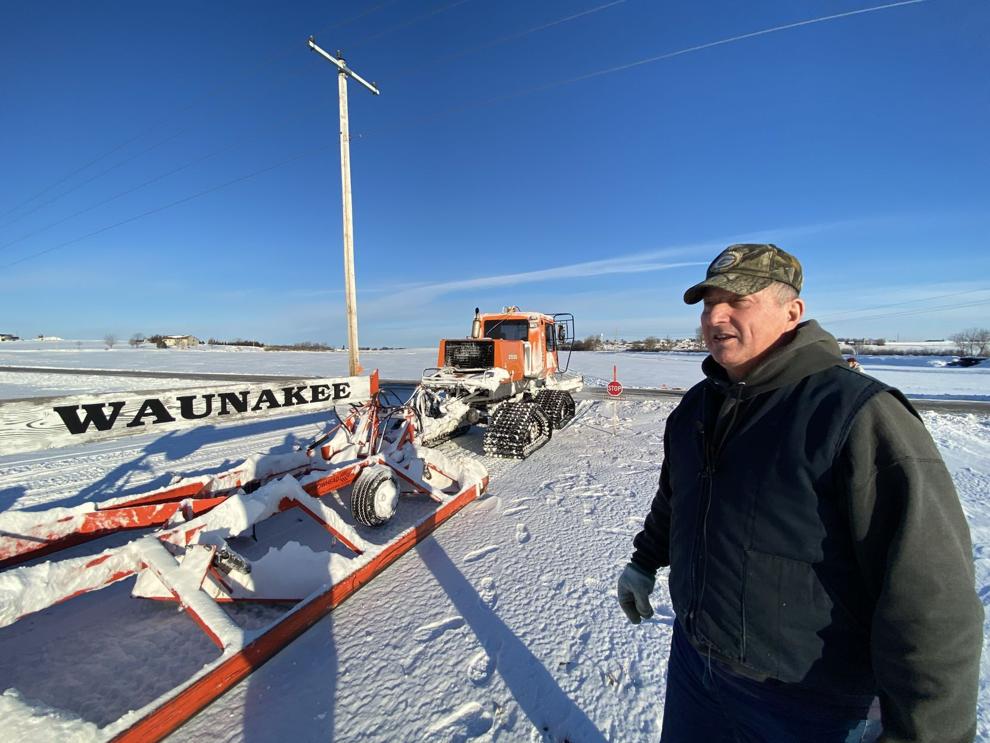 Grooming the snowmobile trail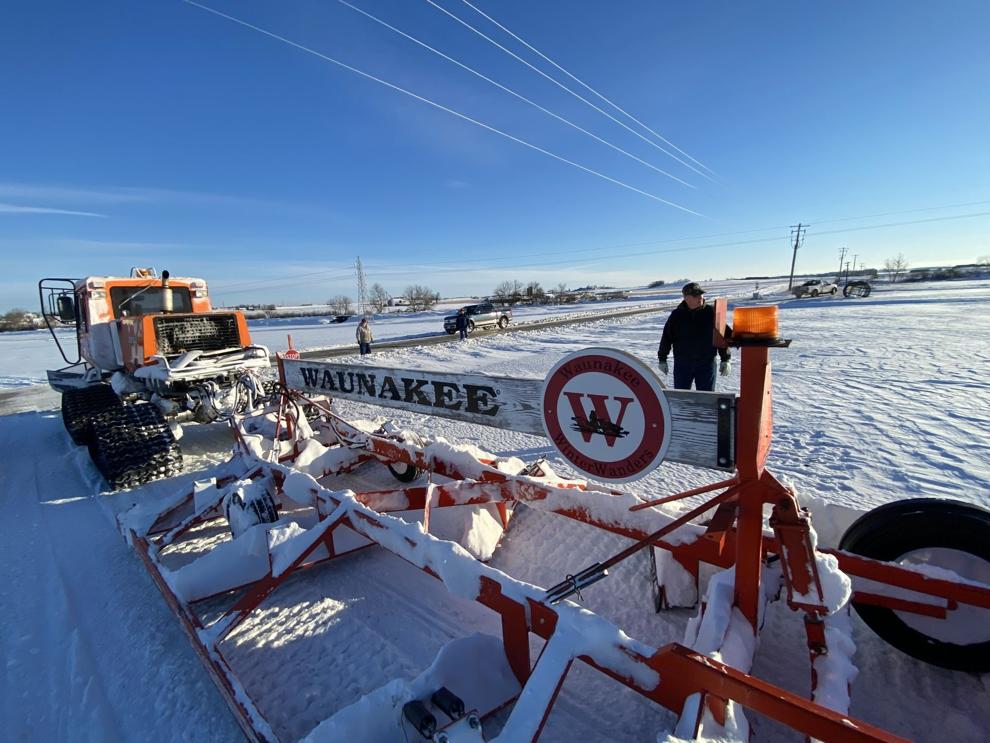 Grooming the snowmobile trail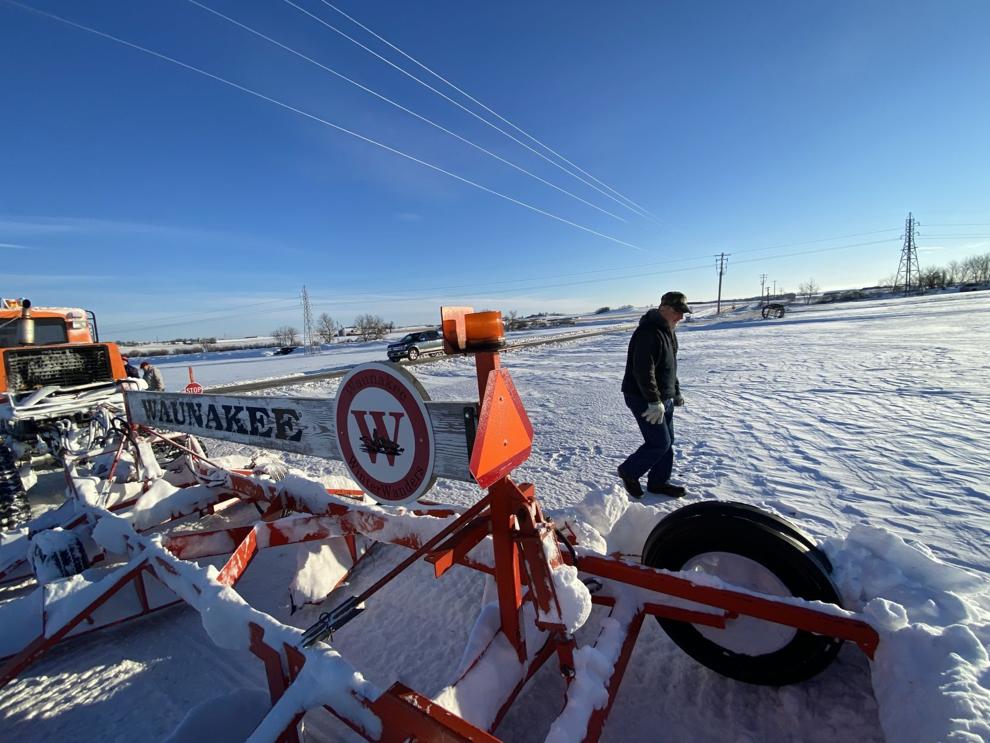 Grooming the snowmobile trail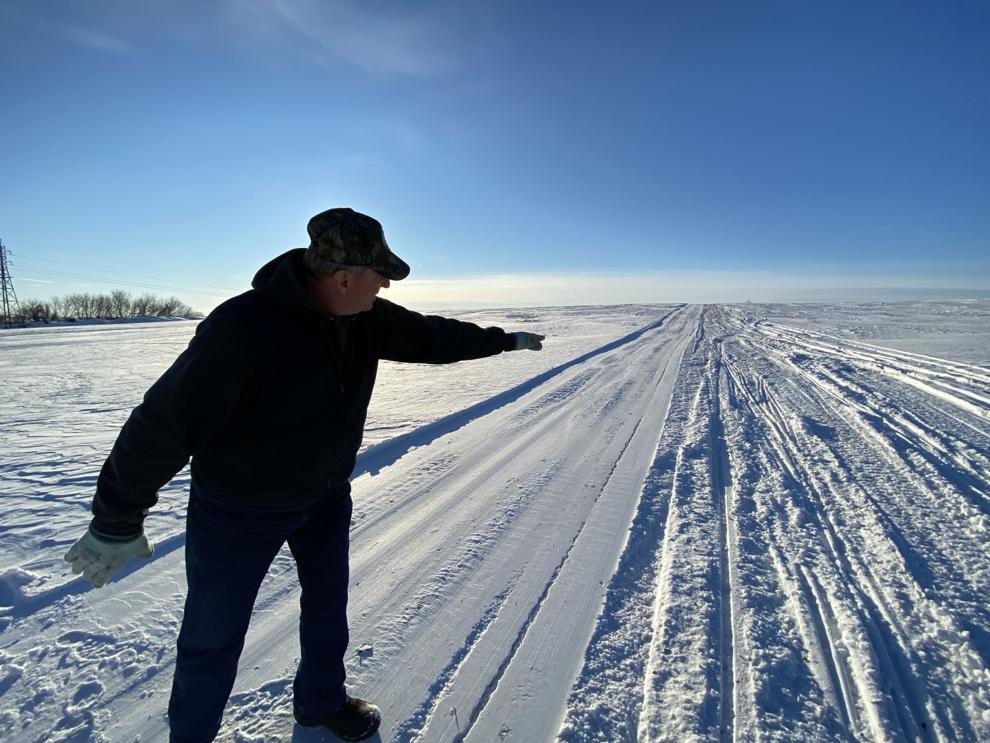 Grooming the snowmobile trail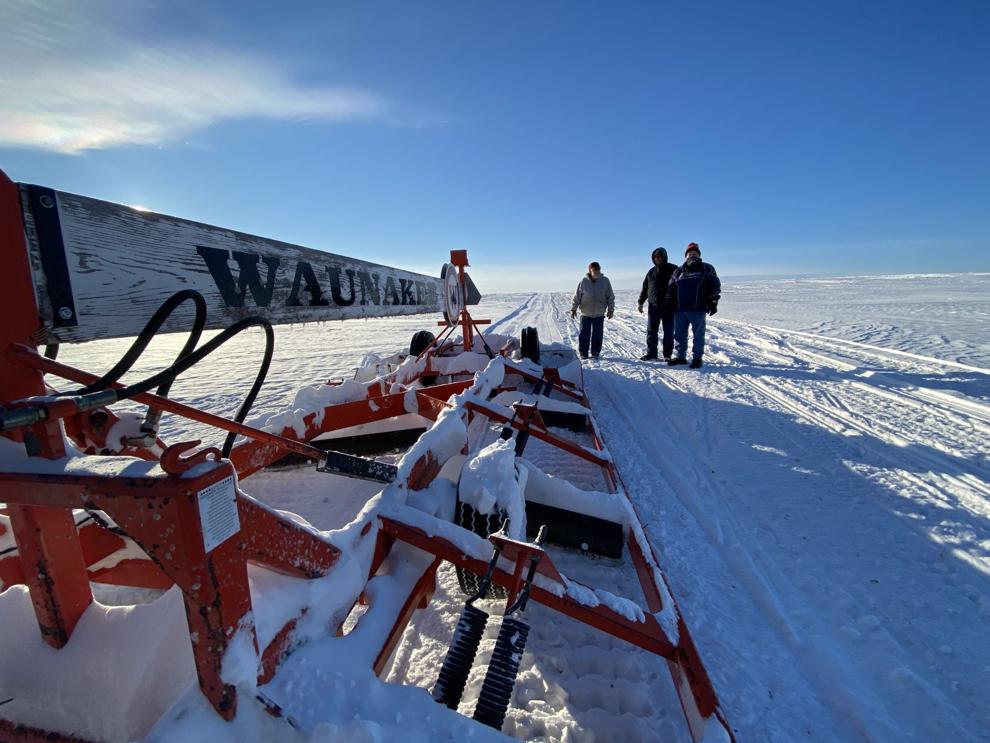 Barry Adams covers regional news for the Wisconsin State Journal. Send him ideas for On Wisconsin at 608-252-6148 or by email at badams@madison.com.