BOSCOBEL — Larry Strang has seen his share of heartache in 43 years of being a firefighter here.
There have been blazes that have brought down homes and barns, floods that have inundated his community, horrific car crashes, and drownings in the nearby Wisconsin River.
But he has never seen this kind of outpouring from volunteers.
They've come from within the city's boundaries but also from Fennimore, Richland Center and Gays Mills.
There have been tree service crews from Sauk City and Arena, inmates armed with chainsaws from the Prairie du Chien Correctional Institution and dozens from Iowa affiliated with a faith-based disaster response organization.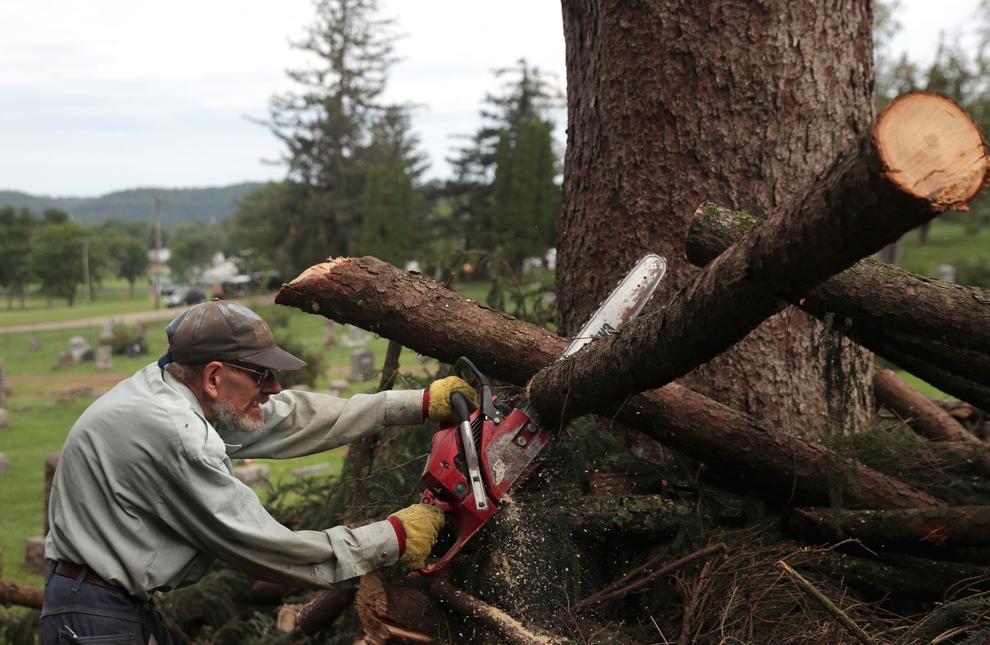 A tornado has wreaked havoc for many. The swarm of volunteers along with donations of cases of water, bags of ice and mountains of sandwiches has brought relief, optimism and emotional healing.
"Everyone's just pitched in," Strang said last week, as he stood in one of the bays of the Boscobel Fire Department's station that has been transformed into an emergency operations center. "It's just heartwarming. There's a lot of good people out there. It's just wonderful. It makes you want to tear up."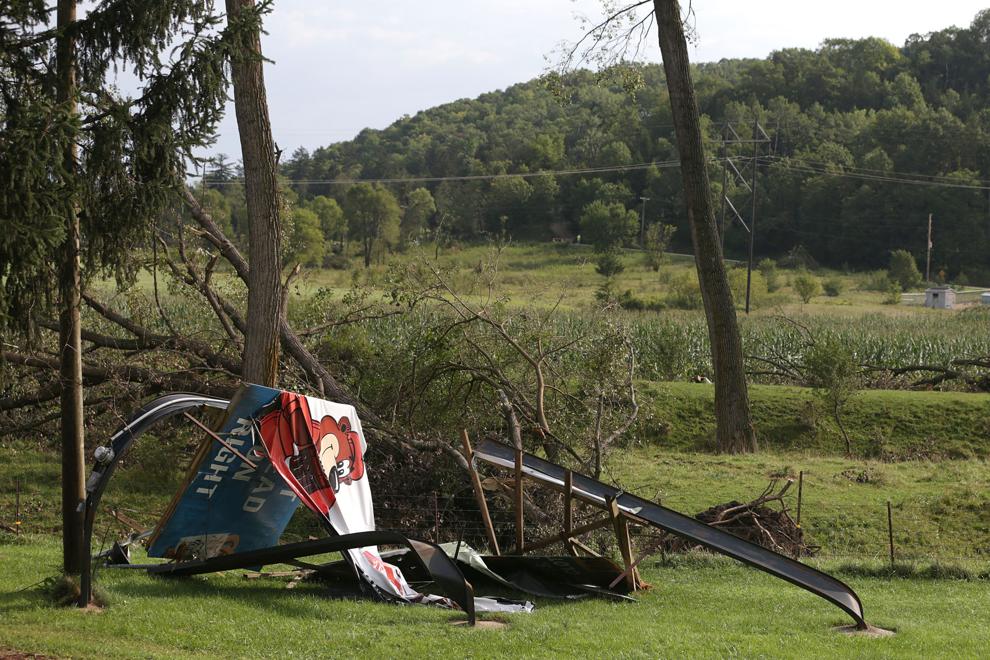 The tornado on Aug. 7 skirted the city's south side, spared Kronshage Park, narrowly missed Boscobel Junior-Senior High School but slammed into the 24-acre Boscobel Cemetery before jumping a ridge and either destroying or doing major damage to eight homes. More than 20 barns, outbuildings and other agricultural structures were destroyed, portions of cornfields were flattened and hundreds of trees were splintered, uprooted and twisted.
Remarkably, no one was killed and there were no reported injuries.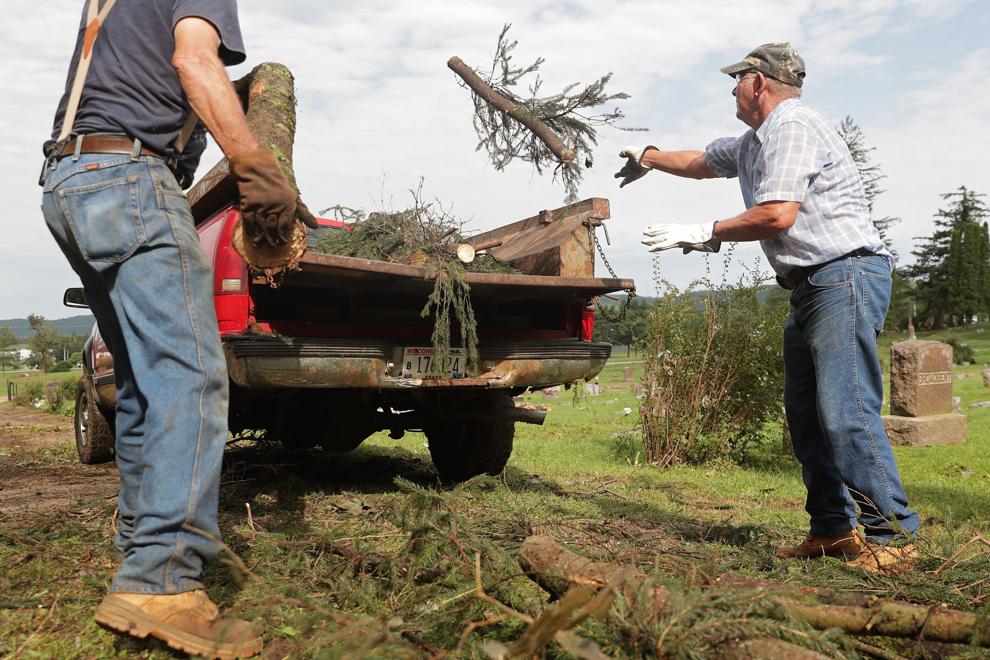 "When the sun came up the morning after the tornado, there were cars lining the streets on both sides and people just getting out seeing what they could do to help," said Steve Braun, who has been emergency management director for Grant County the past 22 years. "There's still a lot of work to be done here. The damage is daunting. The cleanup will be months, and the scars are going to be there for a really long time."
Tumultuous stretch of weather
The storm was part of a tumultuous 15-day stretch of severe weather that touched most of the state's 72 counties and resulted in 24 of the state's 26 tornadoes that have occurred this year in Wisconsin, according to the National Weather Service. On July 28, thunderstorms in northern Wisconsin congealed into an intense line of storms that spawned 12 tornadoes in southern Wisconsin, including an EF-1 with winds of 105 mph that damaged properties in the towns of Concord and Farmington in eastern Jefferson County and in rural enclaves of western Waukesha County.
Tornadoes from the event also formed near near Middleton, Cross Plains, Verona and Portage.
On Tuesday of last week, a line of storms with heavy rain and winds nearing 70 mph raced across a large swath of southern Wisconsin and was followed on Wednesday with tornadoes near Mineral Point and in Monroe County, where southwest of Tomah the Norwalk Sportsman's Club's clubhouse was destroyed. Tornadoes were also confirmed in Outagamie and Brown counties, while, in Milwaukee, Wednesday's storms caused widespread power outages to over 200,000 We Energy customers. In some cases, power wasn't expected to be restored until Saturday.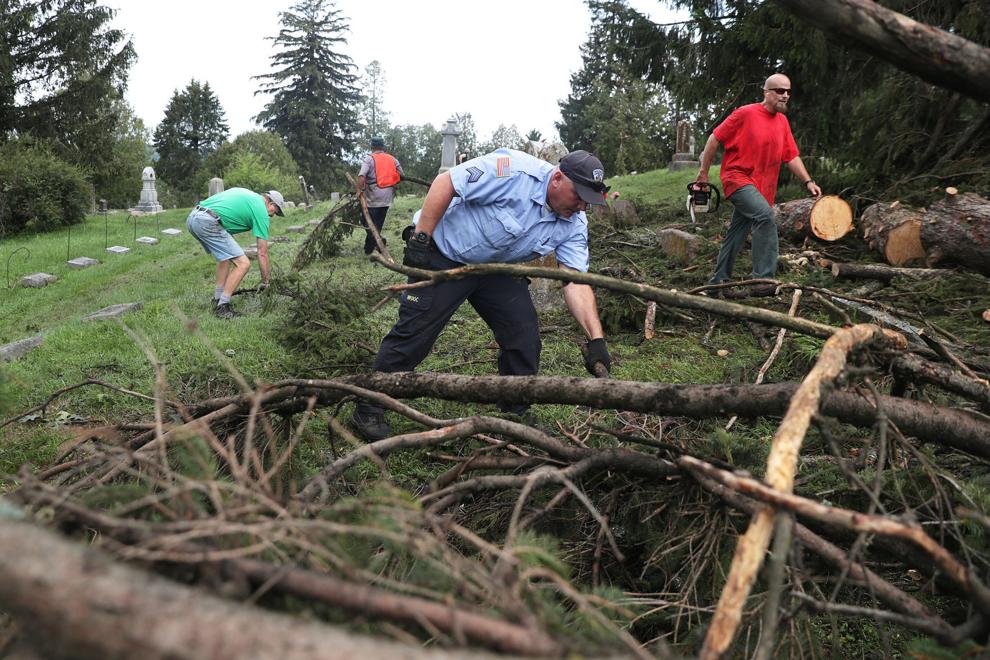 The Boscobel tornado is believed to be the largest in the state since 2005, when a major system produced 27 tornadoes in the state. One of those was an F-3 tornado that cut a 17-mile-long path of destruction through Stoughton and other parts of Dane County. It destroyed 69 homes and damaged more than 300. A 54-year-old Stoughton man was killed, and more than 20 people were injured.
Memories suctioned out
Kari and Donald Oates fear they may have been a casualty of the Boscobel tornado but were in Prairie du Chien shopping at the time and had decided to check out a new restaurant. They returned less than an hour after the destruction to find their once wooded property bare of standing trees and their home ravaged. The roof was gone, their bedroom walls had vanished and a lifetime collection of photographs, mementos and other household items had been suctioned out of their home.
"We tried to salvage what we could but it rained afterward," said Kari, who works for the state Department of Workforce Development. "It's just shocking."
Remarkably Sadie, their 11-year-old collie, was unharmed, secured in her kennel in the laundry room. Their 10-year-old cat, Baby Cat, was found a few hours later. It had crawled inside a couch in the living room. Clothing in two bedroom closets was saved when mattresses blew into the closets and acted like a shield. Don found his CPAP machine in the front yard. Somehow it was on the nightstand and still works.
"It's like somebody had picked it up and set it on the ground," Don said.
The Oateses have lived in the home since 1989, where they raised three boys and had just recently spent $8,000 to replace the air conditioning unit, furnace and water heater. On Thursday, more than 30 dump truck loads of debris had been removed from their property along Highway MS. Volunteers wearing blue vests and from the Christian Aid Ministries Rapid Response Team swarmed the property that had become void of pine, apple and cherry trees.
It's unclear whether the couple will rebuild or find a new home elsewhere, but they're leaning toward a rebuild.
"Right now we're just in a daze," said Don Oates, who works at Amcor Packaging in Boscobel. "It's just a sick feeling in your stomach."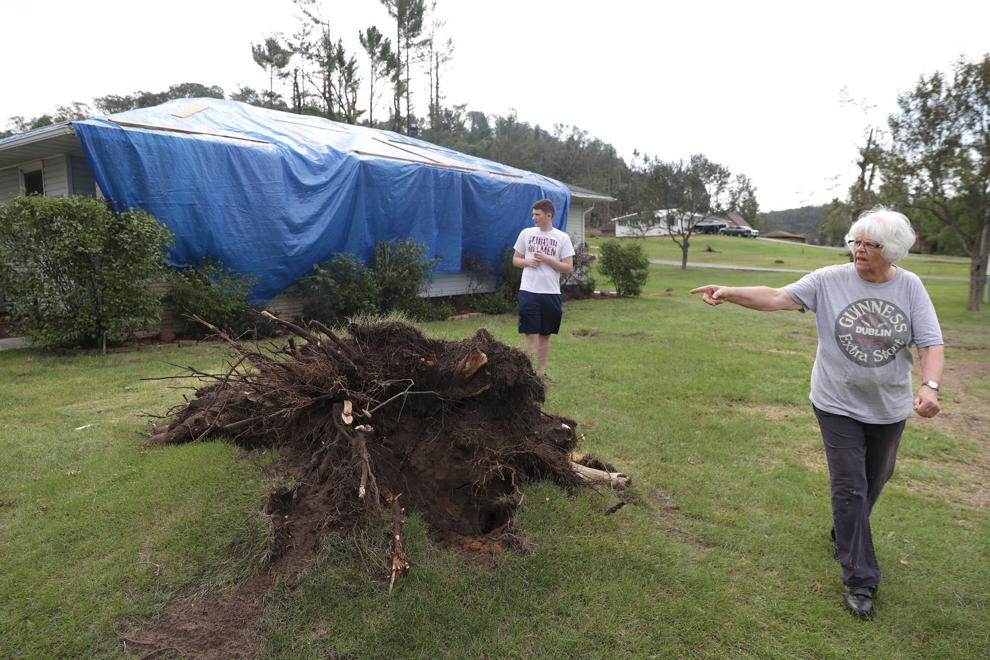 A few homes away, Kathryn Boebel, 78, was still trying to comprehend the loss of trees on her usually well-manicured 3-acre property. Fortunately, damage to the home she purchased in 1967 was minimal. A blue tarp covered the front portion of the roof after a massive pine fell onto the home. Her insurance adjuster wasn't expected until Monday, but her grandson Brady Boebel, 17, of Platteville, an incoming freshman at UW-Madison, was on hand Thursday with emotional support and muscle.
"It was like a park, but it doesn't look like a park today," Kathryn Boebel said. "I'll tell you what, right after it calmed down neighbors and family, friends and strangers. They didn't care if you were black, white, green or orange. They didn't care what religion we were. They didn't care if we were liberal or conservative. They just came to help. I just wish the whole country could see this."
Over at the cemetery, sexton Steve Pendleton was overseeing more than 20 volunteers who had to navigate their work amid the headstones. More than 5,600 people are buried here but only about 50 headstones were disrupted. Not directly from the wind but from roots of trees as they were toppled. Pendleton is hoping the grave markers can all be reset by next spring.
Barbara Staskel-Riley, 60, and her husband, Todd Riley, 61, spent Thursday on the cemetery's southern edge working to remove the remains of a towering pine that had been heavily damaged. Nearby several fresh stumps could be seen, and just feet from their work site was a mangled American Legion marker for Ileen Kalish, who died in 1986 at the age of 81. The gravestone for Kalish, however, appeared intact.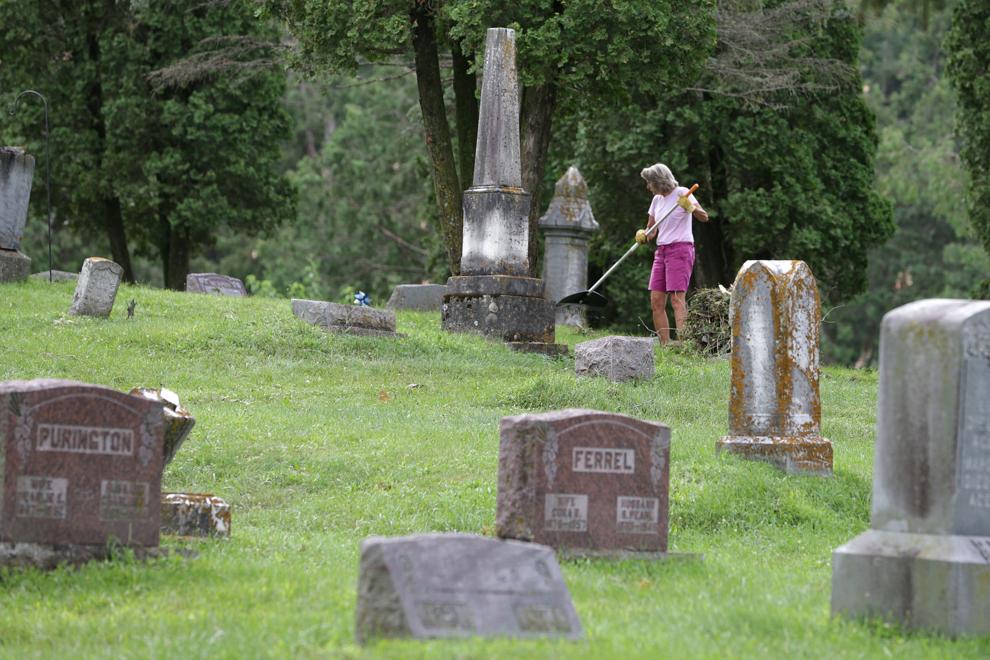 Some of the volunteers at the cemetery used chainsaws, others rakes. Three-foot-long hunks of logs were carried on shoulders while a garden tractor pulling a small trailer was used in some spots to haul piles of brush from within the narrow rows of grave markers.
"It's amazing the things that have been donated and the people that are here giving their time and talent," said Staskel-Riley, who works at Fennimore High School but lives in Boscobel. "And they're not asking for anything back. It's pretty remarkable."
Barry Adams covers regional news for the Wisconsin State Journal. Send him ideas for On Wisconsin at 608-252-6148 or by email at badams@madison.com.