ARGYLE — The drive-in movie theater, carnival and zoo have been idle, with few visitors over the past two years.
Same for the construction sites, swimming pool, race track, coal yard, restaurants, churches and schools.
The Toy Train Barn Museum, located in a restored dairy barn in western Green County, was closed for much of 2019 so owners Buck and Jan Guthrie could tend to Buck's cancer treatment. The pandemic kept the doors shuttered in 2020.
When the sprawling attraction with its miles of tracks, thousands of train cars and detailed works reopens on Memorial Day weekend, it will need to contend with a tornado, thunder and lightning over what is referred to as Guthrie City. Those are the newest additions to the spectacular train-centric escape that has been a mainstay here for 20 years and has drawn visitors from around the world.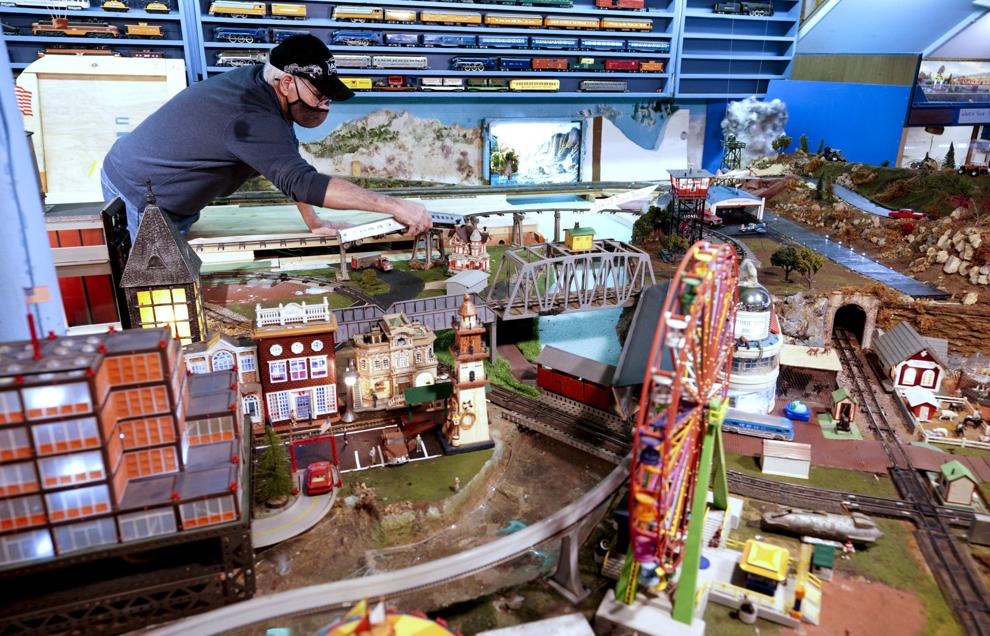 "We're hanging on, but I'll tell you what, to not have anybody come in here to see this is a sad thing," Buck said. "It's been quite a few years, but by the grace of God I'm here today. That's all there is to it. Somehow we're chugging along. I just can't wait to open this thing up. It's been a long time."
Without a doubt, the past two years have been challenging for the Guthries, who worried at times about the future of their business. But brighter days appear to be ahead. Buck's kidney cancer, discovered when he had a gallbladder issue, is being treated with positive results and his prognosis for recovery is promising. Buck and Jan have also just received their second vaccination against COVID-19, giving them further confidence to reopen their museum.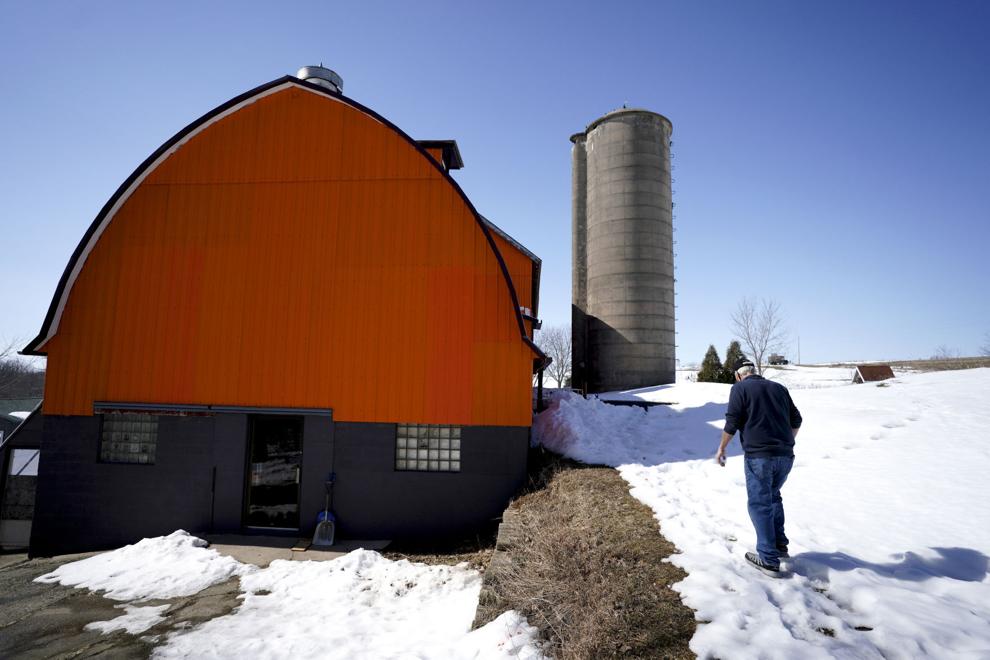 Masks will likely be required and they plan to follow CDC guidelines, but the couple has been lonely and missing family, friends and the visitors who come to the museum. The Guthries also watch over Buck's mother, who turns 81 on Tuesday. The visits over the last year have been infrequent.
"I wanted to see people. It was hard," said Jan, who is known for her hugs and has been married to Buck for 41 years. "The last two years for us have been filled with worry (and) stress from Buck's diagnosis, but finally (there's) good news."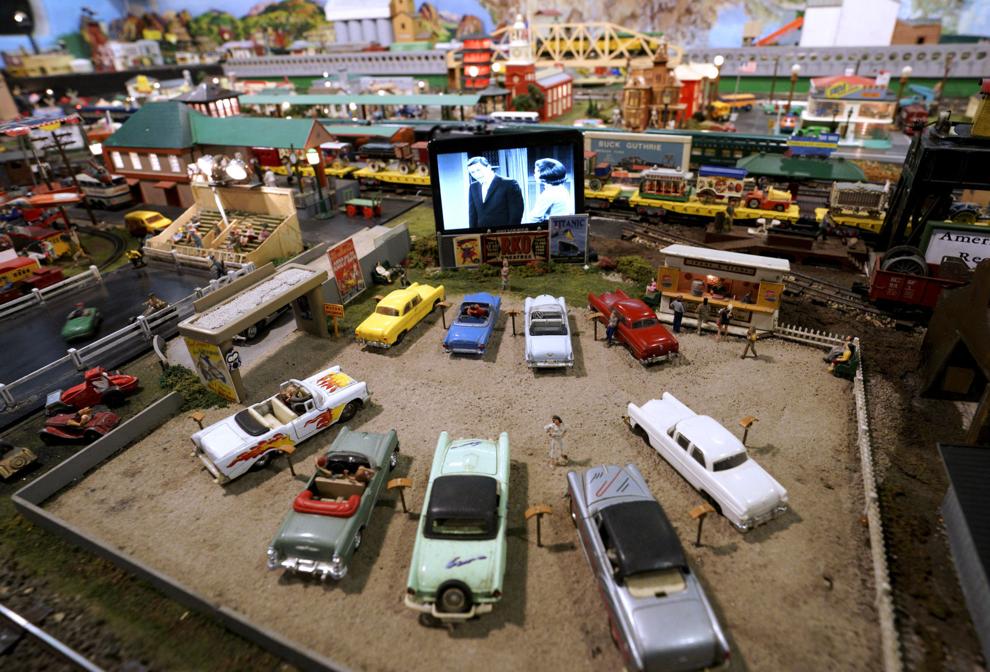 Wisconsin is home to some pretty impressive train attractions. They include the Mid-Continent Railway Museum in North Freedom; the National Railroad Museum in Ashwaubenon, the East Troy Railroad Museum and the Great Northern Railroad near Spooner in far northern Wisconsin. However, those attractions are focused on full-sized trains.
The Toy Train Barn Museum is a like a permanent model railroad show with massive layouts in space that was home to Buck's parent's herd of 43 milking cows. But more train sets are planned, only on the second level of the barn that back in the day was used to store hay. Over the past year, Buck and his son Dylan, who works as an engineer with the Iowa Interstate Railroad, have been sealing up the drafty space so more trains can be brought out of storage and shared. There will be a control room with big windows and an entrance that will allow visitors to walk past Buck's collection of restored Fords. They include a lime green 1952 panel truck, the 1952 pickup he bought when he was just 15 years old and later in life restored, a 1954 two-door and a 1965 Mustang.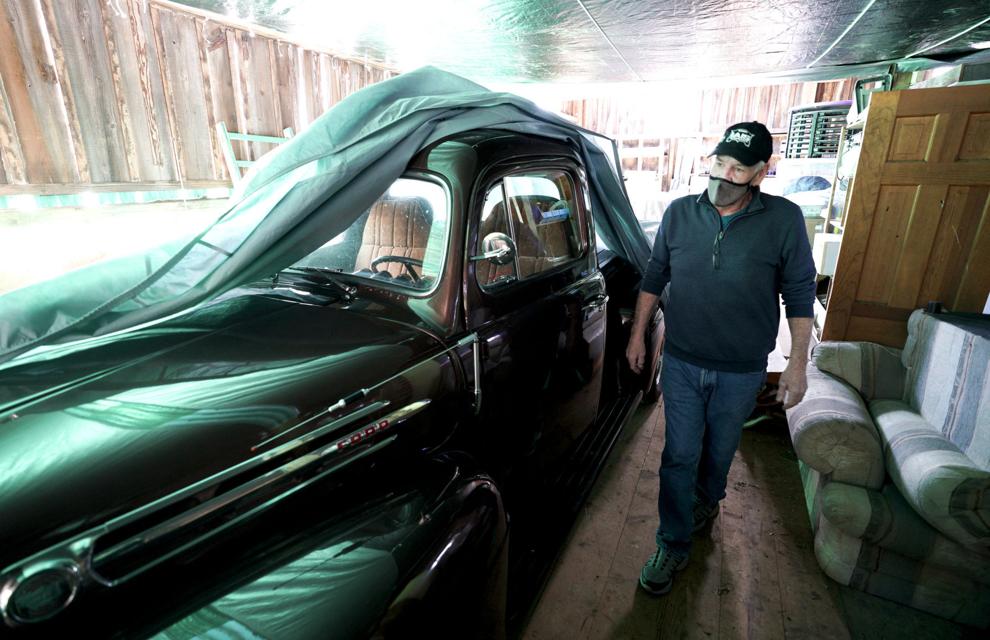 Outside the barn, the Guthries also plan to restart the Argyle & Eastern Railroad, a small-gauge railroad that takes visitors for a 1-mile ride through part of the Guthries' 17 acres that includes a turntable, trestles, crossings, a watertower, depot and, down in the valley, a natural spring. Last week, with most of the snow cleared from the tracks of the outdoor setup, Buck fired up the 3,000-pound Zephyr engine to bring in the Christmas train. Its cars were filled with presents and garland and sat over the winter on the tracks adjacent to the highway.
The Zephyr, built by Buck, is stored in a remodeled pig shed. Nearby is a workshop for repairs, which doubles as a drive-thru train depot when the museum is open and is used for loading passengers. The space includes old railroad signs, train memorabilia and a stereo with a working eight-track tape player. On this day "The Grand Illusion" by Styx was in the slot.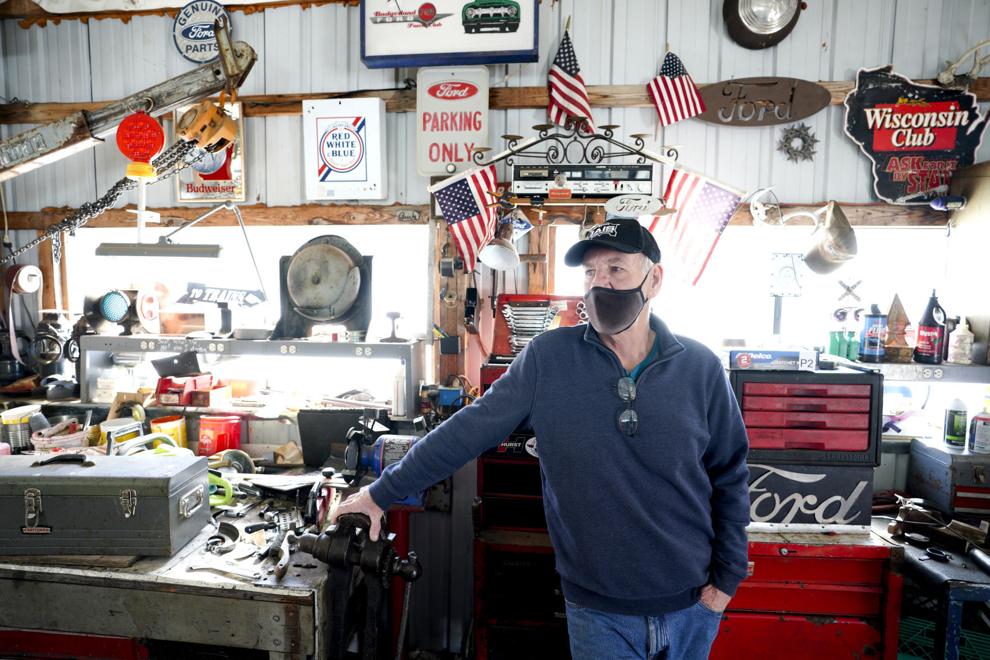 "I'm fortunate. Not many people get to do what they set out to do," Buck said. "There's a lot of history here. Especially for me."
The original barn was constructed in the 1890s and extended in the 1940s. The final addition with a rounded roof was constructed in the 1960s. Buck was born in Pennsylvania. His parents moved the family in about 1970 to rural Argyle to farm but sold the place in 1980. After high school, Buck worked for a time doing car repairs at a Monticello garage but ultimately spent 30 years working as an engineer and conductor with the Wisconsin & Southern Railroad, Wisconsin & Calumet Railroad and Canadian Pacific Railway.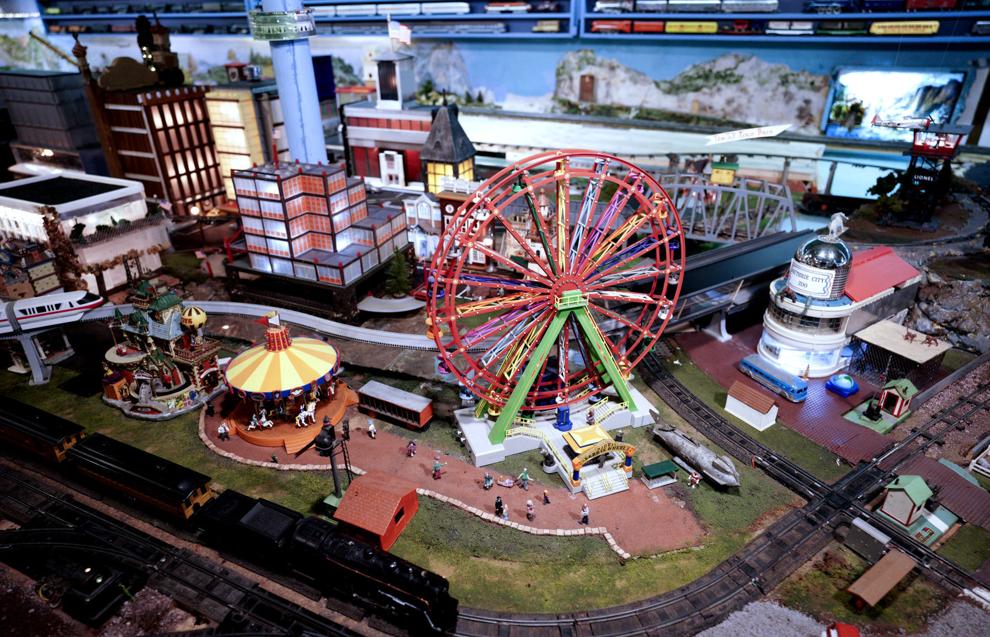 He's been collecting model trains for decades and when he learned the family farm was for sale in 2000, he couldn't resist, even though the house and barn were in shambles. So he jacked up the barn, repaired the foundation, put on a new roof, added a solar heating system and began to assemble his train sets in the lower level of the barn.
"The barn was a wreck," Buck said. "I didn't have a choice. I had to either knock it down or fix it."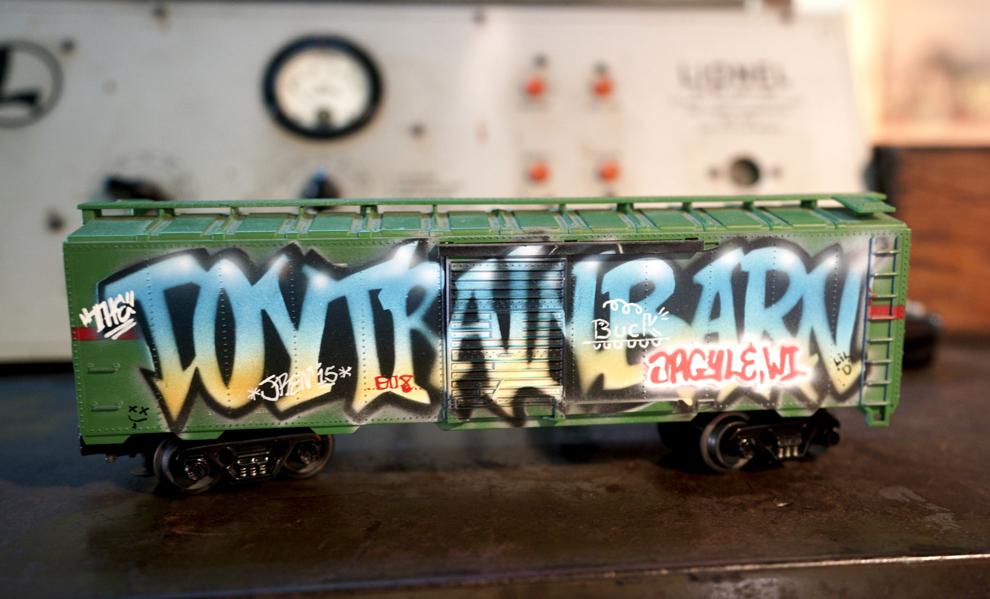 The layouts of the train sets are involved beyond imagination, and one of them, which measures 8 feet by 16 feet, can be easily packed up and put back together at shows, nursing homes and other events in just a fraction of the time it takes other model railroaders to set up their displays.
But the multiple trains running on each sprawling layout represent just a fraction of the work. Buck has repurposed green, blue and brown bath towels for grass, water and dirt landscapes, used turntables from microwave ovens to make things spin and turned a printer on end to make it look like a building. The printer cartridges now move up and down to resemble elevators. There's one building lit up to look like it's on fire and includes a tiny firetruck pouring real water into it. Nearby, a workshop has a man working with a tiny blinking light that makes it look like he's welding.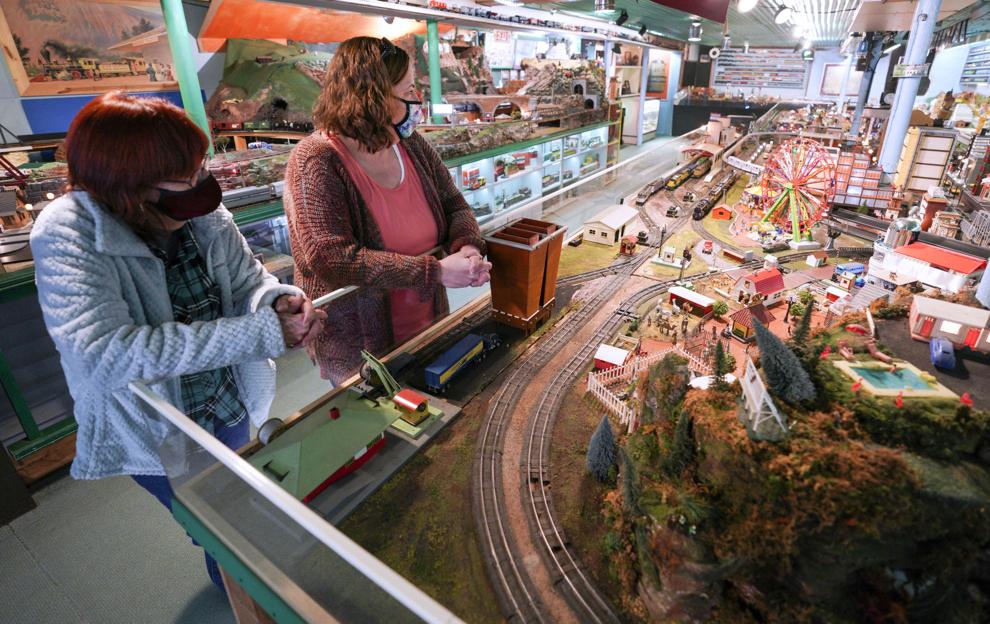 There's a greenhouse, street cleaner that roams one of the streets, city hall, clock tower, scores of buildings representing small-town life, a water tower, amusement rides that spin and a drive-in theater where a tablet serves as the screen and shows a black-and-white episode of "The Dick Van Dyke Show." In one of the sets, a coal train consists of more than 25 cars, while a band plays in one of the depots. The same set also holds a toy train from 1925 restored by Buck.
"For them not to be able to share it with other people has been heartbreaking," said the Guthrie's daughter, Molly Guthrie. "Hopefully 2021 gets better so they can get that normalcy back."
Barry Adams covers regional news for the Wisconsin State Journal. Send him ideas for On Wisconsin at 608-252-6148 or by email at badams@madison.com.