LANCASTER — The T-shirts were made last year to pay homage to some of this community's most beloved businesses that are now just a memory.
They included Wally's Tap, Purity Bakery, Whitman's Cafe and the Pink Pony, a drive-in known for its barbecue sandwich and namesake statue.
It will be a while before a vintage Walker's Clothing & Shoes shirt is printed up.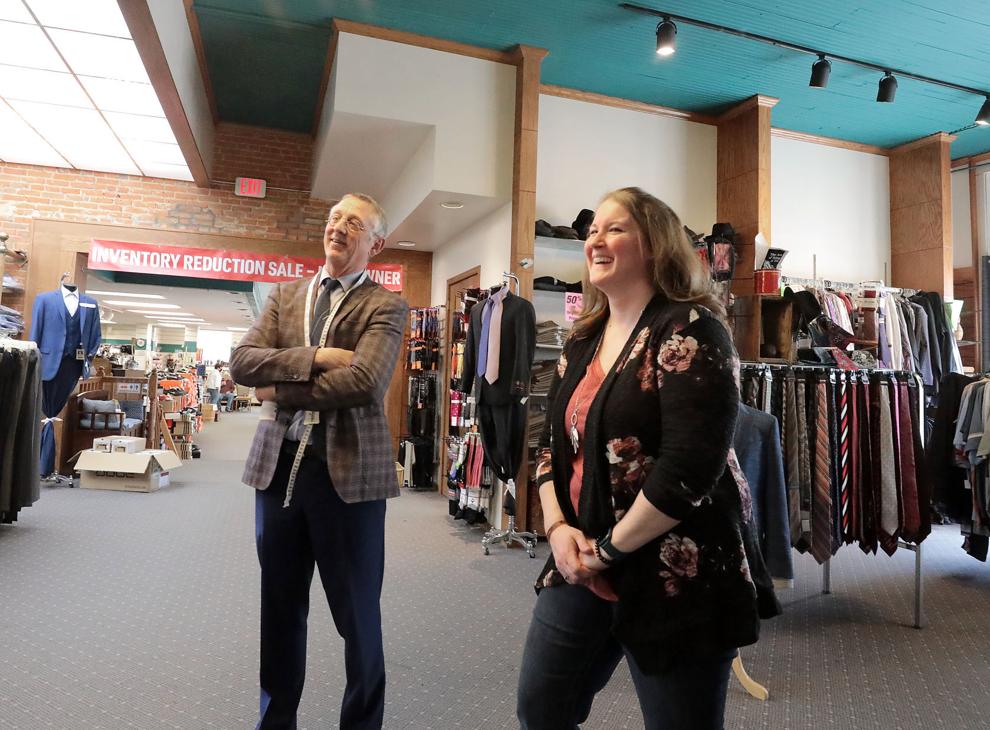 Steve Walker had no family members in his succession plan for the 93-year-old business founded by his grandfather. But a former employee and her husband have stepped up to ensure that Walker can retire with peace of mind knowing the retail anomaly, its basements filled with 23,000 pairs of shoes, will continue.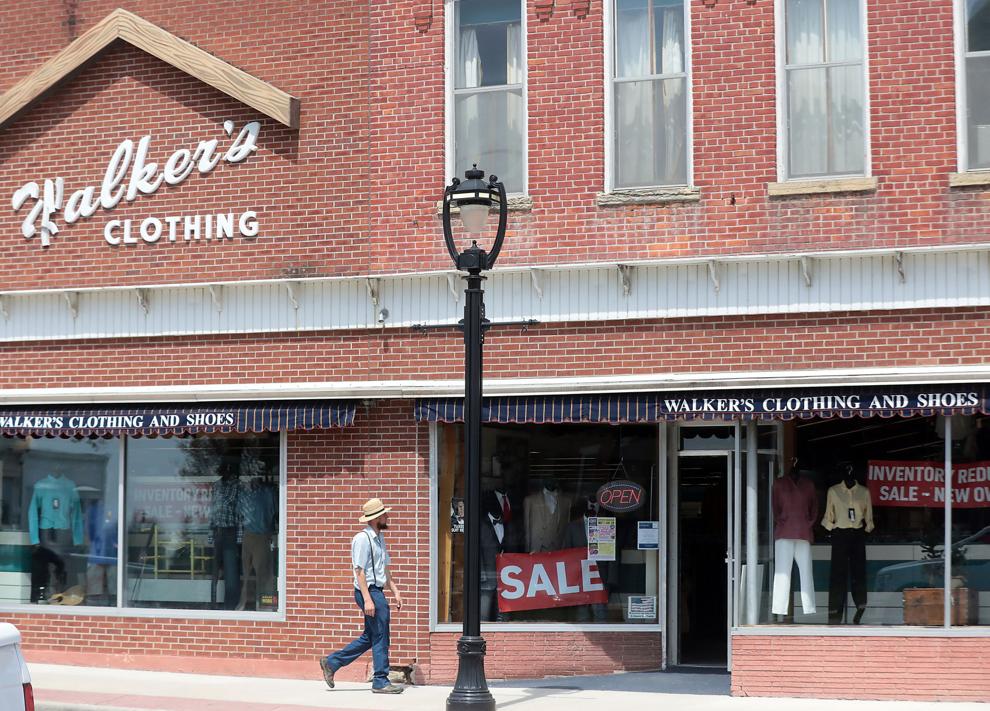 Karri and David Schauff, of Cassville, purchased the business last month and will continue to offer up not only one of the state's largest shoe departments but also continue the store's line of custom-fitted suits, work clothes for area farmers and a shopping vibe that's increasingly disappearing in a world of clicks and direct shipping.
Karri had worked for Walker beginning in 2005 but in 2013 branched out to start Cruisin' Kids, her own children's clothing store across the street. In early March, Walker began talking to the Schauffs about purchasing his business. They closed the deal 19 days later.
"It was head-spinning. A whirlwind," Karri Schauff recalled. "It's a lot to take in but it'll be good."
A clearance sale is underway at Walker's to celebrate the change in ownership and to make room for Cruisin' Kids, which Karri wants to incorporate into Walker's 16,000-square-foot sales floor by July. She also has plans to revamp the store's computer system, upgrade the store's website to allow for more online sales and to grow the S. Walker Custom business, which sells tailored suits.
The store draws clientele from throughout southwestern Wisconsin, northeastern Iowa and northern Illinois. Customers also come from Madison and include Greg Gard, the Wisconsin Badgers men's basketball coach, who has been coming to the store since he was a child growing up in nearby Cobb. Bo Ryan was a customer for many years, and former Badgers basketball player Micah Potter was in recently for a suit for his wedding. Walker stood on a chair to make some of the measurements on Potter, who is listed at 6-foot-10.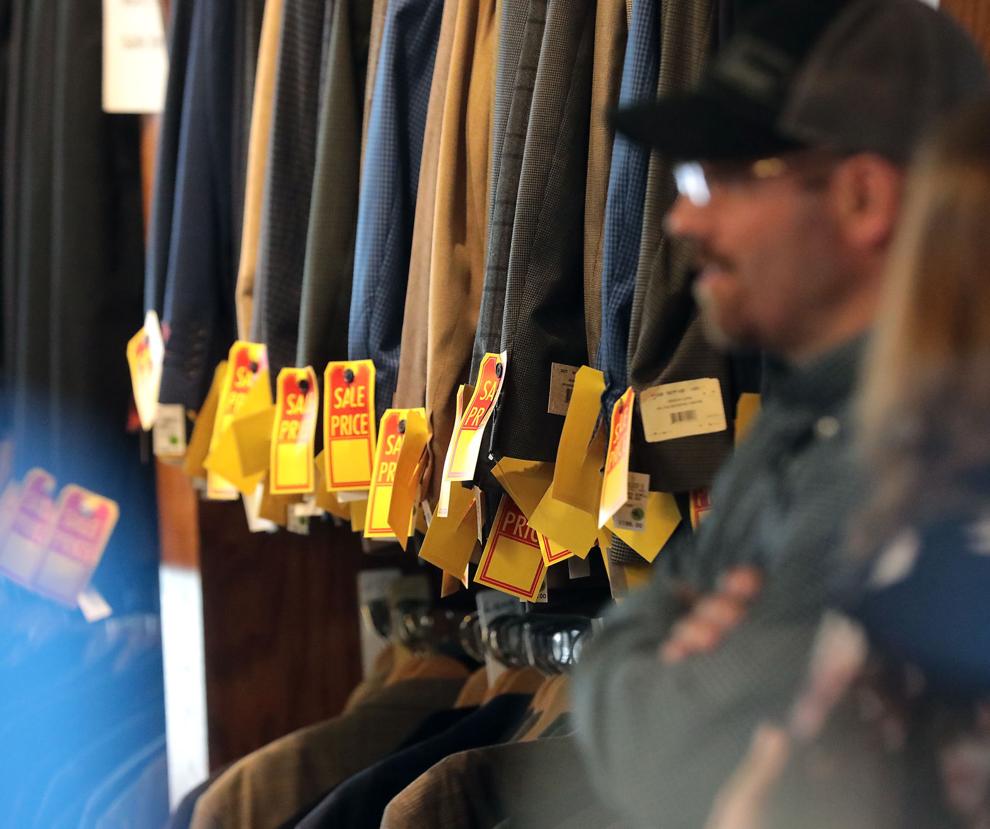 Walker's decision to sell the business, which employs two seamstresses, was not financial and had nothing to do with COVID-19. Instead, it was about finding someone qualified who knew the business, the culture and history of the store. Walker's four brothers and sisters chose other careers, and Walker's three daughters say they have plans to enter the health care industry.
So for Walker, 59, who will continue to work at the store and wear a measuring tape around his neck, it was either make plans to someday close the store or find a new family to take over the iconic business that fills four buildings across the street from the Grant County Courthouse. Nelson Dewey, Wisconsin's first governor, is buried just a few blocks away.
"I still love to come to work and I love what I do," Walker said. "We're healthy here. The store is doing extremely well, but the opportunity and the conversation happened."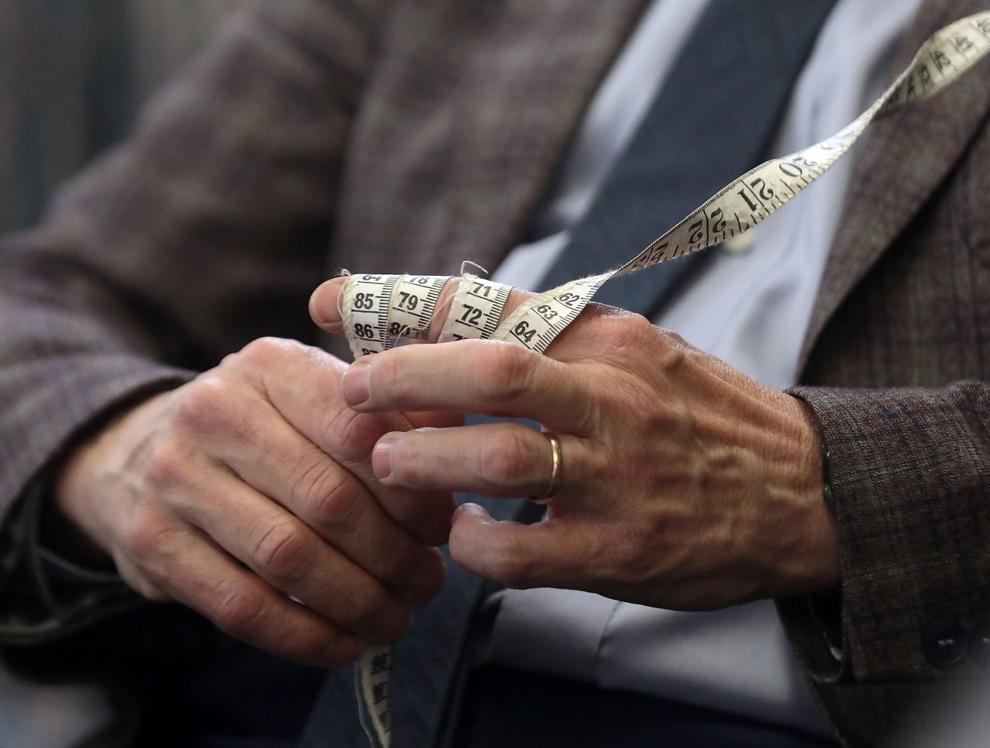 One of few
There are few downtown shopping districts in the state that can boast of a store like Walker's. Schroeder's Department Store has anchored downtown Two Rivers in Manitowoc County since 1891. There's Nina's in Spring Green, founded in 1911, and Bradley's in Delavan was established in 1852. The Tomah Cash Store opened in 1900 and has three floors and 30,000 square feet of merchandise.
But time, changing shopping habits, big-box retailers and a glut of online options have resulted in the loss of many department stores over the last three decades. Schuette Brothers in Manitowoc closed in 1994 after 145 years of business. Fischer's has been gone from downtown Watertown since 2007, Lauerman Brothers has disappeared from Marinette, while Manchesters in Madison and Doerflinger's in La Crosse have been shuttered for years.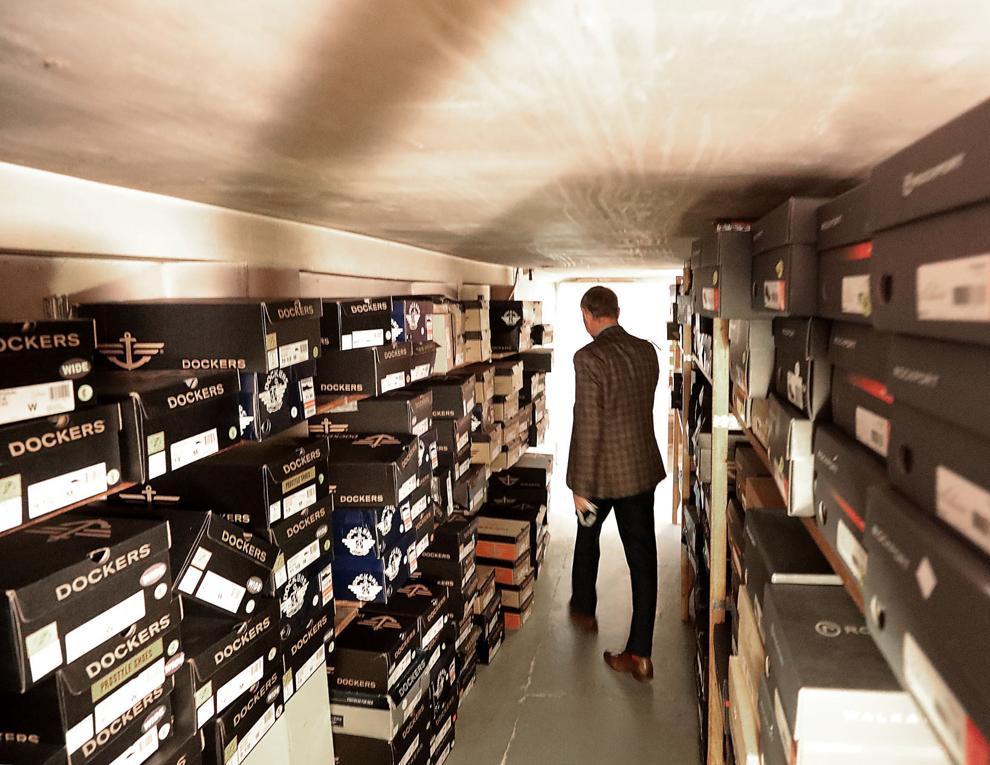 Wisconsin-based Kohl's remains viable but is fighting off activist investors who say the company needs to more rapidly evolve, while Boston Store and Sears have both gone belly up. Iowa-based Von Maur, however, is building an 85,000-square-foot store at West Towne Mall after the Boston Store building was removed.
'Next step'
For the Schauffs, who married in 2007, have three children and operate a 500-acre farm with 200 head of beef cattle, the changing and uncertain retail landscape wasn't a deterrent. The store's history, connection to the community and strong sales and the need to expand Cruisin' Kids were the key factors.
"It was the next step," Karri Schauff said of buying Walker's. "Nothing is not familiar. I used to do everything in here so it just seemed right."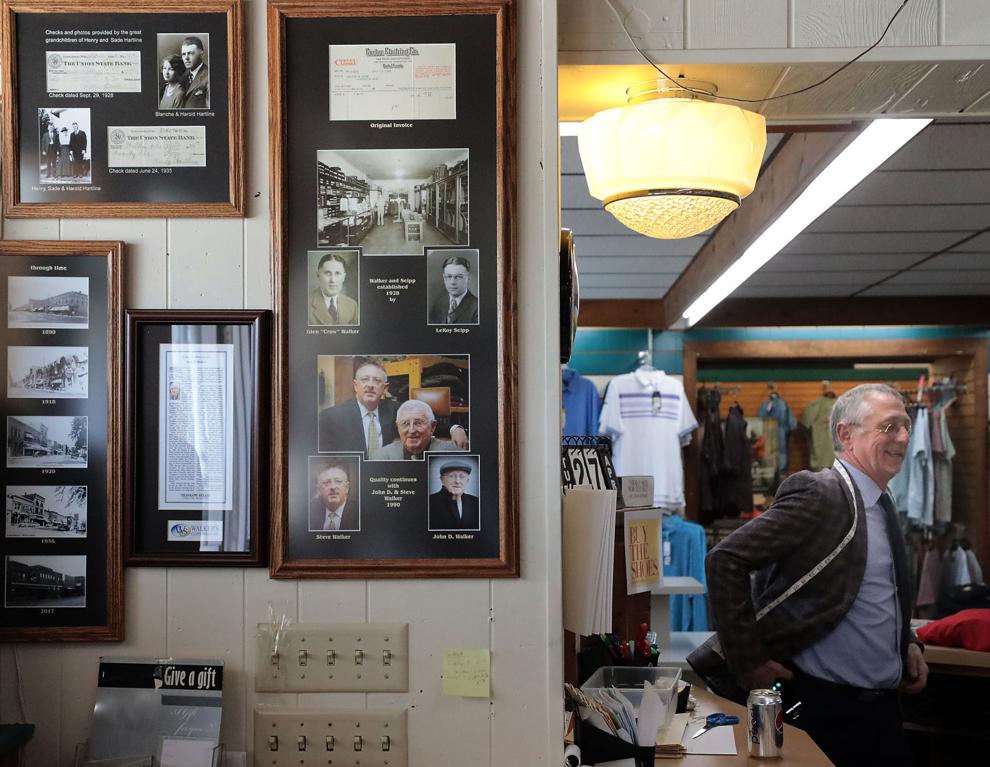 Walker's was founded in 1928 by Glenn "Crow" Walker and LeRoy Seipp across the street, and in 1932 moved to a 2,200-square-foot space in the middle of the block on West Maple Street. His son, John Walker, took over the business after Glenn Walker died in 1967. John added 4,400 square feet in 1981 which led to the start of the store's shoe's business. Today, only the Shoe Box in Black Earth is bigger among independent shoe retailers in the state, Steve Walker said.
He started working in the family store as a child and after high school went full-time in 1979. Steve purchased the business in 1990 and two years later was able to expand the store by 10,000 square feet when he bought the corner building after the bank relocated. He then convinced an attorney who owned the building between his store and the bank to sell, which is now home to the men's department where sport jackets can range from size 34 short to size 62.
"You might say there's not many people wearing suits, which is true, it's been cut down," Walker said of the industry. "But there's less people wanting to sell suits and our geographical area for the suit business has exploded because we carry the inventory. We have people that come a great distance."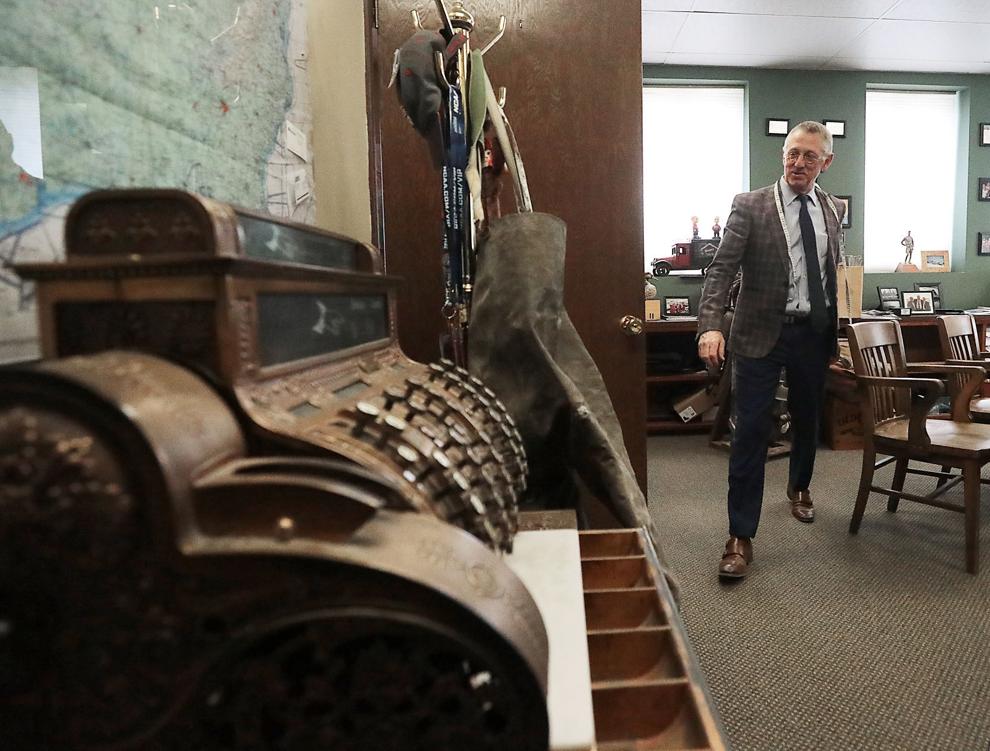 Steve's office is in an upstairs corner of the former bank building and filled with his collection of antique duck decoys. The original cash register, used in the store until the early 1980s, also has a spot. Virtually every available storage space in the four buildings, whether it be upstairs, in the basements or in old bank vaults, is dedicated to the store's massive shoe inventory. Only the Shoe Box in Black Earth sells more shoes among the state's independent shoe retailers, Walker said.
The office also overlooks a community of just 3,730 people that's home to an A&W drive-in and a downtown that includes a sporting goods store, music shop, a drug store and Weber Brother's Jewelry, which has been a staple here since 1894. The sale of Walker's, however, is being overshadowed a bit by Adam Hoch, the Flying Arrows legendary football coach who announced his retirement last month after 39 years and seven state championships.
For Steve Walker, he will continue to work at the store. The decision to sell is bittersweet but one for which he is thankful.
"The opportunity was there that I thought would never happen," Walker said. "But to have somebody like Karri that has a passion for what we do and knows how to work is a blessing. She's a farm girl, and Dave's a farm boy. They know what it's like to work and that's what it takes. It's not a 9 to 5 job."
Barry Adams covers regional news for the Wisconsin State Journal. Send him ideas for On Wisconsin at 608-252-6148 or by email at badams@madison.com.