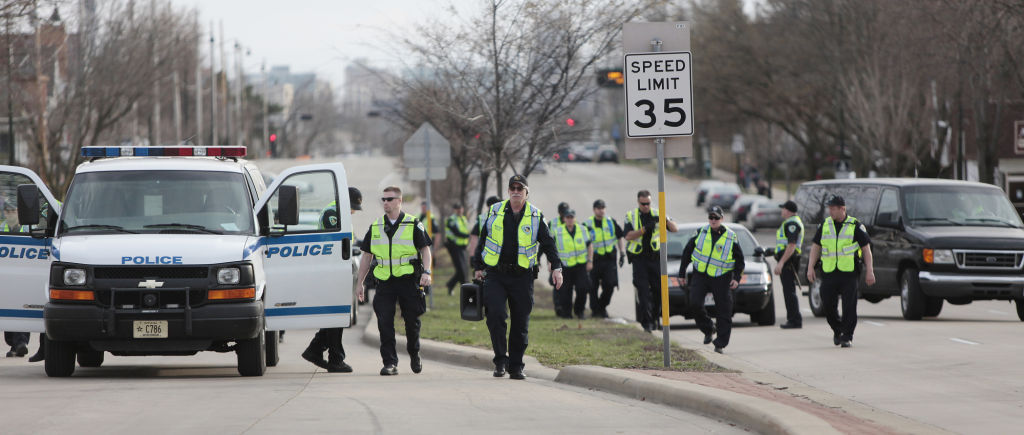 Around 100 volunteer peacekeepers are set to observe protests in Madison today related to the Tony Robinson case and intervene if necessary, a coalition of black leaders said at a morning news conference.
The first team of about 15 peacekeepers will be on Williamson Street at 2:30 p.m. when Dane County District Attorney Ismael Ozanne announces whether he will criminally charge the police officer who fatally shot the 19-year-old Robinson on March 6.
Robinson, who was black, was shot by white police officer Matt Kenny at a residence on the street. Police say the shooting followed an altercation initiated by Robinson.
Other peacekeeping teams will be deployed as needed around Madison, said Ruben Anthony, president and CEO of the Urban League of Greater Madison, which will be the base for the volunteer operation.
"We can help the young people who may be out there protesting, maybe give them a different perspective," Anthony said.
The peacekeepers will seek to prevent young people from getting into any kind of trouble, from being arrested to being ticketed or cited, said the Rev. Harold Rayford, pastor of The Faith Place Church in Sun Prairie.
"Anything that could present a problem for them in getting jobs later on or even create an economic hardship -- we really want to avoid that," he said. "If we observe things that will cause them to get in trouble, we're going to caution them and encourage them not to do that."
The peacekeepers will be wearing lanyards with yellow identification tags.
The news conference was called by the Black Leadership Council, a group that came together last month "to address the systems and infrastructures in Madison and Dane County that perpetuate injustice, poverty, marginalization, racial disparities, and discrimination."
Its member organizations include the Dane County NAACP, the African American Council of Churches, black Greek organizations, the Urban League and 100 Black Men of Madison.
Rayford said the council is encouraging people "to come out and to voice their opinion" today, as long as their participation is peaceful.
"I'd like to see families that have children who want to participate," he said. "I'd like them to come out and participate after school. I'd love young people to look back on these days as a time when they stood up and protested peacefully."
Many members of the council are local faith leaders, and the faith community in general is expected to have a large presence in protests and prayer vigils today.
Faith leaders are planning to gather at the time of Ozanne's announcement on Williamson Street, and around 5 p.m. they are planning to march in their clerical vestments through Downtown to Grace Episcopal Church on the Capitol Square for prayer and song, said Linda Ketcham, executive director of Madison-area Urban Ministry.
"We know that regardless of what the district attorney's decision is, the community will still be divided and in pain," she said. "So we're joining our voices to those that are committed to addressing and pressuring our elected and appointed officials to really address these systemic issues that have been going on so long."
More than a dozen congregations plan to open their doors to the public after today's announcement, including First Congregational United Church of Christ, 1609 University Ave. It intends to remain open until 9 p.m.
"We just hope to provide a safe place where people can process this and be in prayer, a place where they can let out whatever emotion it is in a positive way," said the Rev. Eldonna Hazen, senior minister.
Additionally, Pres House, a Presbyterian ministry on the UW-Madison campus, is planning a vigil at 8:30 p.m. Tuesday at its facility, 731 State St.
Be the first to know
Get local news delivered to your inbox!