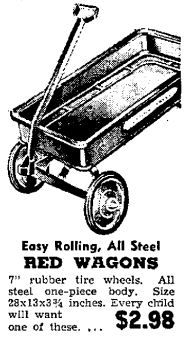 Toys have evolved a lot over the years, but one thing hasn't changed: the thrill of a young child opening gifts on Christmas Day.
A lot of time, thought and money go into creating that experience. Historically, newspaper advertisements have played a role in that, helping build excitement for the must-have purchase of the season.
"What joyous, gladsome tidings for the kiddies! What a wonder world Toyland is to them," the Alexander Komhauser Co. gushed in a 1921 State Journal ad. "Make the children happy, bring them here tomorrow and Saturday and see their eyes sparkle, hear the exclamations of delight as they stand amazed before the glittering display of tempting playthings."
As part of our "12 gifts in 12 days" project, we poked around in the State Journal archives and pulled out dozens of vintage toy ads from the 1920s through the 1980s. You can view them at go.madison.com/12gifts.
As charming — and telling of the times — as the toys themselves was the often over-the-top language common in advertisements of the day about the joys of holding a new doll or playing with a truck or train.
"It's like a zippy dream come true," a 1931 ad for Erector sets read. "Boy, what thrills. Imagine constructing, with your own hands, realistic operating models of great inventions."
"Christmas wouldn't seem right for any little girl if Santa didn't bring that one special gift … a new baby doll," Goodyear Service wrote in 1945.
In the 1920s, '30s and '40s, ads focused primarily on trips to the toy store as a memorable family outing.
"Here's a Radio message every Madison youngster is interested in!" Loken Brothers crowed in 1923. "For three long months, Loken's has been trying to get Santa Claus to visit you, and to show you all the new toys he has for you this year. And the Radio tells us that he'll be here tomorrow night. As he ordered — our windows will be ready, and he will have plenty of room to show you the toys he has been getting ready way up there at the North Pole."
"Santa told us that he is here to make a list of all the good little boys and girls and to find out just what they want for Christmas," Manchester's department store advertised in 1941. "So visit Toyland as soon as possible and get on Santa's list!"
In the Depression-era 1930s and '40s, practical gifts were the norm, while the availability of plastic in the mid-1940s and 1950s dramatically changed the toy options.
By the 1960s, the space race, GI Joe and Barbie greatly influenced the selection of toys. Practical gifts like calculators and electronics in the 1970s changed the gift mix for children and young adults. Many electronic gifts like Atari were geared for "the whole family." Action figures also were favorites.
There have been some constants: dolls ("Warm and soft to the touch, this doll actually seems alive!"), teddy bears, trucks, strollers, bicycles and trains ("More fun – for Dad as well as Junior!"). Winter also brought ads for sleds, skates and outdoor wear.
In the spirit of all those pitchmen of the past: Be sure not to miss the State Journal's fabulous collection of old-timey toy ads (on our website) and relive the happy days of yesteryear!
Be the first to know
Get local news delivered to your inbox!