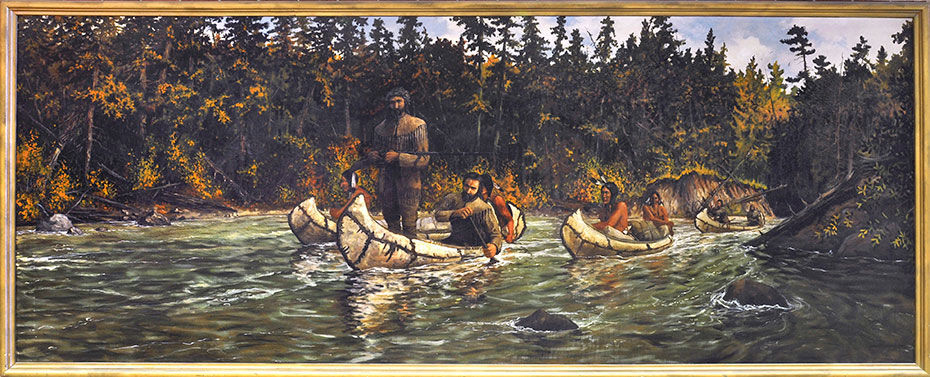 The chancellor at UW-Stout in Menomonie said Friday he decided to move two large paintings dating to 1936 from hallways in a much-traveled campus building because they "stood in the way of an effort to create an inclusive and comfortable environment for everyone."
It was not, Chancellor Bob Meyer insisted in a statement, "political correctness" and it was not done without consulting various campus representatives, including faculty and diversity-related groups.
"Rest assured, political correctness played absolutely no role in this tough decision."
Instead, he said, complaints from Native American students convinced him the paintings were best stored temporarily and then made available for public viewing in other places on campus. The painting "French Trappers on the Red Cedar," which depicts trappers and Native Americans in canoes, will be moved to the Dean's Conference Room, also in Harvey Hall, where it can be viewed "by appointment." And "Perrault's Trading Fort," which depicts a frontier fort, will be moved to room 504A in the Robert S. Swanson Library and Learning Center, which will be under the control of the university archivist.
The paintings by Wisconsin-born artist Cal Peters were created for the Works Progress Administration during the Great Depression.
Meyer provided quotes from two Native American students who said the paintings "like those in Harvey Hall keep us in the past" and present Native Americans as stereotypes.
Meyer, a UW-Stout graduate, former professor and dean, said he has "enjoyed these paintings most of my adult life, and they do belong on campus, but they need to be exhibited where "access can be controlled and we provide the proper amount of background and context they deserve."
The university came in for pointed criticism this week from the National Coalition Against Censorship and the Foundation for individual Rights in Education, which in a letter decried the decision to remove the paintings and place them in storage. The university said the storage was just temporary.
It would be good to encourage a dialogue on the issues of stereotypes and historical significance, but "putting Cal Peters' 1930s paintings in a closet ends the conversation prematurely and to the detriment of current and future students and faculty," wrote Svetlana Mintcheva, the group's director. "Removing representations of historically oppressed groups from view will not change the facts of history."
The group said the issue was brought to its attention by UW-Stout English and philosophy professor Timothy Shiell. In a press release, the group quotes Shiell, who has written extensively about free speech issues on campus, as worried the action will set a dangerous precedent: "Shrouding or moving the painting does not educate anyone or stimulate any learning or dialogue. American history and representations of that history can be ugly and offensive. But hiding them doesn't change the past or the future."
Neither Shiell nor Mintcheva could be reached for reaction to the chancellor's statements Friday.
UW-Stout officials said the decision was made after meetings that included the campus Diversity Leadership Team and Chancellor's Advisory Council. The meetings going back to April were noticed campuswide.
University spokesman Doug Mell said the paintings "have been on campus for 80 years, and have been in various locations."
The chancellor said in his statement that "despite opinions to the contrary, it was never my intent to 'censor' these paintings or remove them from public view. I simply wanted to get them into situations where we had some control over who would view them.
"However, they will be made available for public viewing, along with a document that explains their historical significance and the concerns Native Americans have expressed about how they are portrayed in the paintings. After all, a university needs to encourage a free flow of ideas, even if those ideas make some people uncomfortable, as long as we don't foist those ideas on unaware or unwilling recipients."
Peters was the only WPA artist to work on campus, according to archives, and he had a studio in Room 29 in the basement of Harvey Hall.