For the second time in Gov. Scott Walker's gubernatorial tenure, a proposal to split off the University of Wisconsin System or its flagship UW-Madison from state control has died at the hands of the Republican Legislature, according to a top lawmaker.
Rep. John Nygren, R-Marinette, co-chairman of the powerful Joint Finance Committee, said Tuesday that his committee will not advance a proposal by Walker to split off the University of Wisconsin System and remake it as a public authority.
"We're looking for a little bit more thoughtful process to make that change," Nygren said.
Even so, giving UW some flexibility from state oversight and law so it can save money on such things as procurement remains in play, he said. Those changes will be debated by the budget committee later this month, Nygren said.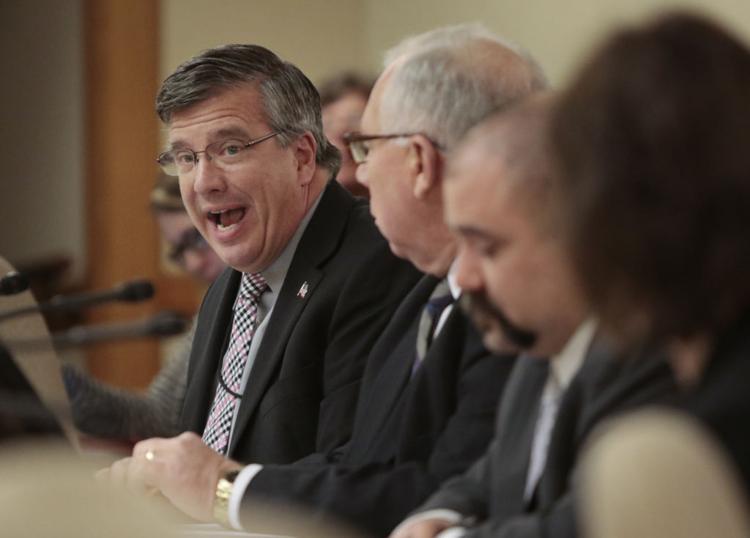 The public authority proposal was the second piece in Walker's controversial budget proposal for the System. The other is a historic $300 million cut that he and others said could be mitigated somewhat by unspecified savings the universities would achieve by untethering from state rules on building projects, purchasing and information technology functions, among other things.
Walker's proposed budget cuts, if sustained by the Legislature, would be about 13 percent of UW's state funding but just 2.5 percent of its total budget. The cut would come on the heels of major state cuts to the System in five of the last six budget cycles spanning Democratic and Republican administrations.
Walker will continue to work with the Legislature to provide additional flexibility to UW, while also ensuring that the current tuition freeze for in-state undergraduates remains for two more years, said spokeswoman Laurel Patrick. She did not specify what flexibilities he would support. Walker has previously said he would be in favor of lowering his $300 million cut.
The death of the public authority marks a major defeat for Walker and System President Ray Cross, who has lobbied hard for the authority and
in a January email obtained by the State Journal called it a once-in-a-generation opportunity that he was willing to go to the mat to win, knowing it would face stiff opposition from faculty and staff.
Cross on Tuesday declined a State Journal interview request. In a statement, he thanked Nygren and JFC co-chairwoman Sen. Alberta Darling, R-River Hills, for their willingness to discuss reducing the budget cut and continuing to consider more operating flexibility even without a public authority.
You have free articles remaining.
Cross has argued passionately that the universities need more autonomy on five main areas — stable state funding, human resources, capital planning and construction, bonding authority, financial management and purchasing — and has claimed his system is one of the four most-regulated in the nation.
With the authority plan over, focus shifts to talked-about reductions to Walker's $300 million cuts and possible seismic changes to faculty tenure and shared governance. The cherished protections for employees of the universities had been in state law. But Walker stripped them, among many other UW rules and regulations, from law in his proposed two-year budget, working under the assumption that the authority would pass and the Board of Regents, which governs the System, would rewrite them.
The Regents will not have that power. It's unclear if the Legislature will keep faculty tenure and shared governance out of state law, as proposed now, or reinsert them given the new reality.
Kit Beyer, spokeswoman for Assembly Speaker Robin Vos, D-Rochester, said Assembly Republicans support ending the public authority proposal but haven't decided how to deal with the law changes that were called for in relation to its creation.
A similar proposal to split off UW-Madison from state control met the same fate in 2011. It too was strongly backed by Walker and UW-Madison's then-chancellor, Biddy Martin. Martin abruptly left her job to be president at private Amherst College in Massachusetts.
Walker's proposal then met fierce opposition from leaders at the 25 campuses other than Madison. This time, with the entire System proposed to be split off, the proposal won unflinching support from chancellors throughout the state.
But it ran into stiff opposition from faculty and staff worried about the uncertainties of a new model.
Joining them in opposing the model were many top Republican lawmakers, who feared massive tuition hikes and what they called overly generous employee protections — including tenure and shared governance — if Regents had full run of the System.
The 18-member Regents, most of whom were appointed by Walker, sought to calm concerns about tenure and shared governance, passing resolutions to keep them intact as they were under state law and appointing a committee to study the policies and recommend changes, if any.
The move by Regents appeared to backfire with some Republican lawmakers, who said it was proof the System couldn't handle the powers that would have been entrusted to them in Walker's public authority proposal.
Nygren and other top Republican leaders have said for at least a month that the public authority was in grave condition. Tuesday, it appears last rites were read.
The Associated Press contributed to this report.