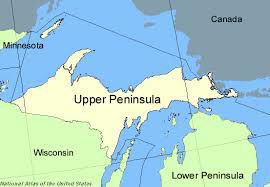 The Wisconsin Badgers beat three Michigan football teams in recent weeks, prompting an unofficial Twitter account for Michigan's Upper Peninsula to jokingly join the Badger state.
It all started when the Badgers Twitter account shared the final scores from games with Michigan teams this season — Wisconsin's 61-0 victory over Central Michigan; Wisconsin's 35-14 win against Michigan; Saturday's 38-0 shutout against Michigan State — and then asked @UpperPeninsula, an account with about 13,000 followers, to send them the deed.
The @UpperPeninsula account changed its name to "Upper Peninsula of Wisconsin" and wrote back: "It's official, I belong to Wisconsin now."
Michigan's ownership of the Upper Peninsula has very little to do with Wisconsin.
According to the Michigan Department of Military and Veterans Affairs, Michigan acquired the peninsula as a result of the Toledo War. Ohioans and Michiganders fought over a 468-square-mile strip of land — called the Toledo Strip — that each state believed was its land.
When Michigan applied for statehood in 1833, Ohioans in Congress blocked its admission until the territory accepted the Ohio-preferred state border.
An 1836 act by Congress allowed Michigan into the Union, provided it accepted the Upper Peninsula instead of the Toledo Strip. Michigan, with the Upper Peninsula, became a state in 1837.
Monday night's Green Bay Packers-Detroit Lions game posed another opportunity for the Upper Peninsula to weigh the merits of each state's athletic abilities.
"Alright, @GovWhitmer and @GovEvers, big football game tomorrow night," @UpperPeninsula tweeted to each state governor's official Twitter accounts. "How are we going to settle this?"